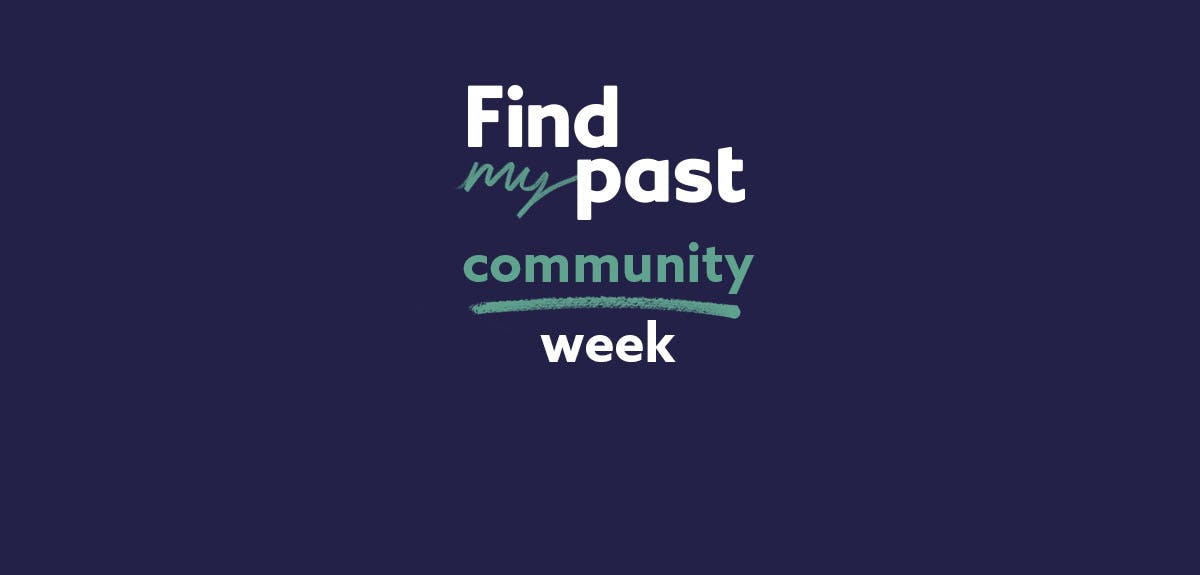 Introducing the first-ever Findmypast Community Award winner
The Findmypast Community Award recognises and celebrates the everyday heroes of family history. Meet our first winner.
We asked the Findmypast Community to nominate the one person that's helped them most on their family history journey and, as always, they didn't disappoint with their responses. We received dozens of nominations for the inaugural Findmypast Community Award and have been moved and inspired by your stories.
It was a tough task for our judge, author and house historian, Melanie-Backe Hansen, to shortlist her five favourite entries and we wish we could have given each and every deserving nominee a prize. After the initial round of nominations, the Findmypast Community voted for the overall winner from the shortlist of five finalists.
Below is a little bit about the winner, Áine Ní Tómas, along with her fellow finalists.
Longstanding community member William nominated Áine. Both regular Findmypast From Home viewers, they have bonded over their shared love of genealogy and watching the Findmypast team on Fridays Live. William says that Áine has been brilliant at cross-referencing ideas and suggesting great sources. Plus, she's always happy to interact with the community in the comments, helping where she can.
Jackie wanted to say thank you to Lynn for all the help, support and friendship she's provided over the years. They first made contact in 2003, when Lynn shared her family tree with Jackie. Since then, this dynamic duo has spent many hours together at record offices, libraries and cemeteries, and even reunited long lost relatives.
Carol has nominated her colleague Jenny from Tay Valley Family History Society in Dundee, Scotland. She says that Jenny's knowledge of family history borders on encyclopaedic. So many have learnt from Jenny over the years, including other colleagues and clients: long may this continue.
Dora put forward John as a deserving winner of the first Findmypast Community Award. He is always happy to help, from talking things through on the phone, popping by the house or sharing his knowledge with her. Dora can't sing his praises highly enough.
This active and helpful family historian was nominated by Ben. Mary founded the Low Moor Local History Group and later went even further, setting up SBLHA.com to bring thousands of South Bradford records online for people to explore. Ben wanted to say thank you for everything you do, Mary, especially with the time and dedication you put into dozens of family and local history organisations in the Bradford area.
After voting closed, Áine was announced as the lucky winner on Findmypast Fridays Live. Check out the big reveal in our video below.
For her outstanding contributions to our online community, Áine received a prize bundle packed with family history goodies. She said;
"Congratulations to all of those who were nominated.  With all the fantastic people who get involved with Findmypast From Home, as well as within the Findmypast Forum, I really wasn't expecting to be nominated, never mind making the final five.  Thank you very much to those who nominated and to those who voted."
Reflecting on what make the Findmypast Community so special, Áine went on to say;
"The thing I love about the Findmypast Community is the shared passion for storytelling, for researching and for helping each other to break down 'brick walls'.  I've made some amazing friends and love seeing the same names crop up in each Facebook Live session." 
Our congratulations and thanks go to Áine, all of the finalists, nominators and everyone who voted. We couldn't do this with you.
The Findmypast Community Award winner was treated to a prize package worth over £450. This incredible bundle consists of:
12-month Pro/Ultimate Findmypast subscription
Findmypast DNA kit
Annual English Heritage family membership
An annual subscription to Puzzler and Puzzler Killer Sudoku
The Essential Photo Organising Course from Maureen Taylor, the Photo Detective
Migration Museum gift set
Branded Findmypast merchandise
Findmypast Community Award terms and conditions
These Terms and Conditions prevail in the event of any conflict or inconsistency with any other communications, including advertising or promotional materials. Entry/claim instructions are deemed to form part of the terms and conditions and by participating all claimants will be deemed to have accepted and be bound by the terms and conditions. Please retain a copy for your information.
1. The Promoter: Findmypast, The Glebe, 6 Chapel Place, Rivington Street, London EC2A 3DQ (registered in England and Wales, registered company number 4369607)
2. The Supplier: The competition prize consists of prizes from multiple suppliers. See '9. Prize Fund' below.
3. Eligibility: This clause 3 applies to all entrants and their nominee. This prize promotion is open to individuals aged 18 years or over, except:
(a) employees of The Promoter or its group companies;
(b) employees of  associated agents or suppliers of the Promoter or its group companies, who are professionally connected with the competition or its administration' or
(c) members of the immediate families or households of (a) and (b) above. Promotional Period: The promotional period runs from 10am BST on Monday 31 May 2021 until 3pm BST on Friday 4 June 2021. Nominations will be accepted from 10am BST on Monday 31 May 2021 (the "Opening Date") until 10am BST on Wednesday 2 June (the "Closing Date"). The public vote runs from 10am BST on Thursday 3 June 2021 until 3pm BST on Friday 4 June 2021. All competition entries must be received by the Promoter by the Closing Date. All competition entries received after the Closing Date are automatically disqualified.
5. Entry Instructions: To enter, nominate someone you think deserves a prize for helping you with your family history via the form on this page before 10am BST on Wednesday 2 June. Ensure you have the nominee's permission before entering. To enter you'll need to provide your name and email address, the nominee's name and the reason you are nominating them.
6. Entrants may nominate one nominee only and may make only one entry to the competition. All additional entries will be disqualified.
7. Any entries that the Promoter consider (in our absolute discretion) to be dangerous, vulgar, offensive, indecent, illegal, racist, copied, offensive, cruel or fraudulent, or infringe on the rights or copyright of others will be immediately disqualified.
8. No third party or bulk entries. If it becomes apparent that either a participant or household is using any means to circumvent this condition such as, and without limitation, multiple email accounts, multiple reproduced or computer-generated entries, using multiple identities, fraudulently falsifying data, acting fraudulently or dishonestly in the opinion of the promoter or otherwise acting in violation of these terms, these participants will be disqualified, and any prize entitlement will be void.
Incomplete, illegible, misdirected or late entries will not be accepted. Proof of sending will not be accepted as proof of delivery or receipt. No responsibility can be accepted for entries that are incomplete, lost due to technical reasons, corrupted, delayed, wrongly delivered, or not received for whatsoever reason.
9. Prize Fund: The winner of the Promoter's Community Awards will receive the following prize package:
·         1 x Findmypast 12-month Pro/Ultimate subscription
·         1 x Findmypast DNA kit
·         1 x annual English Heritage family membership
·         1 x annual subscription to Puzzler and Puzzler Killer Sudoku
·         1 x The Essential Photo Organising Online Course from Maureen Taylor, the Photo Detective
·         1 x Migration Museum gift set (tote bag and stationery set)
·         1 x Findmypast hooded sweatshirt
·         1 x Findmypast mug
·         1 x Findmypast coaster
10. Winner Selection: The Promoter will shortlist five of the best entries and add them to this page as a poll from 10am BST on Thursday 3 June until 3pm BST on Friday 4 June. Visitors to the page will be able to vote for the most deserving entry during that period.
11. Winner Notification: The winner of the vote will be announced on a live broadcast on The Promoter's Facebook page at 4pm BST on Friday 4 June and the entrant will be contacted by email via the account provided at point of entry within seven days of the closing date and will have 14 days from notification to claim the prize on behalf of the winning nominee following the instructions in the email. If a winner does not claim their prize within this timeframe the promoter reserves the right to withdraw prize entitlement and will award the prize to the entry with the second-highest number of votes in the poll. Please allow 30 days for delivery.
12. It is the responsibility of the entrant to provide correct, up-to-date details when entering the prize promotion and acceptance of the prize. The Promoter cannot be held responsible for winners failing to supply accurate information which affects prize acceptance or delivery of their prize.
13. General: Promoter's decision is final and binding. No correspondence will be entered into. Entry implies acceptance of these terms and conditions.
14. Prizes must be accepted as offered by the named winner. There is no cash or alternative prizes, in whole or part. The prizes are not transferable and cannot be resold.
15. The Promoter reserves the right to substitute a prize of equal or greater value should circumstances outside its control make this necessary.
16. The Promoter reserves the right to verify winners and ask for proof of identity, age and address and to withdraw prize entitlement where there are reasonable grounds to believe there has been a breach of these terms and conditions.
17. Winners will take part in and co-operate fully with reasonable publicity and to the use of your name, photograph and any comments in such publicity without any fee being payable. If you do not wish for your personal information to be used in this way, please contact the Promoter at community@findmypast.com.
18. By entering the Promotion, each entrant grants the Promoter a worldwide, perpetual, irrevocable, non-exclusive, transferable, royalty-free and sub-licensable right and licence to use reproduce, modify, adapt, publish or display (in whole or in part) any intellectual property contained in the content of their entry, without royalty, payment or other compensation. Each Entrant agrees not to assert any moral rights in relation to such use and warrants that they have full authority to grant such rights.
19. The surname and county of the winner can be obtained by sending an email, 28 days after the prize promotion closing date, to community@findmypast.com. If you object to any or all of your surname, county and winning entry being published or made available, please contact the Promoter at community@findmypast.com. In such circumstances, the Promoter must still provide the information and winning entry to the Advertising Standards Authority on request.
20. The Promoter reserves the right, at its sole discretion, to eliminate or disqualify any entries or entrants that it regards as being in breach of these terms and conditions or the spirit of the Promotion. Those who try to circumvent the entry process and/or entry instructions by any method will be disqualified and any prize award will be void.
21. Entry into the Promotion is at the entrant's sole risk. To the extent permitted by law, neither the Promoter nor Supplier accept any responsibility for any damage, loss, liabilities, injury, costs, expenses or claims (whether in contract, tort or otherwise) suffered by entrants or any third parties arising out of or in connection with the Promotion and/or accepting a prize. The Promoter and Supplier further disclaim liability for any injury or damage to entrants or any other person relating to or resulting from participation with this Promotion save that nothing in these terms and conditions shall act to limit or exclude the Promoter and Supplier's liability resulting from its negligence or fraud.
22. If for any reason, the Promotion is not capable of running as planned for reasons (including but not limited to tampering, unauthorized intervention, fraud, technical failures or any other causes beyond the control of the Promoter which corrupt or affect the administration, security, fairness, integrity or proper conduct of this Promotion), the Promoter reserves the right (subject to any written directions given under applicable law) to disqualify any individual who tampers with the entry process and to cancel, terminate, modify or suspend the Promotion.
23. If an act, omission, event or circumstance occurs which are beyond the reasonable control of the Promoter and which prevents the Promoter from complying with these terms and conditions the Promoter will not be liable for any failure to perform or delay in performing its obligation.
24. The Promoter accepts no responsibility for system errors or other issues that may result in disruption to, lost, delayed or not received entries, winner notifications or prizes. The Promoter, the Supplier or its agencies will not be responsible for the non-inclusion of entries as a result of technical failures or otherwise, including any such failure which is within the control of The Promoter or its agencies.
25. Where a prize is provided by a Supplier, the Promoter accepts no responsibility for inaccuracy of any prize description, and The Supplier is responsible for prize fulfilment.
26. If any of these clauses should be determined to be illegal, invalid or otherwise unenforceable then it shall be severed and deleted from these Terms and Conditions and the remaining clauses shall survive and remain in full force and effect.
27. The Promoter and the Supplier reserve the right to cancel, amend, withdraw, terminate or temporarily suspend this promotion in the event of any unforeseen circumstances or technical reason outside its reasonable control, with no liability to any entrants or third parties but will use all reasonable endeavours to avoid consumer disappointment.
28. The decisions of the Promoter are final and binding in all matters relating to the Promotion and no correspondence will be entered into.
29. The Promotion and these terms and conditions, and any disputes arising therefrom, shall be subject to English law and the exclusive jurisdiction of the English and Welsh Courts.
30. Data Protection: Any personal information that entrants share with the Promoter will be kept secure and only used in line with these terms and conditions unless the entrant has opted in to future marketing from the Promoter and/or the Supplier. Unless otherwise notified to the Promoter in accordance with clause 19, by entering the promotion, entrants agree that their information may be used by the Promoter to administer the promotion and winners consent to give their name for the winners' list.
31. Promoter's Privacy Policy: https://www.findmypast.co.uk/content/privacy-policy