How we uncovered suffragette Emily Davison hiding in Parliament's crypt in the 1911 Census
2-3 minute read
By The Findmypast team
21 January 2020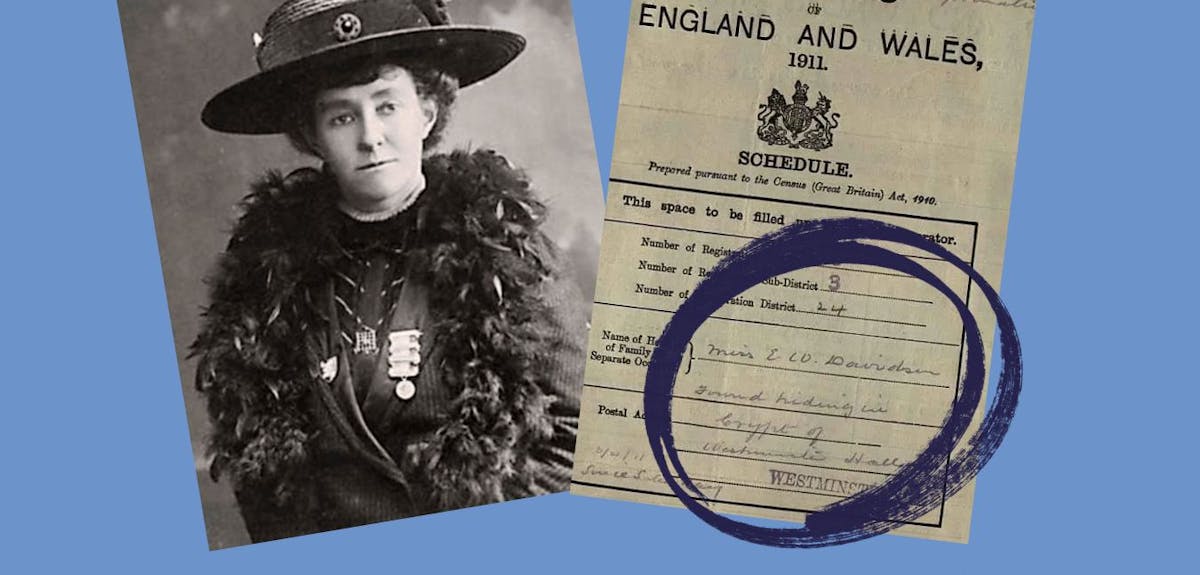 Census records can reveal some weird and wonderful things. Like famous suffragette Emily Davison recorded as 'hiding in Parliament's crypt'...
Emily Davison, the suffragette who died in 1913 after throwing herself in front of the King's horse at the Epsom Derby, is famously said to have secreted herself in the House of Commons at the time of the 1911 Census in order to have herself enumerated within Westminster.
We have discovered the actual historical documents that prove this is the case and will perhaps throw some more light on this key moment in parliamentary history. The event is considered to be such a landmark event in British politics that a plaque was secretly installed in Parliament in honour of her rebellious act by Tony Benn, with the aid of Helena Kennedy QC and Labour Leader Jeremy Corbyn.
We had already found Emily Davison on the census listed at her boarding house, but had wanted for some time to discover how much truth there was in the parliament story. Thinking laterally, we realised that there was a possibility that she had been incorrectly recorded, and decided to try searching for her using Findmypast's handy "name variants" search tool. This allowed us to not only find the exact names we searched for, but also common variants of those names.
Sure enough, when we repeated our search with the surname variants search on and allowing a few more years flexibility than her actual age at the time of the census, she immediately appeared listed as Emily Wilding Davidson (note the extra D in her surname). Most astonishingly, her address was listed on the census transcript as;
"
"Found Hiding in Crypt of Westminster Hall Westminster".
"
Intrigued, we decided to look at the original documents. First of all, we looked at the RG14 Household page. It has been signed by the Clerk of Works at the House of Commons, a Mr Percy Ridge (for a bit of fun, we also found him in the 1911 Census, living in South London).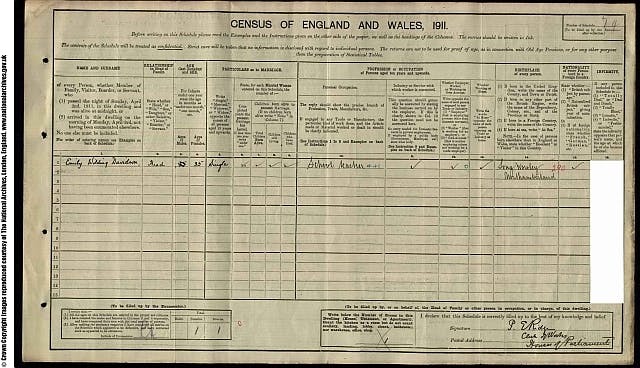 We can see that Ridge's handwriting only records Emily's name (spelt wrongly), age (3 or 4 years off her actual age) and marital status. Somebody else (likely to be the enumerator – the handwriting looks very similar) has filled in her occupation and place of birth. It is notable that both of these bits of information are wrong too – Davison had given up full-time teaching in 1909 to concentrate on her work for the Women's Social and Political Union and her birth was registered in Greenwich, not Northumberland (Davison's mother, however, had been born in Morpeth, Northumberland).
So now on to the back of the household form, to see where this extraordinary address from the transcription had come from.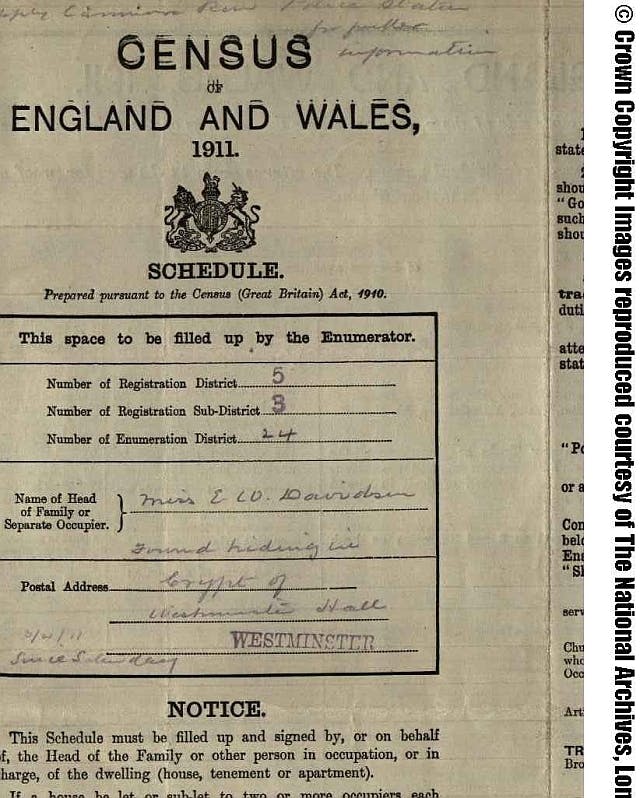 Sure enough, Ridge has put her address as "found hiding in the crypt of Westminster Hall since Saturday" There's also a note at the top which says;
"
"Apply Common Row police station for more information."
"
So finally, a quick look at the Enumerator's Summary to see whether Emily Davison succeeded in her aim of being enumerated at Westminster.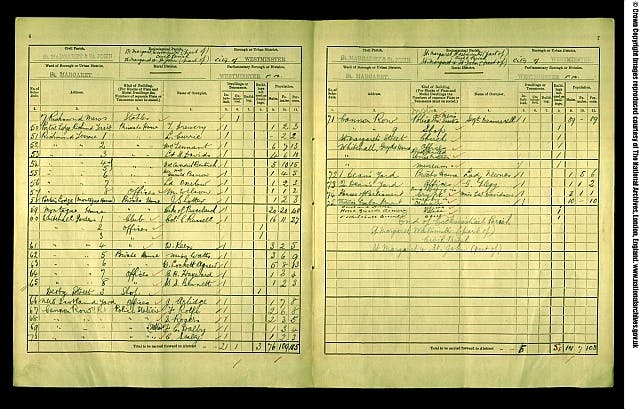 Sure enough, she has been enumerated as the sole occupant of the Crypt in the "Houses of Parliament".
Emily Davison, we salute you, and are proud and humbled to have found the documents that record your astonishing census night over a century later.
More on this topic:
Share this article
About the author