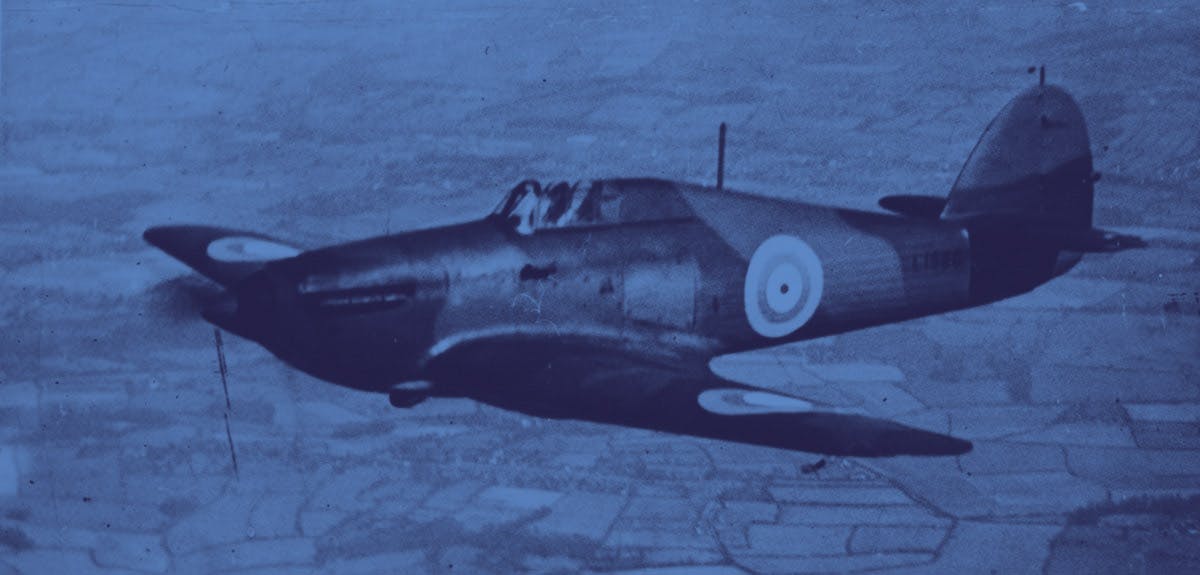 You'll be moved and fascinated by this Battle of Britain ace's final diary

What was it like to fight in the Battle of Britain? Read the fascinating entries from Pilot Officer Bryan Meaker's diary to find out.
The Battle of Britain holds a truly iconic place in the annals of British history and for good reason. The importance of it was perfectly encapsulated by Winston Churchill in his famous speech;
"never in the field of human conflict was so much owed by so many to so few".
Between 10 September and 31 October 1940, the fate of millions lay in the hands of a just few thousand men. With enemy forces amassing on the French coast, the only thing that stood between Britain and the threat of invasion were the men of Royal Air Force fighter command.
Find family heroes and so much more
Enter a few details to see your relatives' records at your fingertips
But who were these celebrated "few"? Nearly 3,000 men were awarded the Battle of Britain clasp, the majority of whom were British. But pilots also came from other nations such as Australia, Canada, New Zealand, USA, Ireland, Belgium, France Poland and Czechoslovakia. While their backgrounds may have been diverse, there was one thing the men of fighter command had in common; their youth.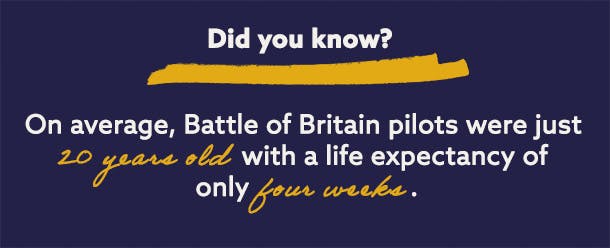 Delving into our military records and newspapers, we've discovered one such man - Irish born Hurricane pilot and certified ace, Pilot Officer James Reginald Bryan Meaker DFC. Born in Kinsale, County Cork in 1919, Meaker, served in No.249 squadron, one of the top-scoring fighter squadrons of the war, and was just 21 years old when he lost his life six weeks into the battle.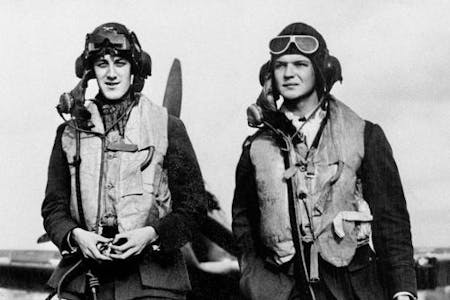 Meaker (left) and South African born Pilot Officer Percival "Percy" Burton (right). Pals until the end, Meaker and Burton were both killed on the same day. Burton was recommended for the Victoria Cross after ramming a Messerschmitt Bf110. Severing its tail, Burton bought his victim down with him in the subsequent collision that claimed both his and the crew of the Bf110's lives.
After weeks of defending the skies alongside his pals and fellow aces, Percy Burton, "Butch" Barton and "Ginger" Neil, Meaker's luck finally ran out on 27 September 1940 when he was hit by return fire from a Junkers JU88. He was last seen by comrades preparing his parachute but is assumed to have struck the tailplane on exiting the cockpit. His Hurricane came down at Dallington, East Sussex and his body was found two miles away with his parachute still unopened.
Having "destroyed six enemy aircraft and severely damaging a number of others" Meaker was posthumously awarded the Distinguished Flying Cross, prompting his grieving parents to donate the diary he kept "for his own amusement" to the Air Ministry who then shared it with the press.
Meaker's Battle of Britain war diary
"First day at our new station. Leapt from our virgin couches at 06:50; this shook me a bit. Was still slightly dopey when at 15,000 feet we sighted a solid block of 20 Dornier 215s with a large fighter escort. Attacked en masse, then dived away as fighters came down. Joined Butch again after a frantic tail-wagging breakaway, and started after the bombers again. Suddenly we see a Dornier coming towards us—running for home. We jump on it - Butch sits on its tail, pumping lead at it. I do quarter attacks. He doesn't like this, lumps fall off and smoke pours out. I am awake now and feeling hungry. Butch says: 'Don't waste any more ammunition on him: this guy's finished.' The Dornier heads for Rochford. He is a wreck—rudders in ribbons and pieces falling off all the time. One guy comes out at 100 feet. Parachute streams he hits the ground—bounces.
Two more quick sorties seeing nothing, and then more blitzkrieg on the fourth do. We run into a whole pile of ME. 110's and DOs. Too far to attack the bombers, so start mixing it with the 110's. They circle and a lot come down vertically behind us. I lose 'Butch' and everybody else as I turn round and round, watching my tail. Then a 110 rears in front of me, plain view, as he does steep turn. Range is almost point-blank as I turn inside and plug him. He disappears under my nose and when I see him again he is diving vertically starboard engine and wing blazing. I feel very cocky again, look for the fight, and find it is out of sight. I go home and find that I've only fired 300 rounds. We sleep very soundly.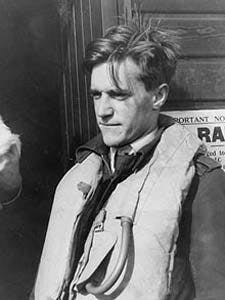 "Unsuccessful day – first sortie makes no contact. On second whole Squadron climbs like hell over base as we see a smoke ring over us as a bombing mark. Then we see another big raid 10,000 feet above us. We stand on our tails to them – not a hope. When we look down we find the Aerodrome obscured by a pall of smoke. Every bout scored – a lot o buildings wrecked but only three casualties. Shocking to see the whole thing happen and not be able to do a thing about it. Small party in Epping in the evening. Stayed sober."
"Two scrambles – 09:20 and 12:30, no contact made and not fun at all. Just roaming around looking for "Hun in the Sun". Watched night bombers in the dark, parachute flares and AA bursts all over the sky. Slept well."
"Another big day. Over Thameshaven we met 25 bombers and scores of ME 109s. Fired at a DO.215 but had to break away when fighters came down en masse. Chased bombers for ten minutes but couldn't catch up. Came home and found Butch had bailed out and landed in a garden, where a terrified woman looked at him and then ran into the house. No more action today."
"Up in the morning over the Thames Estuary to meet another raid. We nip in before the Hun fighters can get at us and do a quick flank attack. Fighters follow at once. I follow behind the bombers, watching two ME 109's coming behind me. Before they get into range I turn sharp left and whip under them. Unfortunately, Crossey, who is following gets plugged by one of these guys and has to crash-land. I get into a circle with two 109's and shoot at the second. He starts to dive so I pull the plug and chase him. Third burst sets him on fire, while of starboard wing and fuselage. We are down to 50 feet, so I leave him to burn and climb to 10,000 feet at full bore. Fighting is still going on and two more 109s come for me. They work in pairs and it seems fairly easy to number 2. Again I pick him out and we tear down to 500 feet. We race along the Pilgrim's Way and I fire the rest of my ammunition into him. Both radiators stream glycol and I can smell him burning. I formate on him with I finish my rounds and he has is oxygen-mask off, looking out at me. I leave him to go home and see him crash a few miles on. Going home I see a parachute and circle it – a British one. Later it turns out that it was the C.O. who got-shot down by 109s. In the evening a party then on to a dance with the boys of another squadron. Slept at Stapleford and stayed in bed till 9."
"I have the rest of the day off and a very good thing too. Squadron gets into the big London raids and loses quite a few. [REDACTED] died in hospital, [REDACTED] missing, several more shot down and bailed out. Stooge and I drove down to Maidstone Hospital to pick up the C.O. Coming back we get to the Blackwall tunnel when the trouble starts, raining down all round us – no time to get to a shelter. We stand under and arch and watch the bombers approaching in waves. Hear the bombs whistle down and the explosions. Molotov breadbasket showers incendiaries round us, several in gasworks, which fortunately does not go up. Watch Cockneys put out one incendiary, discover a gloomy type leaning against a lamp-post, who discloses he is waiting for the pub to open!"
"The C.O. feels a bit hard-done-by, as he's been shot down and wounded yesterday, then gets bombed to-day. [REDACTED] drives like a demon along a street and skids to a stop. Bus-driver pulls up beside us and says, "come on, nah, turn it up, mate – you're on the blinkin floor this time". Laughter mingles with bomb crashes!"
"We all have stiff whiskies in the Rustle. Go back in the dark via Hampstead Heath. Fires light up London and fire engines are coming from all suburbs into the docks. Stop at a pub just outside Edmonton and get a riotous reception and lots of beer from excited public bar. I shake hands with everybody and get quite merry."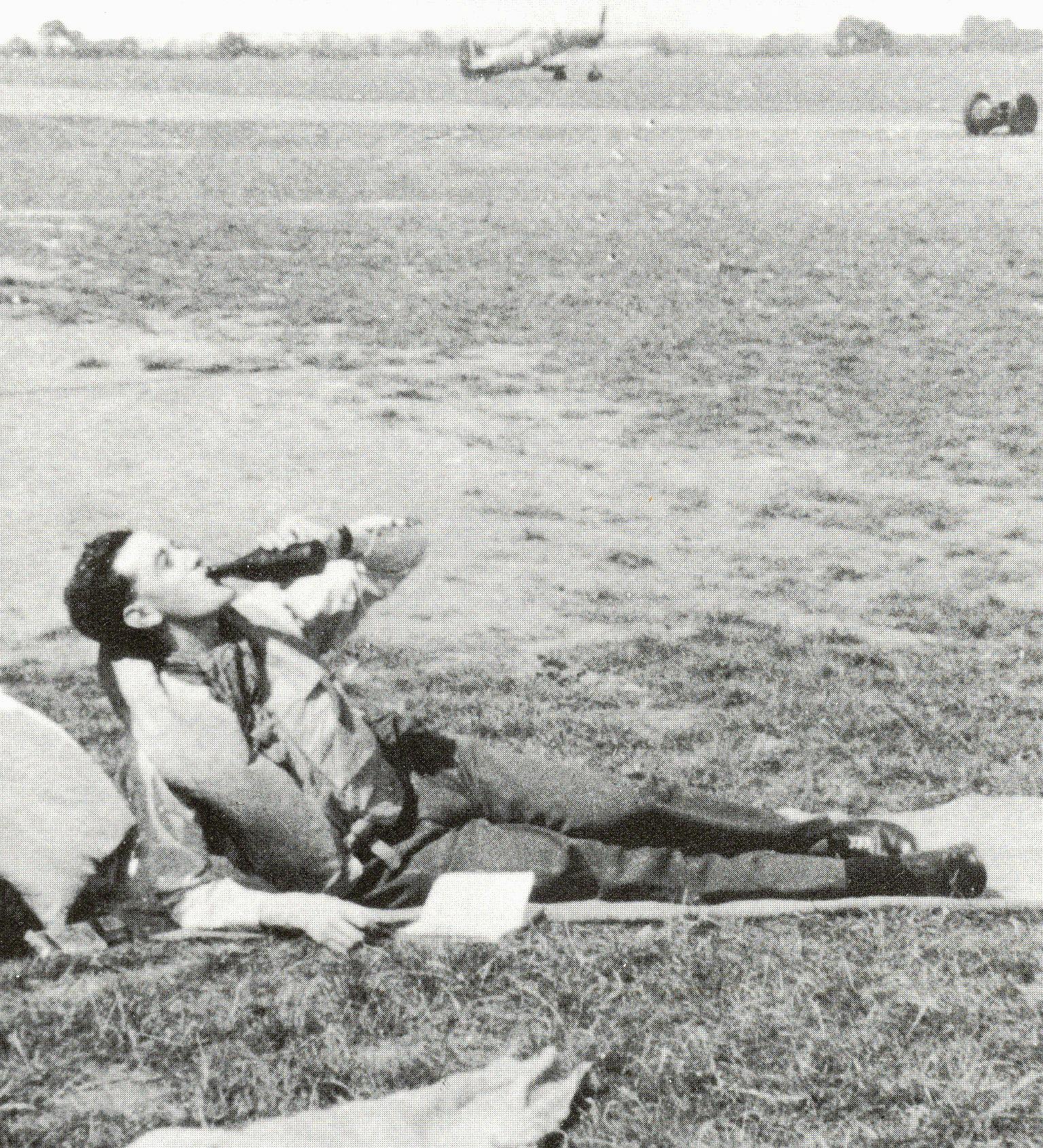 "One short sortie in the evening but saw nothing at all."
"Again no engagements. On patrol with 46 and we see 109s high above us but they won't come and play. Wrote some letters."
"Cloudy day. Blessed relief and lots of sleeping in the daytime. Went up in Blue section and did cloud flying – not a hope of seeing anything if there had been anything there."
"First sortie in the morning brought us head-on into a bunch of HE.111s. I do such a violent breakaway that I do an inverted spin. I lose 5,000 to 6,000 feet before I can get out of it. Can't find the fight at all after that so I go home fed up. All set to get my own back at the second "do", but all we see are one or two 109s miles away. No fun."
"Another cloudy day, and scrambling in ones and twos to try almost impossible cloud interceptions. I get madder than hell because wireless is no use every time and I get home three times purely by good luck."
"More pointless cloud flying exhibitions. Wireless awful and everybody very testy about it. Bombing and AA fire all the time as it was a beautiful night."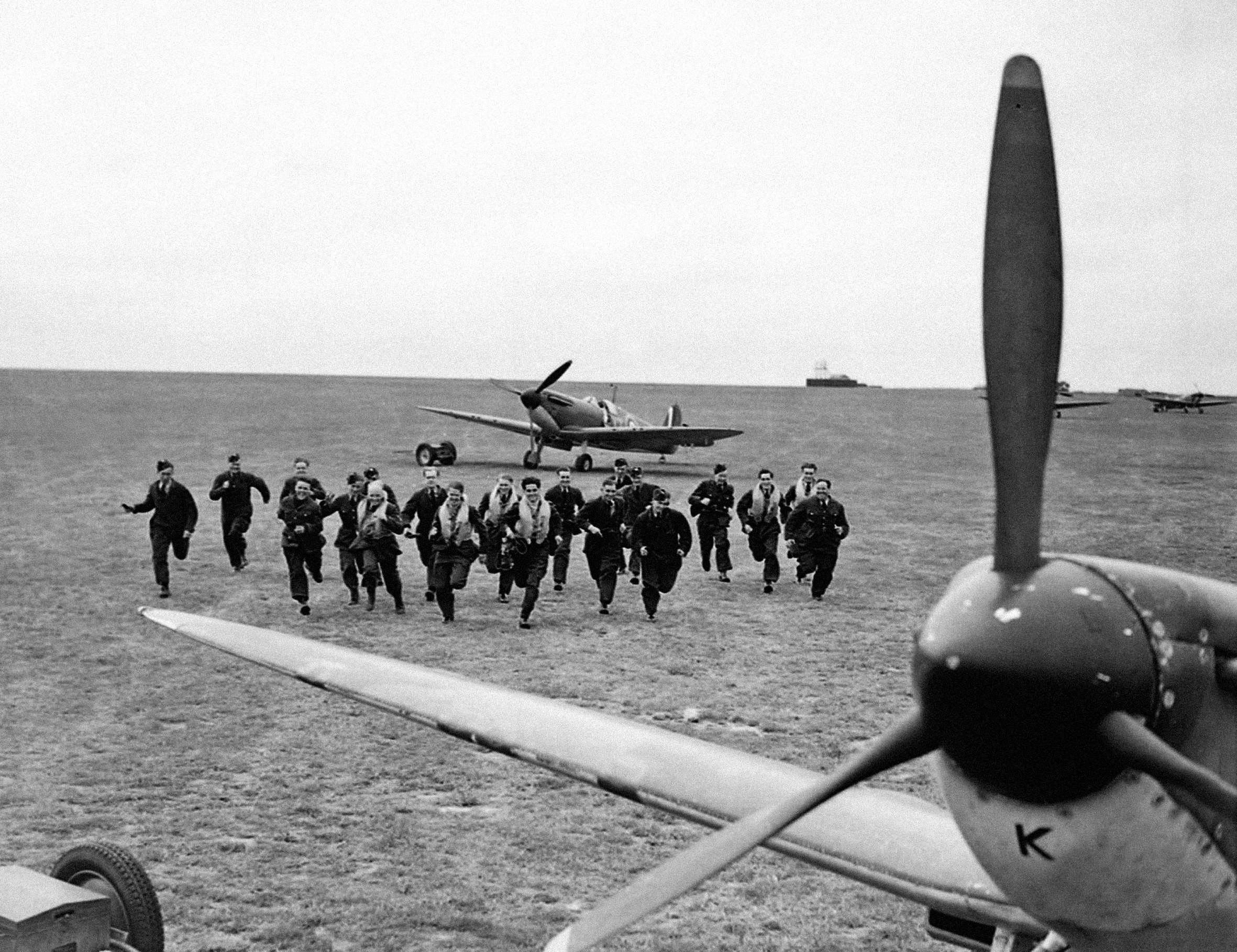 "Trip down into Sussex with another squadron, and saw more of our fighters than I've ever seen before. I got attacked twice and everybody split up and came home singly or in pairs. Those attacking me must have been 113, but every time I went to attack these guys, they were spitfires! Most foxing!"
15 September 1940 was the day on which the record number of 185 enemy aircraft fell to Royal Air Force fighters.
"The best day we've had. We go off at lunch-time with another squadron and meet 16 Do's and lots of 109 s. We go into the bombers, but Butch breaks early as he gets hit. I break with him, lose him. Then for the bombers again. Meet them coming home and no ME.s in sight. So I attack one on the edge of the formation. Get him straight away and he leaves the rest of his boys. Follow him, plugging all the time. A quarter attack comes off beautifully, see bullets going in, in a line from the nose back to the tail, at intervals of a foot all the way down. See that rear-gunner is lying back in his seat, probably dead. Do is smoking like a chimney, can smell it from behind him, oil comes back on to my aircraft and pieces fly past me. Then three blasted Spitfires horn in and drive me away from my own private and personal Dornier. One guy bales out from the Jerry, so I put eternal fear into him by diving straight at him and missing by inches. He has his arms folded and seems quite resigned. His ship crashes in flames and Spitfires shoot a line all around it, probably dropping visiting cards: - "I did this myself, see you in the Universal Brasserie, 8.30, Saturday". They're getting quite a reputation for pinching a bomber when a Hurricane has got it on the run. So I go home first and claim it before he can!"
"Afternoon brings even better pickings. Again we attack the Dornier formation and break it wide open. They scatter all over the sky and go for the clouds. I get one straight away with a long burst. He catches fire and goes straight in. Chase another one in and out of the clouds, port engine catches fire and goes out and Butch and I claim him as a probable: dammed sure he was finished."
Thousands of aircraft took to the skies during the Battle of Britain, which started 80 years ago today. How well do you...

Posted by Findmypast on Friday, July 10, 2020
"Then I see two ME 109s behind me and whip around in a left-hand climbing turn. Horrid moment as I see his cannon winking at me but he misses. Turn and start circling with the two of them. Gradually tighten the turn till I get a deflection shot at No. 2 from above. See my bullets hit his left wing and he is so shaken he dives into a cloud. Chase these two again and lose them. Then the two fighters coming straight for me. I think they're Spitfires, so I don't fire. Dodge under them and find they are the same two yellow-nosed MEs! Annoying because they make off and I can't catch them again. Most successful day for the squadron, a bag of ten destroyed, thirteen probable and others damaged."
"Our losses-nil. My bag-two destroyed, one probable, one damaged. Beginning to shoot a bit of a line. Celebration in the evening at Epping!"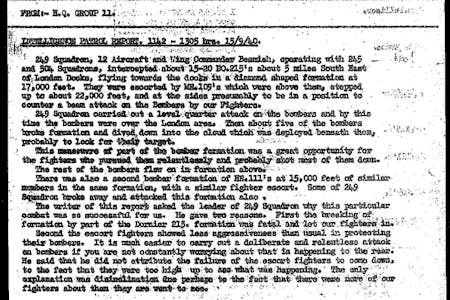 Meaker's final entry was a particularly ordinary one, perhaps making it all the more poignant.
"Scrambled out of bed in absolute confusion. Cloud up to 20,000 and mighty clod. We see dozens of vortices but no enemy."
Remembered as a lively and enthusiastic man, Bryan Meaker was buried with full military honours at West Dean Cemetery in a plot next to one reserved for his parents. His family chose to write their own epitaph for his Commonwealth War Graves Commission headstone that reads;
"THESE MEN WERE VERY GOOD UNTO US, THEY WERE A WALL UNTO US BY NIGHT AND BY DAY"
Did your family heroes take to the skies in the Battle of Britain?