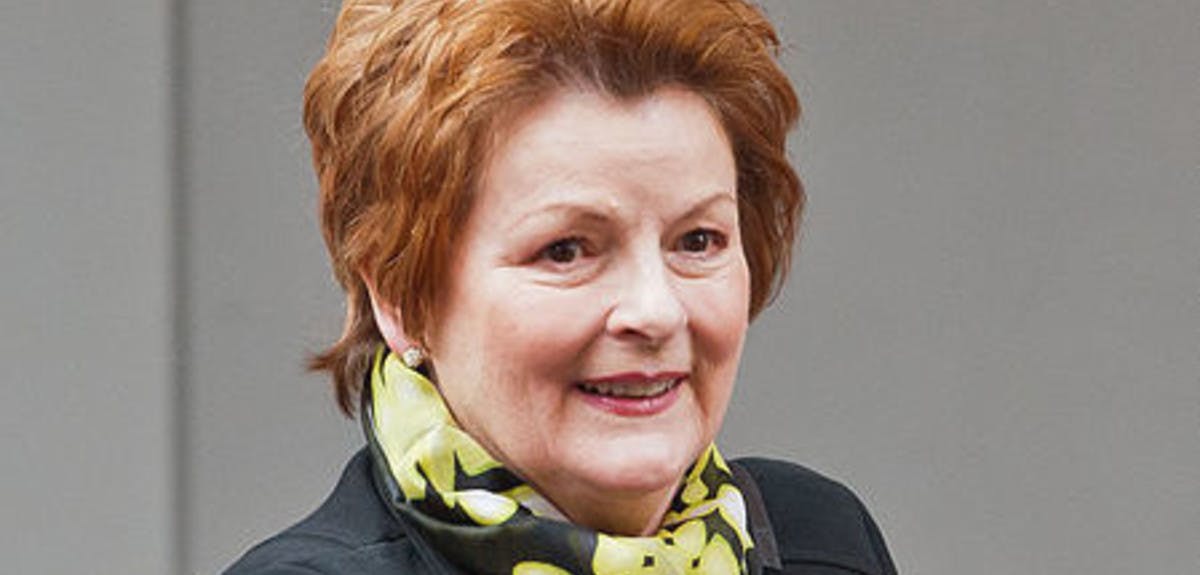 Brenda Blethyn's Family Tree
Family historian, Roy Stockdill, takes a look at Vera star, Brenda Blethyn's family tree
The brilliantly versatile actress Brenda Blethyn OBE, one of Britain's best-loved actresses, has a family history that is as varied as her acting career. Brenda Blethyn's films include Secrets & Lies (1996), Saving Grace (2000) and Pride and Prejudice (2005). She's also had a glittering TV career with gritty dramas like Vera, in which she currently stars as a detective in the title role.
In her personal life, Brenda Blethyn has been married twice and has no children. She wed Alan James Blethyn in 1964. Their marriage ended in 1973 but Brenda kept the Blethyn surname as her stage name. Brenda's second husband is art director Michael Mayhew, whom she married in 2010.
Brenda Blethyn was born Brenda Anne Bottle on 20 February 1946 in the Kent seaside town of Ramsgate. She was the youngest of nine children born to a Roman Catholic couple who unusually didn't marry until they'd already had eight children. Brenda herself has never made any bones about this. In her memoirs entitled Mixed Fancies (2006) she wrote:

According to Dad, when he met Mum it was love at first sight and it wasn't long before he popped the question. Mum, however, although she felt the same way, said she needed a little more persuading. Quite a lot more persuading as it turned out! Even after the birth of their eighth child in 1943.

Young Brenda Blethyn was first introduced to cinema by her parents, who took there on a weekly outing. However, it wasn't until her first marriage ended that she pursued a professional career in acting.
Brenda Blethyn's parents were William Charles Bottle, born in 1894 at Boughton under Blean, a village between Faversham and Canterbury, and Louisa Kathleen Supple, born in 1904 at Canterbury. Thus, when Brenda arrived her father was almost 52 and her mother was 41. Brenda was 20 years junior to her eldest sibling.

What Will Your Family Tree Reveal?
The couple had met in the early 1920s when both were in service at a big house in Broadstairs, next to Ramsgate. William came back from six years with the Royal Field Artillery in India, where he was a bombardier, to work as a chauffeur in a household where Louisa was a parlour maid. According to Brenda in her memoirs, the family were poor but very close.

I found William C Bottle in the 1911 census. He was then aged 17 and working as a milkman –perhaps an appropriate occupation given his surname of Bottle! The family were at 77 Church Street, St Peters, Broadstairs, and William's parents – Brenda's grandparents – were another William Bottle and his wife, Jane Ellen.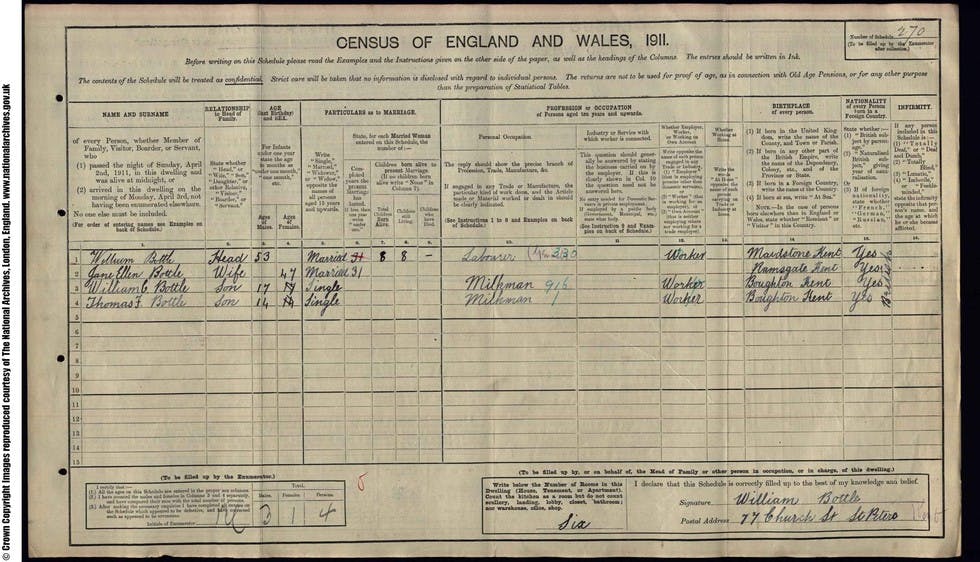 William snr was shown as being aged 53, a labourer, born at Maidstone, and Jane Ellen was 47, born at Ramsgate. According to the census schedule, they had been married for 31 years and had had eight children, all of them then still living, but only William and his younger brother, Thomas, 14, were still at home.

Brenda's mother, Louisa Kathleen Supple, appears also in the 1911 census at 99 Military Road, Canterbury. She was aged seven and one of six children living with their parents, Edward Supple, a 36-year-old plasterer, and his wife who was also called Louisa, aged 34. The whole family all gave Canterbury as their birthplace. This entry shows that Edward and Louisa had been married for 13 years and had had nine children, two of whom had died.

With Findmypast's marriages indexes, I found the marriage of Brenda's paternal grandparents William Bottle and Jane Annie Ellen Challen in Thanet, Kent in 1878. I traced William and Jane through the various censuses and it seems fairly clear that, when she married William Bottle, Jane Challen was only 15, perhaps just short of 16. He would have been 19 or 20.

In those days, the minimum age for marriage was 14 for a male and 12 for a female (until 1929). Not too many girls married at 15 but it was by no means impossible.

I was fortunate enough to be supplied with a photo of the couple by another descendant, which appears on a Bottle One-Name Study website and is reproduced here.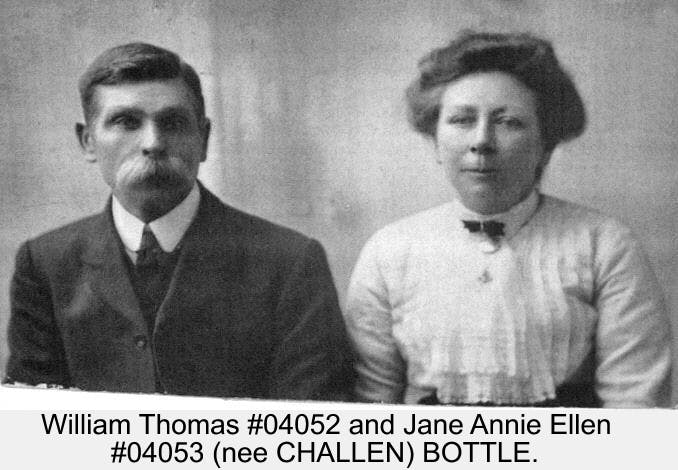 One slight oddity I discovered in the census records was that in 1881 William Bottle was enumerated with his in-laws, Edward and Clara Challen, at 11 Hackney Road, Shoreditch, Middlesex, in London's East End. William's occupation was given as 'sweep' and he was only eight years younger than his mother-in-law, Clara Challen, aged 32, born at Canterbury. Edward Challen, 36, was a tobacconist, born at Ramsgate.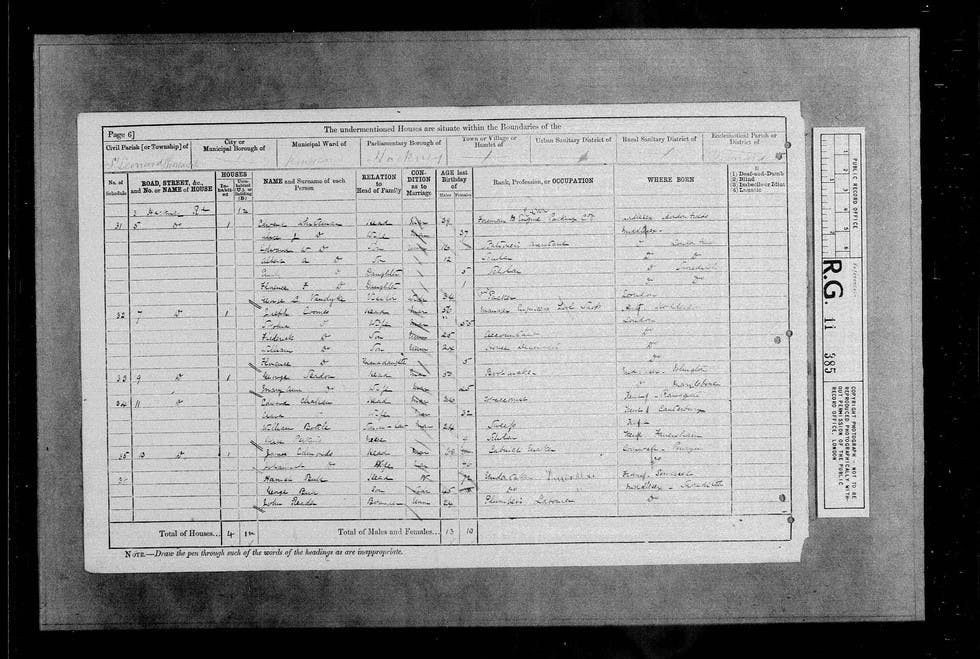 Where was Jane, William's young wife? She was at 12 Staffordshire Street, Ramsgate, aged 18 and described as the wife of a chimney sweep, with their daughter, Eliza, just a year old.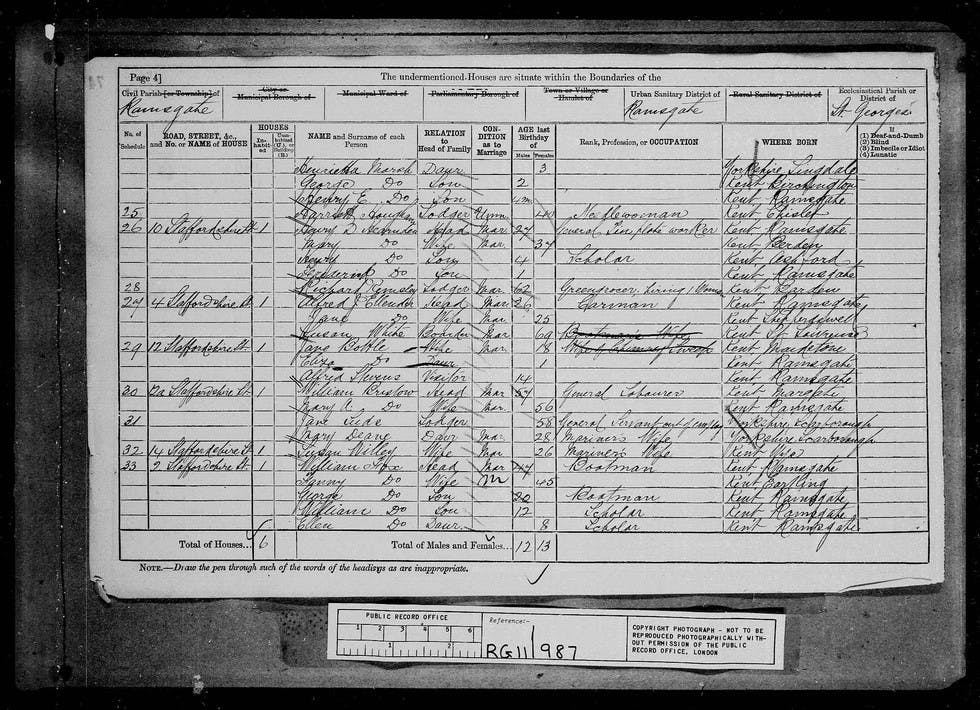 Why William and Jane were enumerated separately in 1881 is a mystery – possibly William was just visiting his in-laws at Shoreditch. However, they were together in all the subsequent censuses in Kent, William being a chimney sweep's labourer in 1891, a bricklayer's labourer in 1901 and described simply as a labourer in 1911.

William Bottle's birth was found in Findmypast's birth indexes in Maidstone in 1858. Yet when I looked for him and his parents in the 1861 census, I stumbled upon another curiosity. There was only one candidate – a William Bottle, aged two, one of four children living with parents Charles and Elizabeth Bottle, at Bone Alley, Maidstone.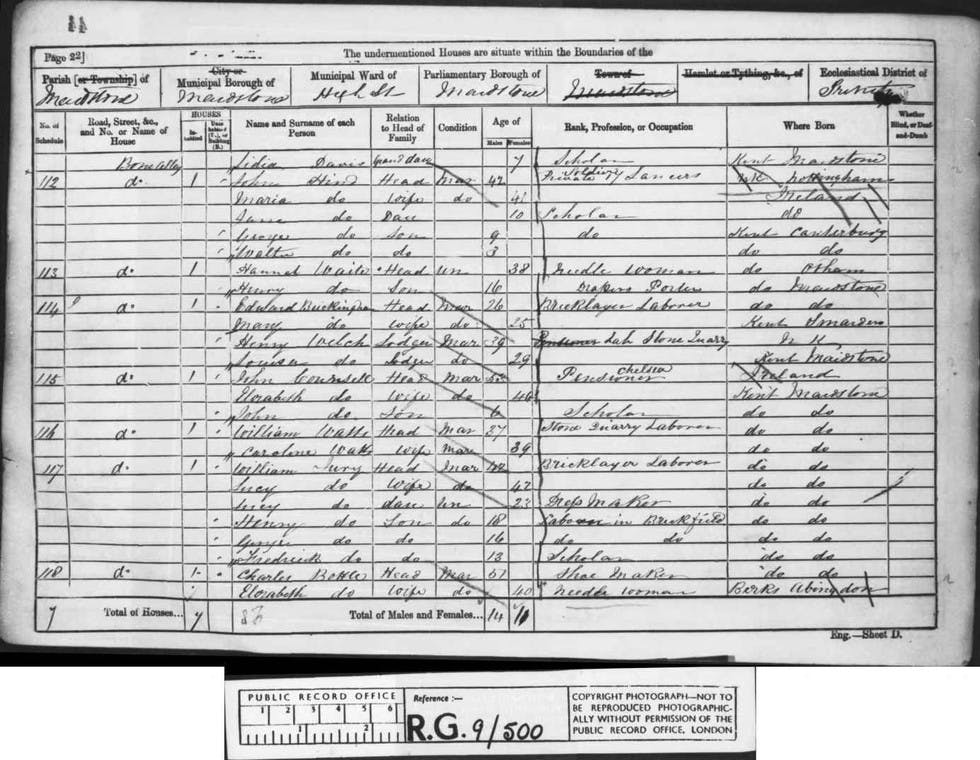 However, William's birthplace was shown as Stepney, which could only have been an error because in all subsequent censuses it was clearly given as Maidstone. Moreover, I could find no birth of a William Bottle at Stepney at the appropriate time.

Charles Bottle was a shoemaker, born at Maidstone, but unfortunately his age was unclear. The image suggests it could have been 61, 57 or 51. I subsequently discovered that, in fact, Charles was baptised in 1809. Whatever Charles's age, his wife, Elizabeth, a needle woman, was considerably younger, being shown as 40 and her birthplace given as Abingdon, Berkshire. This couple, Charles and Elizabeth Bottle, were Brenda Blethyn's great-grandparents.

Oh dear – the vagaries of censuses once more! I found Charles and Elizabeth Bottle in 1851 when they were living at 3 Bartholomew Place, Bethnal Green, Tower Hamlets with four children all born in the East End of London. Charles was a bootmaker, aged 39, and Elizabeth was 30, her birthplace in this census being given as Reading, Berkshire, some way from Abingdon.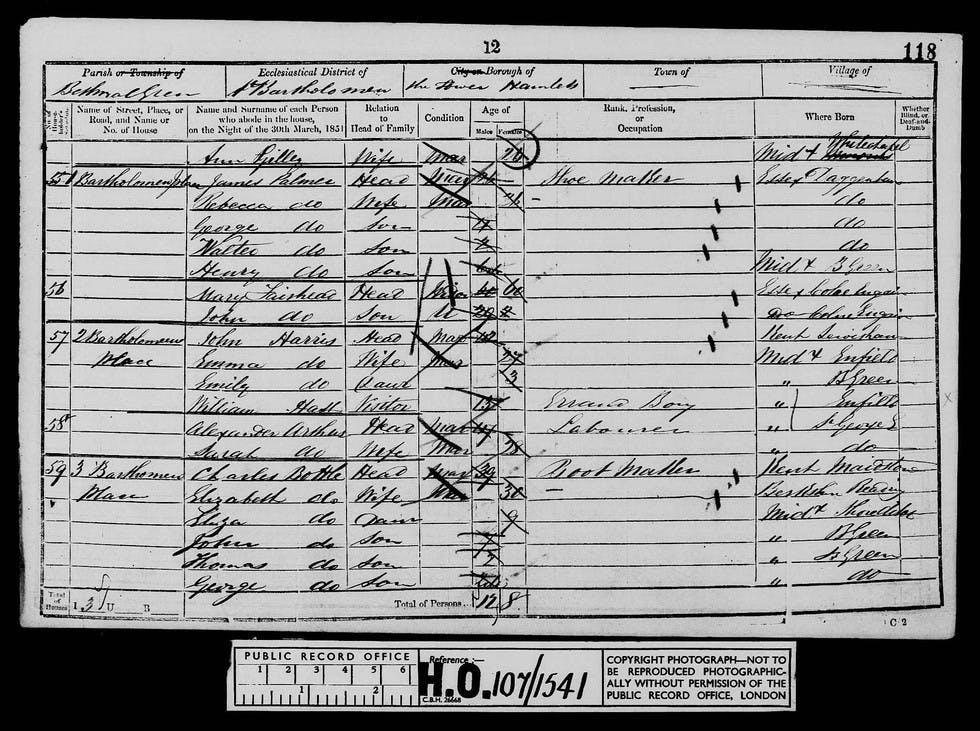 A close analysis of the 1851 and 1861 censuses and birth indexes – taking into account the errors – suggests that Charles and Elizabeth had half a dozen children born in the East End between about 1842 and 1856 and then another two, including William, born at Maidstone.

I couldn't find a marriage between Charles and Elizabeth though, either in Kent or East London. So I obtained a copy of the birth certificate of their son William from the General Register Office for England and Wales.

This revealed that he was born on 4 July 1858 in the registration district of Maidstone at 6 Windmill Row. His father was Charles Bottle, a shoemaker journeyman, and his mother was Elizabeth Bottle, formerly Wellman.

Despite being armed with this new information, I could still find no marriage between a Charles Bottle and Elizabeth Wellman. So, either the marriage was somehow not recorded or the couple were never married in the first place – shades of the relationship between Brenda Blethyn's parents decades later.
* My thanks for help with this article go to John Bottle, who runs the Bottle One-Name Study and Liz Samson, a descendant of William and Jane Bottle who supplied the photograph of Brenda Blethyn's ancestors.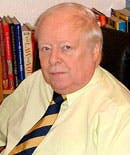 Roy Stockdill has been a family historian for almost 40 years. A former national newspaper journalist, he edited the Journal of One-Name Studies (for the Guild of One-Name Studies) for 10 years. He is on the Board of Trustees of the Society of Genealogists and is commissioning editor of the 'My Ancestors…' series of books. He writes regularly for Family Tree magazine.

More of Roy Stockdill's Research: