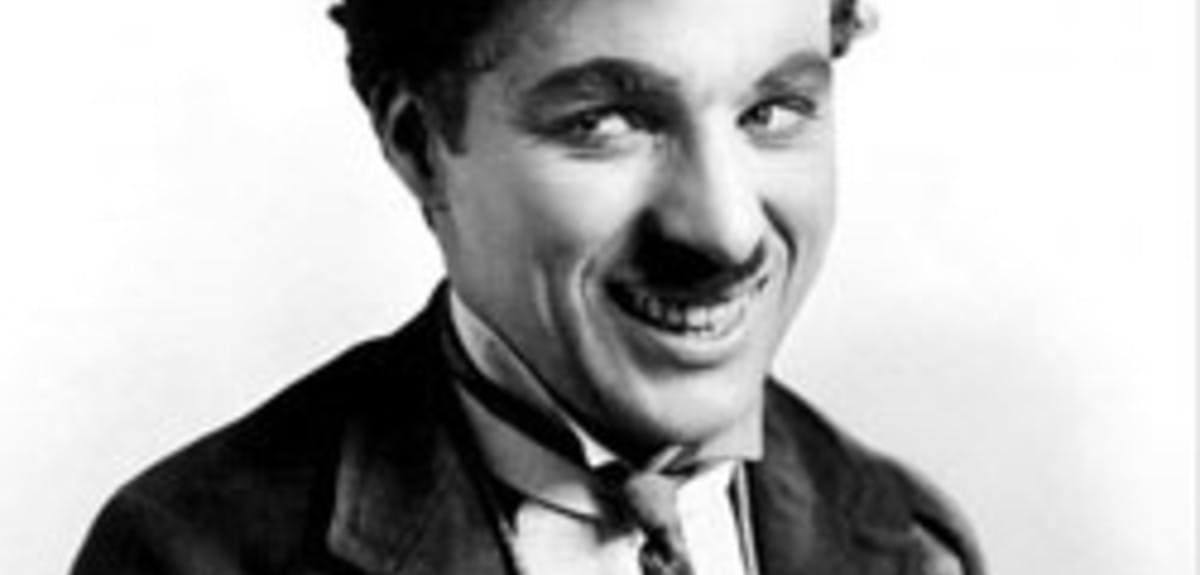 Famous family trees: Charlie Chaplin
Welcome to the first in a new series of blogs which explores the family trees of the famous. Experienced family historian, Roy Stockdill, takes us on a journey through time as he investigates the family history of the famous, both living and dead. Roy's first blog focuses on silent film star Charlie Chaplin.
Did you read those speculative headlines about Charlie Chaplin, perhaps the greatest British icon of the Hollywood cinema, having been born a Frenchman? Yes, I laughed too!
It seems, however, that the story wasn't quite as daft as it first sounded. MI5 records released from The National Archives revealed that in the early 1950s the security snoops investigated Chaplin's background at the request of the American authorities during the anti-communist McCarthyite witch-hunt.
The Americans apparently thought he was a Russian Jew who had been born near Paris in the name of Israel Thornstein. The investigators, however, found no birth certificate for Chaplin, either in London or France, and also found no hard evidence of his supposed communist links.
That didn't stop the Americans from declaring the 'Little Tramp' persona non grata and refusing him a re-entry visa when he sailed back to Britain in 1952.
Virtually every reference to Chaplin's birth says he was born as Charles Spencer Chaplin on 16 April 1889 in East Street, Walworth, South London, but no birth certificate has ever been found. Another story has it that he was born in a gypsy encampment at Smethwick, near Birmingham, his mother Hannah Harriet Pedlingham Hill being descended from a travelling family.
The Wikipedia article on Charlie's elder half-brother, Sydney, says he was born illegitimate as Sidney John Hill on 16 March 1885, to the then 19 year old Hannah. This is supported by entries in the birth indexes on findmypast.co.uk for the June quarter of 1885 in the St Saviour, Southwark registration district.
In the same quarter of 1885, Hannah married Charles Spencer Chaplin Snr, also in the St Saviour registration district, but it's thought a different man was Sydney's father. Charles Chaplin Snr was a music hall artist and an alcoholic and by 1891 he and Hannah were living apart. She too was a music hall artist under the name of Lily Harley.
The 1891 census shows Hannah and her sons living at 94 Barlow Street, Newington, South London, with Hannah described as a 'Professional Singer Music', Sydney aged six and Charles Jr aged two. All three were said to have been born at Walworth:
When I looked at the image, however, a somewhat curious fact emerged. Also in the household was a Mary A Hill, a 50-year-old wardrobe dealer who I subsequently discovered was Hannah's mother and Charlie Chaplin's maternal grandmother. Two unidentified women were also listed as being in the household, described only in the name column as 'NK' and said to be aged 30 and 35.
A note in the profession or occupation column, written in a different hand to the enumerator's, read: 'These two females were admitted Saturday night & turned out Monday without information being offered.' Who were these mysterious women? Stage friends of Hannah? Prostitutes? We shall never know.
Turning to Charles Chaplin Snr, I found another curious entry in 1891 - he appeared to have been enumerated at the same address twice! He was living as a boarder with other music hall artists at 38 Albert Street, Newington:
The index shows him to have been aged 26, described as a music hall artist born in London. On the image, however, on the line immediately below his entry - and clearly in the same household - was another entry for a 'Charles do' (indicating the name was also Chaplin), aged 27, a music hall singer born at Paddington.
Is it conceivable there were two men of the same name and near-identical age, both following the same profession and both boarding in the same household? I never cease to be surprised by anything in genealogy but it would be an extraordinary coincidence! I suppose it's just remotely possible there were two of them and they could have been cousins.
What seems more likely, however, is some sort of mistake by the enumerator. Perhaps the head of the household filled in one schedule and the enumerator gave a separate schedule to Charles Chaplin Snr, who also filled it in and somehow both got into the enumerator's book?
I made a still further interesting discovery when I looked for Charles Chaplin Snr in the census of 1871 and found him living with his parents (indexed as Caplin) at 15 Rillington Place, Notting Hill, London:
Charles' father, Spencer, was a 35 year old butcher born at Ipswich, Suffolk. His mother Ellen, aged 33, was also born in Suffolk and young Charley - as he was described - had half a dozen siblings. Spencer and Ellen Chaplin were Charlie Chaplin's paternal grandparents and it was presumably from his grandfather that he got his middle name.
In 1881, Spencer Chaplin, now a widower, was still at 15 Rillington Place with four of the children:
Decades later Rillington Place was to become infamous as the site of the murders of a number of women by the serial killer, John Reginald Halliday Christie. Ten Rillington Place was the subject of books and a film and was only five doors away from where the Chaplin family had lived. The street was torn down in 1971, exactly 100 years after the Chaplins were first recorded as living there.
The Chaplin family saga got more complicated in 1892 when Hannah Chaplin gave birth to a third son as the result of a relationship with another music hall entertainer, Leo Dryden, real name George Dryden Wheeler. The boy was named Wheeler Dryden and taken to live with his father. Later, he met his Chaplin half-brothers and worked for Charlie in Hollywood.
As a result of the affair, Hannah's marriage to Charles Chaplin Snr finally broke up and her mental state declined until she was admitted to an asylum. Sydney and Charles Jr spent some time in a school for orphans and destitute children.
When he was 12, Chaplin joined a troupe of young male dancers called The Eight Lancashire Lads and got his first break in show business. He is found with them in the 1901 census at 94 Ferndale Road, Lambeth, South London:
Chaplin does not appear in the 1911 census because by then he was in America with the Fred Karno troupe. He was to go on to become the most famous film star in the world and a Hollywood legend. Was he born a Frenchman? I very much doubt it!
Roy Stockdill has been a family historian for almost 40 years. A former national newspaper journalist, he edited the Journal of One-Name Studies (for the Guild of One-Name Studies) for 10 years. He is on the Board of Trustees of the Society of Genealogists and is commissioning editor of the 'My Ancestors...' series of books. He writes regularly for Family Tree magazine.