Kate Winslet's Humble Family Roots
6-7 minute read
By The Findmypast team
6 June 2019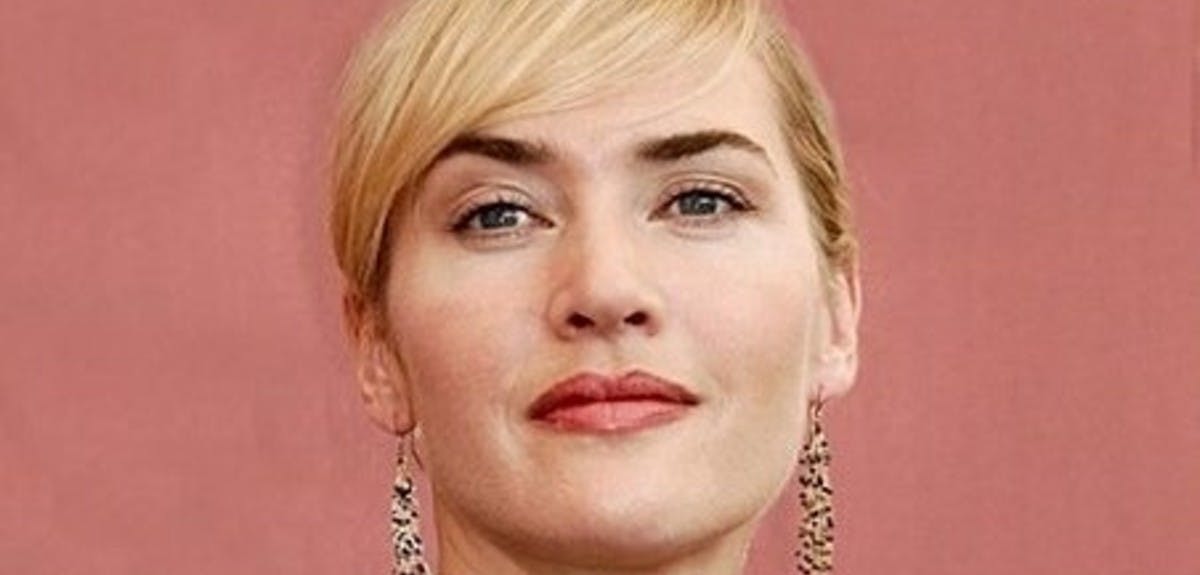 Expert family historian, Roy Stockdill, investigates the family tree of Oscar-winner Kate Winslet
Berkshire-born Kate Winslet is one of the most bankable British stars in Hollywood, ever since she sprang to fame with her appearance in
Titanic with Leonardo DiCaprio.

Thrice-married Kate's love life has occupied acres of space in the tabloid newspapers but her family history is somewhat less colourful. I was delighted, however, to come across a great-great aunt in the censuses who was a barmaid called, would you believe, Kate Winslet! Kate's ancestors were publicans in Reading, the largest town in Berkshire.

She was born Kate Elizabeth Winslet, on 5 October 1975, the second of four children of parents Roger John Winslet and Sally Ann Bridges, who were married at Reading in 1968. She has an older sister Anna, younger sister Beth and a younger brother Joss. Kate's parents were both 'jobbing actors' but had to do a variety of other jobs to survive.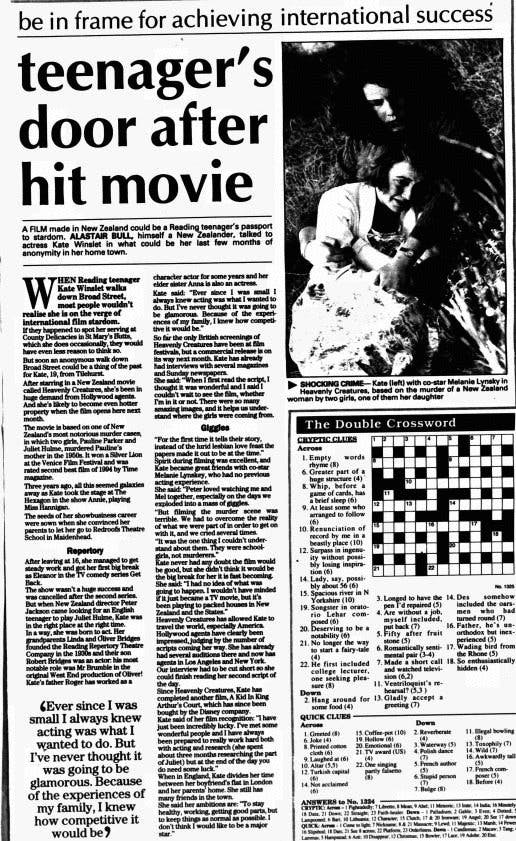 Kate has said in interviews that she didn't have a privileged upbringing and that the family's daily life was 'very hand to mouth'. She has a theatrical background, however, because her maternal grandparents, Oliver and Linda Bridges, founded Reading Repertory Theatre.

Kate's father Roger was born at Reading in 1939, not long before the outbreak of WWII, the son of Charles John Winslet and Blanche Sims. The couple married at Reading in 1932.


Charles Winslet, Kate's grandfather, was born in 1908 and he is found aged two in the 1911 census, along with his parents, Charles and Emily Mary Winslet. The family were living at 21 Great Knollys Street, Reading, with Charles senior's occupation shown as licensed victualler: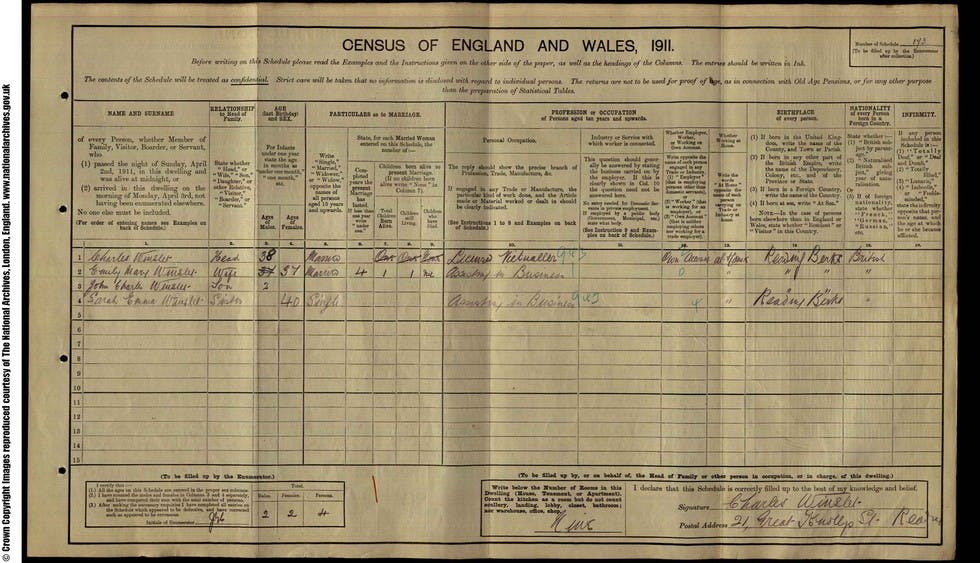 The pub he kept is not named in the census but a 1914 trade directory for Reading reveals that it was called The Lion.

Kate's great-grandfather Charles Winslet Snr was aged 38, his wife 37 and they had been married four years. Their son, aged 2, appears in the census with his forenames reversed as John Charles Winslet. Also living with them was Charles Snr's elder sister Sarah Emma, a single woman aged 40. Both she and Emily Mary gave their occupations as 'Assisting in Business'. All four members of the family gave their birth place as Reading.

I found the marriage of Charles Winslet and Emily Mary Wells at Reading in the General Register Office marriage indexes in the June quarter of 1906 .

A decade earlier in the 1901 census, a then unmarried Charles was aged 23 and helping his father, John Winslet – Kate's great-great-grandfather – out at another pub in the centre of Reading at 9 High Street: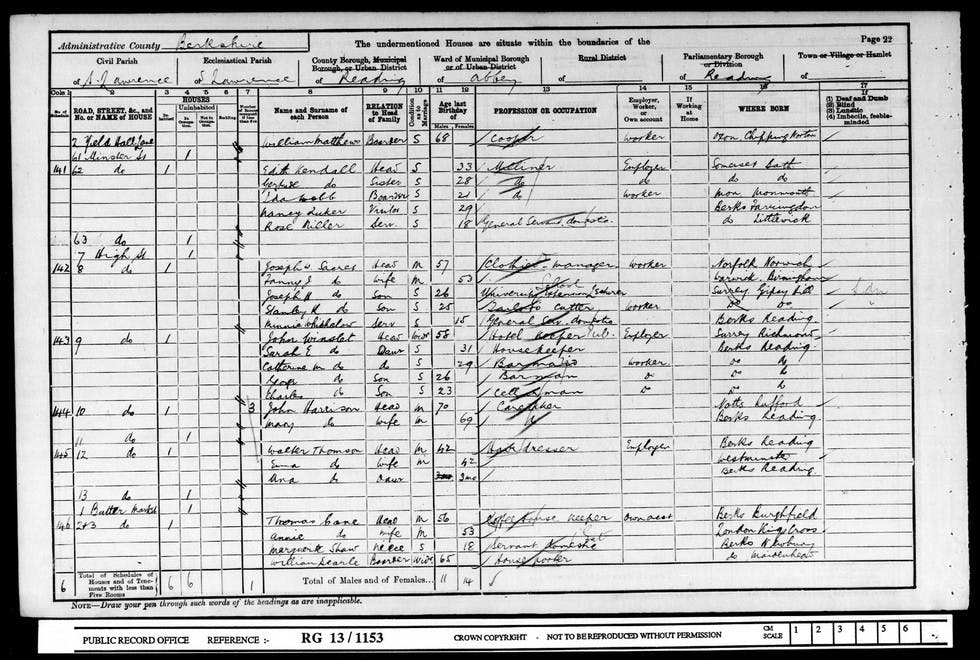 Again, the name of the pub was not given in the census but a directory of 1899 shows that it was called the Broad Face, an inn that was demolished in 1926. The family ran this establishment from the mid-1880s to the early 1900s.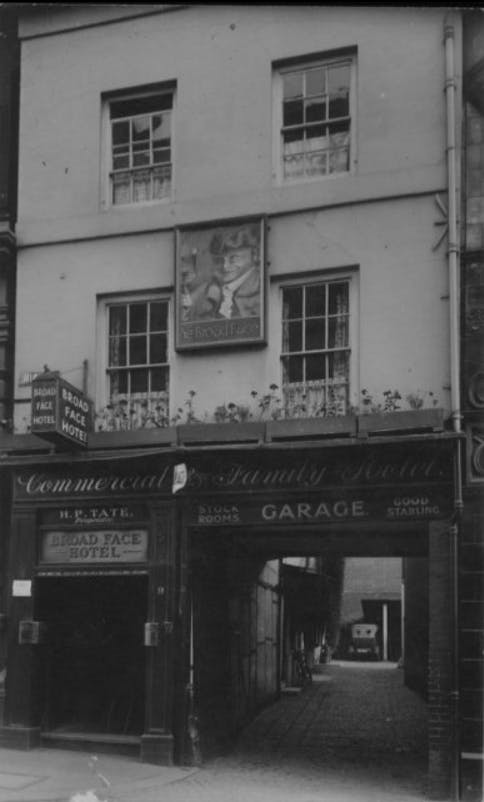 Charles Winslet Snr's ages in the censuses of 1901 and 1911 - 23 and 38 respectively - don't add up. Some re-checking in the GRO birth indexes showed that he was born at Reading in 1877 and his wife, Emily Mary Wells, was born there in 1871.

Could Charles have been embarrassed by the fact that Emily was a few years old than him and decided to make himself older in 1911? It seems the only likely explanation.

In the 1901 census, Charles' father John Winslet was 58 and gave his occupation as hotel keeper and his birth place as Richmond, Surrey. He was a widower, his wife, Susan or Susannah having died in 1897 aged 60. It was clearly a family-run business since John had two daughters and two sons all helping him.

The elder daughter Sarah, 31, was the house keeper; another daughter Catherine, 29, was a barmaid; son George, 26, was a barman; and the younger son Charles, 23, was the cellarman. All the children had been born at Reading.

The Winslet family were at the Broad Face Hotel (this time it was clearly named) in the census of 1891: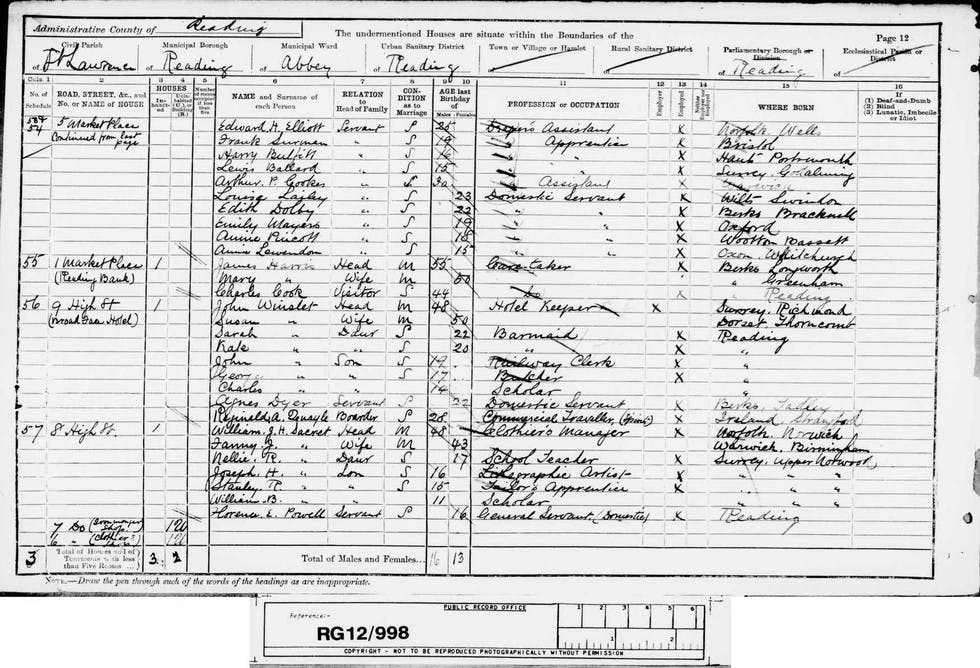 John, 48, was the hotel keeper, born at Richmond, Surrey, while his wife Susan, two years older than him at 50, gave her birth place as Thorncombe, Dorset.

There were five children in this census: Sarah, 22, barmaid; Kate, 20, barmaid (yes, she is actually named as Kate Winslet); son John, 19, a railway clerk; son George, 17, a butcher; and youngest child Charles, 14, scholar, all born at Reading. Also in the household were a 22-year-old servant, Agnes Dyer, born at Tadley, Hampshire, and a male boarder of 28, Reginald Quayle from Ireland.

In the census of 1881, John and Susan Winslet were at a different pub called the Railway Tavern, 33 Greyfriars Road, Reading. John's age is incorrectly given as 52, which is either an enumerator's error or a mistranscription or both – and the image is difficult to read because one of those annoying diagonal, black lines made by the checking clerks has been drawn through it: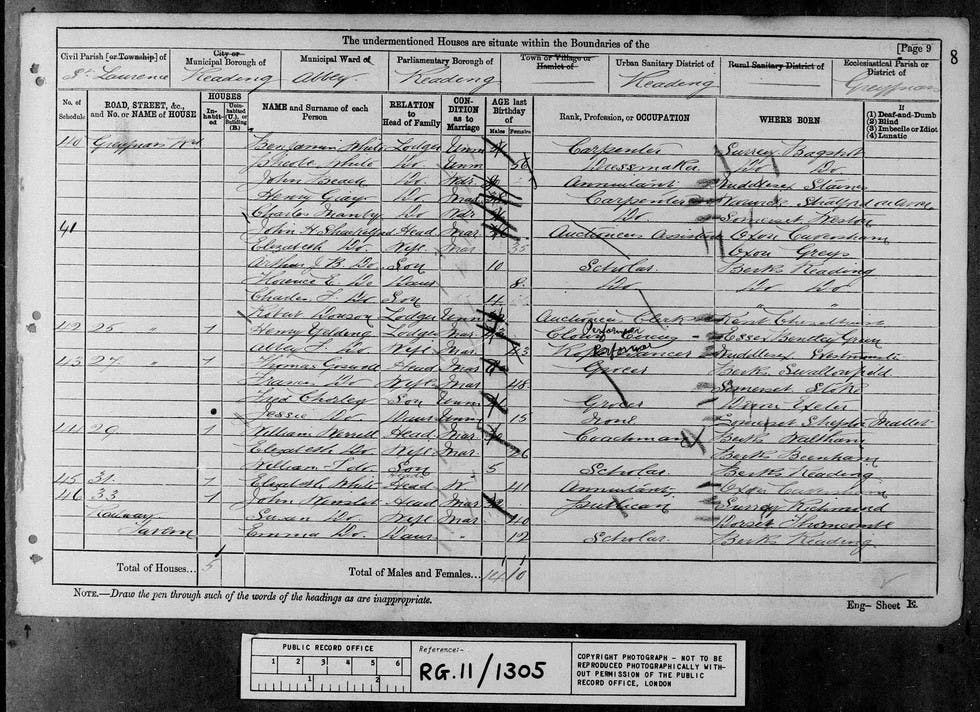 Susan Winslet, his wife, was 40 and again her birth place was given as Thorncombe, Dorset. Daughter Emma was 14, Kate 12 (again she was enumerated as Kate Winslet), and Charles 4. The two older sons John and George were not at home but were found as pupils at a boys' school at Whitley Park, Whitley Road, Reading: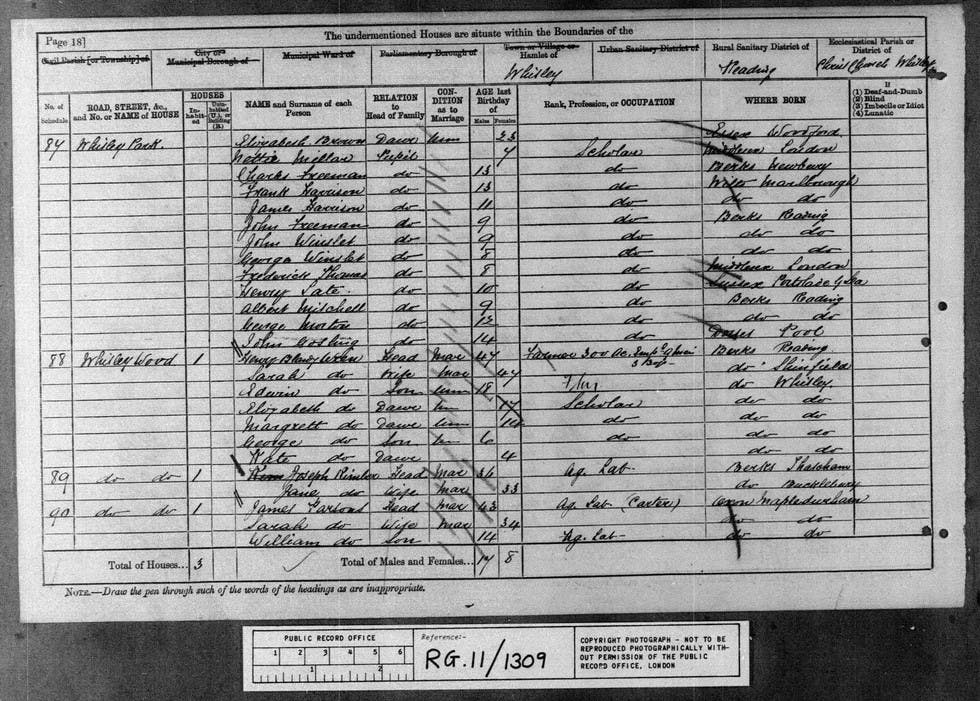 John Winslet and Susannah Phillips were married at Reading in 1868 and by the 1871 census they had already taken over the Railway Tavern in Greyfriars Street, where they were found also in 1881. In this census the surname is spelt with a double 't' as Winslett. John was shown as 27 and Susan as 30, while daughters Emma and Kate were aged 2 and 0 respectively. Also in the household was 15-year-old Ellen Winslett, John's niece: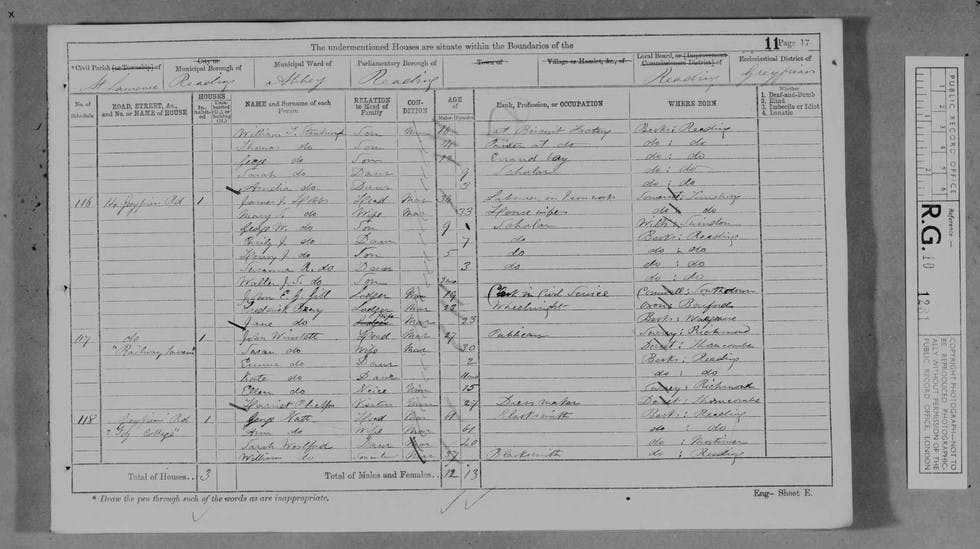 With the family was a single female of 27 who was enumerated as Harriett Phelps but I suspect this should have been Phillips and she was Susan's sister because her birth place was also given as Thorncombe, Dorset.

In the 1861 census I found a very interesting entry for John Winslett sic. Being from poor families, both John and Susannah took one of the few options available to working class youths in need of bed and board. They became domestic servants in the household of an aristocrat named Baron Alberic Drummond Willoughby de Eresby. This was where they met and fell in love. Unfortunately for the young couple, their home and employment under the Baron's roof was not to last.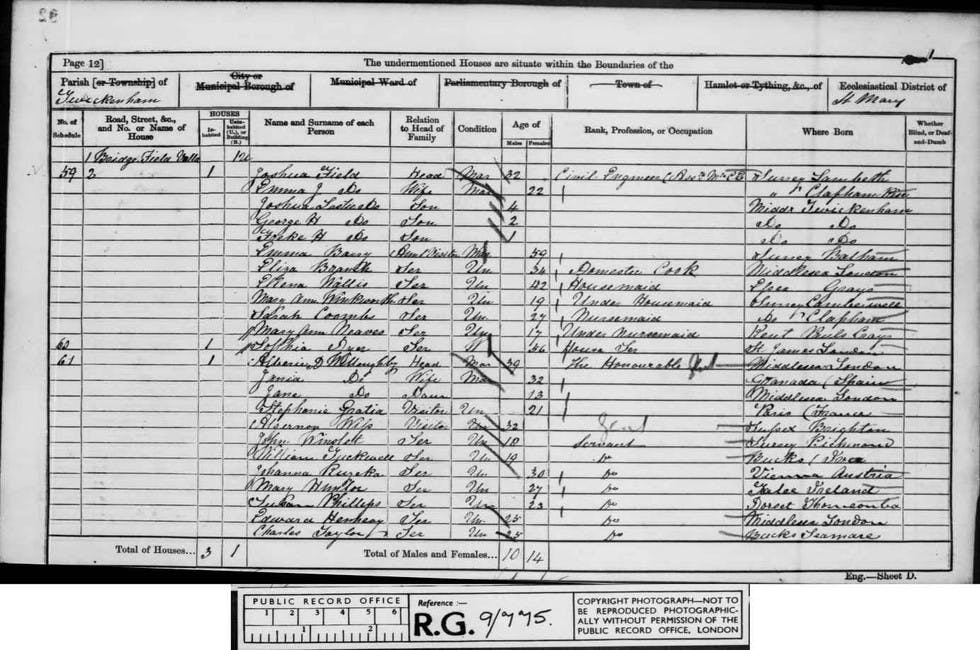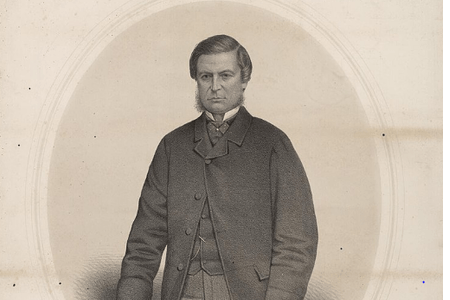 In 1868 he was involved in a scandalous court case in which he cruelly tried to cut himself off from a French countess who had lived with him as his wife for 17 years and by whom he had a daughter, leaving her more or less destitute. He was heavily criticised by the press and with his "family" torn to shreds and reputation in tatters, he dismissed his servants. Despite being without a home and a job, John and Susan must have been determined to be together. The both moved to Reading despite having no connection to the town and were married there that same year (1868).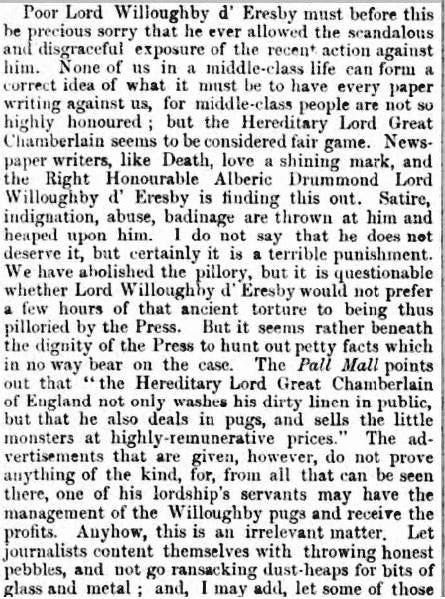 I found John's parents, Thomas and Priscilla in the 1851 census at Old Worple Way, Richmond. Thomas was then 49 and a dairy man and Priscila was also aged 49, both being born at Richmond: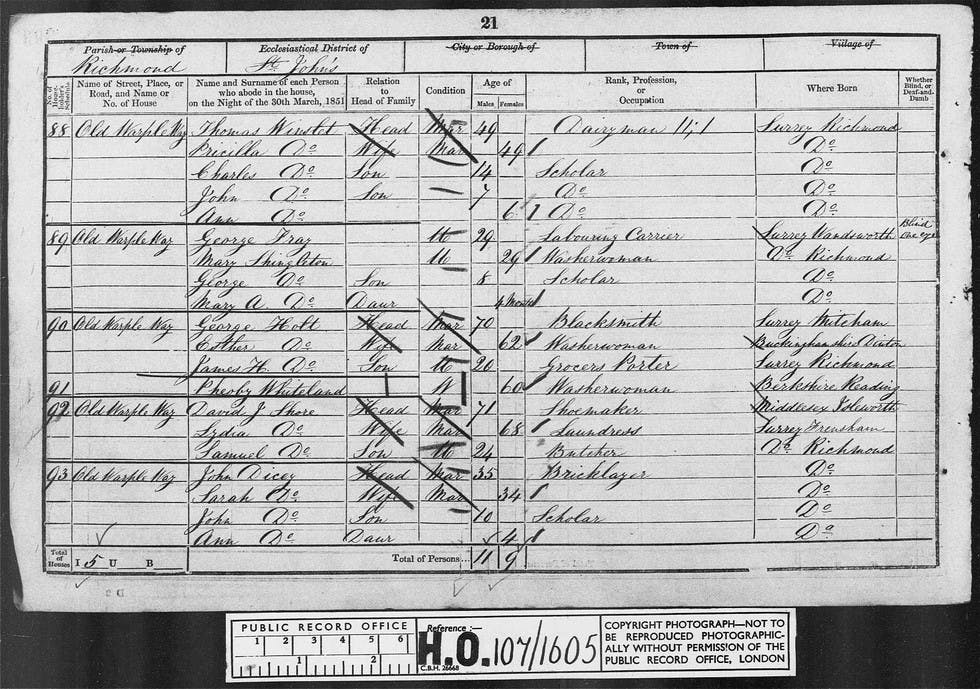 With them were two sons, Charles 14, John 7, and a daughter Ann 6, all also born at Richmond.

In 1841 Thomas and Priscilla were at Marsh Gate, Worple Way, Richmond, and Thomas was a milkman. They had seven children: Samuel 15, Richard 12, Adelaide 10, Thomas 9, William 7, Charles 5 and Sarah 3: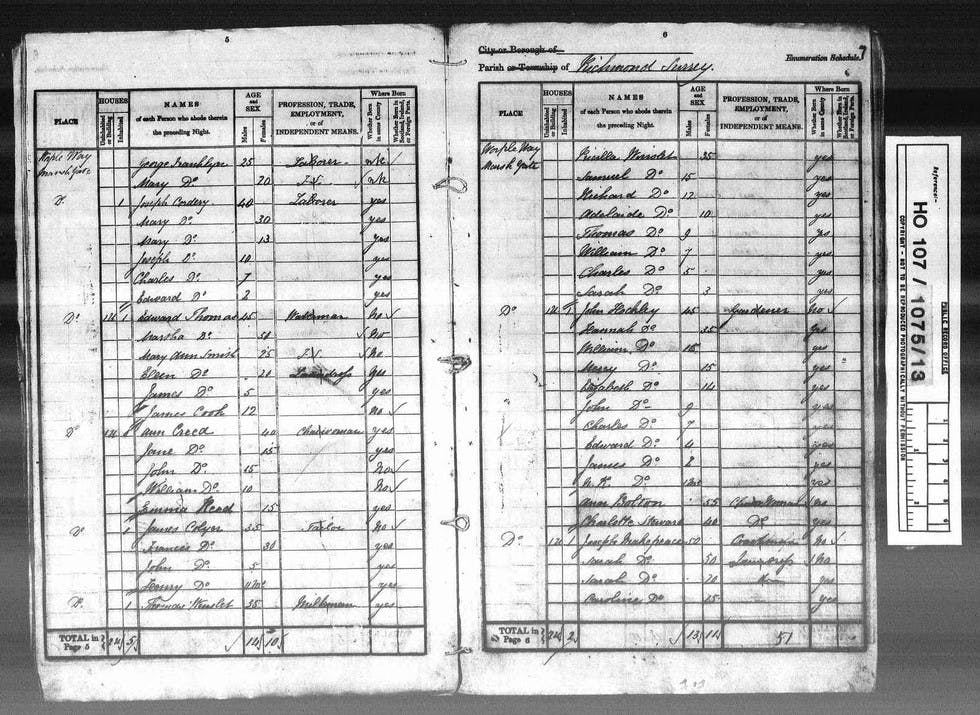 My research was not yet quite complete, for I found the marriage of Thomas Winslet to Priscilla Tasker on 7 December 1824 at the church of St Mary Magdalen, Richmond. Thomas and Priscilla were the great-great-great-grandparents of Kate Winslet.

I looked for the birth or baptism of Thomas and believe I found his birth on 13 December 1803 at Richmond, the son of Richard Winslett sic of St George, Hanover Square, in central London, a marriage for Richard Winslet and Mary Grant on 29 June 1794. More research would need to be done to establish whether they were the 4x-great-grandparents of Kate Winslet.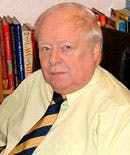 Roy Stockdill has been a family historian for almost 40 years. A former national newspaper journalist, he edited the Journal of One-Name Studies (for the Guild of One-Name Studies) for 10 years. He is on the Board of Trustees of the Society of Genealogists and is commissioning editor of the 'My Ancestors…' series of books. He writes regularly for Family Tree magazine.

More on this topic:
Share this article
About the author