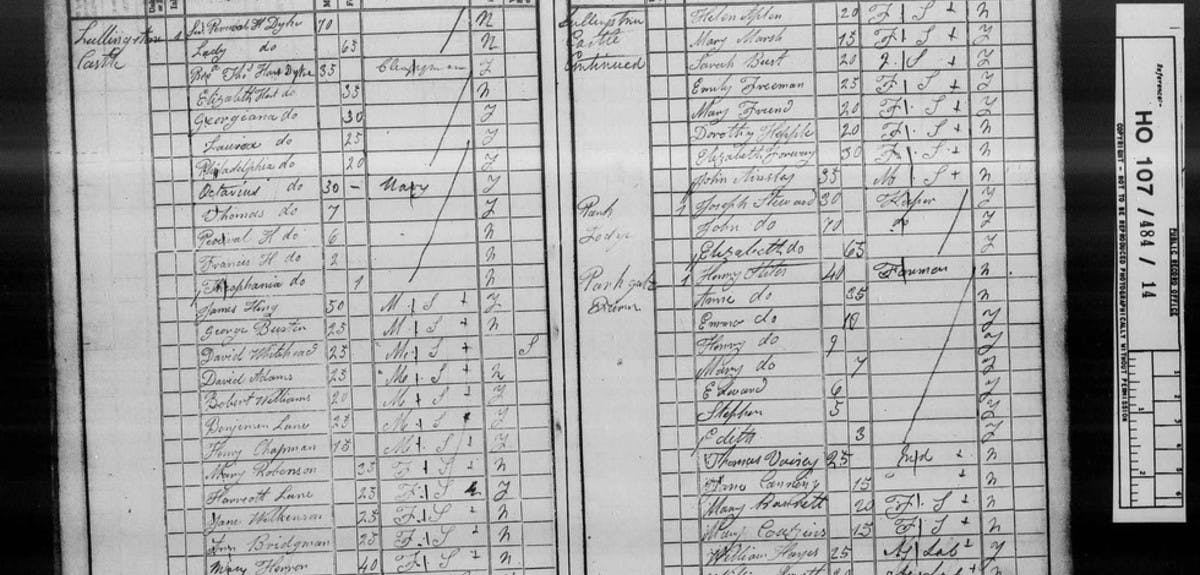 Famous family trees: Miranda Hart
Here's the latest post in our series of blogs exploring the family trees of the famous. Experienced family historian, Roy Stockdill, investigates the family histories of the famous, both living and dead. This month Roy delves into TV star Miranda Hart's family tree.
She's over six feet tall, very funny and falls flat on her face a lot in her TV sitcom. It's the brilliant Miranda Hart - who else?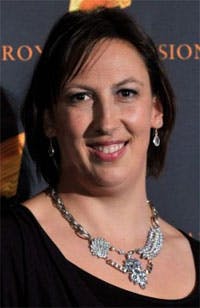 Miranda Hart (image courtesy of metro.co.uk)
What is less well known is that the statuesque star of Miranda and Call The Midwife is rather posh. Miranda has denied this on chat shows but it would be no surprise if her favourite bedtime reading was Burke's Peerage and Baronetage, since her family history occupies several pages in the bible of the aristocracy and upper classes.
Miranda descends from the Hart Dyke baronetcy which goes back to 1677. Her family tree is liberally sprinkled with those bastions of the upper classes, high-ranking army and navy officers and Anglican vicars. Indeed, her background suggests she should be in Downton Abbey!
Miranda was born Miranda Katharine Hart Dyke in Torquay on 14 December 1972, the daughter of David Hart Dyke CBE and Diana Margaret Luce who were married in 1967 at Salisbury, Wiltshire registration district.
Her father, a retired naval officer born on 3 October 1938 at Gosport, Hampshire, commanded HMS Coventry, a Royal Navy destroyer sunk in 1982 by Argentinian warplanes in the Falklands War. He later became an aide-de-camp to the Queen. He had a twin brother, Robert, who died in a car crash in 1963. Miranda's mother, born in 1939, is the daughter of Sir William Henry Tucker Luce (1907-1977), an admiral's son who was governor of Aden from 1956 to 1960.
Miranda's paternal grandfather, the Rev. Eric Hart Dyke (1906-1971) was born in India on 28 July 1906 and married Mary Alexander, who descended from a Scottish baronetcy, in 1935 at Okehampton, Devon. Before becoming a clergyman in 1952, the Rev. Hart Dyke was a Royal Navy commander in WWII, being twice mentioned in despatches. From 1953 to 1963 he was Rector of Cowden, Kent.
Eric Hart Dyke was born in India because his father, Miranda's great-grandfather, Colonel Percyvall Hart Dyke (1872-1952) served in the Indian Army for many years, fought in numerous campaigns before, during and after WWI and was a much-decorated soldier.
Miranda's maternal grandfather, Sir William Henry Tucker Luce, however, does appear in the 1911 census as a boy of three, living with his mother Mary Dorothea, three brothers and four servants at Anglesey Road, Alverstoke, Hampshire: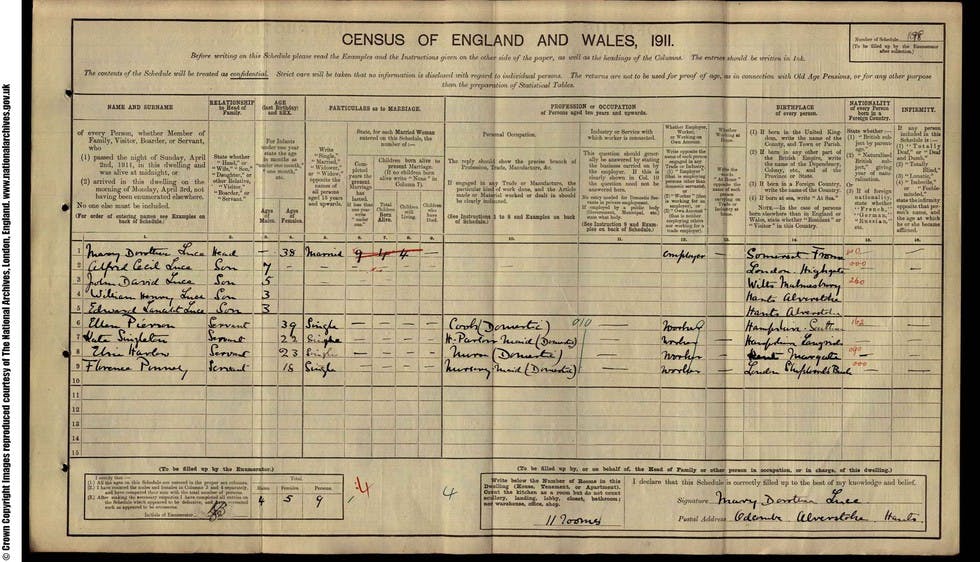 I couldn't find Mary Dorothea's husband John Luce, Miranda's maternal great-grandfather, in 1911 but he was then a Royal Navy captain in command of the battleship Hibernia and almost certainly at sea. He remained a commander throughout WWI and became an admiral in 1921, dying in 1932 aged 62.
Miranda's maternal great-grandmother Mary Dorothea Tucker who married John Luce at Weymouth, Dorset, in 1902, was the daughter of a woollen manufacturer from Somerset - perhaps an example of what the Victorians and Edwardians called a girl from 'trade' marrying into the upper classes?
Returning to the direct Hart Dyke line, I found Percyvall Hart Dyke (the unusual spelling of his first name is found several times in the family) in the census of 1891. He was then 18, described as a 'Gentleman cadet Sandhurst', living with his father Thomas Hart Dyke, an estate steward, three elder sisters, a single woman described as 'Companion to daughters' and four female servants at Ashton Lodge, Long Ashton, near Bedminster, Somerset: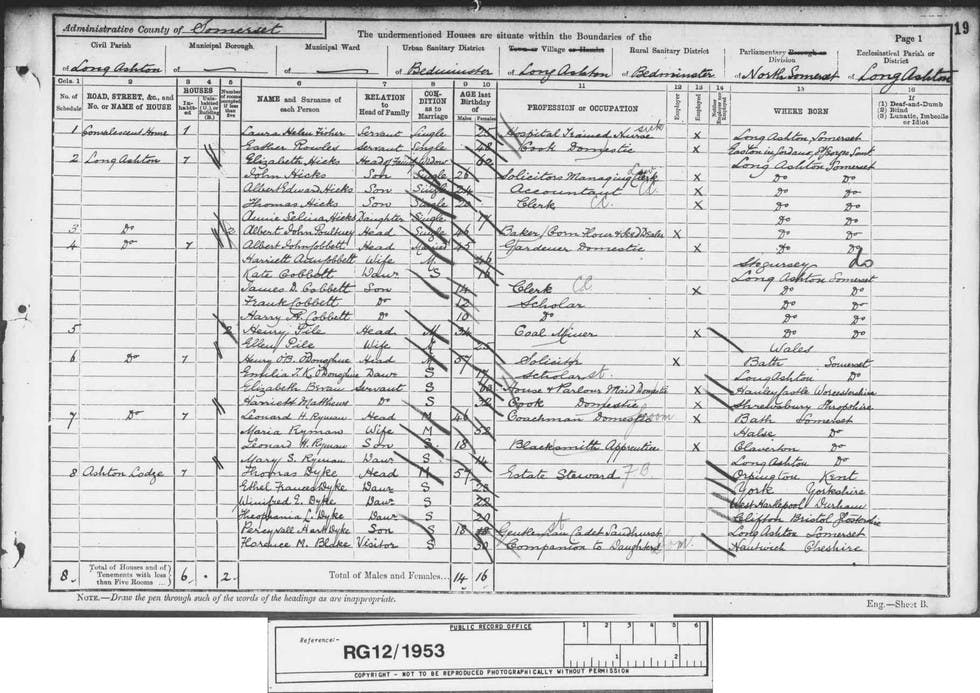 Thomas, son Percyvall and his sisters were also at Ashton Lodge in the census of 1881 with a governess and four other female servants: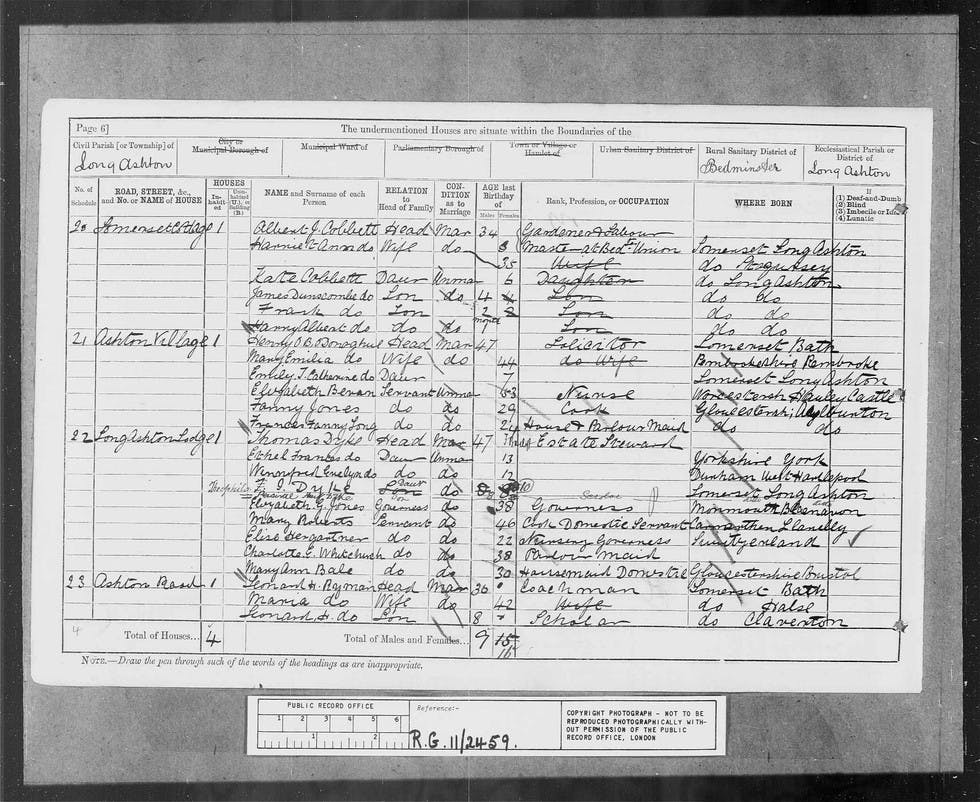 Thomas Hart Dyke (1834-1906), Miranda's great-great-grandfather, was married in 1863 at Tewkesbury, Gloucestershire, to Georgina Isabella Russell Fullerton who was only 18. Somewhat curiously, Georgina was missing from the censuses of 1891 and 1881, although her husband and children appear in both. Possibly she was indulging in the wealthy Victorian lady's passion for foreign travel.
The couple were together in the 1901 census, however, and were possibly on holiday. They were staying in a lodging house called Lynwood at Weston Super Mare on the Somerset coast, kept by a 75-year-old widow, Mary Childs: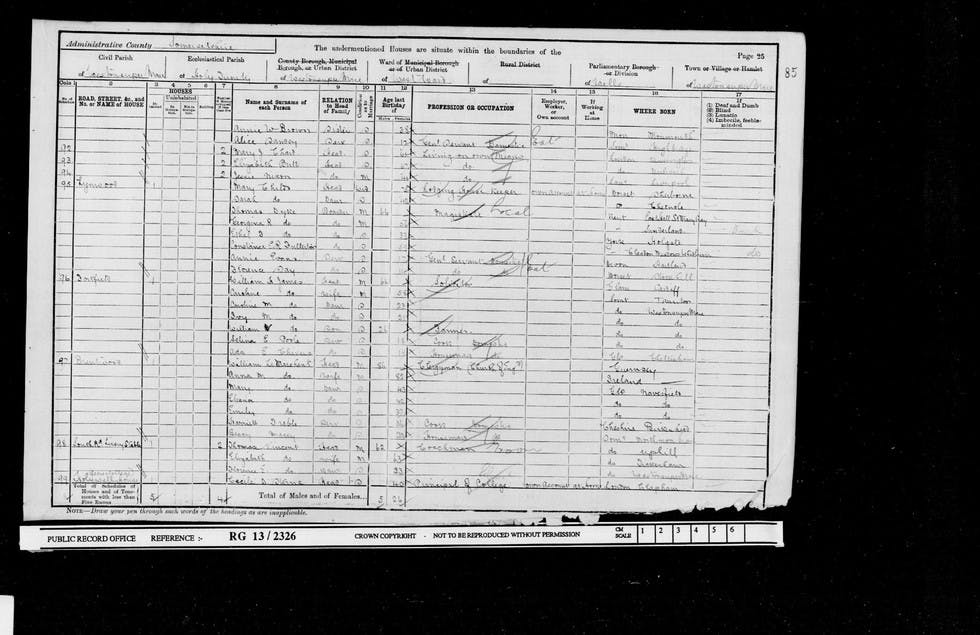 This time, Thomas, aged 66, was described as a magistrate, while his wife Georgina was 10 years his junior. Also with them was their daughter Ethel, a single woman of 33, and Constance Fullerton, 59 and also single, who was probably Georgina's sister.
The only other census in which Thomas and Georgina are found together was the 1871 when they were living at 8 Gloucester Row, Clifton, Bristol with their three young daughters, all under four. Percyvall had not then been born. Thomas was described as an estate agent and civil engineer: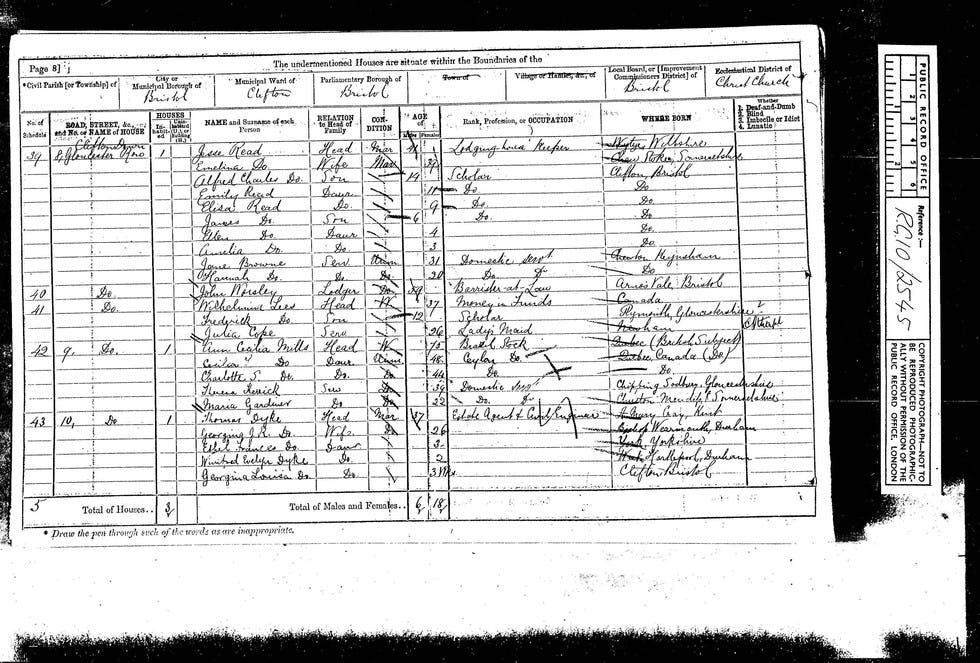 Thomas died at Bristol in 1906 but Georgina outlived him by many years. She is found in the 1911 census as a widow of 66, of independent means, at 9 York Crescent Road, Clifton, Bristol. Her eldest daughter Ethel, 43 and still single, was with her in the census, along with a cook and a parlour maid: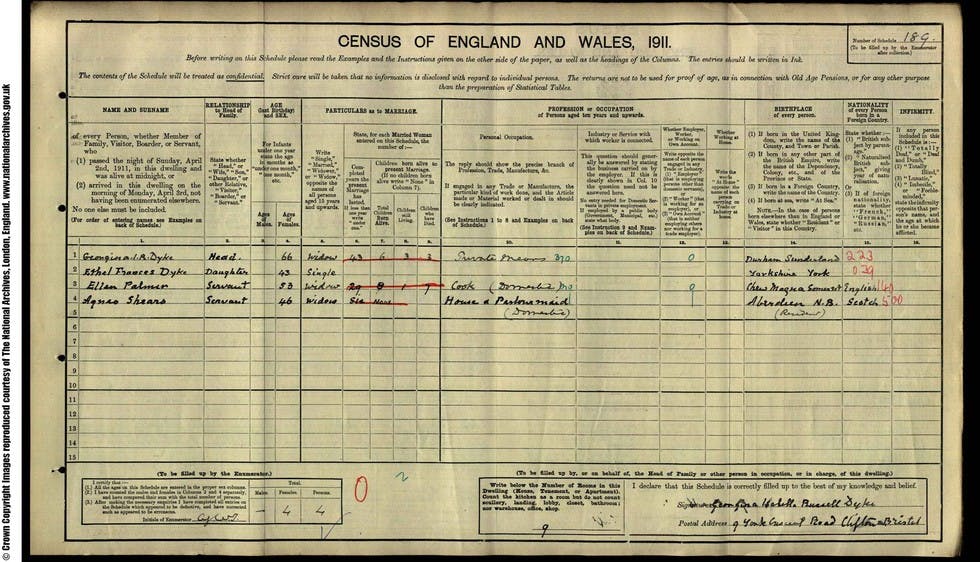 Georgina Isabella Russell Dyke, Miranda's great-great-grandmother, born at Sunderland, Co Durham, in 1845, had a long life and died at Bristol in 1933, aged 87.
A further generation back, Miranda's great-great-great-grandparents were the Rev. Thomas Hart Dyke (1801-1866) and Elizabeth Fairfax – probably a descendant of the Yorkshire Fairfaxes who played a prominent part in the Civil War on the Parliamentary side against Charles I - who married in 1833 at Newton Kyme, near Tadcaster, Yorkshire.
Thomas was firstly the Rector of Lullingstone, Kent, the Hart Dykes' home parish, and later of Long Newton, County Durham. He was a son of Sir Percival Hart Dyke (1767-1846), who became the fifth Baronet Dyke of Horsham, Sussex, in 1831, and his wife Anne Jenner.
So Miranda descends directly from the fifth baronet, Sir Percival, who was her 4-times great-grandfather. Beyond him the baronetcy passed to other male members of the family. The current holder of the title, the 10th Baronet, lives in Canada.
In the 1841 census, three generations of the Hart Dykes are found at the family seat, Lullingstone Castle, Kent. The household comprised a dozen members of the Hart Dyke family and 21 servants: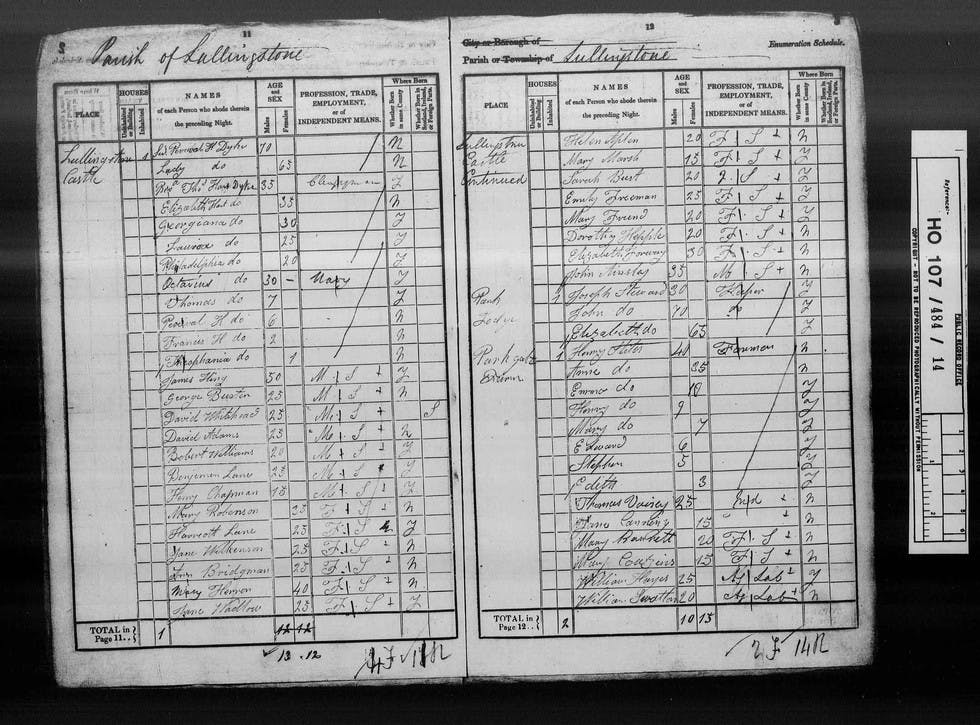 Sir Percival and Lady Dyke headed the schedule, followed by the Rev. Thomas and his wife Elizabeth and their four children, plus four presumed siblings of Thomas (relationships were not given in 1841).
By the census of 1851, the Rev Thomas had moved north to become the Rector of Long Newton, Co Durham, and he and his wife are found there with eight servants: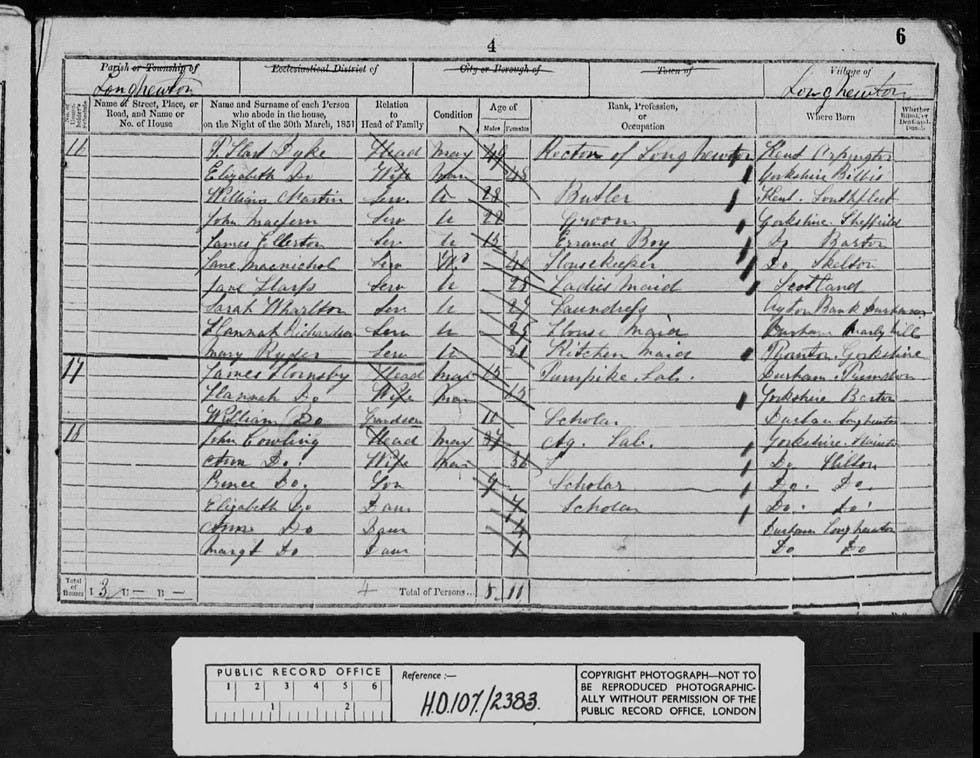 Two of their sons, Thomas, 16 and Percival, 15, were pupils at the famous public school, Rugby: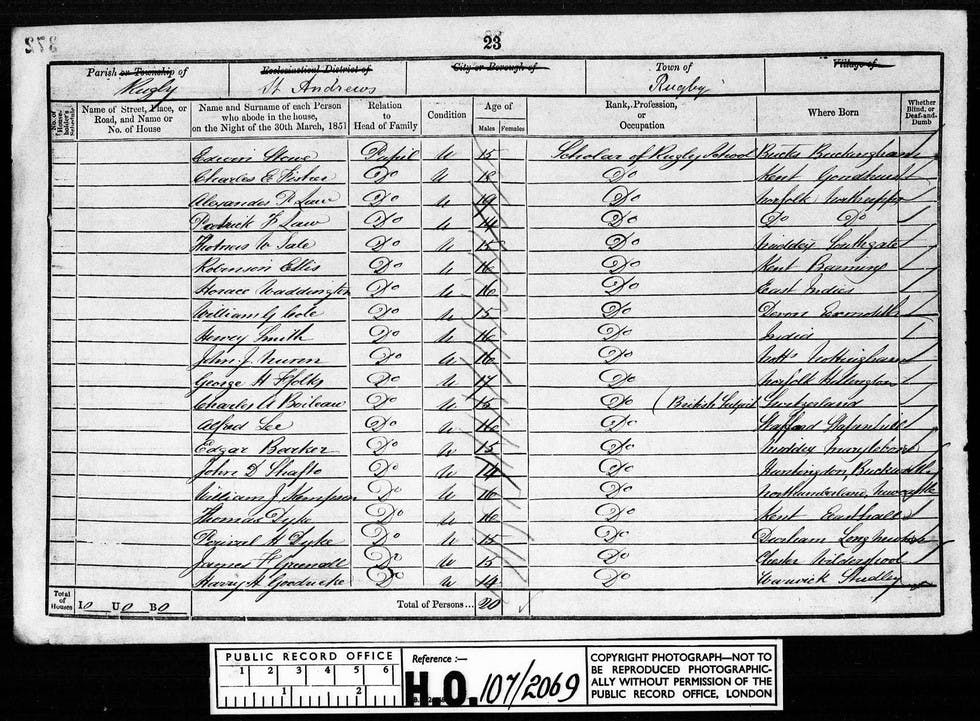 In 1861 the Rev. Thomas and Elizabeth were still at the Rectory, Long Newton, with one son, Francis, and seven servants: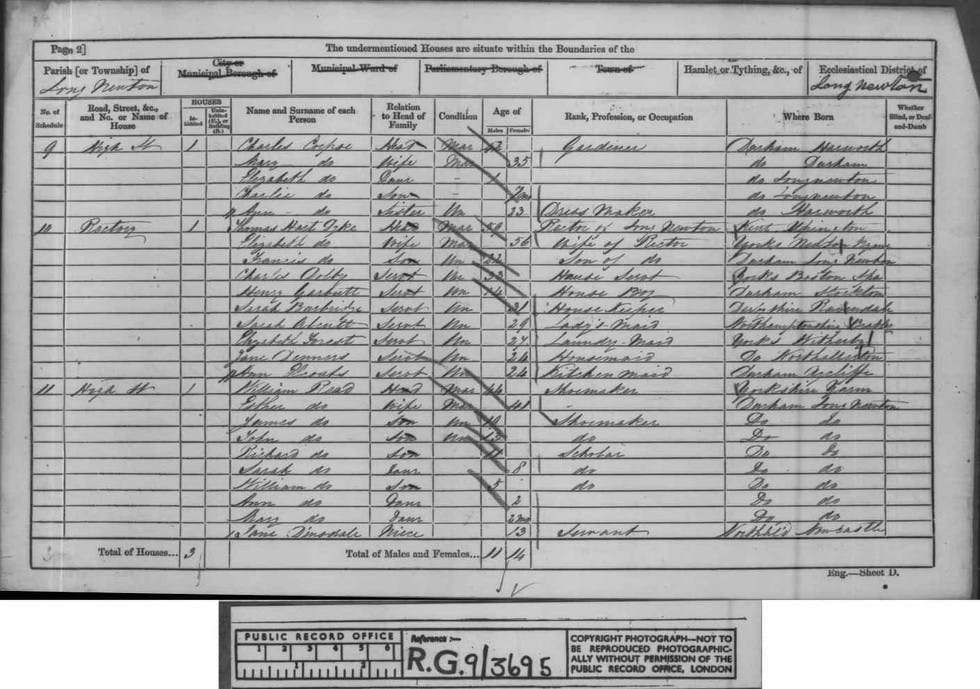 I couldn't find Thomas Jr in that census, however, possibly because he was abroad somewhere.
The Rev. Thomas Hart Dyke died in 1866, aged 64, but his wife Elizabeth outlived him by many years. She was still alive in the 1891 census, aged 89, living at Hill House, Acomb, near York. She was described as 'Living on own means' and had three female servants with her, plus a 37-year-old single Irishwoman called Margaret Moneypenny who was a nursing sister described as Elizabeth's companion: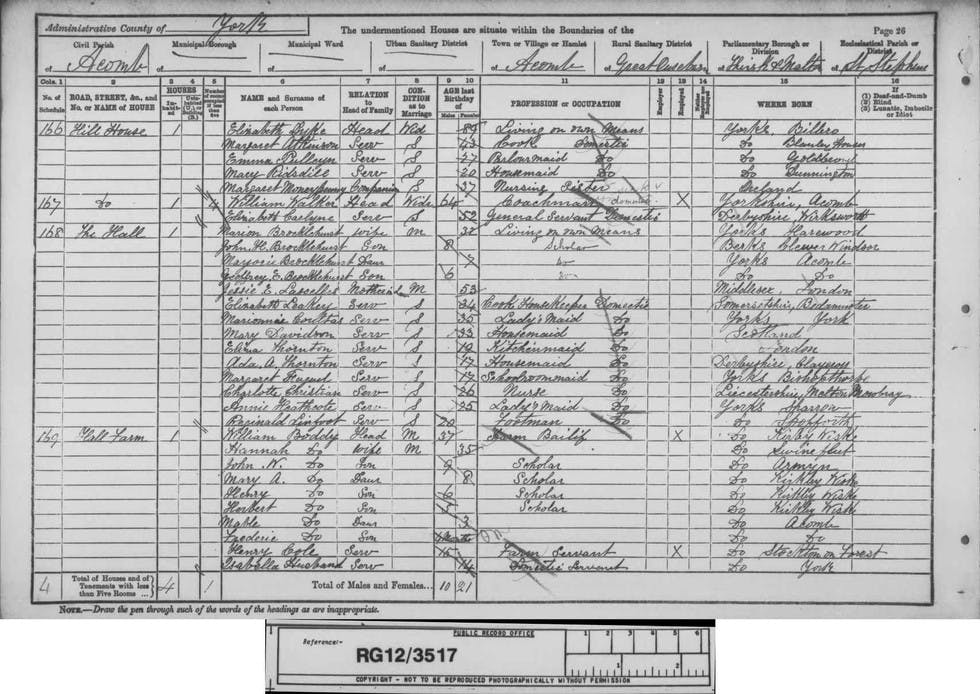 Elizabeth Dyke died just over two years later in 1893 at the age of 91, possibly the longest lived of all the Hart Dykes.
Limited space forces me to truncate the illustrious pedigree of Miranda Hart beyond her direct ancestor, Sir Percival Hart Dyke, the 5th Baronet Dyke of Horsham, as chronicled above. Burke's Peerage and Baronetage, however, takes it back three more generations to the first Baronet, Sir Thomas Dyke, who was MP for Sussex and then East Grinstead in the late 17th century and Commissioner of the Public Accounts.
Sir Thomas was created a baronet in 1677, married the interestingly named Philadelphia Nutt in 1695 and died in 1706. Sir Thomas and Philadelphia Dyke were the 7-times great-grandparents of Miranda Hart.
The name Hart appears to have come into the Hart Dyke family through the second baronet, also Sir Thomas Dyke, who married in 1728 Anne, the daughter and heir of Percyvall Hart of Lullingstone Castle.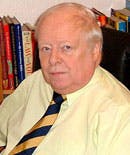 Miranda Hart's ancestry is taken back by Burke's Peerage two further generations to one Thomas Dyke of Cranbrook, Kent, who died in 1632. It was his grandson, Sir Thomas, who became the first baronet.
So the next time you chortle at Miranda's clumsy antics on telly, remember that her family history is not what you might expect...
Roy Stockdill has been a family historian for almost 40 years. A former national newspaper journalist, he edited the Journal of One-Name Studies (for the Guild of One-Name Studies) for 10 years. He is on the Board of Trustees of the Society of Genealogists and is commissioning editor of the 'My Ancestors…' series of books. He writes regularly for Family Tree magazine.