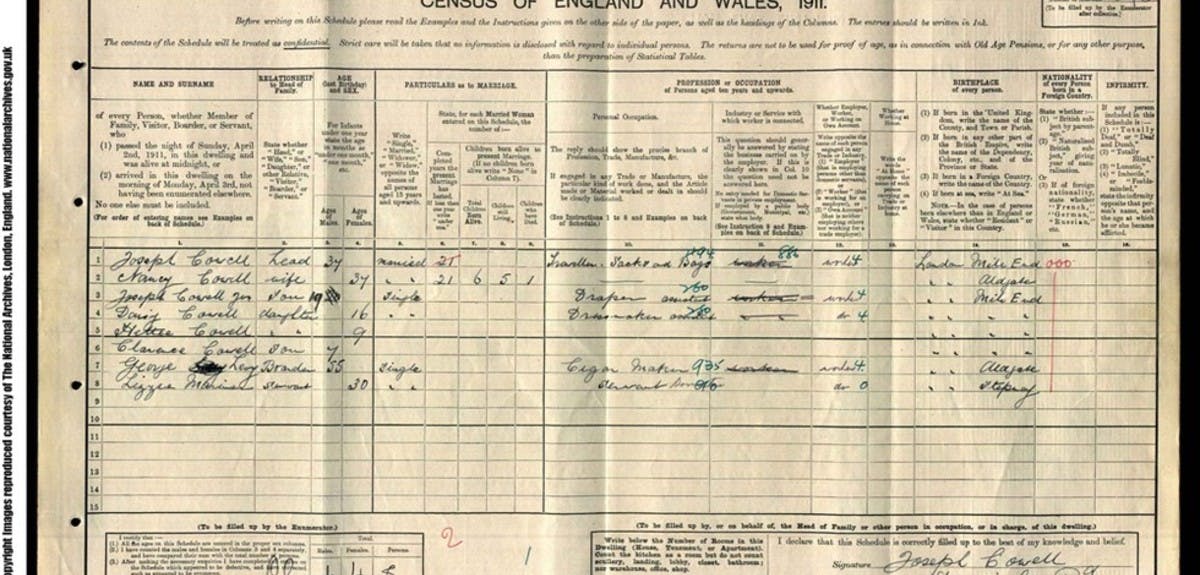 Famous family trees: Simon Cowell
Welcome to the fourth post in our series of blogs exploring the family trees of the famous. Experienced family historian, Roy Stockdill, takes us on a journey through time as he investigates the family history of the famous, both living and dead. This time, Roy takes a look at Simon Cowell's family tree.
Love him or loathe him – and probably both factions exist in about equal numbers – the one thing you can't do with Simon Cowell is ignore him!
The TV personality and entrepreneur extraordinaire behind The X Factor, Britain's Got Talent and American Idol, said to be one of the richest men in show business, is constantly seen with a bevy of beautiful women on his arm and regularly fills a remarkable number of column inches in the press.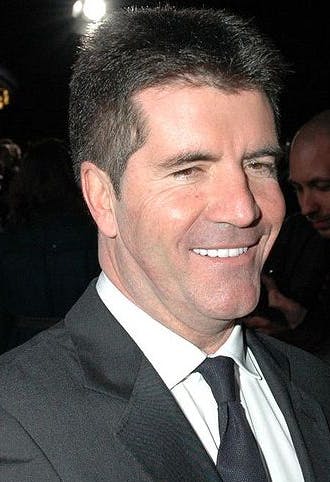 But are there clues to his huge success to be found in his family history? I believe so.
Simon Cowell's Victorian ancestors were Jewish rope and twine makers from London's East End who, according to the evidence of the censuses, led a fairly comfortable lifestyle with servants. They must have worked hard to build up their business in what had become a major industry, thanks to shipbuilding and the docks.
Simon's more immediate family history is also quite intriguing.
Some websites incorrectly claim that Cowell was born in Brighton, Sussex. A copy of his birth certificate - an interesting document - shows he was born Simon Philip Cowell on 7 October 1959 at King's College Hospital, Denmark Hill, South London, in Lambeth registration district. His father was Eric Philip Cowell, an incorporated surveyor, and his mother was Josie Dalglish Cowell.
The birth was registered jointly by both parents, who gave the same address in Twickenham. A hand-written comment in the 'Informant' column says: 'By declaration dated 9th November 1959'. This told me that the parents were not married to one another at the time but that Eric Cowell had agreed to have his name on the certificate as the father.
Another note in the final column says that Simon's birth was 'Re-registered under Section 14 of the Births and Deaths Registration Act 1953 on 28th May 1981'. In fact, Eric Cowell was still married to his first wife, Jeannette, when Simon was born and presumably also when Simon's younger brother, Nicholas Andrew Cowell, was born, also in Lambeth registration district, in 1961. The parents of the brothers were married later that year at Westminster Register Office.
The marriage certificate is also interesting in that the mother of the Cowell brothers was shown as 'Julie Brett formerly known as Josie Dalglish', aged 36, a spinster and a dancer. Eric Philip Cowell was 43, a company director, whose condition was shown as 'Previous marriage dissolved'.
Simon Cowell's mother was born in Birmingham in 1925 as Josie Dalglish and Julie Brett was the name she took when she became a dancer – so, unusually, she married in her stage name. She is now in her mid-80s and is regarded as the matriarch of the Cowell clan.
The birth indexes of the General Register Office for England and Wales – which can be found online at findmypast.co.uk – reveal that both Simon and his younger brother Nicholas had their births re-registered in 1981, some 20 years after the marriage of their parents.
Section 14 of the act mentioned on the copy of Simon's original birth certificate deals with the re-registration of births after the parents had married – but why wait 20 years? I can only speculate that either there was some inaccuracy with the original information or possibly the reason was to do with obtaining a passport.
Simon's father, Eric Philip Cowell, was born in 1918 at West Ham and he died in 1999, aged 81, at Brighton. Eric was described on Simon's birth certificate as an incorporated surveyor, although he became a record company executive with the giant EMI outfit and got young Simon a job in the mail room, where he began his meteoric climb to the apex of the showbiz industry.
Eric Cowell's parents, Simon's grandparents, were Joseph Cowell and Esther Malinsky who married at West Ham Synagogue in 1915. Joseph was born in 1891 and in the 1911 census, described as Joseph Cowell jnr, he was living at 13 Sandringham Road, Forest Gate, East Ham, with his parents and three siblings. He was then 19, a draper's assistant, born at Mile End, as were his father, two sisters and a younger brother: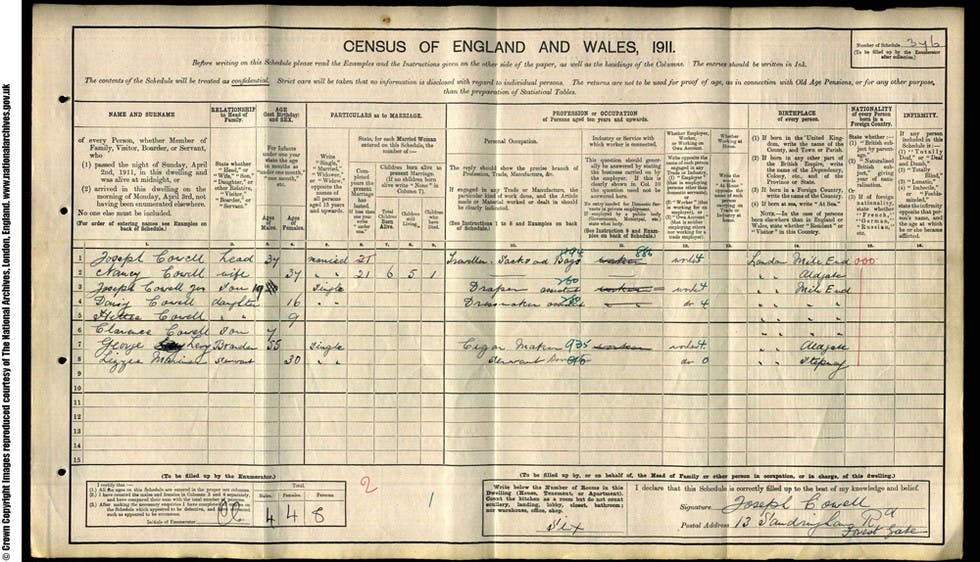 Joseph junior's parents were Joseph Allerton Cowell and Nancy Levy who married in Whitechapel registration district in 1890. In the 1911 census, Joseph senior and Nancy – born at Aldgate, London – were both 37 and had been married for 21 years, which means they married when they were only 16.
Simon Cowell's grandmother, Esther Malinsky, was some five years older than her husband Joseph junior, and was born in Poland in 1886, daughter of Gabriel Malinsky, a cap maker, and his wife Annie, who came to England some time before the 1891 census in which they are found living at 22 Pelham Street, Spitalfields, Whitechapel: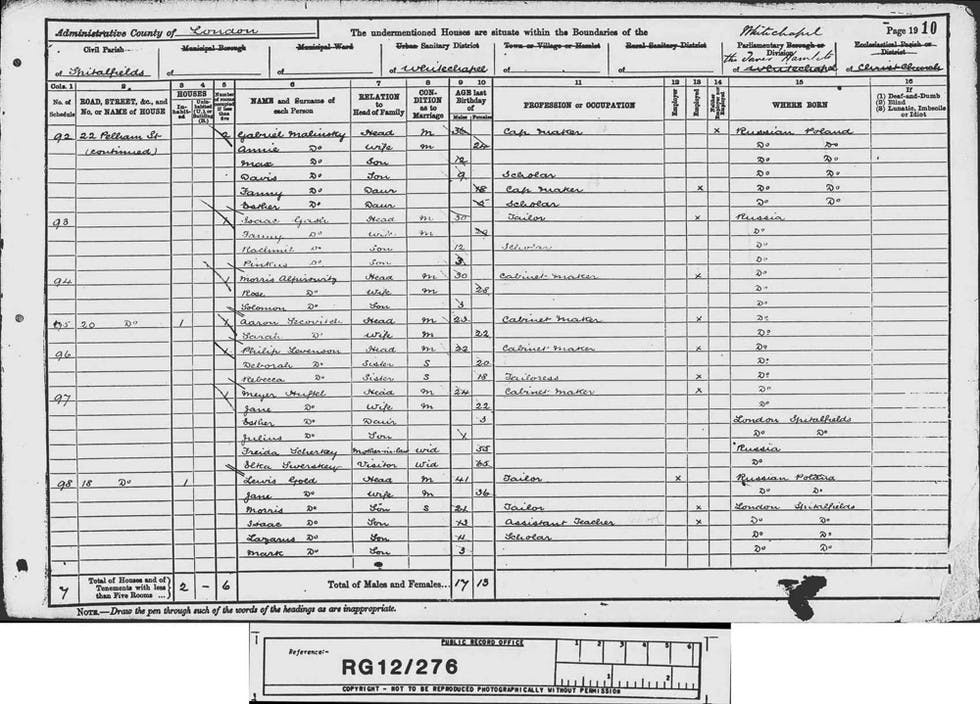 In 1901, Joseph Cowell senior's occupation was given as a rope and twine manufacturer, born at Old Ford, London. He and Nancy were living at 16 Beaumont Square, Mile End Old Town and then had three children, as well as a servant called Alice Harris, 21: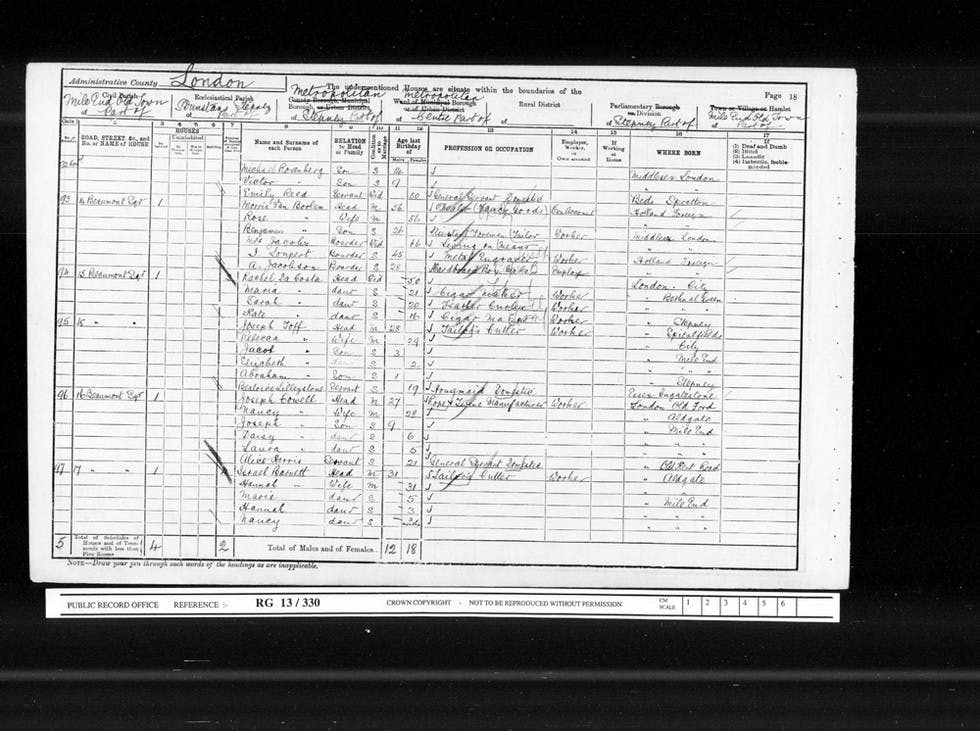 A decade earlier, in the 1891 census, Joseph and Nancy gave their ages as 18 and 19 respectively and were living at 630 Mile End Road, Mile End Old Town, and, though still so young, they were employing a female servant of similar age, Mary A Spurlock, aged 18: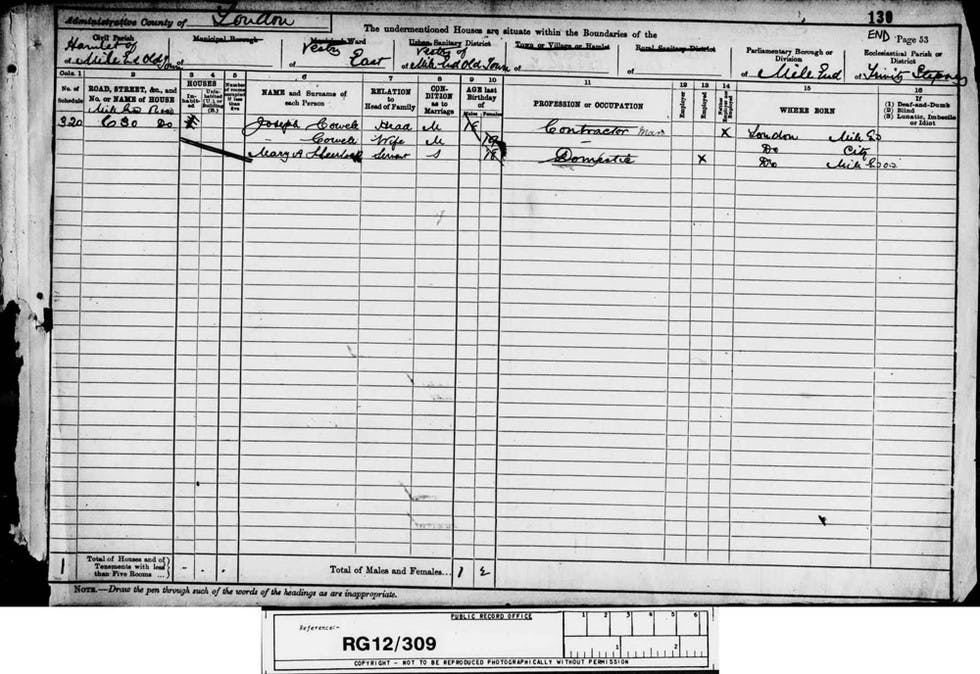 Going back another generation, Simon Cowell's great-great-grandparents were yet another Joseph Cowell and Kate Allerton, who married at Poplar in 1873. Their son was the aforementioned Joseph who was born as Joseph Allerton Cowell in 1874. Joseph, the father, was married twice, Kate Allerton becoming his second wife after his first wife Caroline had died in 1872.
In the 1881 census the family are found at 7 Wellington Road, Bromley, with Joseph Cowell, a rope maker born about 1827 at Bethnal Green, wife Kate V Cowell exactly half her husband's age at 27, Joseph A Cowell, 7, and four other children all born at Mile End: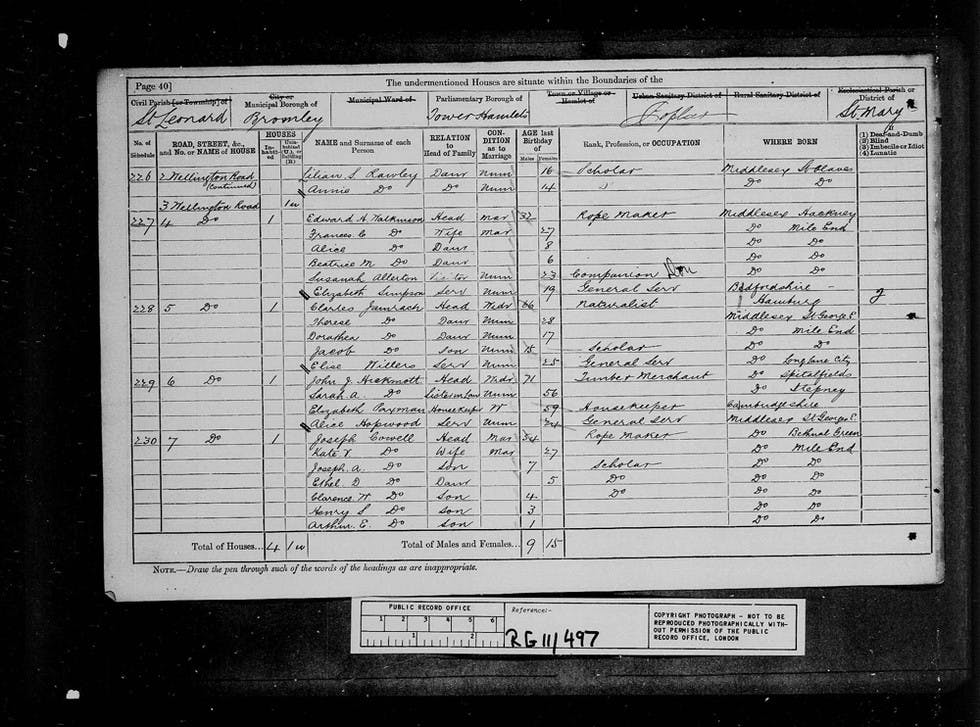 As well as his family, Joseph had two female servants in the household of 18 and 14 and three other people described as visitors, possibly other family members.
By 1891 Joseph was a widower once more, but with six sons and still living in Wellington Road, Bromley: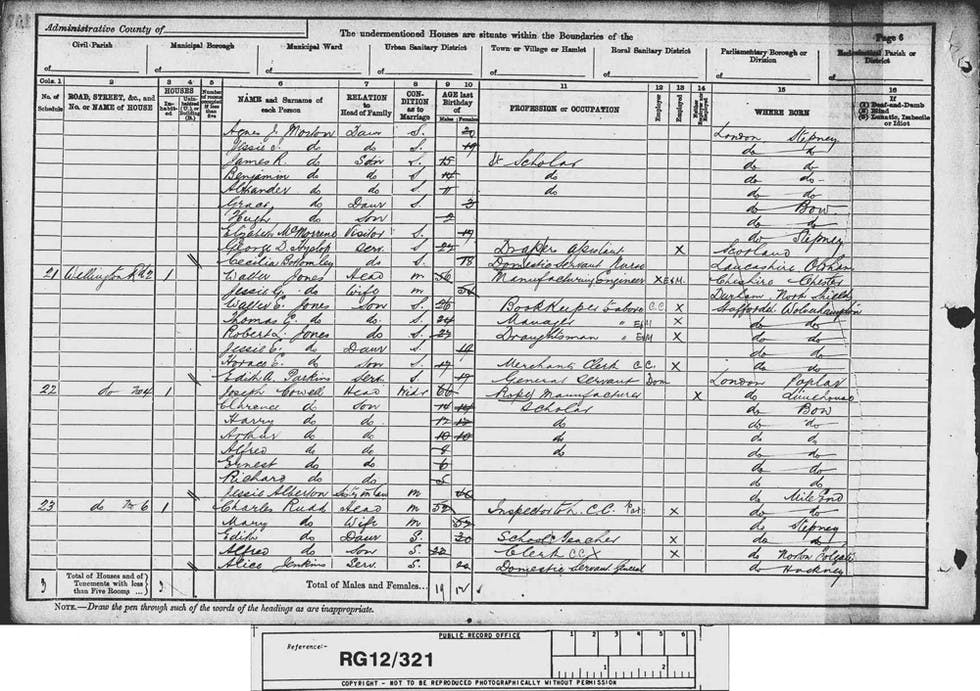 It was this Joseph Cowell, the first of three Josephs in a row, who appears to have founded and built up the rope and twine making business. He obviously made the most of how important rope making had become to the shipping industry. The extent of his business is shown by the fact that in the 1861 census he said he was employing three men and seven boys: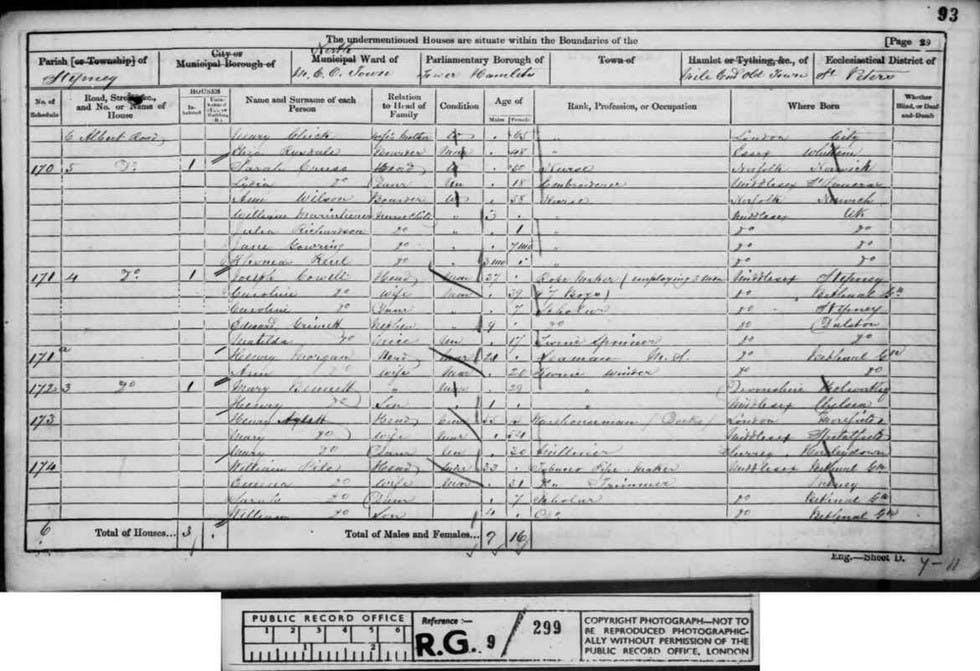 In 1861 Joseph's birth place was given as Stepney. He was with his first wife, Caroline, and there was a daughter of seven, also Caroline, a nephew of nine, and a niece of 17 who appears to have been working for Joseph as a twine spinner. In this census the family were at 4 Albert Road, Stepney.
As with so many Jewish families, Joseph was obviously aware of his responsibilities to his relatives, since in several of the censuses he had other family members living with him besides his children. In 1871 he was supporting his 80-year-old father-in-law, Samuel Sheard, and, as well as his wife and daughter, had the nephew, Edward Grimmett, who had been with him in 1861, still living with him as a servant. The family were then at 2 Buckeridge Street, Mile End Old Town: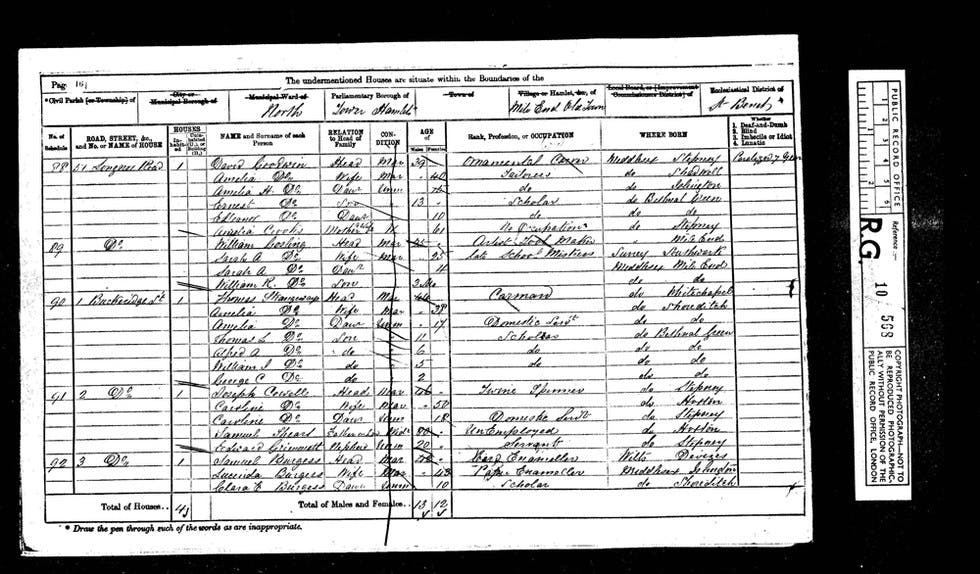 Joseph Cowell was still alive at the time of the 1901 census, still living in Wellington Road, Bromley, and now aged 76, still a rope manufacturer and an employer. Three of his sons were still at home and Joseph was also employing his sister-in-law, Jessie Jarman, as his housekeeper, and had a niece of 23, also Jessie Jarman, in the household: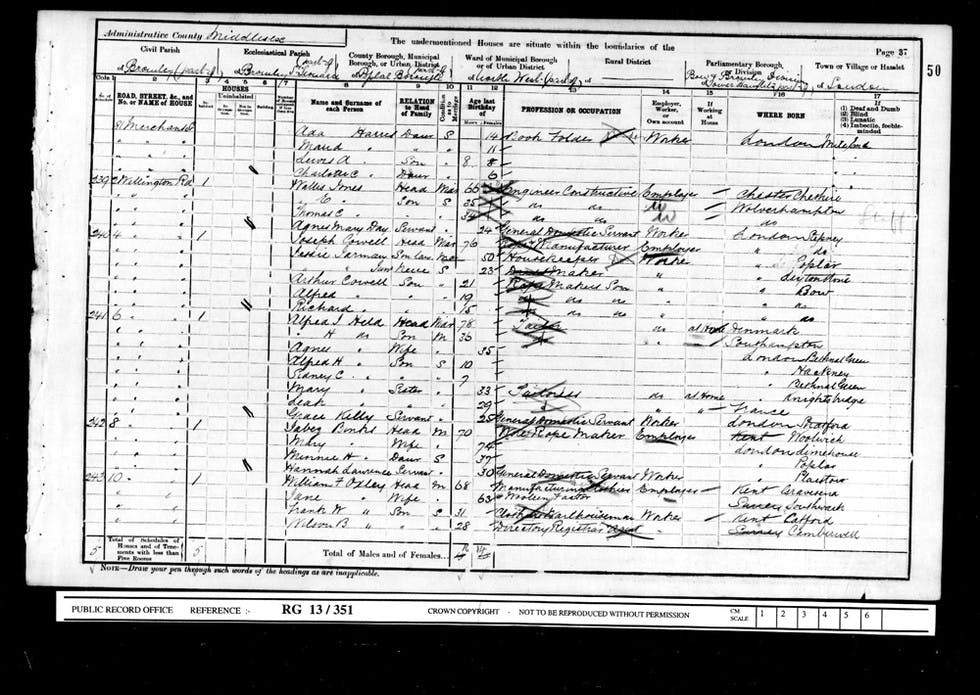 The 1911 census saw Joseph still pegging along at 87, now living with a niece and her husband, Edith and William Templeman, at 9 Little Ilford Lane, Manor Park, East Ham: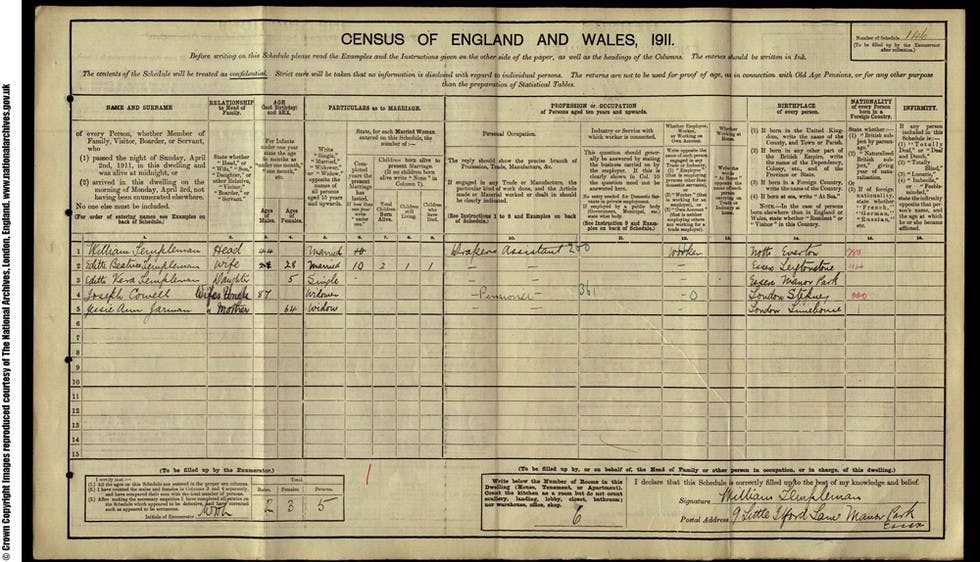 He was finally described as a pensioner and no longer a rope and twine maker. Joseph appears to have died at West Ham registration district in 1914 at 89, according to the GRO death indexes. It's good to think that after spending so much of his life looking after relatives he was taken care of himself in his final years.
Would he be glad to know that even today, his great-great-grandson was carrying on the family business of making money for old rope?!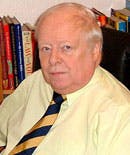 Roy Stockdill has been a family historian for almost 40 years. A former national newspaper journalist, he edited the Journal of One-Name Studies (for the Guild of One-Name Studies) for 10 years. He is on the Board of Trustees of the Society of Genealogists and is commissioning editor of the 'My Ancestors…' series of books. He writes regularly for Family Tree magazine.