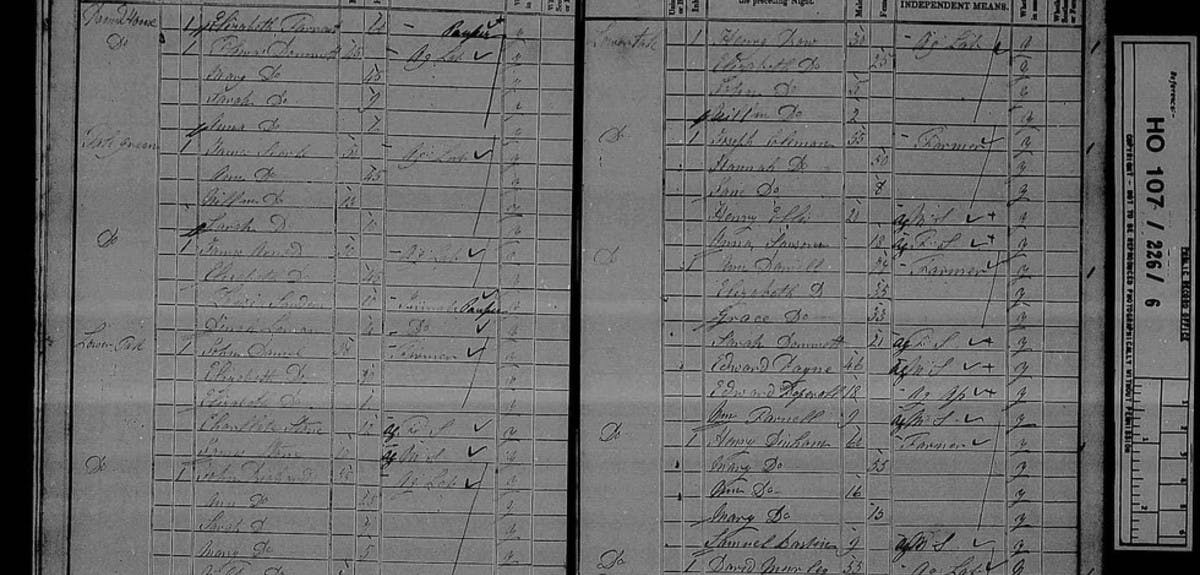 Famous family trees: Tom Ellis

Welcome to the first 'famous family trees' blog of 2013. In this blog series, experienced family historian, Roy Stockdill, investigates the family histories of the famous, both living and dead. This month Roy delves into the family tree of actor Tom Ellis.
A couple of issues back I published the ancestry of the comedienne and actress Miranda Hart, so it seemed appropriate to follow this up with the family tree of Tom Ellis, the actor who plays Gary, the object of her love interest in Miranda.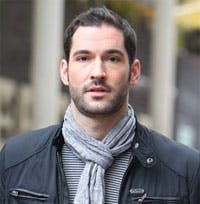 Welsh-born Tom has an ever-burgeoning list of TV credits to his name, including appearances in Midsomer Murders, EastEnders, The Catherine Tate Show, Merlin and a lead role in the creepy ghost series, The Secret of Crickley Hall. He is married to the former EastEnders actress Tamzin Outhwaite and they have two small daughters.
Normally in this series I follow principally the direct male line, but in this case I had to veer from this route because I discovered Tom's paternal grandfather was born illegitimate – a common occupational hazard, as regular family historians will know.
This doesn't mean a pedigree comes to an end, however, because it is perfectly acceptable to pursue a female line instead. You are, after all, still following the same surname.
Tom Ellis was born on 17 November 1978 in Cardiff, South Wales, as Thomas John Ellis. He has three sisters, one of them his twin Lucy. His parents, Christopher John Ellis and Marilyn Jean Hooper, were married on 30 December 1972 at Clarence Park Baptist Church, Weston-super-Mare, Somerset. That they married in a Baptist church is hardly surprising since Tom's father, Chris Ellis, was a Baptist minister at 23, while his mother Marilyn was 19 and a student.
The marriage certificate showed that Chris's father was John Ellis, a police officer, and Marilyn's father was Arthur Melbourne Hooper, a postal and telegraph officer.
Chris Ellis was also born in Cardiff on 29 June 1949, the son of John Ellis and Joyce Doreen Jones, who were married at Pontyclun, near Bridgend, Glamorgan, on 15 August 1942. Chris' father John Ellis, the police officer, Tom Ellis' grandfather, was born on 7 November 1921 in Pontypridd registration district to Emmie Ellis, father unknown. This fact might have made further research impossible, had not Chris and Marilyn Ellis kindly put me right in emails, so I decided to follow the ancestry of Emmie Ellis, Tom's paternal great-grandmother, for as far back as I could.
Emmie was born on 17 November 1897 at Llanharan, a village in the Rhondda Valley near Bridgend. She seemingly never married and died in 1982 at 85. I found her in the 1911 census, aged 13, living with six siblings aged from 29 to 11, in a household headed by her eldest brother Claude Ellis, a pottery labourer, at 44, Llantrisant Road, Pontyclun: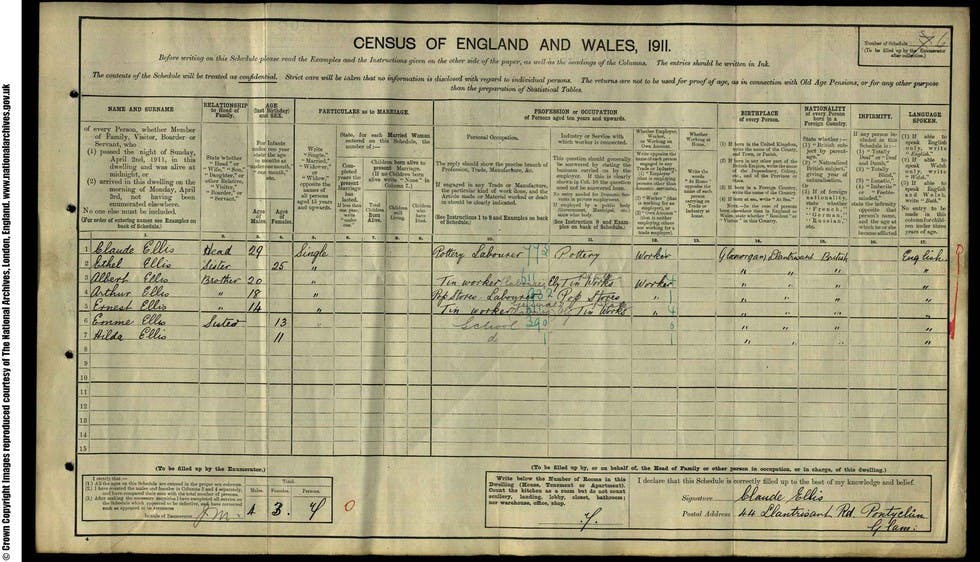 Emmie's name was actually spelt as Emme, which turned out to be the first name of her mother. Her siblings were: Claude 29; Ethel 25; Albert 20; Arthur 18; Ernest 14; Hilda 11. All were shown as being born at Llantrisant. Why were they all living together? Possibly the parents had died, although I was unable to confirm this for certain. I found in the General Register Office death indexes an Emmy (sic) Ellis who died in Pontypridd registration district in 1906, aged 46, who may have been the mother.
In the 1901 census, the family were also in Llantrisant Road, Pontyclun, but with no house number given. Head of the household was Charles Ellis, 45, a bend maker in a pottery works, born at Gloucester. His wife, Emme, 40, was born at Penmark, Glamorgan, and there were eight children from 19 to one, including Emmie aged three. All the children were born at Llantrisant except Emmie whose birth place was given as Llanharan: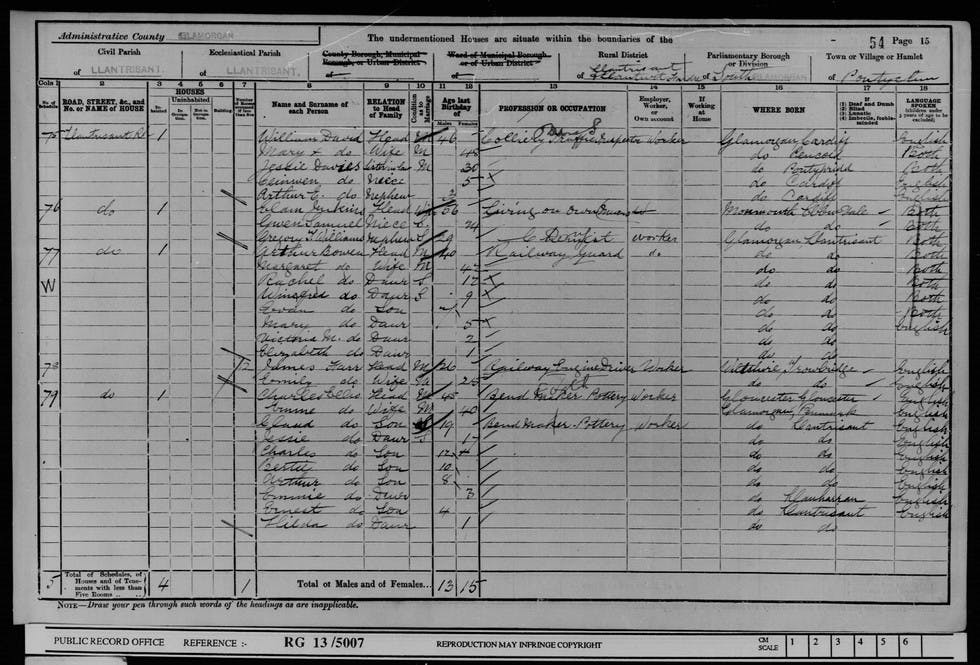 Charles and Emme Ellis were the great-great-grandparents of Tom Ellis. A decade earlier in 1891, Charles Ellis and his family were at Talbot Road, Llantrisant. In this census, however, his wife was called Amy, but clearly it was the same woman since her age and birth place tallied with the details given in 1901: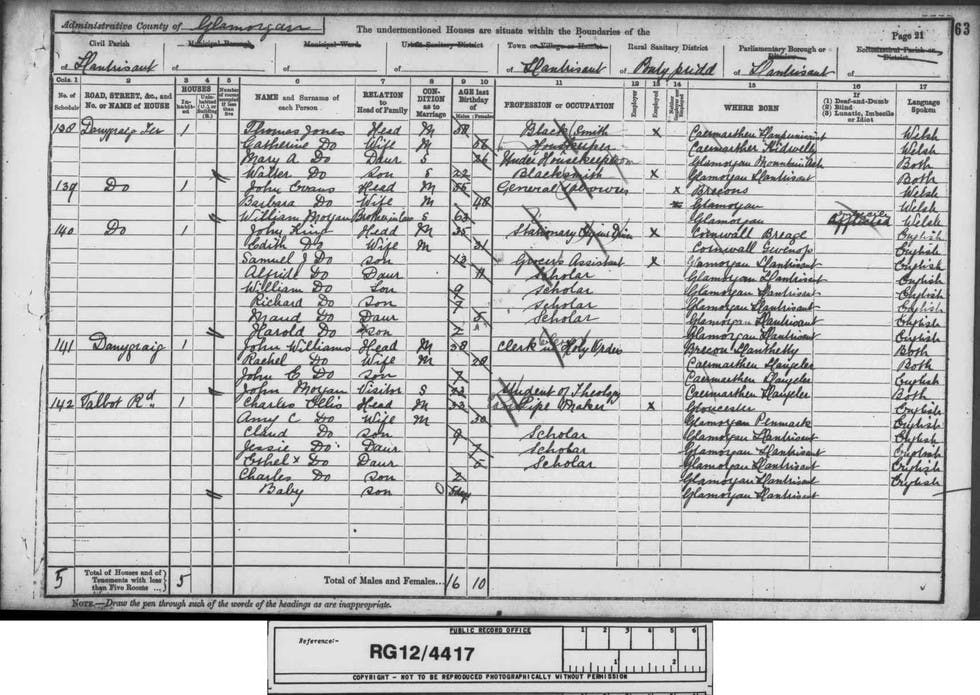 Charles' occupation was a pipe maker and there were five children ranging in age from 9 down to an unnamed baby son whose age was given as nought.
Going back yet another 10 years to the census of 1881 I found Charles and Emmy (sic) Ellis at Danygraig Villas, Llantrisant with Charles' occupation shown as an iron shearer in a tin works. In this census they had not yet had any children.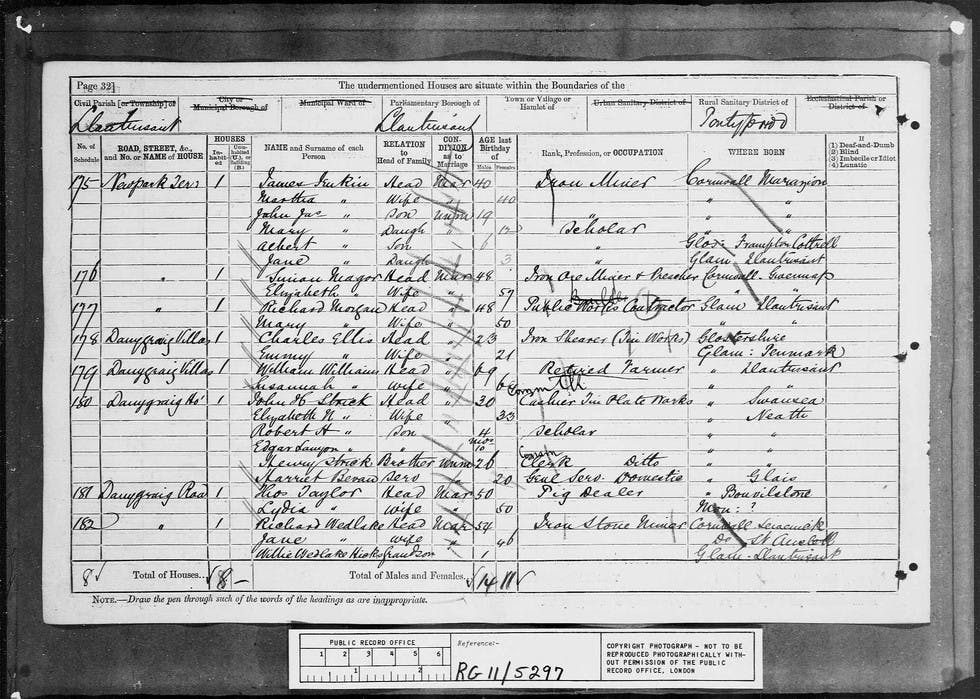 It seems that Charles' wife spelt her name a number of ways – either that or the enumerators couldn't agree! I found the likely marriage in the GRO marriage indexes at Pontypridd registration district in the last quarter of 1879 of Charles Ellis and Amy Prosser and I feel sure this was the right couple.
In a bid to trace Charles further back and discover who his parents were, I next went to the 1871 census. I found Charles, aged 14, at an address called Pontclown Fach in Llantrisant with his parents, Henry and Mary Ann Ellis, and seven siblings: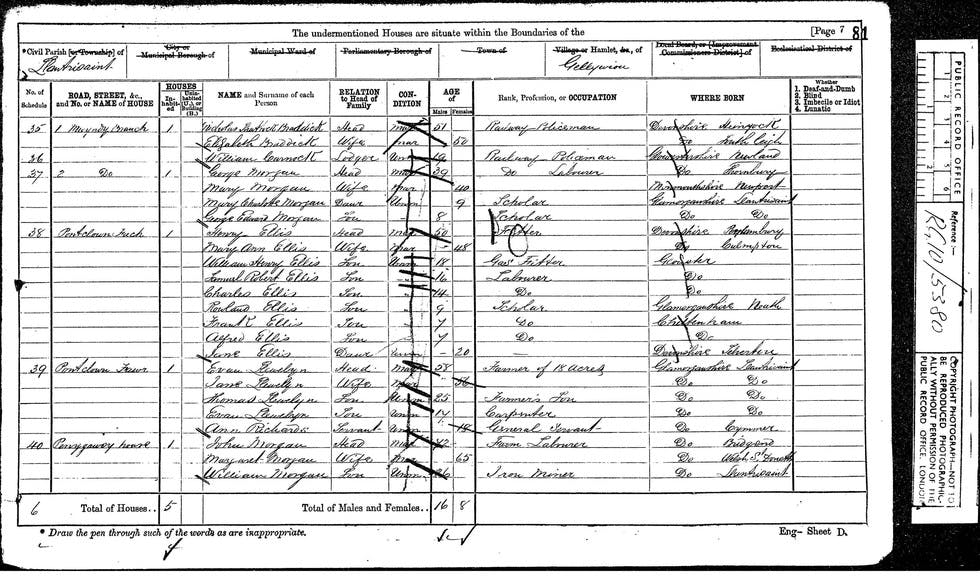 Henry Ellis was 50, occupation fitter, born at Payhembury, Devon, a place near Honiton, while Mary Ann Ellis, 48, was born at Cullompton, Devon. The children were six sons ranging from 18 to seven and a daughter of 20. Of the sons, three – William Henry, 18, Samuel Robert, 16, and Charles, 14 – were all born at Gloucester, while a son Rowland, 9, was born at Neath, Glamorgan, and two sons called Frank and Alfred, both 7 (and probably twins) were born at Cheltenham. The daughter Jane, 20, was said to have been born at Silverton, Devon, a village between Exeter and Cullompton. It looks as if Henry and Mary Ann had moved around a bit while having their family.
In 1861, Henry and Mary Ann were in Neath at 21 Henry Street. There was something weird about this entry, however, because Henry was shown as being 48 – only two years younger than he was in 1871! Mary Ann's age was given as 36, making a gap of 12 years between them when in 1871 it was only two years: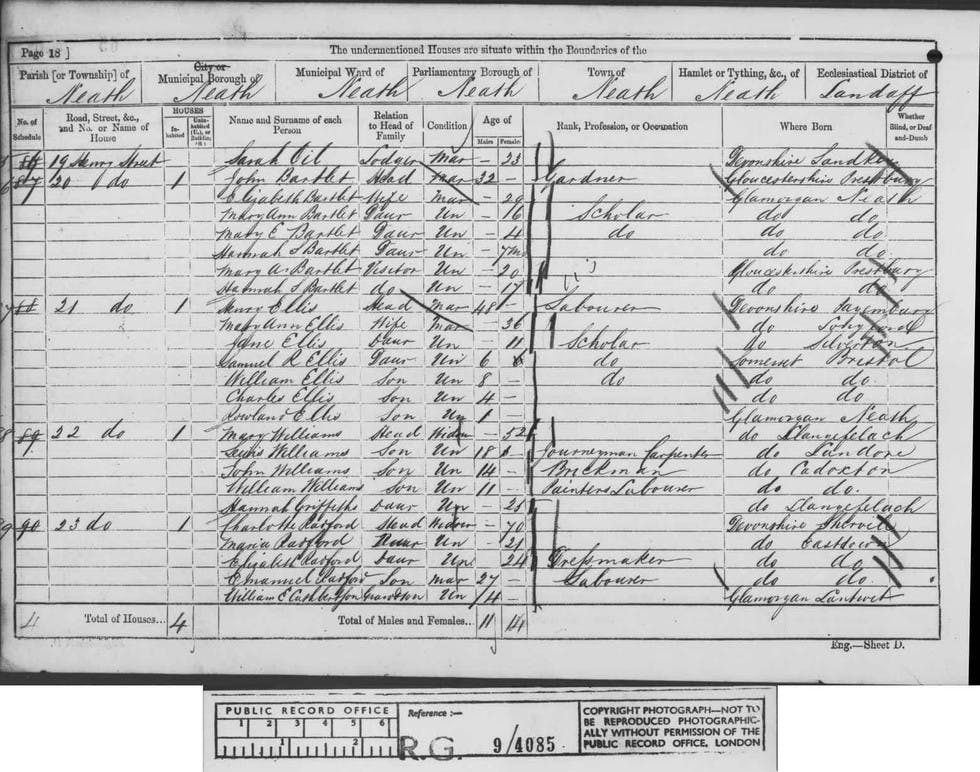 Henry, a labourer, was also shown in this census as being born at Payhembury, Devon, but I had difficulty in making out the birthplace of Mary Ann which appeared to end in 'ford'. Another curious thing was that three of the children, Samuel, 8 (who was shown as a daughter!), William 6, and Charles, 4, were all shown as being born in Bristol, not Gloucester, while the daughter Jane's birthplace was again given as Silverton, Devon. The youngest son Rowland was aged one and shown as being born at Neath.
I suspect that either Henry had difficulty in filling in the census schedule or possibly there was a dialect barrier between him and the Welsh enumerator! Of course, this was far from rare in the Victorian censuses. Whatever the discrepancies, there was no doubt this was the same family as I had found in 1871 and Henry and Mary Ann Ellis were the great-great-great-grandparents of Tom Ellis.
Next stop was the 1851 census and this time I found Henry and Mary Ann at 22 William Street, St Philip and St Jacob (Without), Bristol. Henry was 28 and a sawyer, birthplace Pehembury (sic), Devon. Mary Ann was born at Cullumptun (sic) and they had just the one child, Jane, who was then aged 10 months: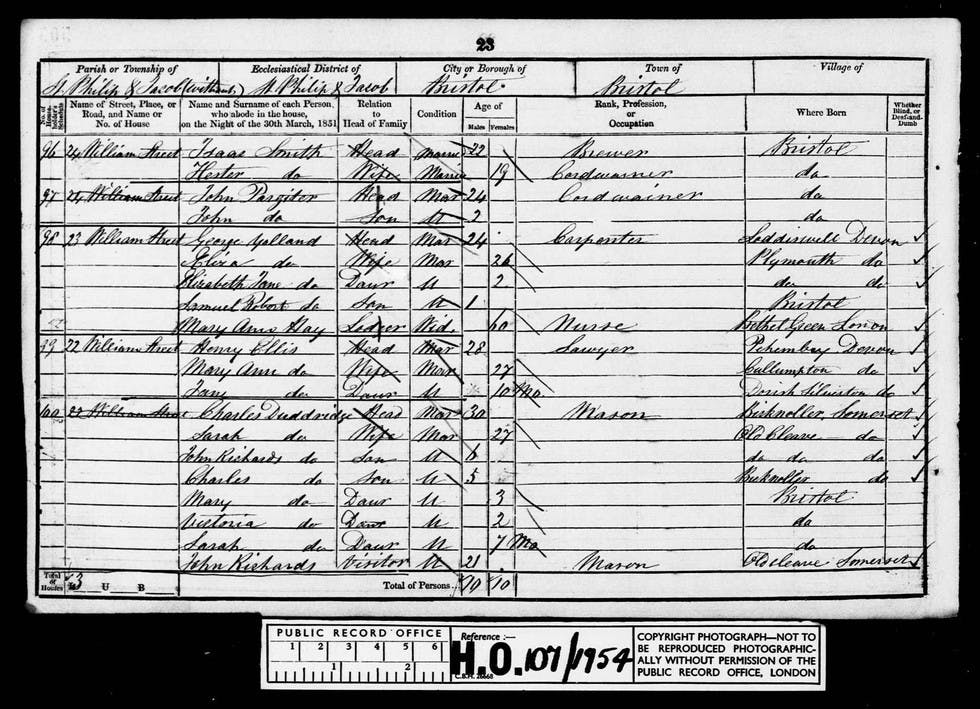 Turning again to the GRO marriage indexes, I found the potential marriage at Tiverton registration district (which included Cullompton and Silverton) in the June quarter 1849 of Henry Ellis and Mary Anne Hillier. There was another Mary listed on the same page; however, it seems likely to me that this was the correct marriage.
Looking for Henry Ellis in the 1841 census, I think I found him at Payhembury, Devon, which was given as his birth place in subsequent censuses. His age was given as 20, though this is not entirely reliable – we have seen how his age differed in other censuses. If it was the right man, he was an agricultural servant working for a farmer called Joseph Cleman at a place called Lower Tale, Payhembury: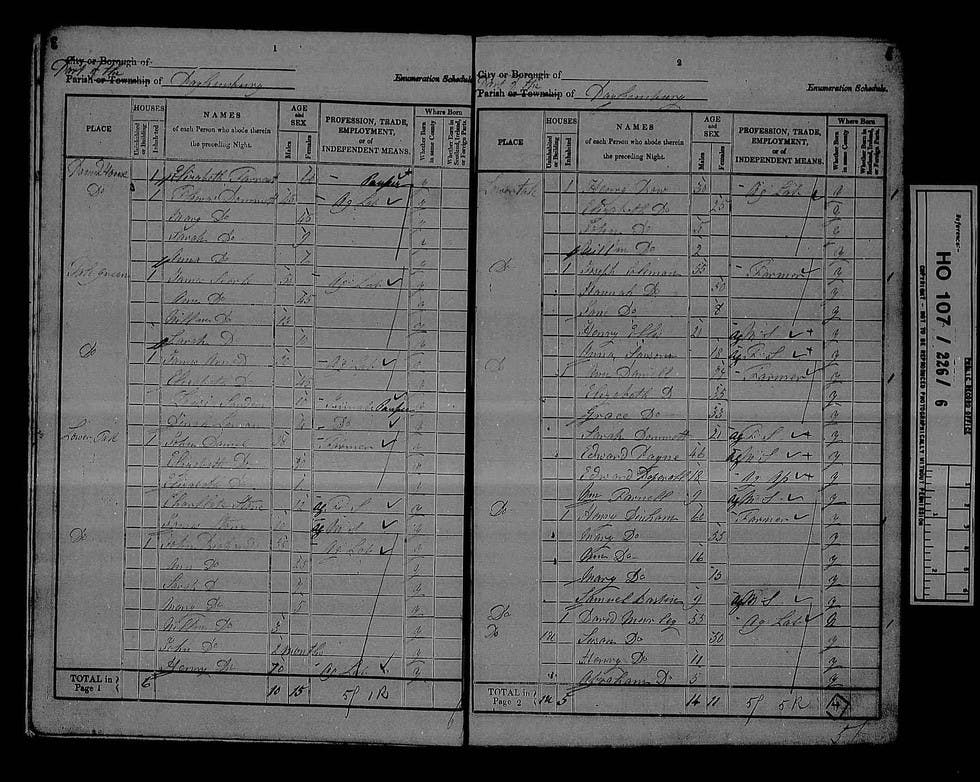 A Google search reveals that Lower Tale Farm or Cottage, Payhembury still stands today as a listed building with a thatched roof. So if Tom Ellis happens to read this, he should be able to see the place where his probable great-great-great-grandfather Henry Ellis once lived and worked.
I hope this exercise has shown that family history research doesn't have to end if you run into an illegitimacy problem!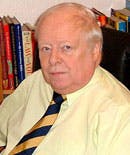 Roy Stockdill has been a family historian for almost 40 years. A former national newspaper journalist, he edited the Journal of One-Name Studies (for the Guild of One-Name Studies) for 10 years. He is on the Board of Trustees of the Society of Genealogists and is commissioning editor of the 'My Ancestors…' series of books. He writes regularly for Family Tree magazine.