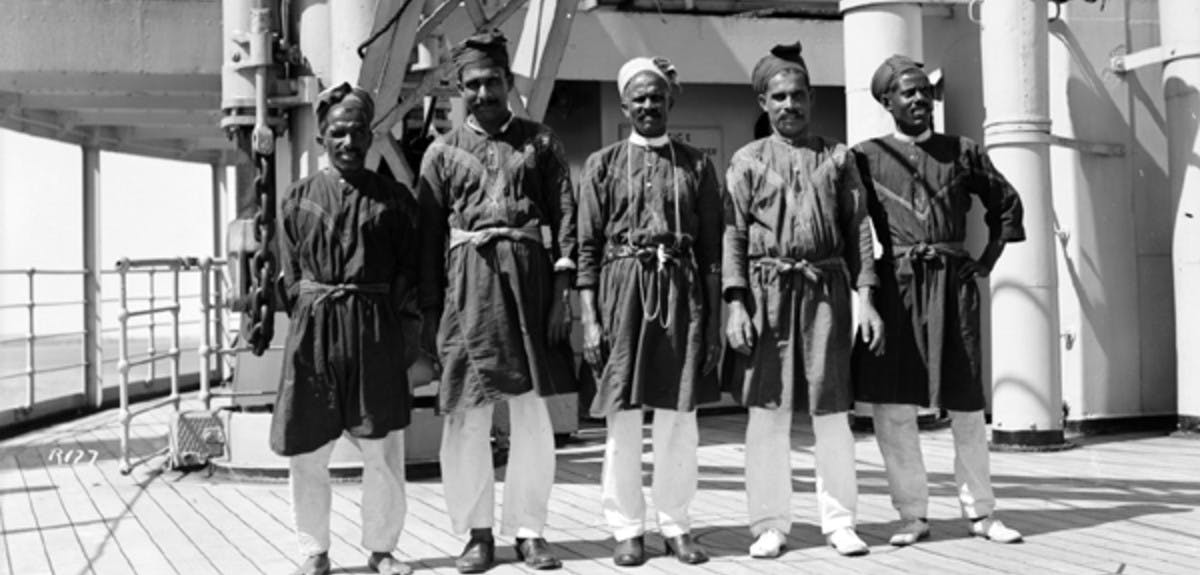 In our records: The secret lives of Merchant Navy Lascars

Last week's Findmypast Friday marked the release of over 157,000 additional England & Wales Merchant Navy Crew, Lists 1861-1913. Consisting of crew lists and agreements taken from British Merchant vessels, these new additions contain the details of individuals from some of Britain's earliest Asian communities and one of the most overlooked groups in British maritime history, the Lascars.

Lascars were sailors and militiamen from the Indian subcontinent who served on board British ships between the 16th and 20th centuries. The history of Lascars in Britain's Merchant Navy can be traced back to the early days of the East India Company.

Start exploring your own family tree
Despite long and hazardous voyages, the Company transported millions of tons of valuable goods such as tea, sugar, coffee, silk, cotton, spices and porcelain each year. Conditions were harsh, sickness common, and death rates were fairly high. Many sailors died at sea and many more chose to desert once they arrived in India, frequently leaving ships under-manned for their return voyage. The Company needed men to replace these sailors, and Lascars were employed in their stead.

Lascars were recruited from areas around East India Company factories in Bengal, Assam, Gujarat and Yemen, as well as Portuguese Goa. As demand for exotic goods increased in Britain, so did the level of shipping required to supply it, and the number of Lascars employed by the company rose.

Lascars typically served under "Lascar agreements". These allowed ship-owners far more control than was ordinarily the case. Lascars were not entitled to British rates, they could be transferred from one ship to another or retained in service for up to three years at a time, and they endured drastically inferior living conditions. Nearly 500 Lascar agreements can be found in the Merchant Navy Crew Lists 1861-1913.

Lascars were treated even worse than their British colleagues. They were paid and fed very poorly and could hope to advance no further than the petty officer class. Many were stuck in stoke rooms where the temperature could easily reach 40 degrees.

Once the government realised the Lascar's significance to British shipping, legislation was written to require special heating and food provisions for Lascars. They were allowed to continue their own customs at sea and observe their religious rituals. Many wore brightly coloured turbans and holidays and dietary restrictions were observed by Muslim and Hindu crewmen aboard most ships.

Many Lascars settled in Britain, forming some of the earliest Asian communities. By 1813 there were over than 10,000 Indian Lascars living in Britain. By 1842, over 3,000 Lascars were arriving each year and by 1855 the figure had risen to over 12,000.

Although many Lascars decided to jump ship in British ports to escape maltreatment and inferior employment conditions, many more were forced to stay. They eked out existences as street sweepers, peddlers and even beggars in London's dockland areas of Shadwell, Wapping and Poplar. Searches for Lascars in our census records will show many residing in lodgings and workhouses around these areas.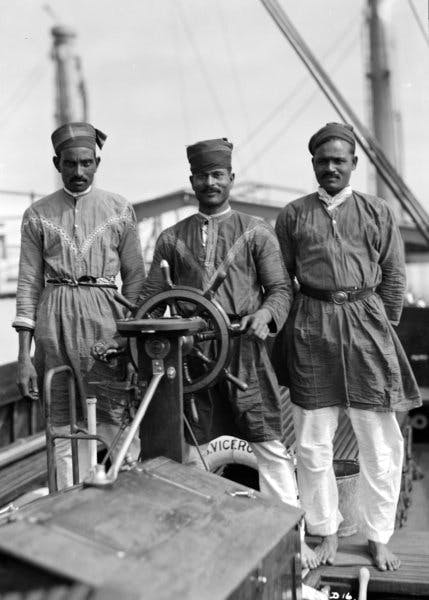 Concerned members of the public eventually began to establish boarding houses for the destitute lascars. In 1857, a missionary group called 'The Society for the Protection of Asian Sailors' founded the Strangers home in West India Dock Road, Limehouse, in London. Many British women also gave lodging to the displaced seamen. Two notable examples were run by a pair of London ladies known as 'Calcutta Louisa' and 'Lascar' Sally'.

Many Lascars went on to build good lives for themselves in Britain. They took jobs in shipyards, docks, factories and on the railways and many took British wives. Examples of such marriages can be found in our collection of UK marriage records. There were no legal restrictions in Britain in regards to 'mixed' marriages and interracial communities were established in Britain's dock areas.

For over 350 years, Lascars played an essential role in contributing to Britain's success. Thousands lost their lives saving Britain from starvation during the two world wars, particularly those who served with the British India Steam Navigation Company. Their centuries-old history is a rarely-told but fascinating one. Start tracing the Lascars' steps in our records today.