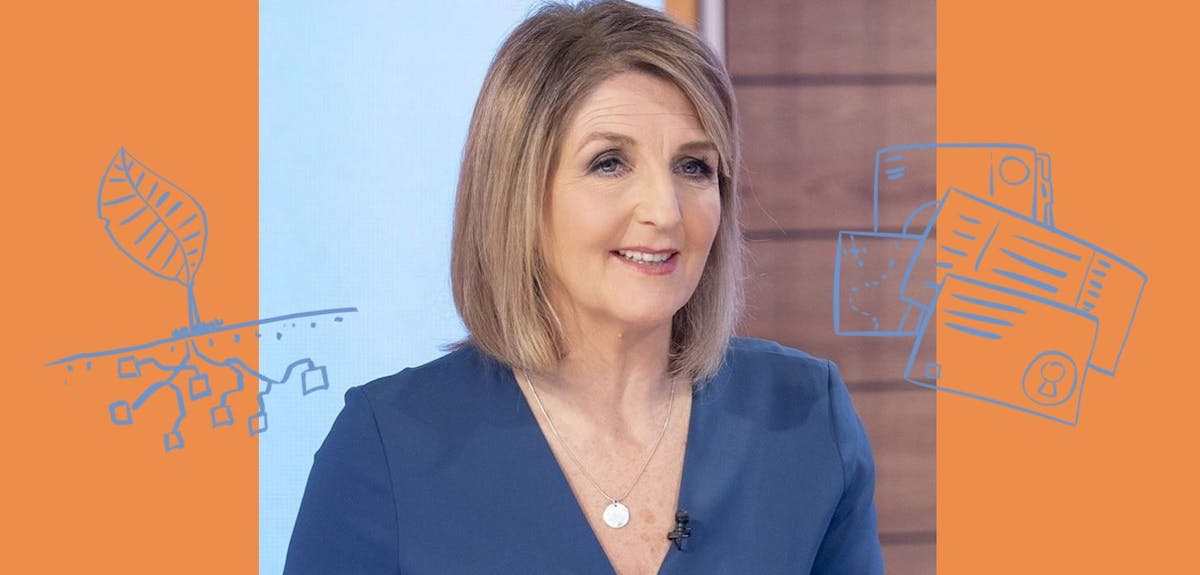 Kaye Adams' hard-working and heartbreaking family roots revealed
Where does Loose Women star Kaye Adams get her no-nonsense personality from? We may have found the answer in her ancestry.
Through a range of family records, we've discovered that Scottish presenter and journalist Kaye Adams' ancestors faced unimaginable hardship and troubled times.
Start a 14-day free trial
Kaye Rintoul Adams was born in Falkirk, Scotland, in 1962, to parents Duncan McDonald Adams (born 1931) and Catherine Webber Rintoul (born 1933). Following traditional Scottish naming patterns, Kaye was given the maiden name of her mother as a middle name.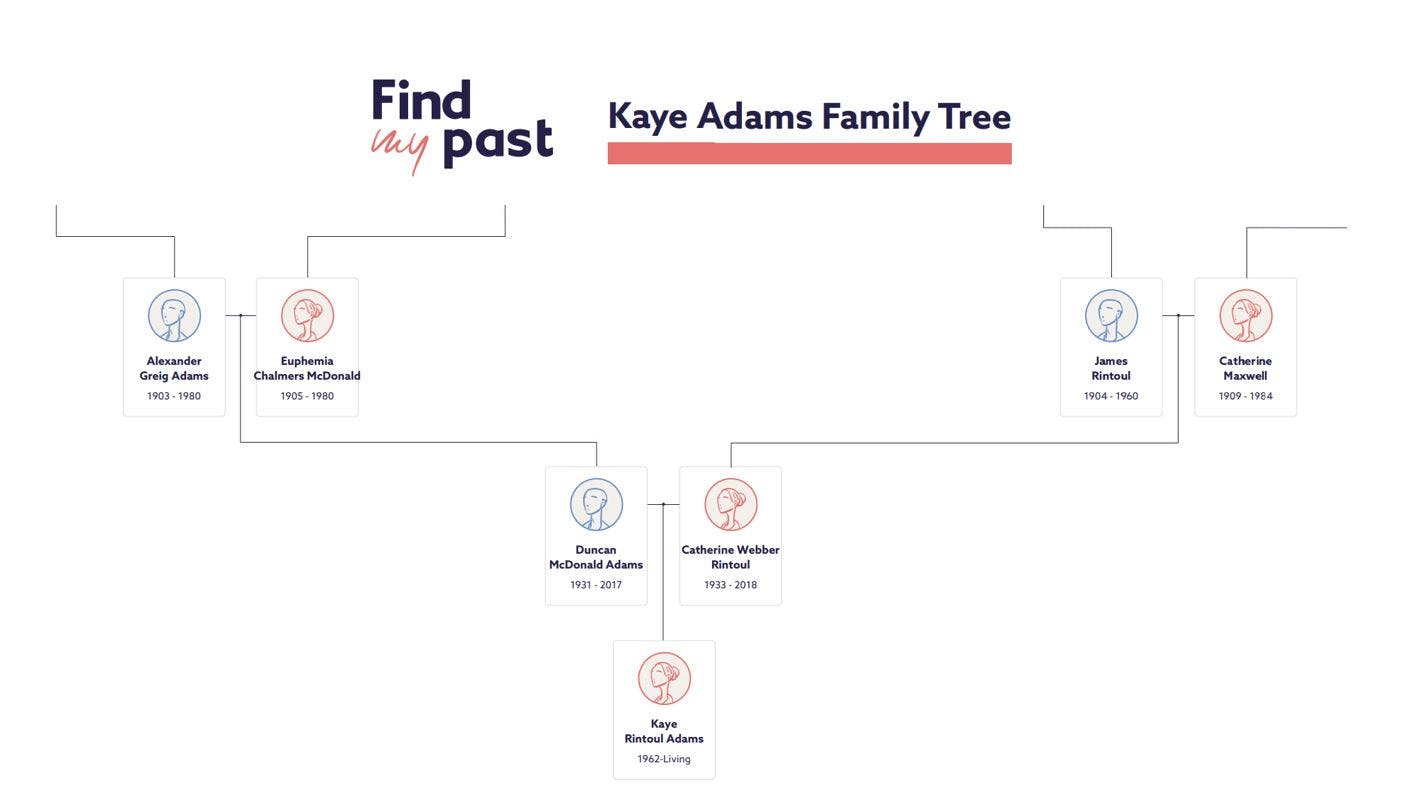 Many of Kaye's ancestors were coal miners, and a coal miner's life was a hard one. Plagued by long hours, low wages, dangerous conditions, poisonous gasses and lung disease, up to 10% of Scotland's population worked down mines at the peak of the industry.
Kaye's 2 x great-grandfather, James Rintoul worked down the mines, as did his son, grandson and great-grandson. While he may have escaped the perils of the mines, James died of smallpox in 1860.
Kaye Adams' family tree also reveals First World War ancestors. Her grandfather James Rintoul (born 1904) was one of at least six children born to James Rintoul (born 1861) and Margaret Steel. James' two older brothers both served in France. Another brother, David, enlisted in the 3rd Battalion of the Argyll & Sutherland Highlanders in May 1917.
In August that same year, near Rouen, David was shot in the thigh. He was sent back to Edinburgh to recover, but sent back to France in June 1918 where he joined the 1/5th Battalion. On 23 July 1918 he was listed as 'wounded and missing,' and it was later revealed he was 'killed in action' at just 22 years old. His personal effects, including a pocketbook, photos, letters, and playing cards were returned to his parents on 29 January 1920.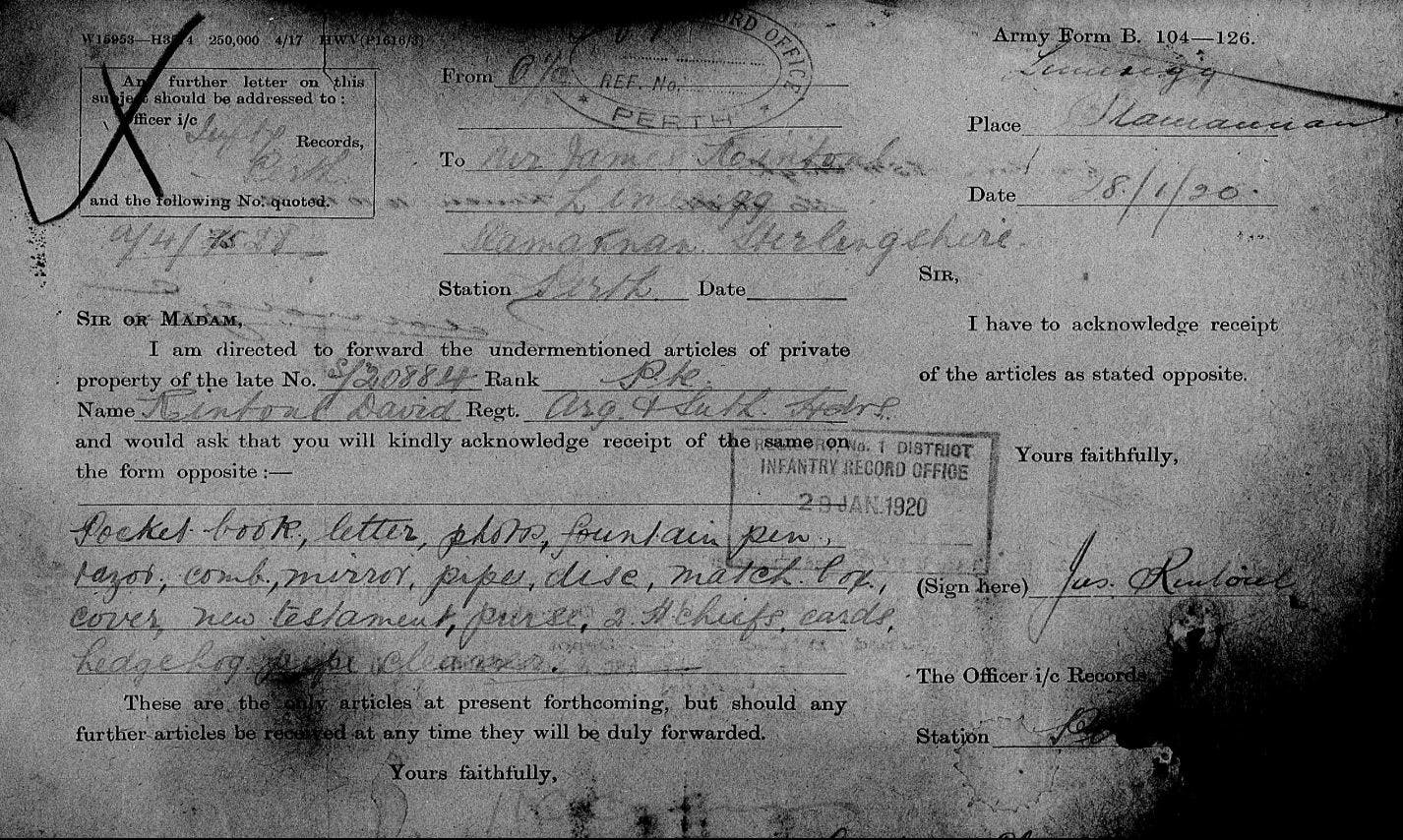 David is buried at the Montreuil-Aux-Lions British cemetery in France, and commemorated on the Slamannan War Memorial.
His brother William's army records don't survive, but we've uncovered a quirky moment in his life. In 1918, he was charged with using a car illegally in order to get married before he left for war.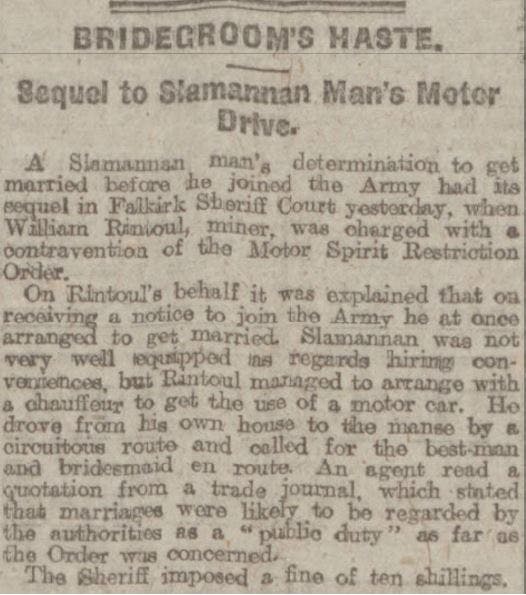 Family tragedy and turbulent times
As we dug deeper, we found tragedy striking another branch of Kaye Adams' maternal family. Her 2 x great-grandmother Ann Mason (born 1850) was widowed at the age of just 24. Her husband was a sailor, Richard Webber, who drowned in the River Forth in 1874.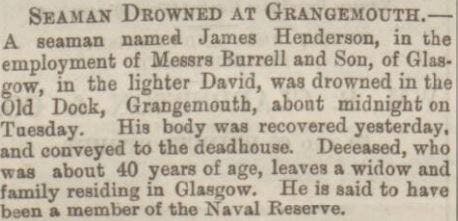 Two years later, Ann gave birth to Catherine (Kaye's great-grandmother) on 28 September 1876. The birth entry reveals that Ann was illiterate, signing her name with an 'x', with a comment left by the registrar:
"Catherine Mason or Webber, illegitimate daughter of Ann Webber (maiden surname Mason) whose husband Richard Webber (Seaman) died 2 years ago."
By this point, Ann's choices were limited. Unwed mothers were social outcasts, who often had to give up their children to claw their way back to being accepted by society. It was either that, or the workhouse, where infant mortality rates were high. Somehow, Ann kept her daughter, but still led a troubled life. There are multiple reports of her being charged with breaching the peace in our historical newspapers.

Despite this, Ann stayed close to her daughter, and spent her final years with Catherine and husband Hector, dying at Pirney Lodge in 1898. Kaye Adams' mother, also called Catherine, was given the middle name Webber, likely after Catherine Mason's lost husband, Richard Webber.