Behind the doors of Princess Diana's childhood home
6-7 minute read
By Ellie Ayton
20 March 2023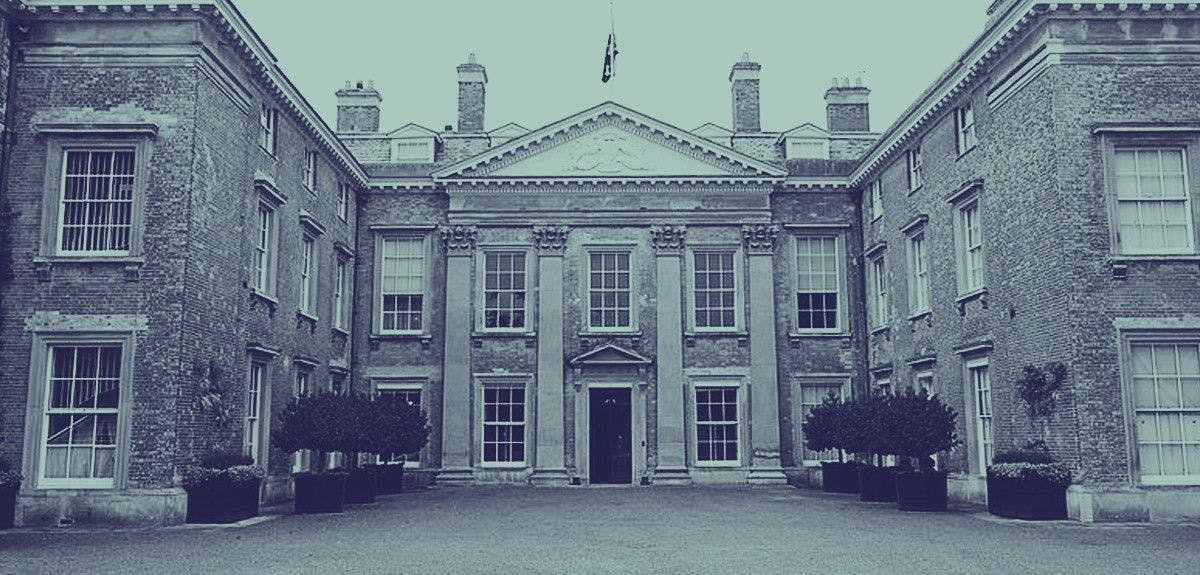 Althorp House has been the Spencer family home for over 500 years, but what lies in its history? We delved into our family history records and historical newspapers to discover its colourful past.
Princess Diana's family tree boasts many illustrious branches, and the Spencer family of Althorp is just one of them. Back in 1765, Diana's ancestor John Spencer was made the first Earl Spencer. But the history of Althorp House dates back even further when an earlier John Spencer bought the estate during the reign of Henry VII. 
This Tudor-era John Spencer was also an ancestor of Robert Catesby, leader of the Gunpowder Plot. This means Princess Diana shares ancestry with actor Kit Harington, who played his ancestor Catesby in the BBC series Gunpowder. 
There has been a house on the site in Althorp, Northamptonshire for hundreds of years. The building used to be in a redbrick Tudor style and was heavily altered in the late 18th century. The house saw the royal family, artists, and trailblazers visit over the years, including Queen Mary in 1937.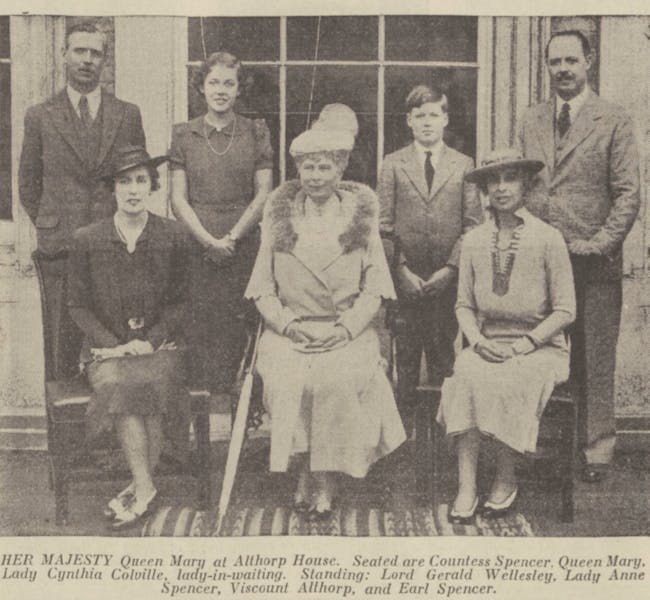 Althorp was Lady Diana Spencer's family home. The family moved there in 1975 when her father became Earl Spencer, just before he married his second wife, Raine. 
This was only two years before she met Prince Charles, Prince of Wales, whose tumultuous relationship is portrayed in the Netflix series The Crown.
If you've seen The Duchess starring Keira Knightley, you'll be familiar with the story of Georgiana Cavendish, Duchess of Devonshire. She was born Georgiana Spencer to John, 1st Earl Spencer and his wife Margaret Poyntz. What's less well known is how they married.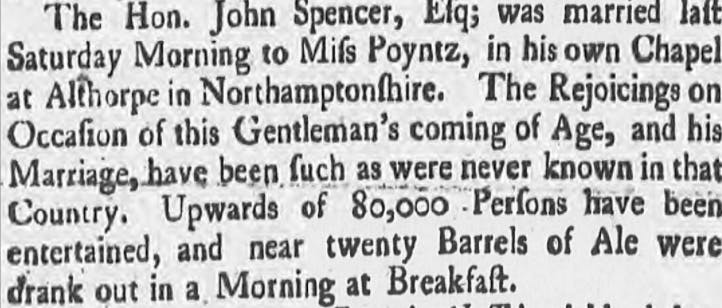 During Christmas of 1755, young John Spencer threw a grand party at Althorp House to celebrate his 21st birthday. The story goes that while the ball was in full swing, he and 18-year-old Margaret married in secret. Their firstborn daughter Georgiana was one of the most prominent societal and political figures of her day. 

Georgiana Spencer was born at Althorp in 1757, the 4x great-aunt of Princess Diana. She was baptised in Wimbledon. Many parallels have been drawn between Georgiana and Diana, not least because they both experienced unhappy marriages.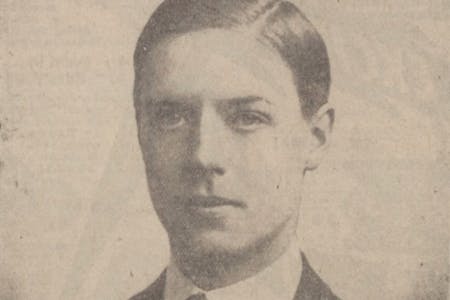 Diana's grandfather Albert Spencer was Viscount Althorp during the time of the First World War. He served as a lieutenant in the 1st Regiment of Life Guards, and was shot in the knee in November of 1914.

Here he is in the Northampton Mercury, 6 November 1914. View the full article here. 
We also found Albert in our Harrow School Photographs. On the transcript, we also learn his house (Rendalls) and his father's name, Charles Spencer, 6th Earl Spencer. 
View this photo plus three others of Albert here.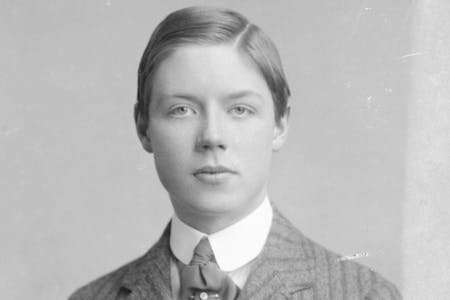 The Spencer family acquired an incredible art collection over the years. In our newspapers, we spotted Earl Spencer lending several pieces for an exhibition at Agnew's Galleries in 1947. The artwork included works by Rubens and Van Dyck.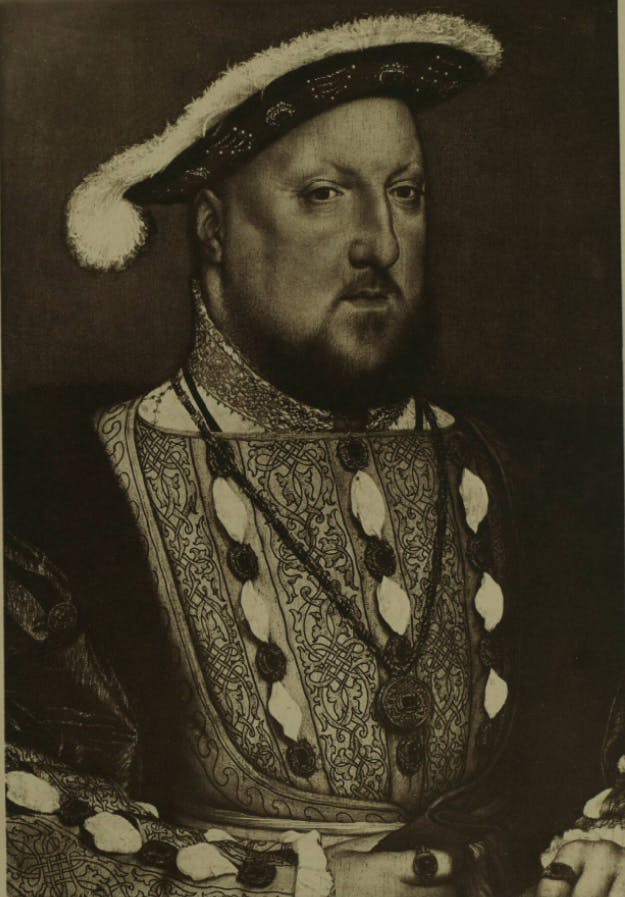 We also discovered the family lending a Holbein portrait of Henry VIII to an exhibition in 1933. Once housed at Althorp, the portrait was later sold by the 7th Earl Spencer. 
We found historical photographs of Althorp in our newspapers. Back in 1892, the Illustrated London News featured a series of photographs of the house, including this incredible shot of the library.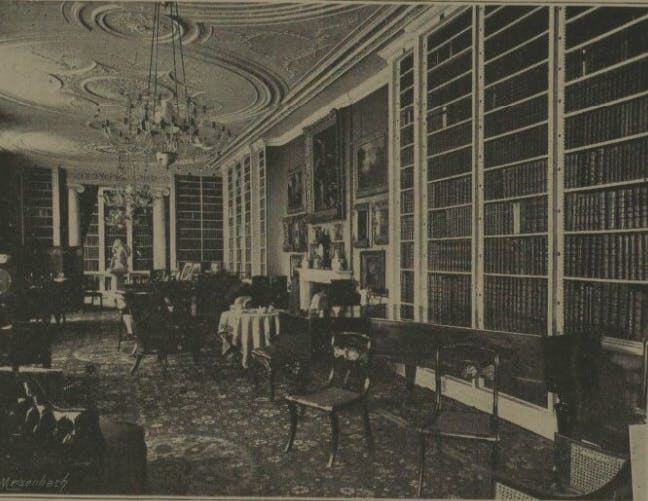 Later in the Northampton Mercury in 1914, we found a photograph of the Reynolds Room, one of the 'magnificent apartments' at Althorp House.
More servants than Downton Abbey? 
We took a trip into the census records to discover more about Althorp House in the nineteenth and early twentieth centuries. What we found was that, like with most of the aristocracy, the family were rarely there. They had other residences, and as censuses were only taken once every 10 years, we often find Althorp inhabited by servants alone. 
In fact, in 1851, we counted 13 servants in the main house alone, including three housemaids, two laundry maids and an under butler. Not unlike Downton Abbey, Althorp also boasted its own Scottish housekeeper.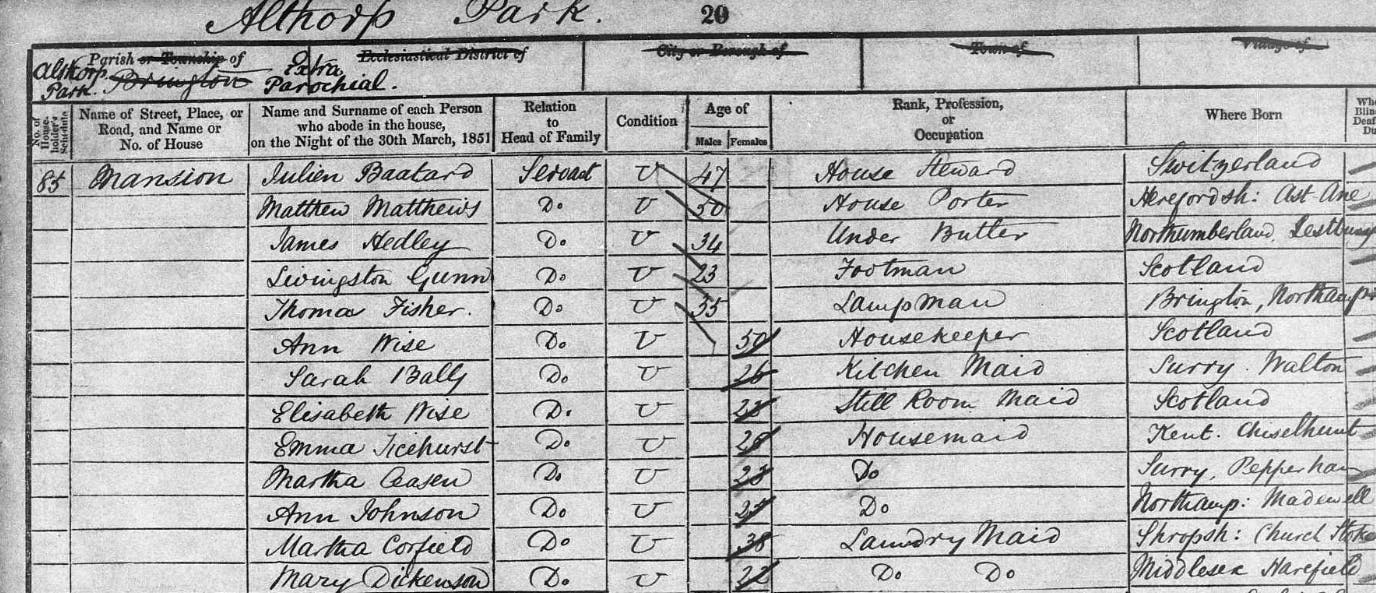 We flipped further through the census and found more servants living in the stables and garden residences.
Skipping ahead a few decades, in 1901 we found John, 5th Earl Spencer at Althorp, with his wife Charlotte and an even longer list of servants, including a clerk, lady's maids, stillroom maids, valets and footmen.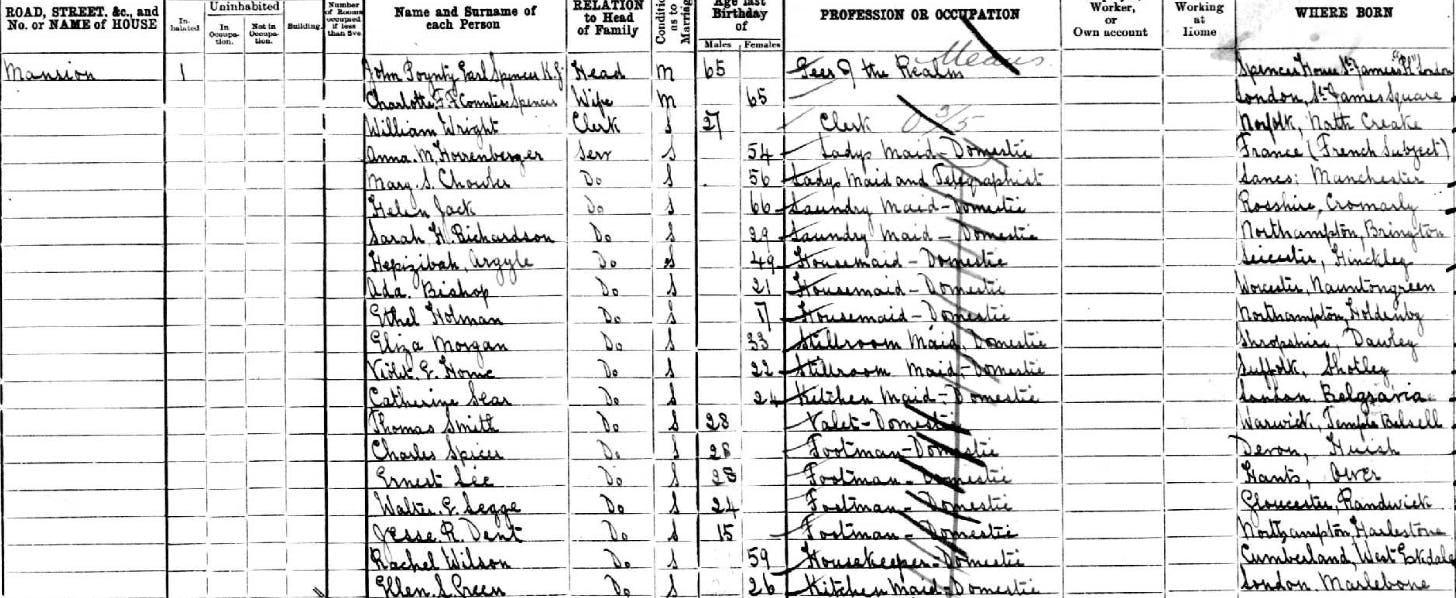 What's fascinating is the vast range in birthplaces: the staff came from France, London, Leicestershire, Devon, Hampshire and beyond to work for the Spencer family. 
By 1921, Althorp House was occupied by the widowed Charles Robert, Earl Spencer, his 14-year-old daughter Alexandra, plus a governess, a housekeeper, cook and more. The fifth earl's wife Margaret died in 1906.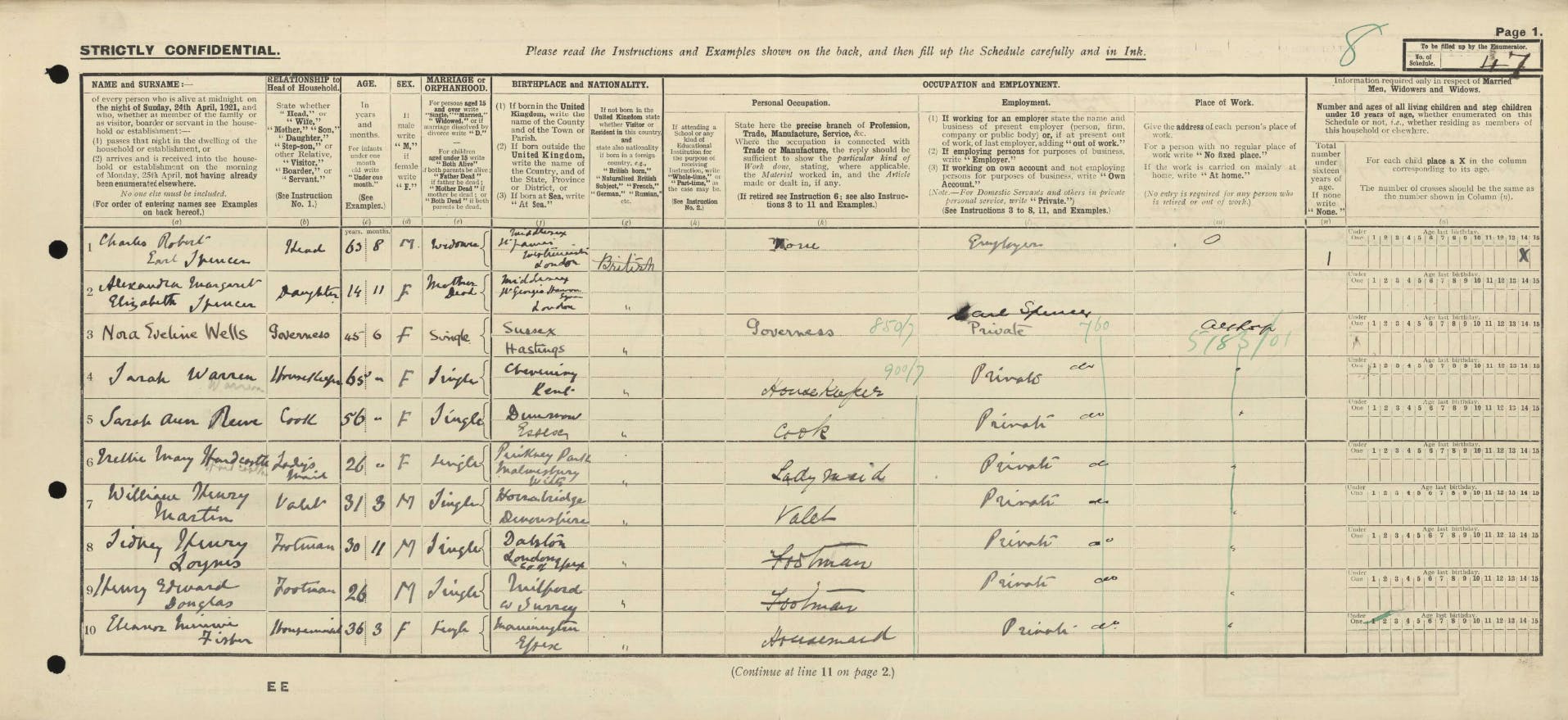 In the 1939 Register, we found Diana's grandfather Albert at Althorp, with his wife Cynthia and several servants.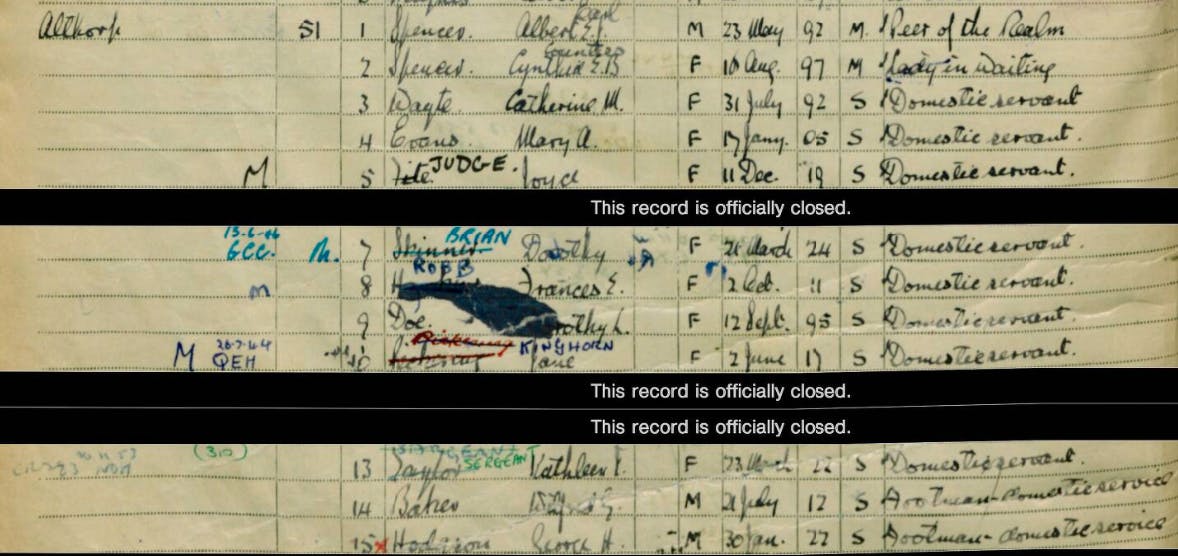 It made us wonder what happened to the staff, the people who worked tirelessly to keep Althorp running day-to-day. On the 1939 Register, we can see that several of the female servants married: their maiden names were later crossed out. 
Althorp House: Diana's grave
When Diana, Princess of Wales was killed in a car crash in 1997, her remains were interred on a small island on the Althorp estate.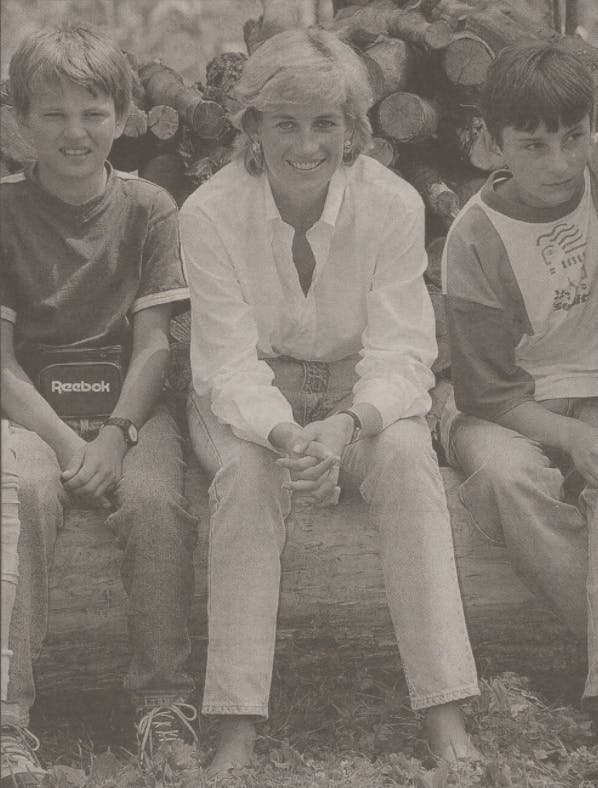 Other Althorp burials were mainly at the nearby St Mary the Virgin church in Great Brington, which include Diana's father and the Tudor Sir John Spencer, who died in 1522.
Do you have stories to share about your childhood home? Have you researched your home's history? We'd love to hear about it. Share your discoveries with us on Facebook, Twitter or Instagram.
More on this topic:
Share this article
About the author