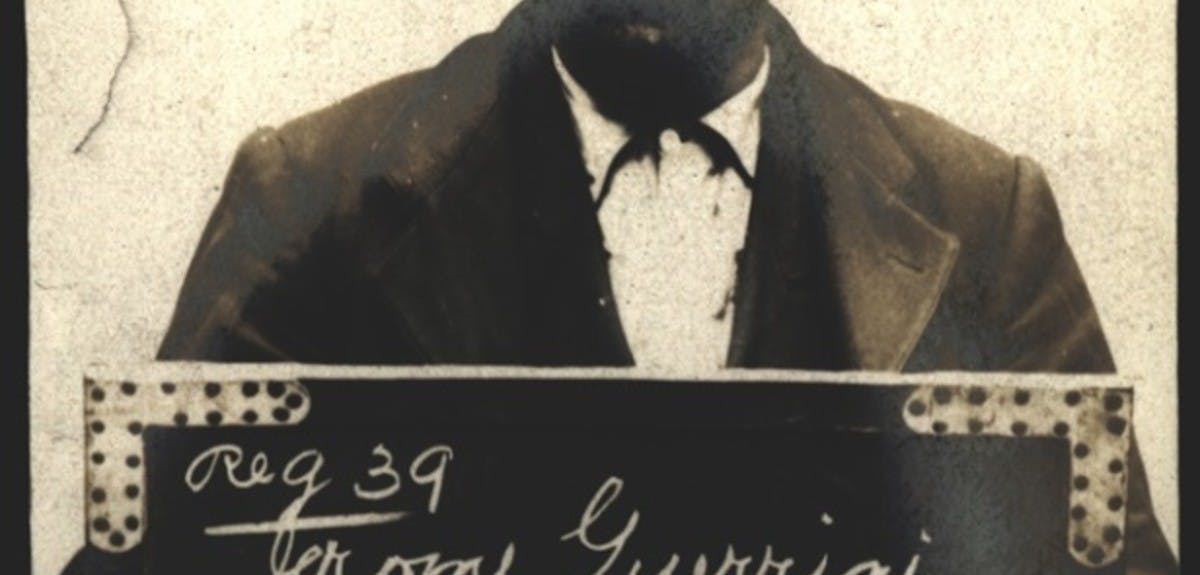 Uncovering the stories behind an album of police mugshots
Back in November 2010, Tyne & Wear Archives was given a photograph album  of prisoners brought before the North Shields Police Court between 1902 and 1916 (TWAM ref. DX1388/1). The album contains over a thousand mugshots of prisoners and over the past few years we've made a small selection of these available on Flickr. There are separate sets for the male prisoners and the female prisoners.

The mugshots are fascinating but they don't tell you much about the prisoners or the events that led to their arrest. Using the British Newspapers collection on the findmypast website I set out to uncover the stories behind some of the mugshots.

The mugshots include quite a few of children, which can really tug at the heartstrings. However the image, which really caught my attention was of a prisoner, Jerome Guerrini arrested for murder in North Shields in July 1904. There was something cold and menacing about the mugshot of Guerrini that sent a shiver down my spine.

Image courtesy of Tyne & Wear Archives & Museums

A quick search of the British Newspapers collection revealed that Guerrini's trial was featured in a number of newspapers around the country. The best account appeared in the Morpeth Herald for 26 November 1904. The newspaper reported that Guerrini (who also went under the alias of Joseph Brunetti) was a 27 year old Corsican who had spent the previous four years at sea as a fireman. The man he was accused of murdering was a labourer, Patrick Gilligan, who lived in Clive Street, North Shields almost directly opposite the lodgings occupied by Guerrini.

The Morpeth Herald gives us a real wealth of information about the events that led to Gilligan's death. It describes how an initial confrontation over noise levels in the street led to a fight later the same night, which ended in tragedy. The accounts given by witnesses in court are fascinating to read as is the Judge's summing up. The Morpeth Herald reports that:

"Judge Darling, in his summing up, said that if there was anything that distinguished a Corsican from the native of any other country, it was the hotness of his blood and the constant use of the knife. He thought the jury should observe this fact in the case. The jury found prisoner guilty of manslaughter and he was sentenced to fifteen years penal servitude".

A quick search of the 1911 Census shows Jerome Guerrini was still serving his sentence six years later at Parkhurst Prison on the Isle of Wight. By bringing images from a police mugshot album together with reports from local newspapers, it's possible to unearth some fascinating, if tragic stories. You can find out more about Guerrini's story by visiting the Tyne & Wear Archives & Museums website.

This was a guest post by Alan Hayward, Archivist at Tyne & Wear Archives & Museums