Discover who lived in your house before you with address search
Exploring Findmypast's censuses and other property records can reveal who lived in your house back in 1911 and beyond.
Our handy address search, available across all British censuses from 1841 to 1911, is the perfect tool for discovering previous owners of your property. It helps you to find out who was living at any particular address at the time each census was taken. What's more, our exclusive 1939 Register map search will reveal the property listing history of England and Wales at the outbreak of the Second World War.
Start a 14-day free trial
Use this guide to research property records, find out who has previously lived in your house and get the most out of census address searches, ultimately, helping you discover the colourful history of your house.
How to use census address search
To start using the address search tool, head to any of our UK census records sets from 1841 to 1911. You can access these via the A-Z of records. To search for an address rather than a person, select 'Address' from the 'Person/Address' toggle switch at the top of the search screen.
You will now be able to search by street, parish or town, county and/or country.
The 'parish or town' search field will return results for civil parishes, registration districts, towns, villages, boroughs or sub-districts. As you type a location into the the 'parish or town', 'county' or 'country' search fields, our clever predictive system will suggest matches for your search.
So for example, if you were to start typing in 'Weston' into the 'parish or town' field, you'll see a range of suggestions for places with 'Weston' at the start of their name.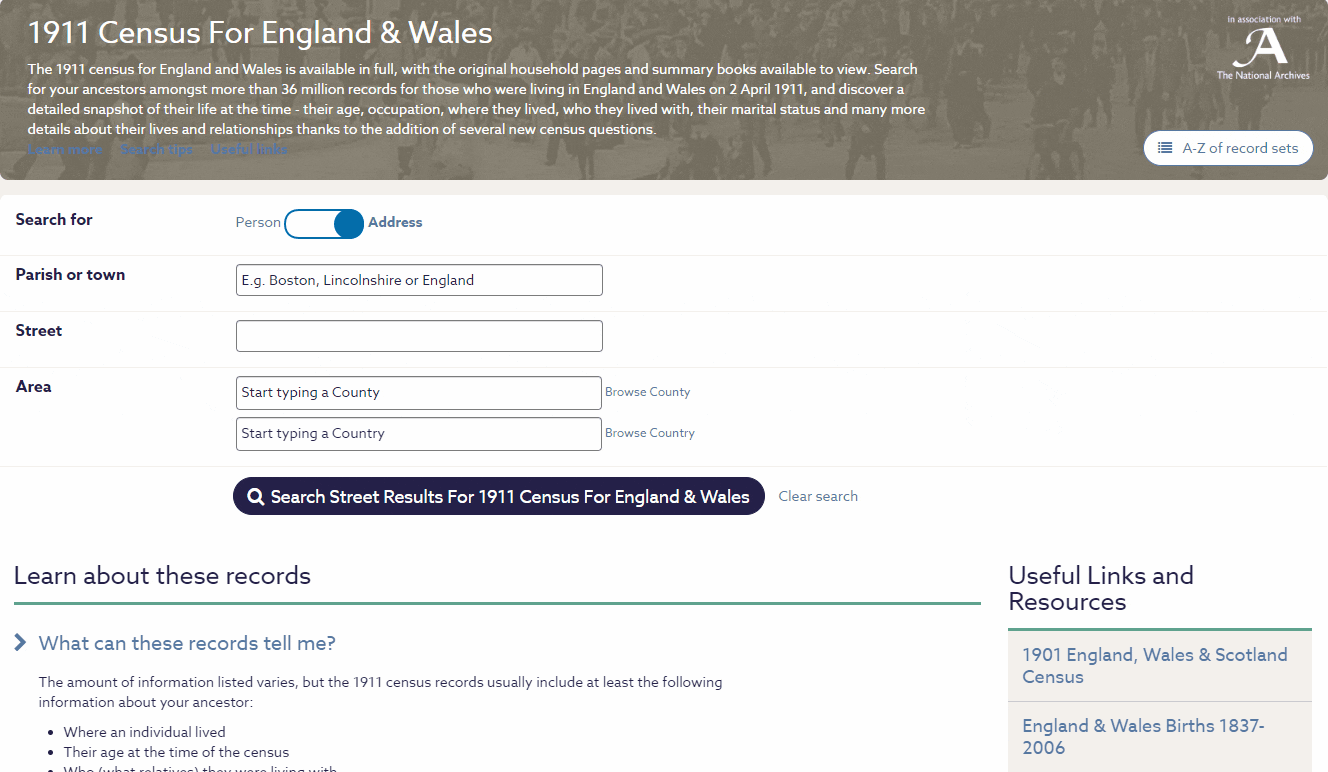 If you were more specific, and typed 'Regent Road' into the 'street' search field, then that would bring up results for every 'Regent Road' in the census.
Then, if you click on any of the roads on your results, you will be taken to a list of all the houses on that particular road or street.
From there, you simply select the house you're interested in, and you will be taken to a transcription of the census record for that property.
The address search tool also recognises abbreviations ('St' for 'Street', 'Rd' for 'Road' etc).
On Findmypast's search pages, you don't need to fill in all of the fields. Therefore, you can easily find all instances of a particular road name we have if you are not sure of any of the other historical information. Watch this video for a quick recap on the steps for searching by address.
Address search is available on the following Findmypast record sets:
How to use 1939 Register map search
As mentioned, another way of researching the history of your address on Findmypast is by looking at the 1939 Register, particularly our exclusive map search. Watch this short video to see how it works.