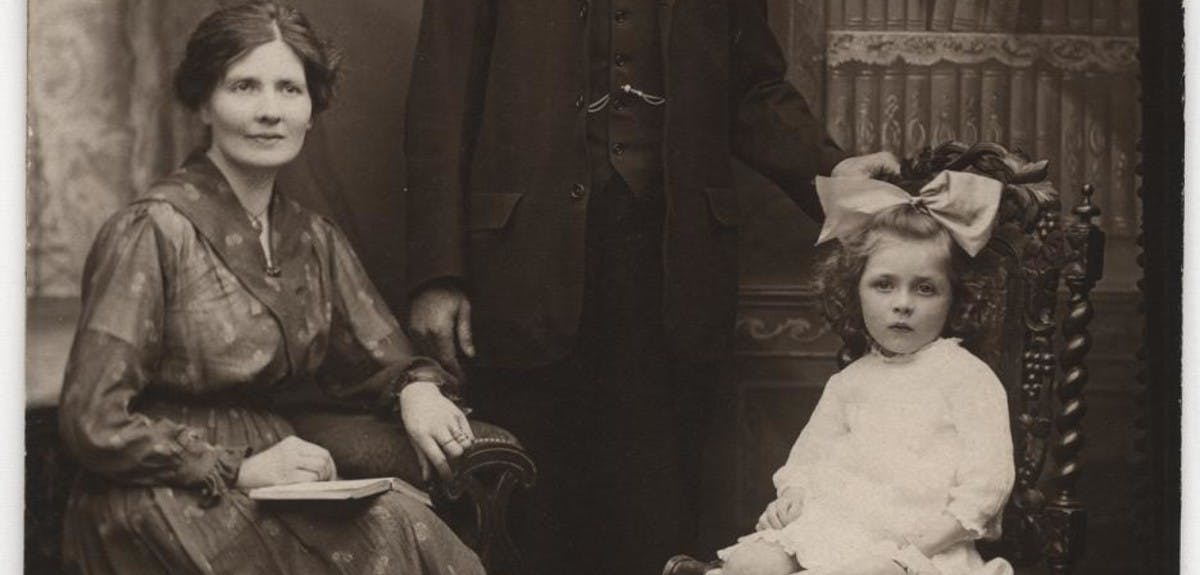 Family photos: composition and studio setting
Welcome to the fourth in our series of blogs about how to understand and interpret your old family photos. In this series, Jayne Shrimpton, internationally recognised dress historian, portrait specialist, photo detective and regular contributor to Family Tree, Your Family History and Family History Monthly magazines, dates and analyses different types of photographs and helps you to add context to your old family pictures.
Moving on from looking at photographic formats, photographers and mount styles, we now begin to focus on the visual image which is, after all, the most interesting aspect of any family photograph. Dating and analysing a photographic image means recognising certain pictorial features and placing them within an accurate historical context. Most Victorian and Edwardian photographs, and later professional portraits, were taken in a commercial studio and in this blog we look at how their compositions and studio settings can offer helpful dating clues.
The photographer's studio
Professional photographs of 19th and early 20th century family members usually portray their subjects not in a real-life environment but in a studio setting carefully contrived by the photographer. Rather like a theatrical stage, these sometimes involved a painted backdrop and contained various 'props' which aimed to create a three-dimensional effect and enhance the scene. Drapes, furniture, painted architectural forms and moveable indoor accessories suggested a drawing room interior, while artificial rustic features conveyed the impression of an outdoor location. Additional accessories kept by the studio reinforced the genteel and attractive effect: quality toys such as dolls, spinning tops, drums and tambourines were kept for small children to clutch, while adults often held a book, implying literacy when not everyone could read.
Personal items could certainly be brought along from home for photograph sittings but were usually only included if they carried positive associations and improved the appearance of the picture. The photographer took full control of the client, advising on facial expression and arranging head, body and limbs into a pleasing pose. The photographic conventions that prevailed at any given time - ideas about subject composition and shifting tastes in backdrops, styles of furniture and other props - are the pictorial features that can help with dating the visual image.
Compositions and settings: 1840s-1860s
In 1840s and 1850s photographs - daguerreotypes and ambrotypes - subjects are typically depicted close-up, in long half-length or three-quarter length, often seated at a cloth-covered table (fig.1). Photographs survive in far greater numbers for the 1860s, the decade that saw the rise of the carte de visite, and for most early cdvs a completely different composition and more extensive room setting was used. Single figures are usually posed, doll-like, full-length in a mock drawing-room interior, showing floor, decorative wainscot and generally with a draped curtain to one side: younger people often stand, with elbow or hand resting on a strategically-placed piece of furniture such as a chair or table (fig.2), while elderly sitters, still full-length, are generally seated.
Groups of two or more people always appear full-length (or almost full-length) in such photographs, as the camera had to move back to include everyone in the frame (fig.3). Solid architectural devices - plinths and pedestals, classical columns, urns and staircases - also crop up in studio sets of the 1860s and early 1870s, while a painted backdrop may also be present, commonly a painted window, doorway or arch offering a glimpse of an 'outdoor' landscape beyond (fig.3).
Compositions and settings: 1870s and 1880s
The convention for whole-length single figures in a spacious room setting drifted over into the early 1870s and recurred periodically throughout the decade, particularly, it seems, in the case of female subjects, who perhaps wished to show off their complete outfit to best advantage! The main trend during the 1870s and 1880s, however, was for the camera to move in toward the subject again, taking closer half- or three-quarter length views in which the client's feet and lower legs are absent from the picture. They may be posed either standing or sitting, perhaps at a table; either way, often a chair is present and there is a pronounced tendency for the subject to lean in a relaxed-looking manner with elbow across the chair back (fig.s 4 and 5). Sometimes he or she holds a book or letter (fig.5) or another personal accessory, such as a fashionable fan, to add interest to the image.
Since little of the room is seen in the frame of these close-up photographs, the furniture close to the subject is more prominent and can also help to some extent with dating. Velvet padded chairs with a rolled back, or other substantial seats upholstered in fabric or leather, often ornamented with tassels, fringing or pom poms, for example, were fashionable in the 1870s (fig.4), while by the 1880s use was sometimes made of throws and draped materials (fig.5). In general, 1880s photographs present a more varied array of scenes than previously, studio sets being more evident in group photographs in which smaller figures pose in spacious surroundings. In particular a new vogue for more naturalistic 'outdoor' settings developed for which backdrops were painted to emulate rural or wooded locations, while subject(s) posed against rustic fences, gates and pergolas, amongst artificial grass and foliage (fig.6).
Seaside photographers often created marine-inspired studio sets, such as imitation rocks or a boat positioned on the beach, or an entire 'deck' of a ship, complete with ropes, mastheads and rigging, in front of a painted seascape. Interior settings also remained fashionable during this decade: painted backdrops often depict rather grandiose, elaborate furniture, in keeping with ornate late-Victorian taste, while specific props first introduced in the early 1880s include the shaggy rug (fig.7) - to be used often from then on (fig.10).
Compositions and settings: 1890s and early 1900s
The indoor and outdoor themes and features of the 1880s continued throughout the 1890s and into the early 1900s, when single subjects were posed either in a three-quarter length or full-length composition. Potted plants often crop up in interior room sets of this period, reflecting new trends in home décor: in fact few indoor scenes of the late Victorian and Edwardian eras are without a genuine fern, palm, aspidistra or floral arrangement in a pot on a plant stand, or in a bowl on the table - props seen especially in female and mixed portraits (fig.9).
Other contemporary features include ornate wicker or cane furniture in the new art nouveau style, perhaps posed incongruously against the familiar baronial painted backdrop (fig.9), or the 'outdoor' setting, often displaying weathered-looking masonry. A different, yet very popular composition - first used significantly in the late 1880s, but associated mainly with the 1890s - was the head and shoulders oval vignette (fig.8). There is no mistaking these close-up images in which the central portrait fades away around the edges into a blank background; they occur in many photo collections spanning the late 1880s to early 1900s. Conversely, extended family group photographs also became increasingly popular during the 1890s and early 1900s - scenes that may show many ancestors and several generations crammed together in the studio (fig.10).
Compositions and settings: 1910s - 1940s
As the 1900s advanced and during the early 1910s, painted studio backgrounds were often cloudy and indistinct, vaguely suggesting shrubbery and leafy glades, while in the foreground clients might pose by realistic-looking stone plinths, pedestals and balustrades (fig.11). Studio room sets of the 1910s usually appear plainer than during the Victorian and Edwardian eras, reflecting more modern tastes: typically photographs of this decade show blank-walled or wood-panelled rooms, often featuring painted bookshelves and/or curtained, small-paned windows and simpler furniture including long bench seats and wooden chairs of modern or traditional design (fig.12).
Hazy backdrops continue into the 1920s, with substantial groups of people still being photographed in full length. Remember that by now, amateur photography was becoming increasingly popular and fewer people were visiting the commercial photography studio, although the professional portrait was still considered a superior product. Accordingly, the distinguishing trend with studio photographs of small groups and with single portraits, from the post-WWI period onwards, is for clear head and shoulders shots focusing on the head and upper body, with close attention paid to camera angle and lighting. This vogue continued throughout the 1920s (fig.13), 1930s (fig.14) and 1940s, providing intimate, high quality visual records of our more recent ancestors and relatives.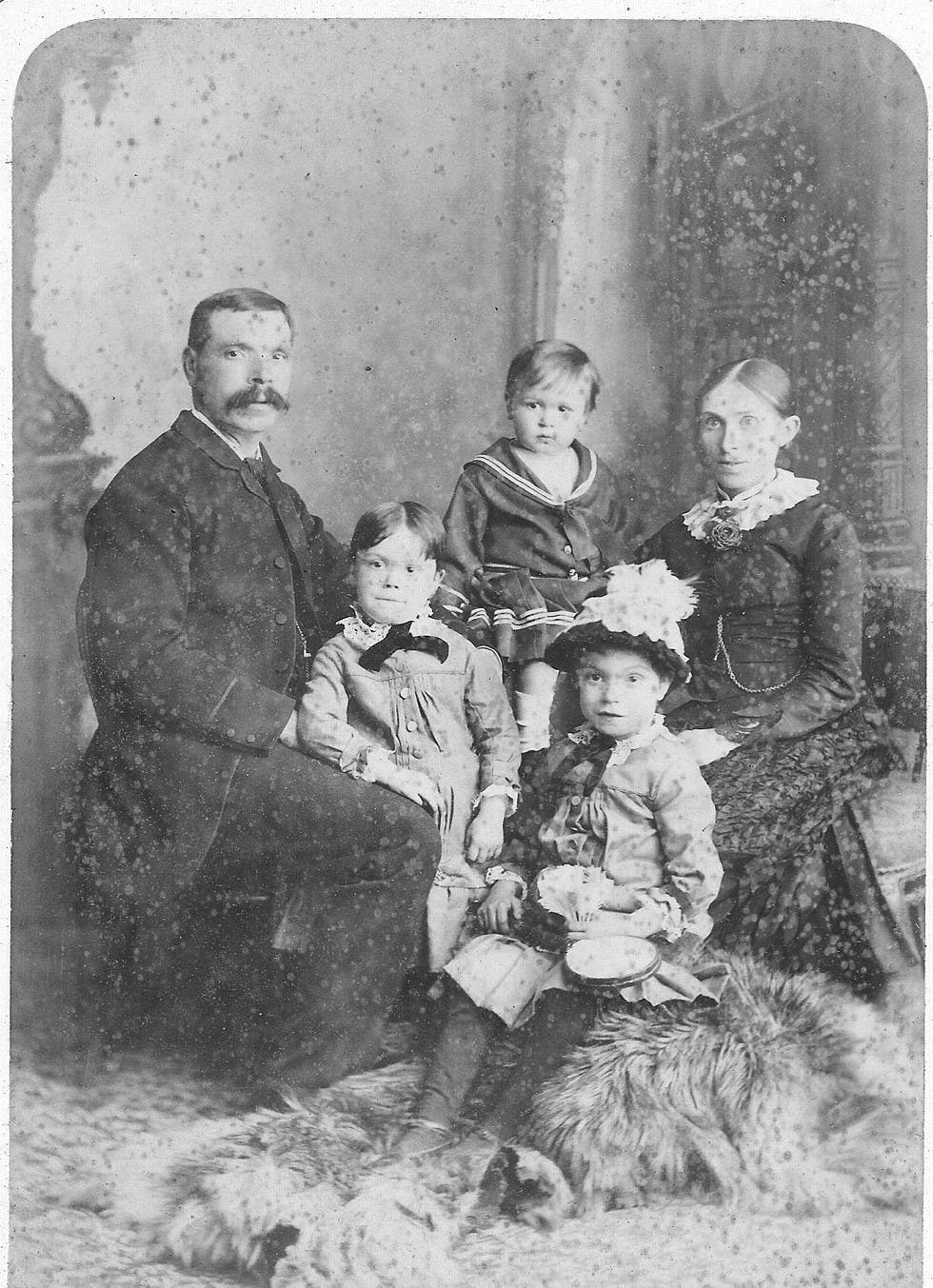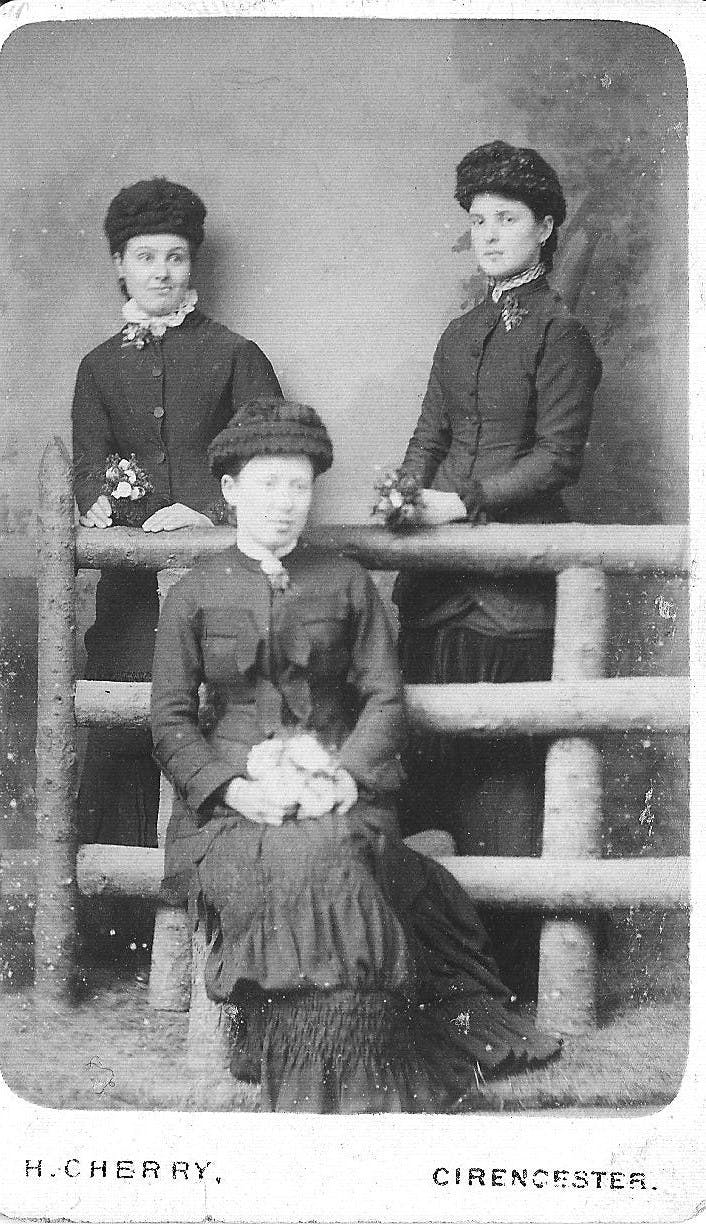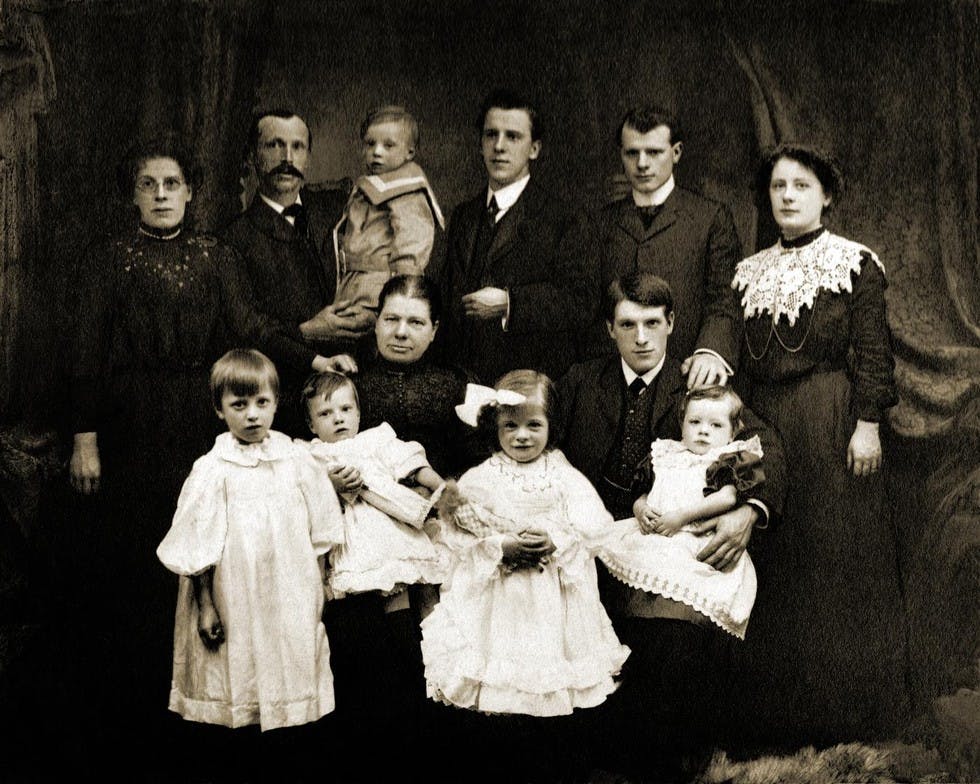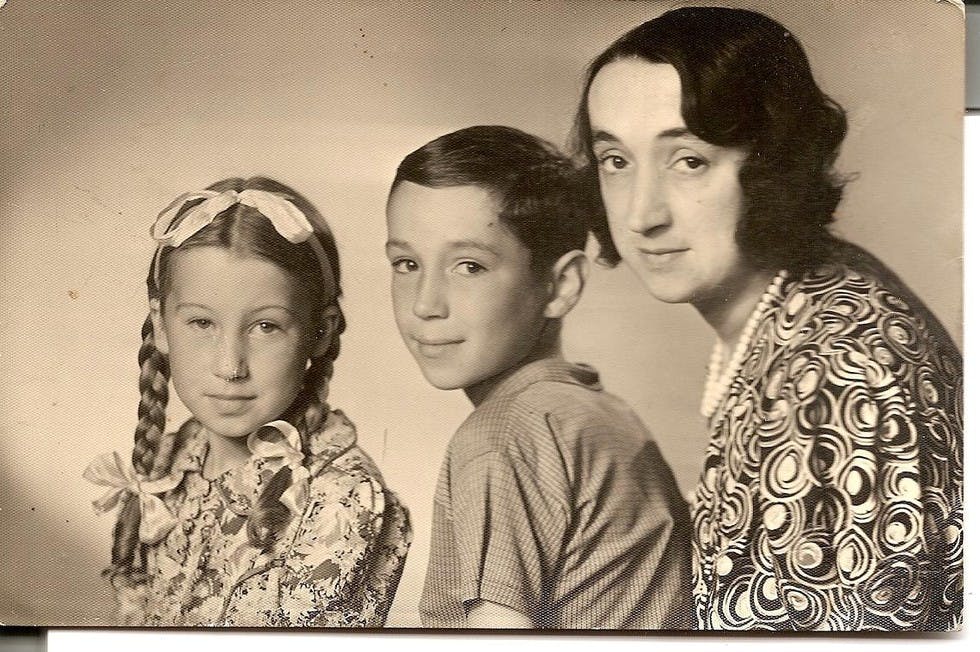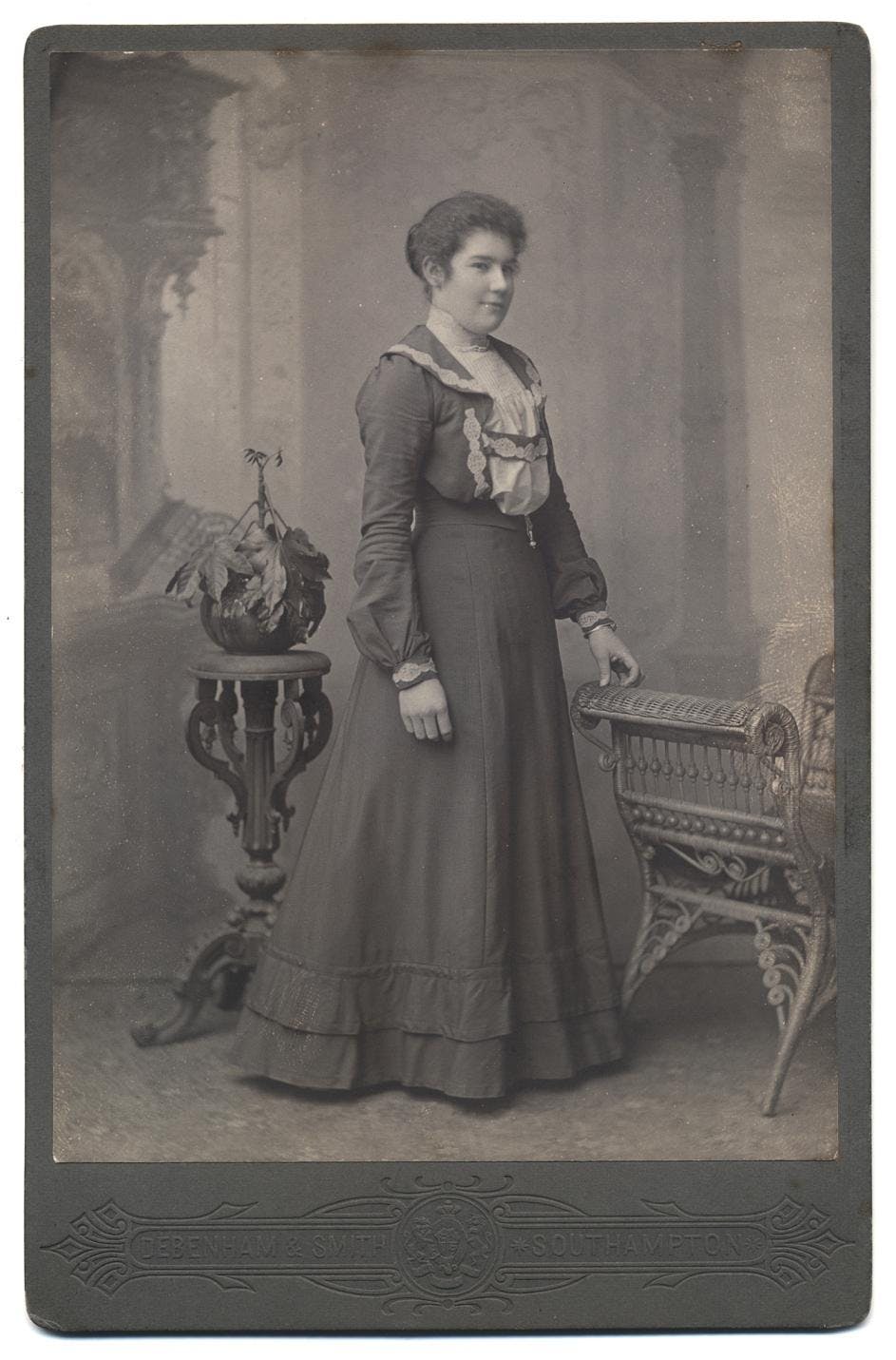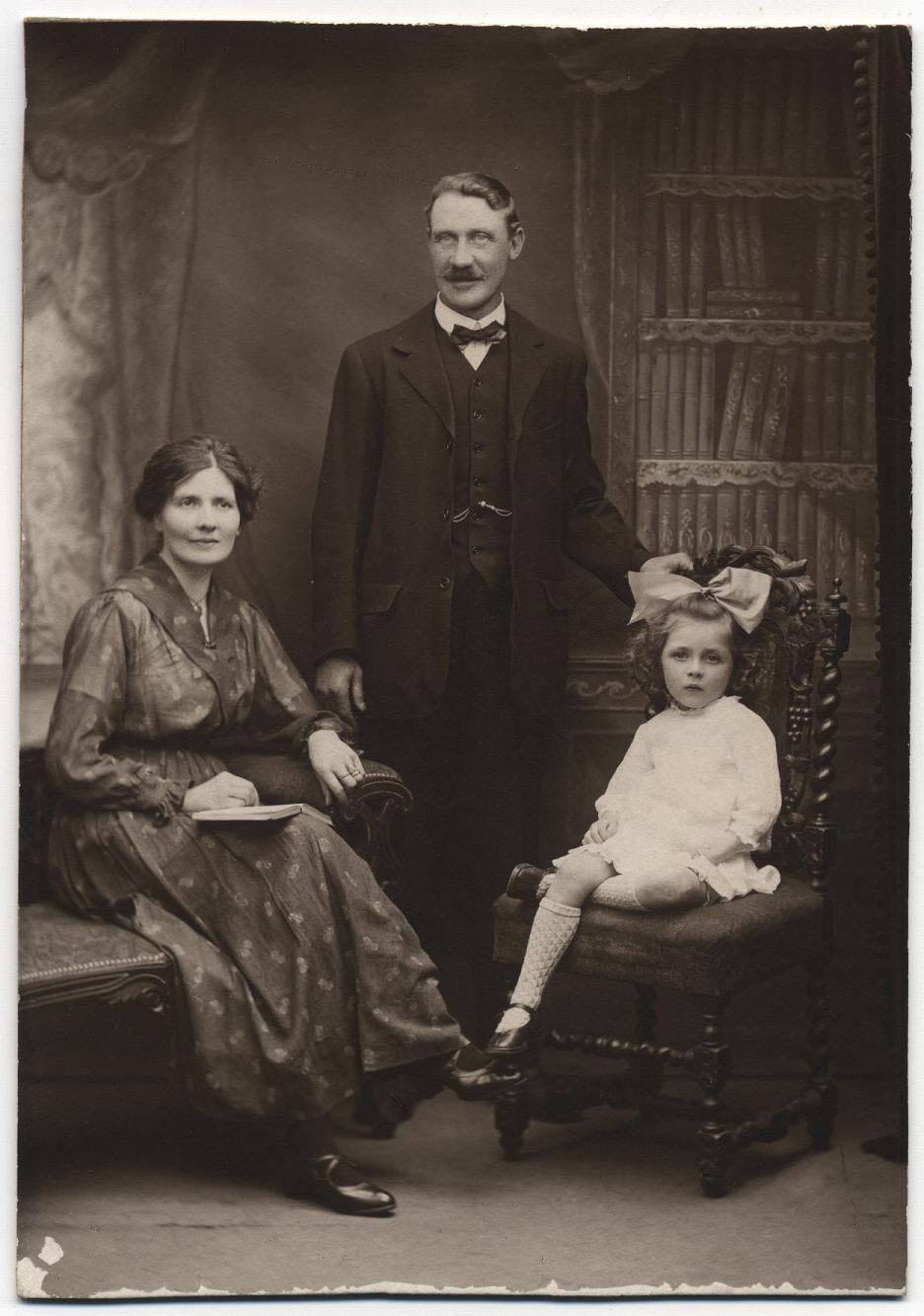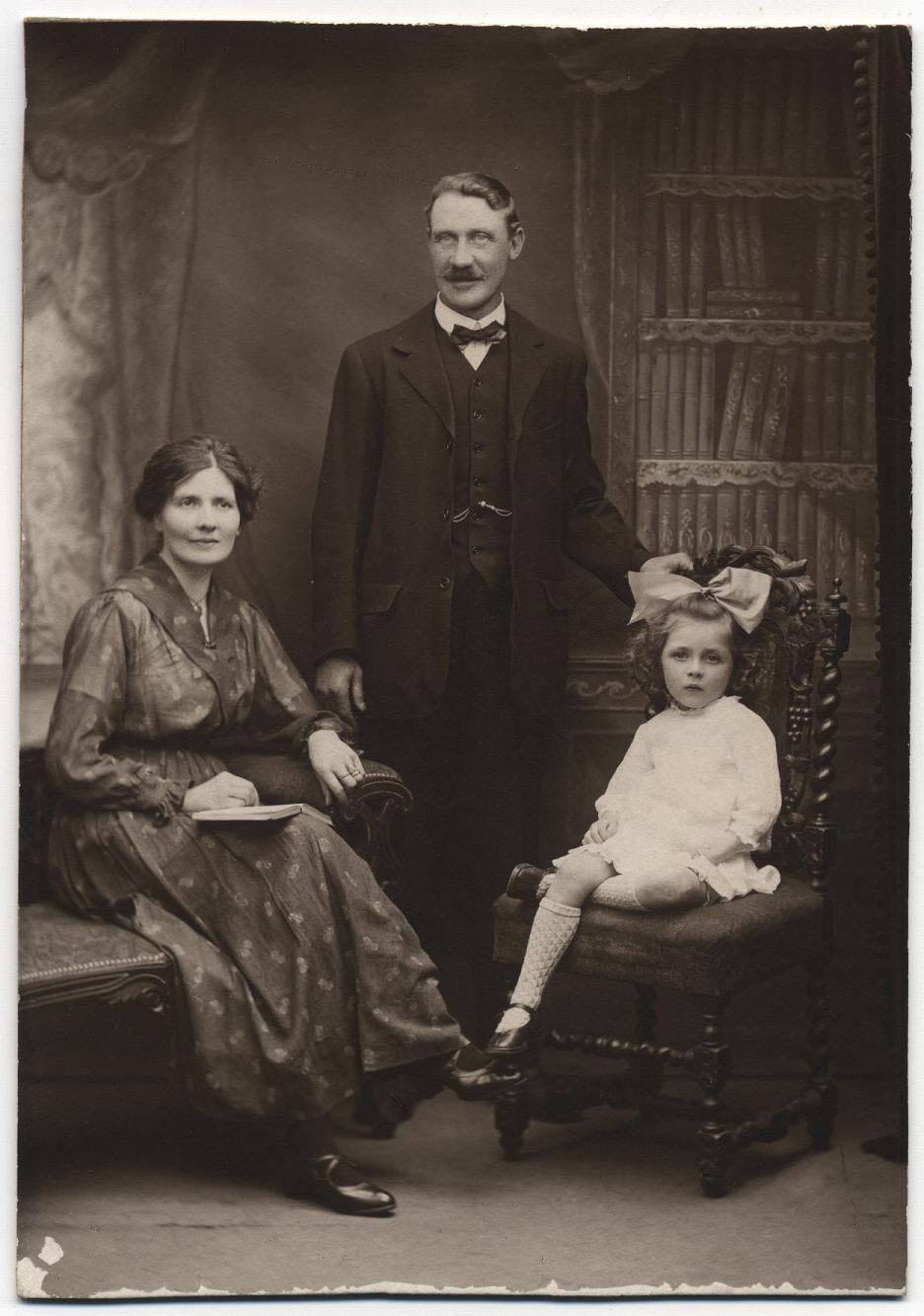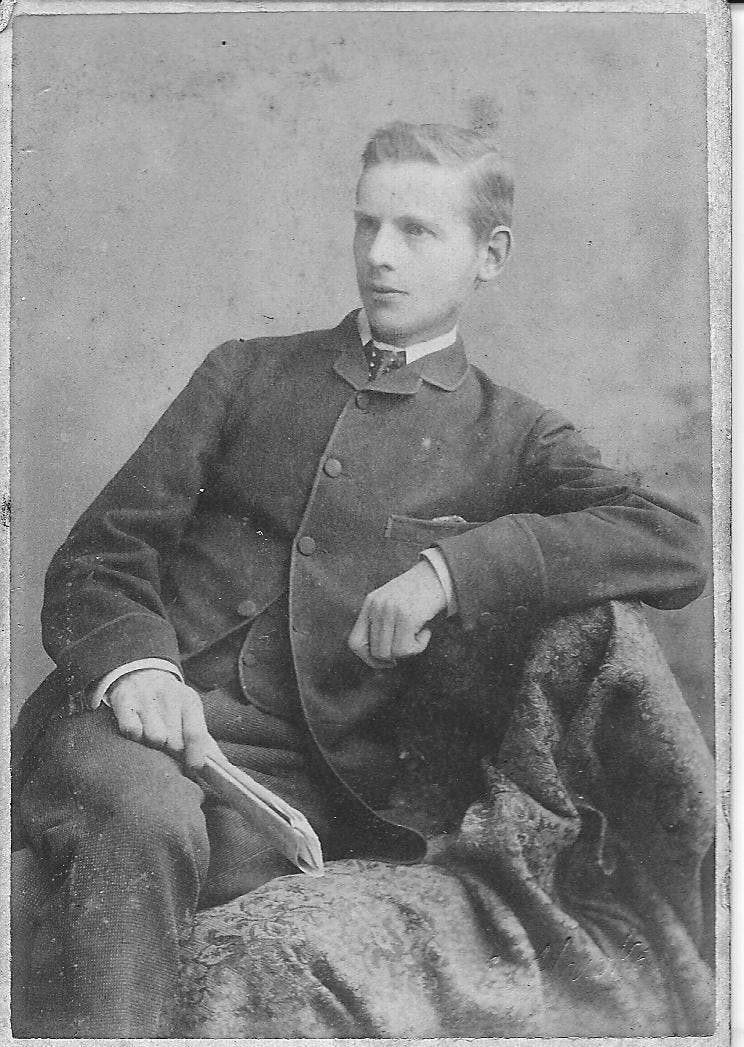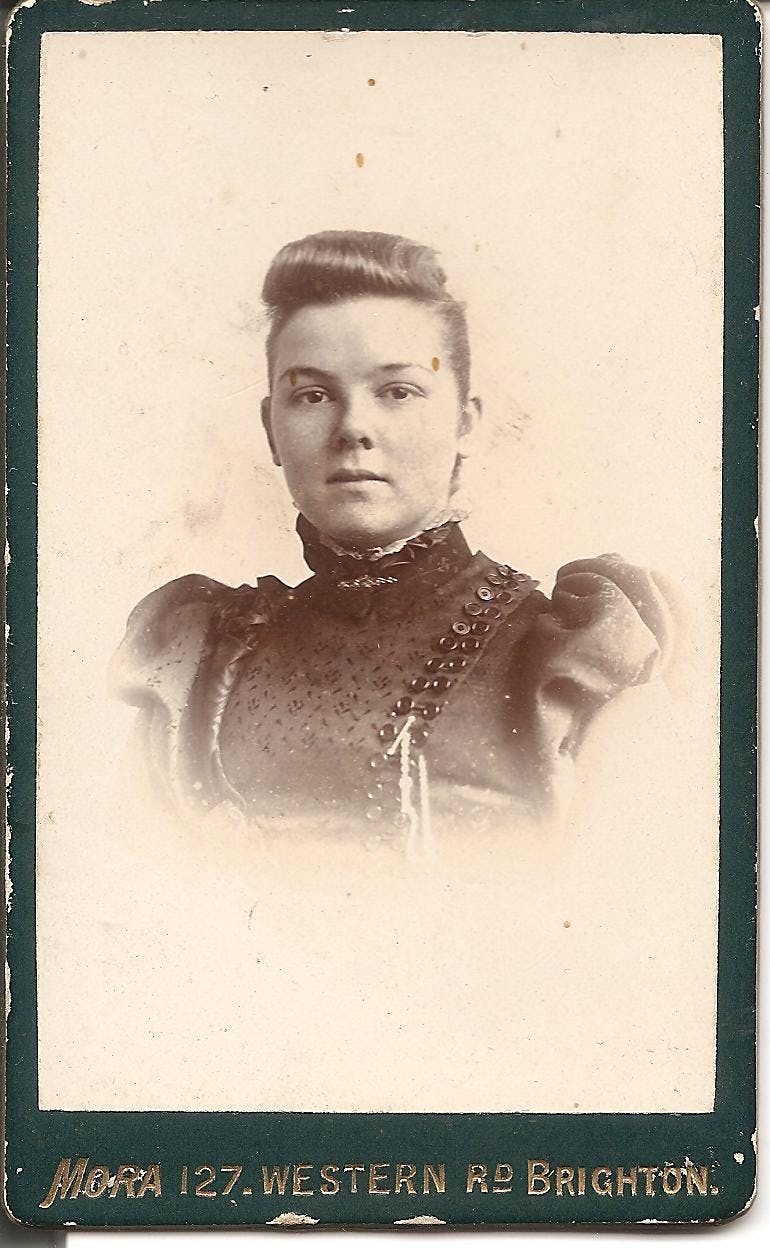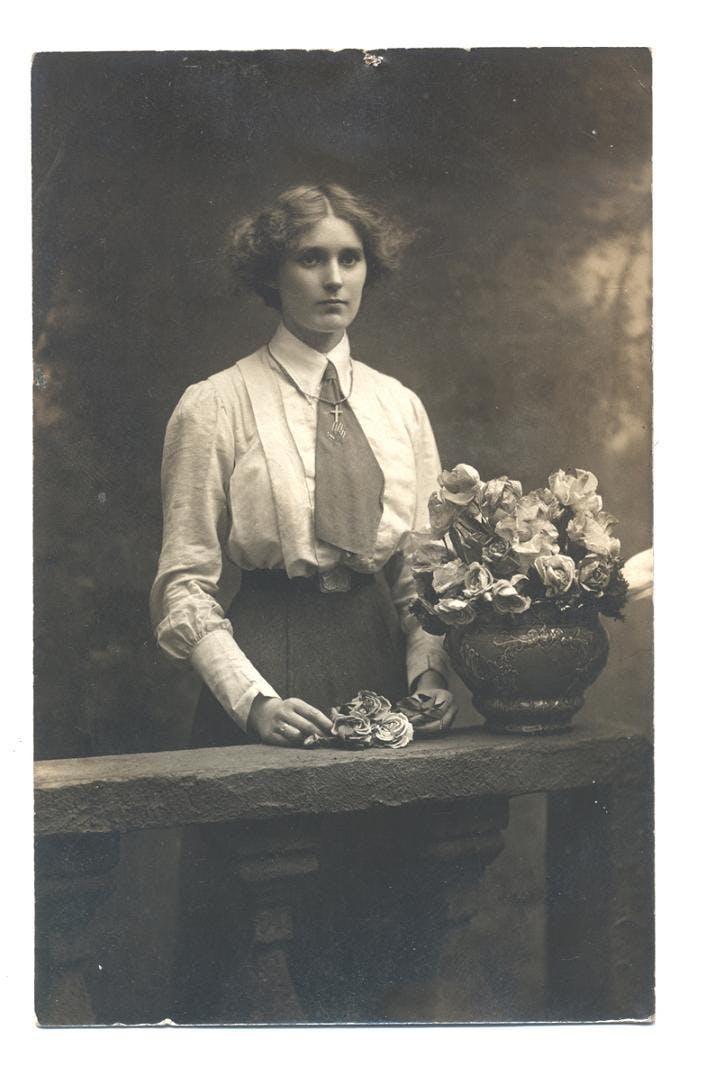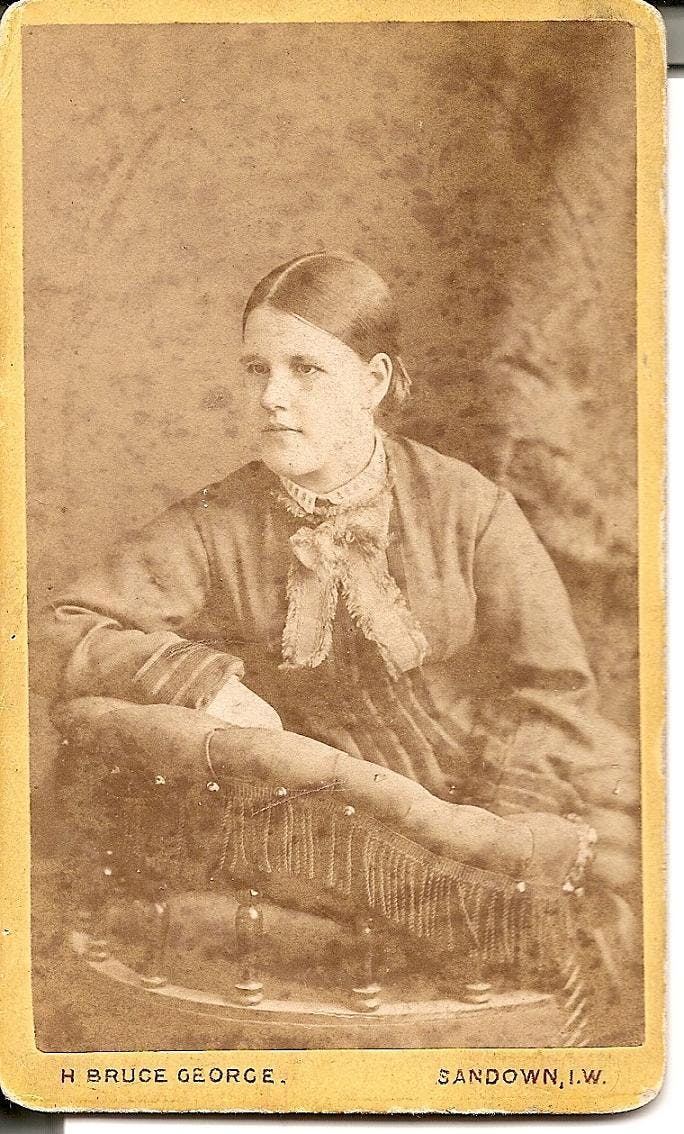 Audrey Linkman, The Victorians: Photographic Portraits (Tauris Parke, 1993)
Jayne Shrimpton, How to get the most from Family Pictures (Society of Genealogists, 2011)
Tom Phillips, We Are the People: Postcards from the Collection of Tom Phillips (National Portrait Gallery, 2004)