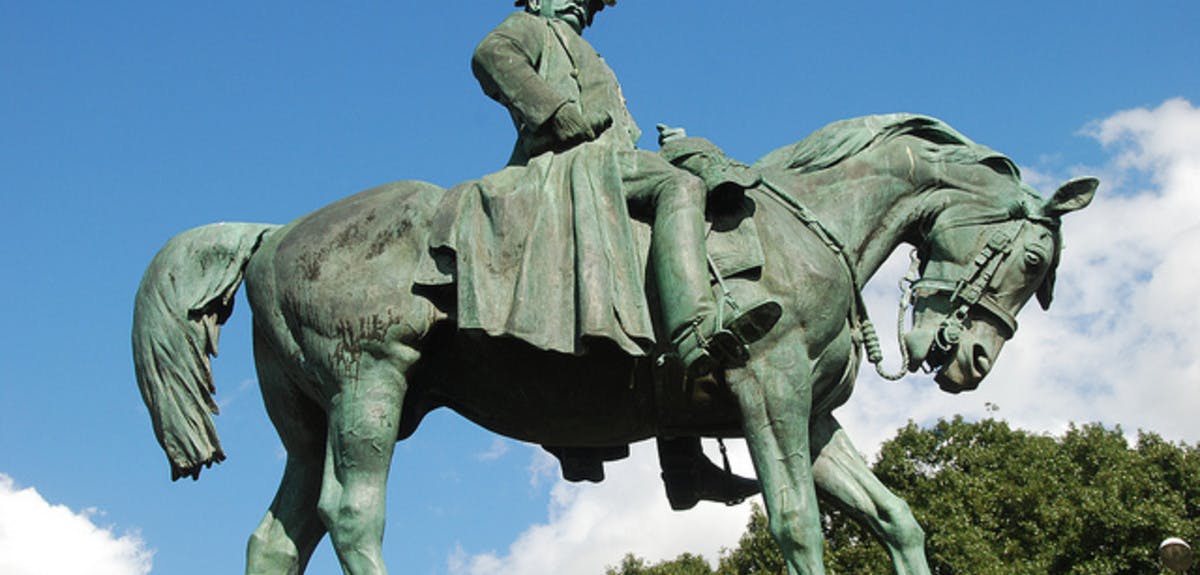 A heroic Zulu rescue and a fall from grace: The incredible story of General Sir Redvers Buller
General Redvers Buller was born into a prominent Devonshire family and decorated with the Victoria Cross for his heroic actions in the Zulu War. His distinguished career came to an abrupt end after military failings in South Africa.
Redvers Henry Buller was born in 1839 at his family's Downes estate near Crediton in Devon, inherited by his great-grandfather James Buller (1740-1772). Our new Devon parish records show that he was baptised in Crediton.

Redvers was the son of James Wentworth Buller (1798-1865), the MP for Exeter and Charlotte Juliana Buller. The estates inherited by Buller included 2,942 acres of Devon and 2,147 acres of Cornwall, which in 1876 produced an annual income of £14,137, roughly the equivalent of £1,504,176 today.

After completing his schooling at Eton Redvers was commissioned into the 60th Rifles, also known as the King's Royal Rifle Corps.  He served in the Second Opium War where he was promoted to captain before fighting to suppress the 1870 Red River Rebellion in Canada.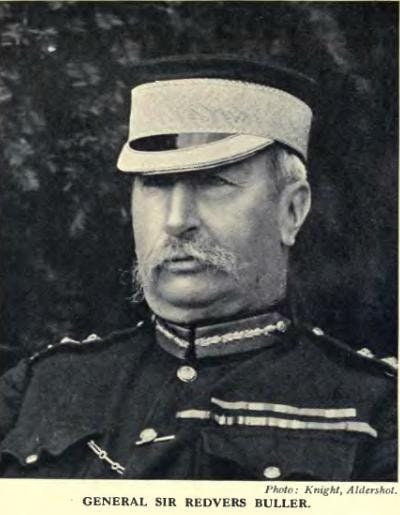 From 1873-1874 he was the intelligence officer under Lord Wolseley during the Ashanti campaign, during which he was slightly wounded at the Battle of Ordabai.

Buller's time to shine came on March 28, 1879 during the South African Zulu War. Hotly pursued by Zulus during the retreat from lnhlobana, he rescued a young Captain of the Cape Frontier Light Horse, and with little thought for his own safety carried him on his own horse until he overtook the rear guard to safety.

Later that day, he executed another emergency evacuation when he carried a lieutenant C. Everitt, whose horse had been killed under him, away from danger.
Shortly after the second rescue Buller returned to save a trooper whose horse was exhausted, and who would otherwise have been killed by the Zulus, who were just 80 yards away.

Buller's extraordinary bravery that day earned him the Victoria Cross and he seemed set for an esteemed and successful military career. However, neither his success reputation were to last.

Twenty years later, in 1899, the second Boer War began. General Buller was put in charge of some 50,000 troops sent to quell the uprising. Buller was apparently reluctant to accept the command at 60 years old, but did not refuse the order.

Buller set off for South Africa, but the Boers were ready and well-armed with modern German Mauser rifles. A battle at Coleno went desperately wrong for the British forces, however despite their defeat by the tenacious Boers, they won seven more VCs.

In a later action at Spion Kop, further delays and confusion resulted in another disaster that left 243 British soldiers dead. They ill-equipped troops were not given enough shovels to dig proper trenches, and many of the dead lay in hastily dug ditches.

Buller's well-organised withdrawal was captured by the some of the first moving picture cameras of war. Nevertheless the reputation of the British command had been badly damaged.

The war continued for two more years leaving over 22,000 British dead. After Buller departed, the Boers continued a guerrilla war.

In Britain the political and military establishments needed someone to hold accountable. Buller was targeted, and requested to resign. He initially refused before eventually stepping down.

His military career over, the old General returned to his beloved Downes House in Crediton to end his days in peace. The public rallied to his support, and in 1905 a statue of him on horseback was erected in Exeter, a rare honour for someone still alive.

Buller died at Downes House aged 68 on June 2, 1908. Devon parish burial records show he was laid to rest in on June 5th in the churchyard of Holy Cross Church in Crediton. The entire western side of the chancel arch forms an elaborate monument to Sir Redvers.