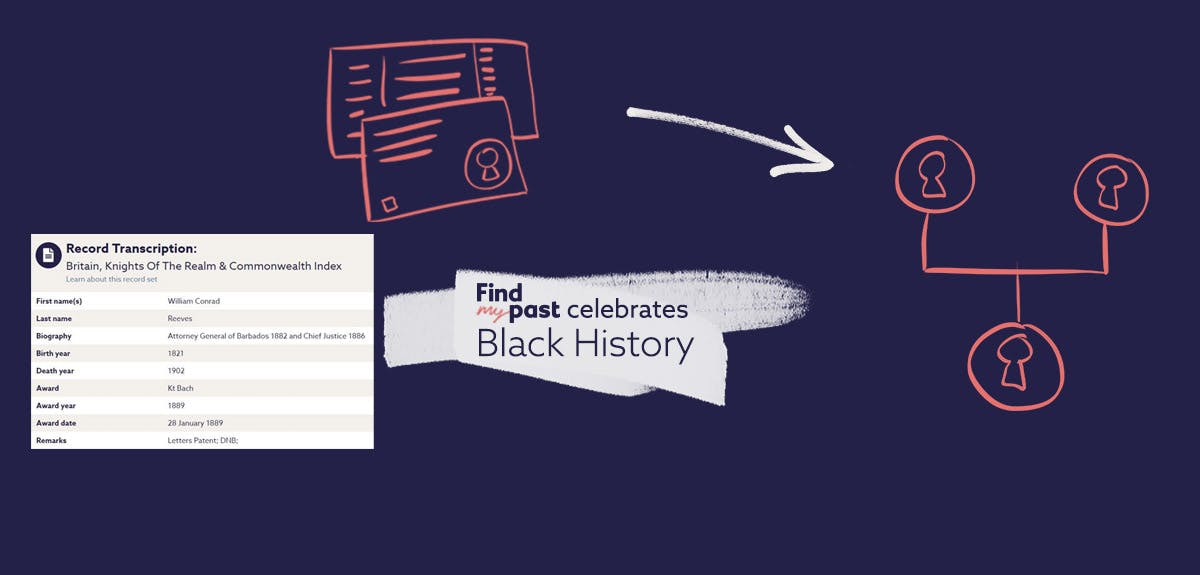 Who was the first Black person bestowed with a British knighthood?
Barbados-born William Conrad Reeves was knighted by Queen Victoria. Here's his inspiring story.
The British honours system is complicated and hierarchical. There are tiers of orders of chivalry, descending from the Most Noble Order of the Garter (appointed directly by the monarch) through to the Most Excellent Orders of the British Empire (subdivided into GBE, KBE, CBE, OBE and MBE) and the Order of the Companion of Honour (both appointed by the government). Below these orders, there are the Knights Bachelor. 
The rank of Knight Bachelor is an ancient honour conferred for public service. The recipient may use the honorific prefix Sir, or the suffix Kt (for Knight). If married, their spouse takes the prefix, Lady. You can discover the people who've been bestowed with these honours through the generations in our Knights Of The Realm & Commonwealth Index. But who was the first Black person to be knighted in Britain?
So far as is known, the first Black recipient of a knighthood was William Conrad Reeves. He was knighted by Queen Victoria on 28 January 1889. Reeves's mixed-race background illuminates some of the issues of empire and slavery.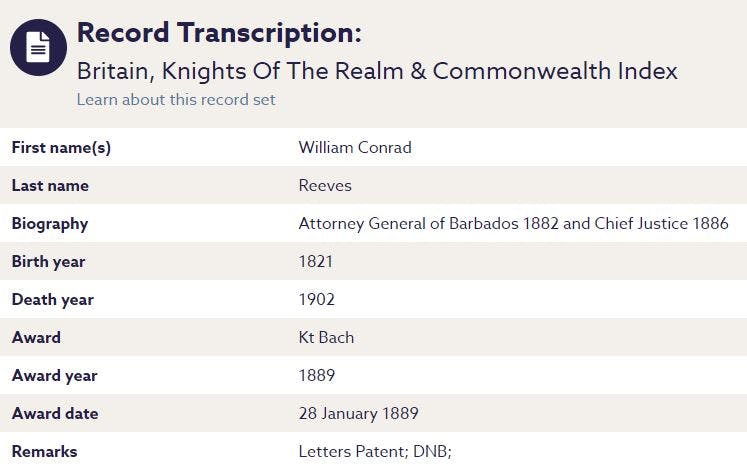 William Conrad Reeves was born circa 1829/30 in Barbados. Sources give various birth dates, some as early as 1821 and others as late as 1838. The 1829/30 estimation comes from his recorded age of 31 in the 1861 census. His father was white – the doctor Thomas Phillipps Reeves, a bachelor and a member of plantation society in Bridgetown, the capital of the sugar-growing colony of Barbados.

His mother was Peggy Phillis, described in various sources as a 'free mulatto' or as a 'free person of colour'. Thomas and Peggy were not married and the relationship seems to have been short-lived. Nonetheless, William took his father's surname, as was often the case with the illegitimate children of white fathers during the colonial era in the Caribbean region. Paternity was clearly recognised, as his father's spinster sister took an interest in his upbringing and education.
After leaving secondary school, William Conrad Reeves worked as a journalist on local island newspapers but his big break came when he was awarded a scholarship to study law in England. He attended Middle Temple, one of the four inns of Court in London, where he was when the 1861 census taken.
Reeves' career as a barrister took off and he rose to hold positions in St Vincent and then his native Barbados, where he was Attorney-General from 1882 and Chief Justice from 19 August 1886. It was while he was serving as Chief Justice of Barbados that he was knighted by Queen Victoria in 1889.