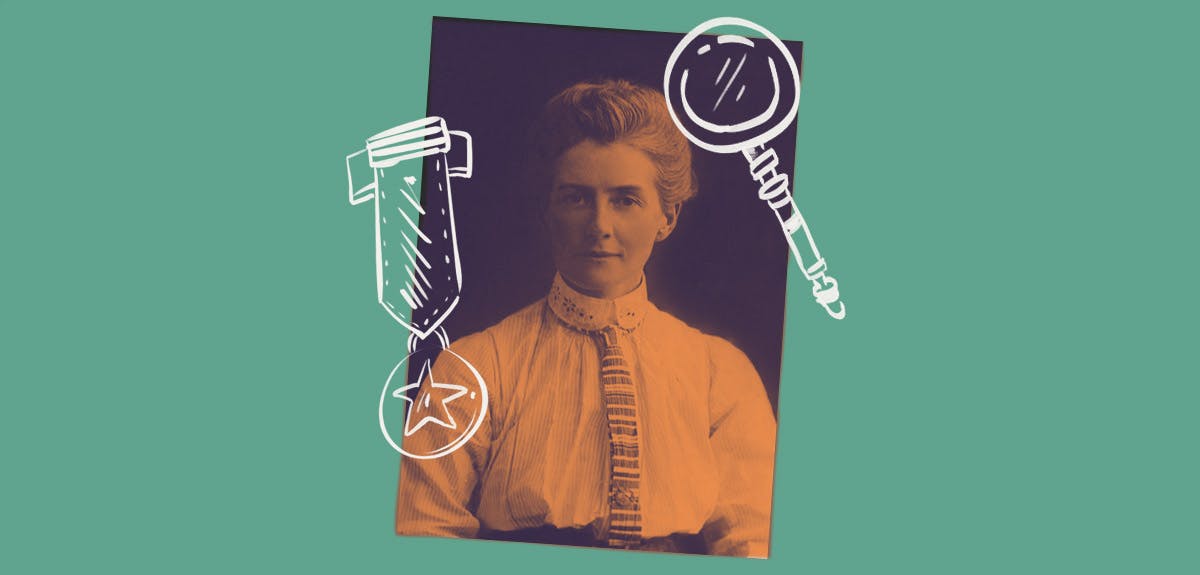 Who was Edith Cavell and why was she executed during World War 1?
When we normally think of First World War heroes, we might not picture a nurse. Though she denied being a heroine, Edith Cavell saved countless lives from both sides on the Western Front.
Edith Cavell was a British nurse who served during World War 1. Not only did she save the lives of both Allied and German soldiers, but she also helped many British soldiers escape to safety.
Discover family heroes with a 14-day free trial
Edith Louisa Cavell was born in 1865 in Swardeston, near Norwich. Her father Frederick was the local vicar. As a girl, she enjoyed drawing and painting, ice-skating and spending time with animals.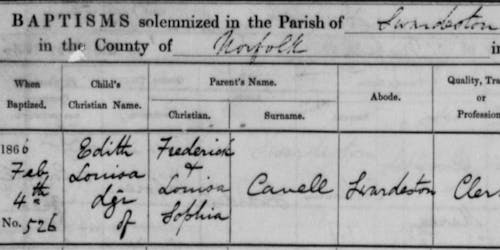 After working as a governess in Brussels and nursing her father during a period of ill health, Cavell entered the nursing profession. By 1899 she was a Night Superintendent at St Pancras and was made Assistant Matron at Shoreditch Infirmary by 1903. A few years later she was in Manchester as acting Matron at the Manchester and Salford Sick and Poor and Private Nursing Institution.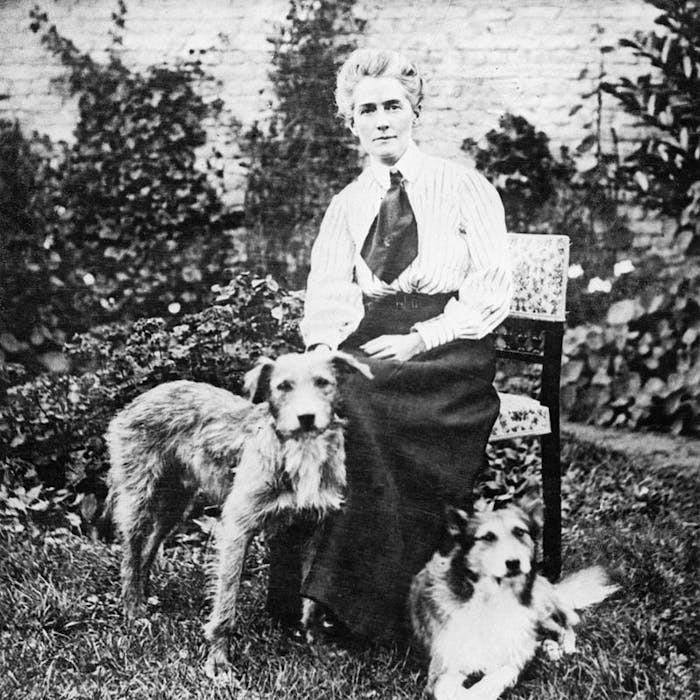 Upon returning to Belgium, she was appointed matron of the Berkendael Medical Institute in 1907 by Dr Antoine Depage, where she utilised her new skills to improve and modernise the standard of nursing in Belgium. By 1912, Edith was busier than ever, training nurses for multiple hospitals and schools.
After the Great War broke out in 1914, Edith, who had been visiting family back in England, immediately returned to Belgium and joined the Red Cross at Berkendael hospital. This meant that she was treating the German wounded alongside Allied soldiers. 
'At a time like this, I am needed more than ever.'
Even when Brussels fell and most nurses returned home, Edith remained. For the next few months, Edith smuggled many British soldiers out of occupied Belgium and hid wounded soldiers and civilians, all at her own personal risk. It's estimated that she helped around 200 soldiers to safety.
The last letter Edith wrote to her mother before her arrest is now in the care of Norwich Cathedral. Reverend Dr Peter Doll, Canon Librarian at Norwich Cathedral, has provided an insightful commentary.
'It is entirely characteristic of her style and concerns. Although she is trying to remain positive for her mother's sake, there are in retrospect indications of the turmoil in which she was living.'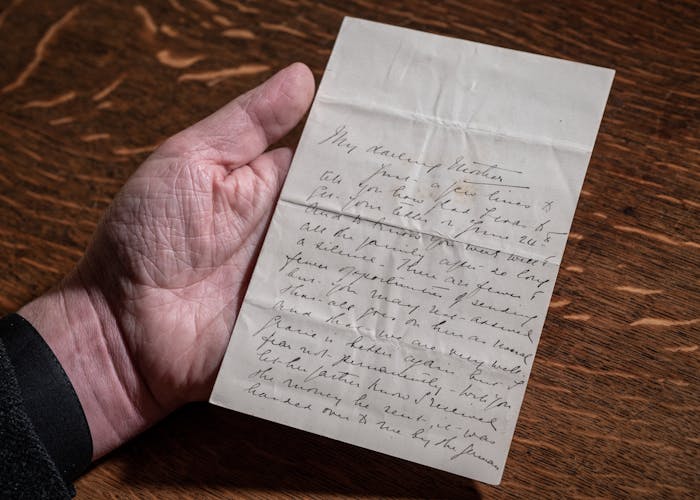 Norwich Cathedral also cares for two of Edith's Bibles and her copy of Imitation of Christ. 
Edith is placed under military arrest
The German authorities soon became increasingly suspicious of Edith's activities. She was arrested on 5 August 1915 by local German authorities, who her charged with treason for having personally aided in the escape of 200 soldiers, in violation of German military law.
During her 10 weeks in solitary confinement, the Germans extracted the confession from Cavell which formed the basis of her trial.
Edith, and her Belgian accomplice Philippe Baucq, were pronounced guilty and sentenced to death by a German firing squad. Throughout her trial, Nurse Edith conducted herself with incredible bravery and dignity, which earned her great respect and significantly contributed to her heroic image.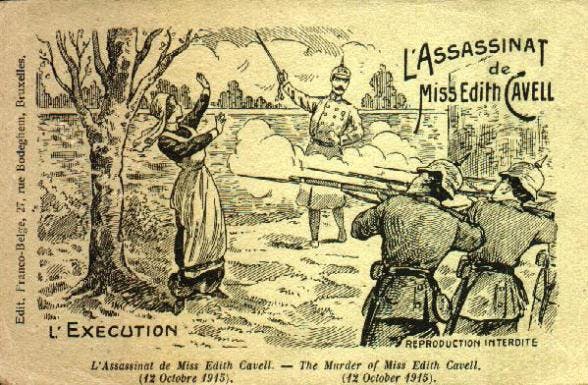 Neutral countries were appalled by the proceedings, with United States diplomats unsuccessfully attempting to intervene on her behalf. The sentence was carried out on 12 October 1915 without reference to the German high command.
Edith's legacy: An inspirational spirit
The night before her execution, Edith told the Reverend Stirling Gahan:
'Patriotism is not enough. I must have no hatred or bitterness towards anyone.'
These words are inscribed on her statue in St Martin's Place, near Trafalgar Square in London. Her final words to the German prison chaplain, Paul Le Seur, were recorded as, 
'Ask Father Gahan to tell my loved ones later on that my soul, as I believe, is safe, and that I am glad to die for my country.'
Edith's death was loudly condemned as an act of merciless brutality and garnered sympathetic press coverage worldwide.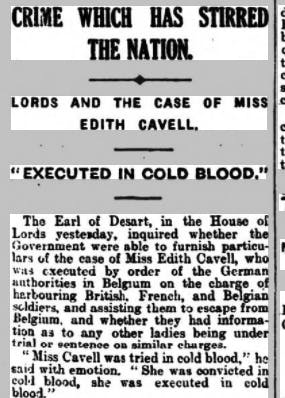 This stirred up further hostility against Germany among countries, including the United States, who were not at the time involved in the war, and stoked up a desire for revenge amongst British troops and men at home yet to volunteer.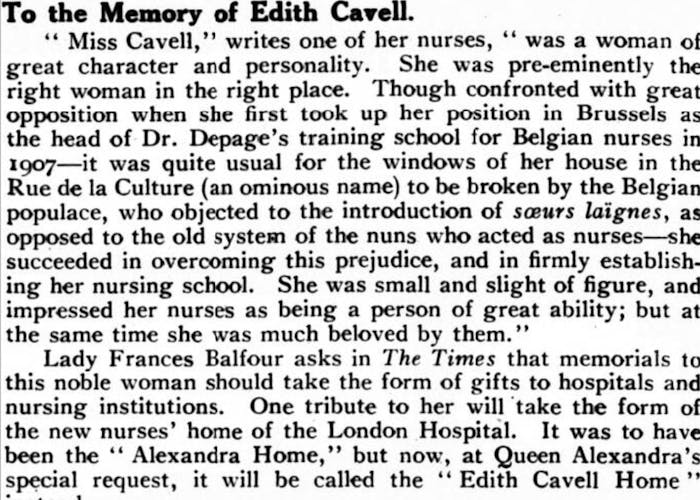 By others, she was remembered for her kindness and her devotion to the nursing profession. 
A nurse who 'did her duty'
After the war, arrangements were made to bring Edith's body home. Though Westminster Abbey was suggested for her burial, her family requested she be buried in Norfolk.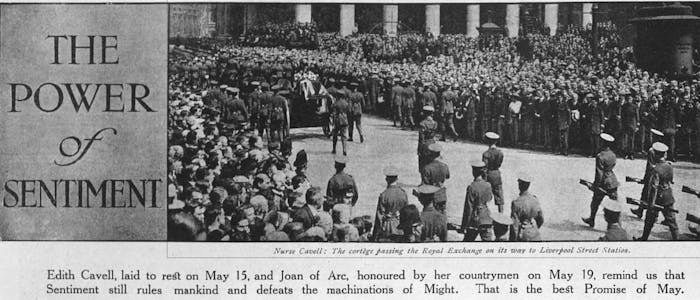 Edith's body was transported from Dover to London in the same railway van as the Unknown Warrior in 1920. A state funeral service was held at Westminster Abbey. A few days later, she was buried in Norwich Cathedral.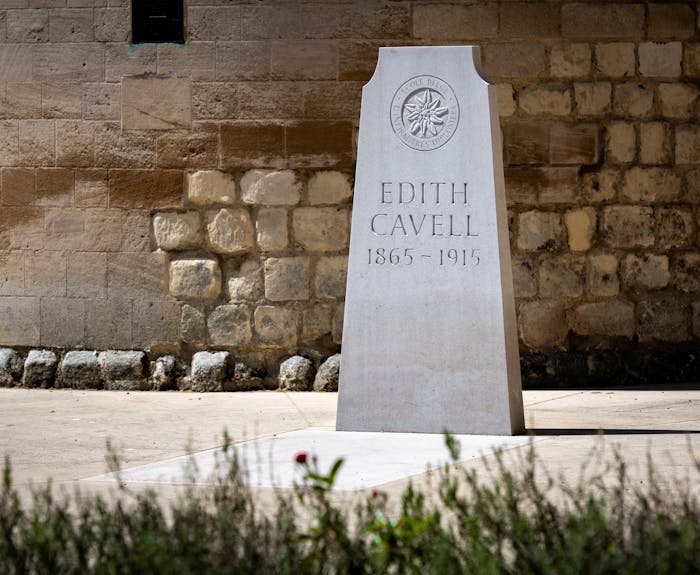 Since her death, Edith's legacy has lived on. She is remembered by numerous memorials and in books and music. The Cavell Nurses' Trust is named for her. Nick Miller of www.edithcavell.org.uk perhaps sums up why her story resonates so much.
'Her work in Brussels from the start of the war has fascinating parallels with the amazing dedication of health workers worldwide today: wholly new demands, constraints on all sides, enormous courage and so much more.'
Norwich Cathedral also commissioned a series of 14 paintings to commemorate the centenary of Edith's death. The Passion of Edith Cavell by Brian Whelan can be viewed on the Cathedral website.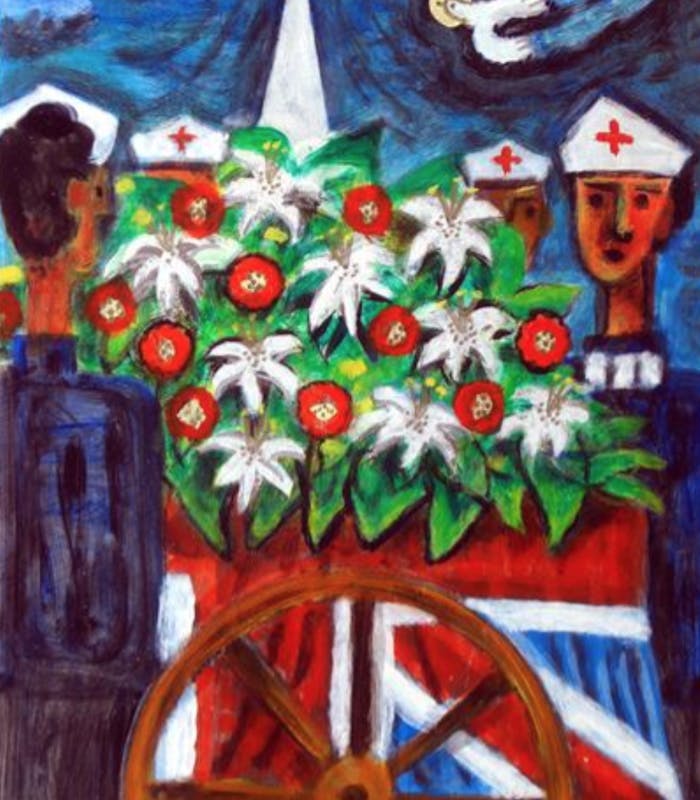 Were any of your ancestors treated by Edith? Perhaps they mentioned her in a diary or letter? Findmypast and Nick Miller would love to know. Email discoveries@findmypast.com and enquiry@edithcavell.org.uk.