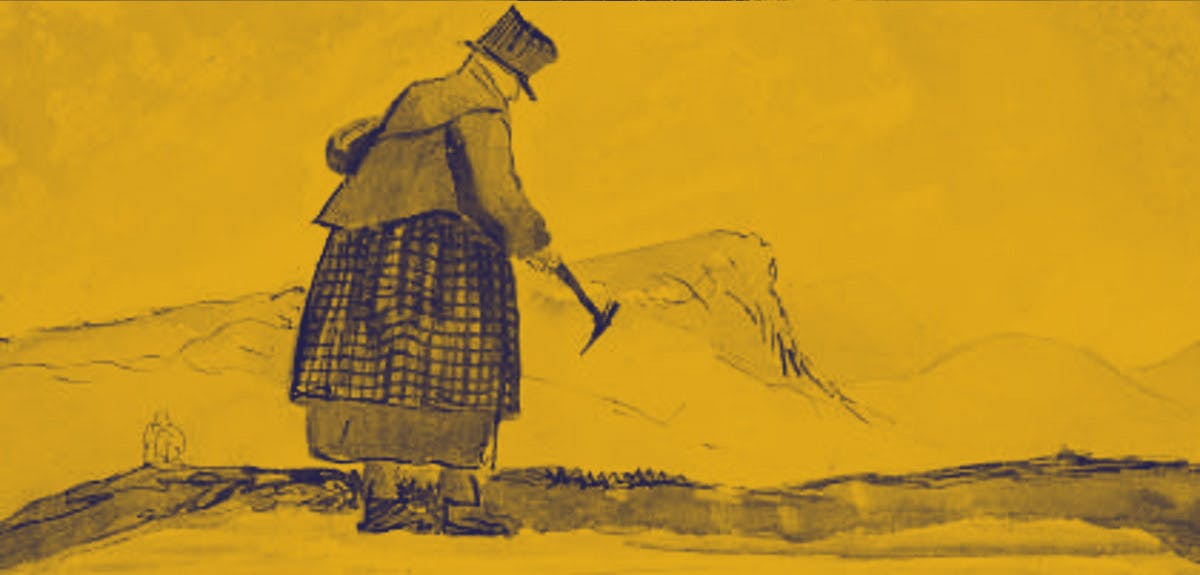 How Mary Anning became the first female fossil hunter
We explore the remarkable life of an unsung hero of early fossil discovery, Mary Anning.
Depicted on the big screen in Ammonite, a biographical movie starring Kate Winslet, Mary Anning's fascinating discoveries were well known in geological circles in Britain, Europe, and America.
However, despite her incredible contributions to science, as a woman, Anning was not able to fully participate in the scientific community of 19th-century Britain. She did not always receive full credit for her discoveries and struggled financially for much of her life.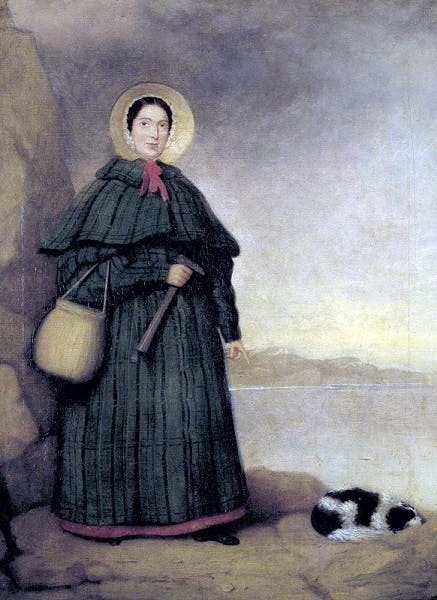 This only began to change after her death in 1847, when an article by Charles Dickens in his literary magazine, All the Year Round, led to a brief surge of interest in her unusual life.
Find female ancestors now
Unearth their struggles and triumphs, love stories and heartbreaks.
But what do Findmypast's unrivalled collections of British records and historical newspapers reveal about this amazing woman? Read on for some Mary Anning facts.
Life on the Jurassic Coast

Mary was practically born into the fossil hunting business. As a religious dissenter with ten children, her cash-strapped father regularly supplemented his family's income by digging the petrified remains of ancient life-forms from the cliff-side fossil beds near his home to sell to the town's many tourists.
The family home was perfectly situated for this with Lyme Regis being located on England's "Jurassic Coast", 96 miles of rich fossil beds spanning 185 million years of geological history. In fact, the family lived so near the sea that on one occasion, they were nearly drowned when one of the fierce storms that frequently tore fossils from the cliffs flooded their home.
Richard often took Mary and her brother Joseph on his fossil-hunting expeditions. At that time, Lyme Regis was a popular seaside resort, packed with members of the English Gentry who were forced to take domestic holidays due to the dangers of the French Revolutionary Wars.
The family would set up tables of "curiosities" outside their home and near the coach stop at the local inn, providing a valuable source of income at a time when the poor were suffering nationwide.
Like many women at the time, Mary had little formal education but possessed a keen intellect. She was able to read and used this valuable skill to teach herself geology and anatomy.
Her keen mind was often attributed to a remarkable event that took place when Mary was just 15 months old.

As reported by the Home News for India, China and the Colonies, local lore claimed her inquiring mind was the product of a near-fatal lightning strike in August 1800.
Following her father's sudden death in 1810, Mary and her brother Joseph were forced to step up their fossil finding efforts to help pay off the family's debts.
Their first famous find came the following year when Mary was just 12 years old. After Joseph found a strange-looking fossilised skull, Mary painstakingly carved out the outline of its 5.2-metre-long skeleton. Word of this amazing discovery spread and soon, everyone in Lyme Regis was talking about how the Annings had discovered a monster.
In fact, Mary had discovered the world's first fossilized Ichthyosaur. At first, scientists believed it to be some exotic breed of Crocodile that had since migrated to far off lands but, after years of study and debate, it was identified as an entirely new species of marine reptile that lived around 200 million years ago.

In 1821 Anning unearthed a fossilized Temnodontosaurus measuring a whopping 20 feet.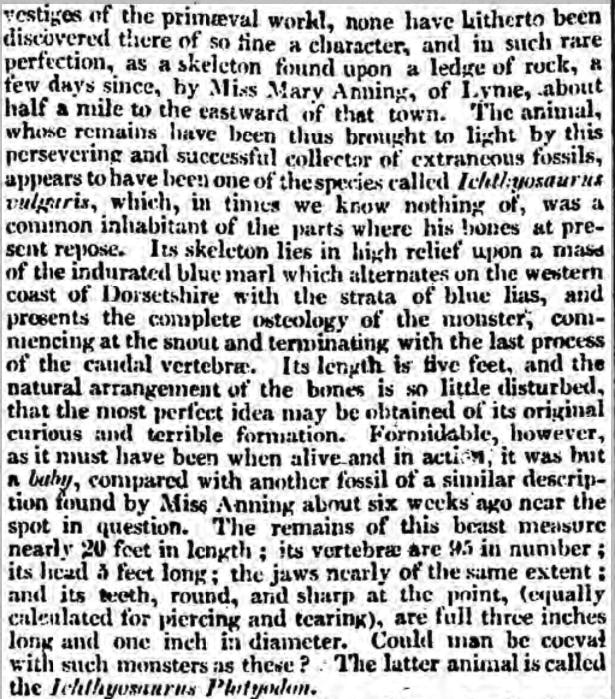 Reported in newspapers across the country, the discovery generated great interest and debate, as shown by the above report from the Salisbury and Winchester Journal.
In 1823 Mary made her most sensational discovery yet - the first complete skeleton of a Plesiosaurus. Many within the scientific community, then dominated by Anglican Gentlemen, found it too strange to be believed and argued Mary had crafted a clever fake.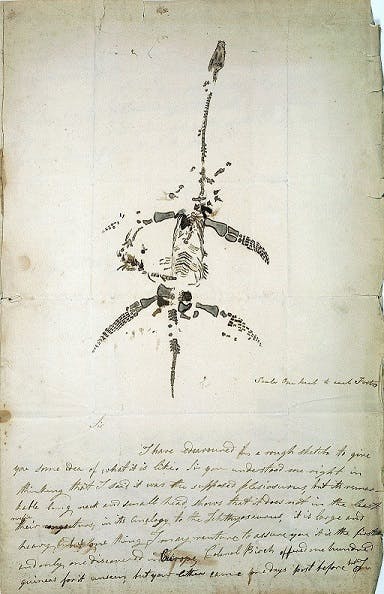 A special meeting was held by the Geological Society of London but Mary was not invited. After lengthy debate, it was declared genuine but the establishment remained hesitant to recognise her work.
Many of the scientists who purchased Mary's fossils refused to credit her in their papers and studies. The Society also refused to admit her on the grounds of her gender, a policy that would remain in place until 1904.
Mary continued to make discovery after discovery, sparking major public interest in palaeontology a full 48 years before Charles Darwin would publish his celebrated Origins of Species.
An eager public flocked to fossil displays and museums across the country and increasing numbers of would-be fossil hunters headed to Dorset. Despite this, Mary lived in poverty throughout most of her life.
As age and failing health took their toll, Mary soon found herself unable to keep up with the rigours of excavating fossils on the windswept shoreline. Difficult economic conditions also meant there was reduced demand for fossils and Mary soon found herself in financial difficulty. Her situation was made even worse when she was swindled of her life savings (roughly £300) in 1835.
In 1836, the Cheltenham Chronicle reported how concerned members of the Geological Society petitioned her case to Lord Melbourne;
"to obtain a small pension for securing to her some provision for her declining years."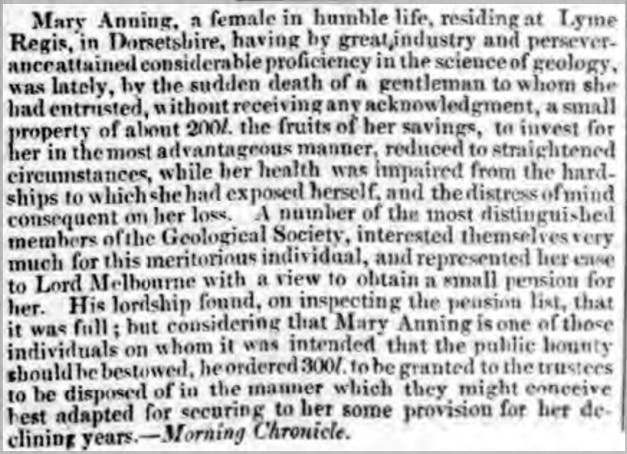 Anning died in her native Lyme Regis from breast cancer at the age of 47 on 9 March 1847 and was laid to rest in St Michael's Church.
Despite barring her entry on the grounds of her sex, members of Geological Society paid their respects by funding a stained glass window dedicated to her memory and publishing a eulogy written by Society president Henry De la Beche. The first such eulogy given for a woman, it began;
"I cannot close this notice of our losses by death without adverting to that of one, who though not placed among even the easier classes of society, but one who had to earn her daily bread by her labour, yet contributed by her talents and untiring researches in no small degree to our knowledge of the great Enalio-Saurians, and other forms of organic life entombed in the vicinity of Lyme Regis."
Several of Mary's incredible discoveries are now on display at London's Natural History Museum, including her famous ichthyosaur and plesiosaur. Her discoveries became key pieces of evidence of extinction and paved the way for wider acceptance of the idea that the earth was much older than previously believed and had once been inhabited by different creatures than those alive today.
Her legacy also lives on along Dorset's Jurassic Coast. Now a UNESCO World Heritage Site, each year it continues to attract scientists and amateurs alike on the hunt for the next major discovery.
Some have even argued that her remarkable life was the inspiration behind the famous tongue twister, She Sells Seashells. Though there is little evidence to support this, next time you struggle with the following lines, spare a thought for this pioneering palaeontologist and unsung natural history hero.
She sells seashells on the seashore
The shells she sells are seashells, I'm sure
So if she sells seashells on the seashore
Then I'm sure she sells seashore shells.