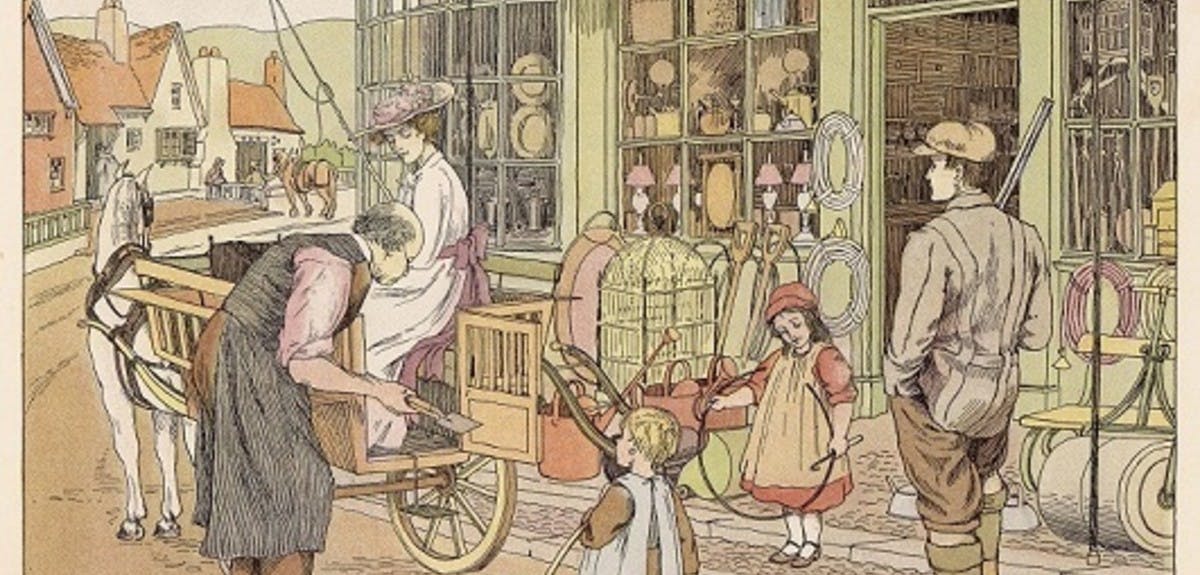 The Haberdashers and Ironmongers of historic London

Findmypast has some fascinating apprenticeship records containing the details of livery company membership as seen through the Worshipful Companies of Haberdashers and of Ironmongers. The records reflect these two trade activities as well as other occupations that increasingly entered the Companies' memberships. Spanning over 400 years of the City of London's history between 1511 and 1933, the records are fully searchable and contain beautiful images of the original handwritten volumes.

The pages list details of apprentices, freemen and masters of apprentices from a wide variety of occupations. They reveal when the apprentices' period of 'servitude' began and the role they took, as well as in many cases, the names, occupations and addresses of their parents and the names of the masters to whom they were bound.

Apprenticeship has had a long history that has been vital to the establishment of London as an economic powerhouse. The earliest apprenticeships date from the 13th Century, when the practice of masters taking apprentices began to be regulated by the City of London's Courts of Aldermen and its Common Council. These records, starting slightly later, show that – far from being an easy option – an apprenticeship was a rigorous and demanding route to a life-long career.

The City of London's livery companies began as early mediaeval trade guilds; associations of merchants and craftsmen who protected and regulated their trades by insisting on certain standards. Through the ages, these companies became influential in the government of the City of London as membership was highly respected and brought key political and economic privileges. Various members of London's ruling class can be found in the records including three lord Mayors (Sir Nicholas Rainton, William Beckford and Sir Robert Geffrye), the first governor of the East India Company and Sherriff of London, Sir Thomas Smythe, and Owen Rowe, one of the regicides of Charles 1. Only livery company freemen could engage in retail trade within the boundaries of the City, could become freemen of the City and enjoy the right to vote for City officials.

Today there are 110 livery companies in the City of London, with the most influential known as the 'Great Twelve'. Haberdashers' Company is eighth in order of precedence, whilst Ironmongers' Company ranks tenth.

The Worshipful Company of Haberdashers
The Worshipful Company of Haberdashers was formed in 1371 as a medieval fraternity of cloth merchants and traders in a variety of small wares for fashion use. Haberdashers sold ribbons, beads, purses, gloves, pins, caps, fancy cloth etc., and even small toys! In 1502 they were joined by the hat making craftsmen of London. The Company now serves as an educational and charitable institution whilst maintaining its links with its heritage by giving awards for fashion education. Today the Company is based at Haberdasher's Hall at 18 West Smithfield in the City of London.

The Worshipful Company of Ironmongers
The earliest records suggest that the London Ironmongers were an organised body as early as 1300. By 1328 they were regarded as a firmly established brotherhood. The Company's arms include various iron and steel objects, with two salamanders as a crest, as medieval salamanders were reputedly able to survive fire. Today, the Company is based at Ironmongers Hall off Aldersgate Street in the City of London and conducts a great deal of charitable work supporting educational institutions, almshouses and the conservation of historic ironwork.

To become a member of the Worshipful Company of either Haberdashers or of Ironmongers, boys from all over England and Wales would travel to London to serve as apprentices. They would usually serve a minimum of 7 years apprenticed to a master in order to be admitted as a freeman of the livery company, and then ultimately become a master themselves.

The disciplined life of a livery company apprentice
An apprenticeship with a livery company was designed to teach a young man a trade and also to instil the habits of sobriety, piety and hard work. This meant that an apprentice's behaviour was strictly regulated. He was not to engage in fornication or marry, he was not to play at 'cards, dice, tables, or any other unlawful games', nor could he haunt taverns and playhouses. His loyalty was to his master whose 'lawful commandments' he must obey, and whose service he must not neglect day or night.

Masters often became father figures and apprentices were remembered in their masters' wills. The master's widow or daughters might also carry on his trade and inherit his apprentices if the master died. However, it was also common for these working relationships to be fraught and many apprentices did not complete their terms of servitude as they struggled to cope with the demands of the position.