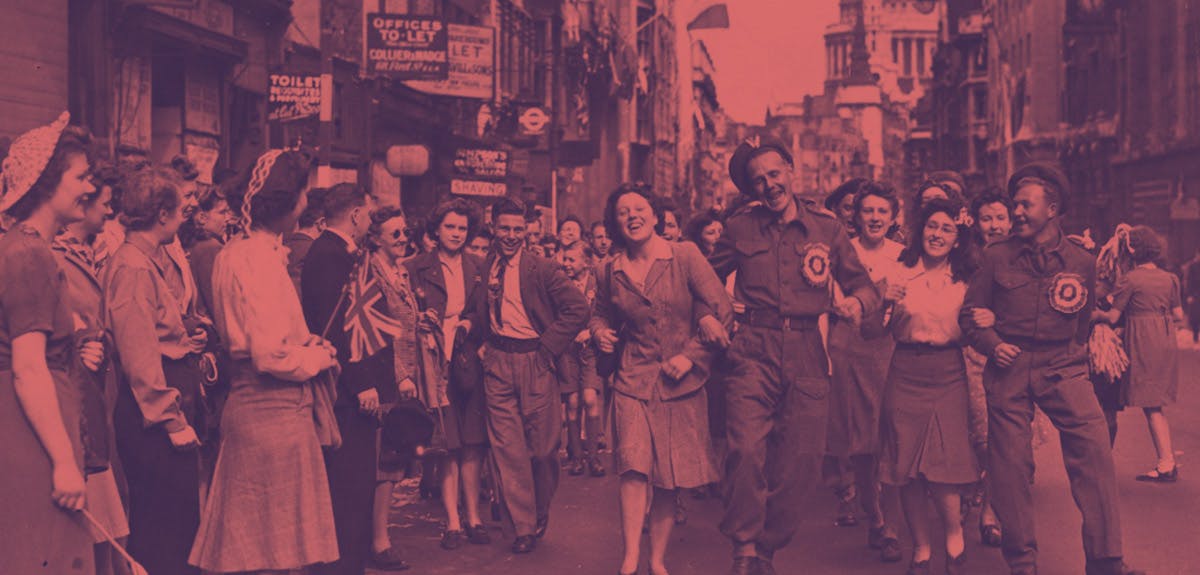 Unique vintage photos show how Britain celebrated VE Day in 1945

Vintage photographs and newspaper pages from the time depict what Victory in Europe Day meant to the people of Britain.
Life in 1940s Britain was tough. Families were torn apart by World War 2, many for the second time in as many generations. Not to mention the Blitz, food rationing, evacuation and general wartime anxiety. It all adds up to a very bleak period in the country's history.
Yet, even amid such adversity, 'keep calm and carry on' was the order of the day. The war effort on the Home Front was stronger than ever and rural communities opened their doors to evacuated women and children. And when victory was finally declared, this uplifting sense of community spirit was set to peak.
VE Day celebrations across Britain
Victory in Europe or VE Day was first celebrated on 8 May 1945 and marked the end of World War 2 in Europe. When the good news broke, party plans were quickly put in place in every corner of the UK, on a scale never seen before and perhaps since. 
We've delved into the Findmypast Photo Collection and our newspaper archives to give you a taste of what it would have been like to be there and what your family would have experienced if they were. From the street parties to the church services and the bonfires, this was the first Victory in Europe Day, 1945.
Pictures of the first VE Day
At first, there was confusion as to whether one or two national holidays would go ahead. The newspapers had to step in and clarify.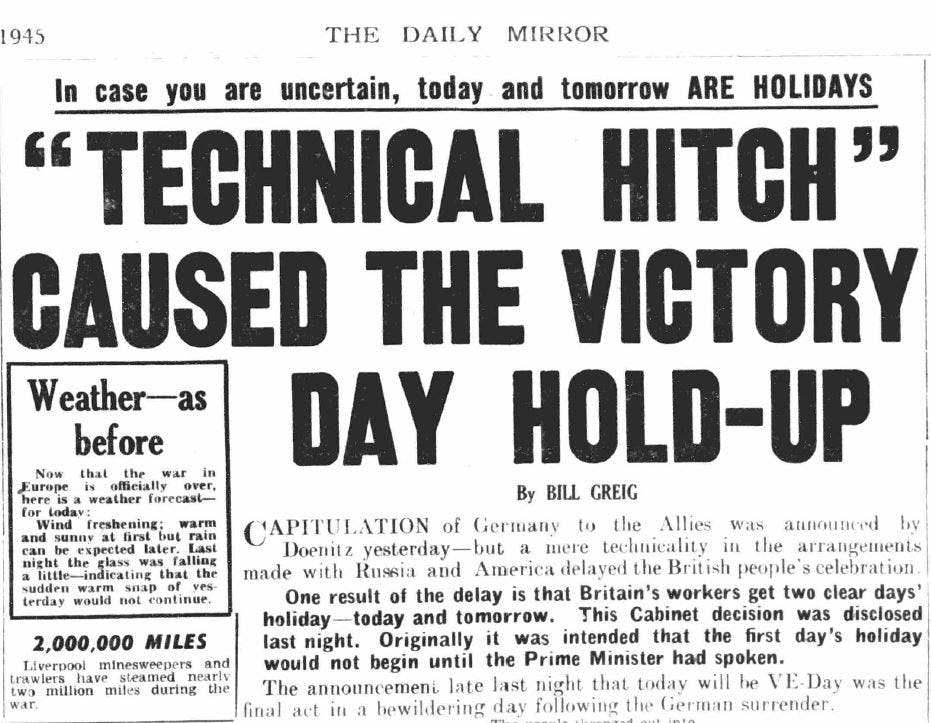 Party preparations started early. Streets up and down the country were adorned with bunting and Union Jack flags.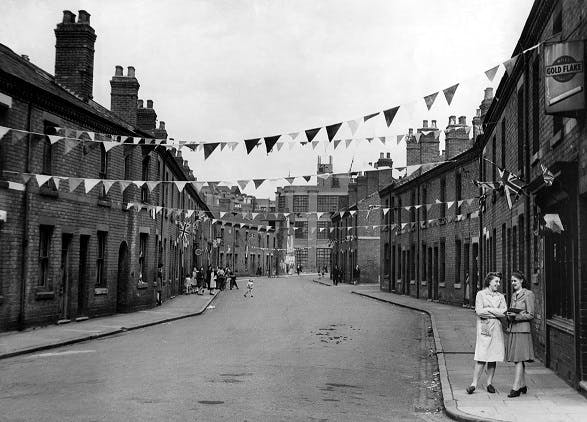 This was the scene on Croft Road, Coventry.
Street parties were a way for families, friends and neighbours to come together and let loose, after supporting each other through turbulent times. Here are our favourite VE Day street party pictures from around Britain.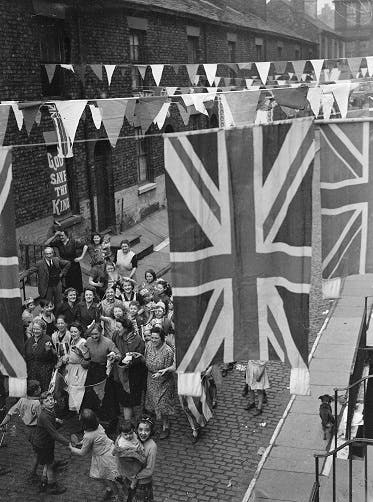 As soon as victory was declared, the party spilled out onto local streets, like this one in London's East End.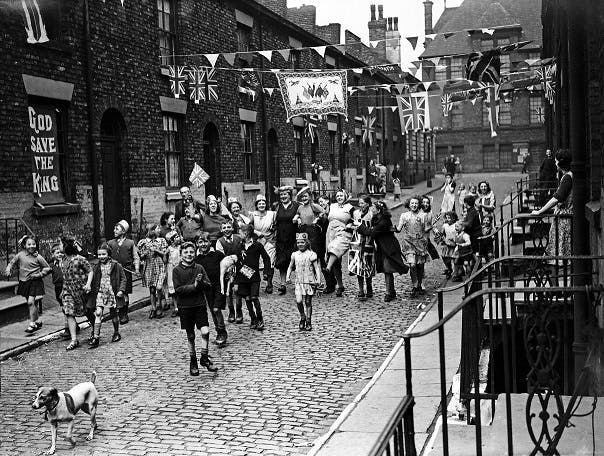 These locals from the back streets of Manchester did not want to wait for the official VE Day celebrations. They got the party started on 7 May 1945.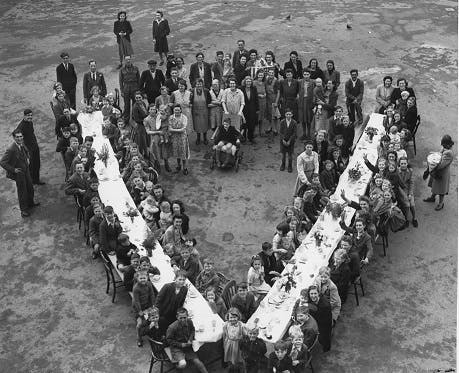 A children's victory party thrown by the residents of Kentwell Close, Brockley, South London. We love the clever table layout.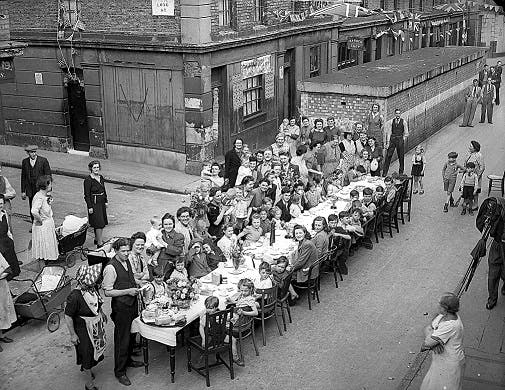 Long trestle tables on narrow streets, packed with party-goers, young and old, were a familiar sight across the nation.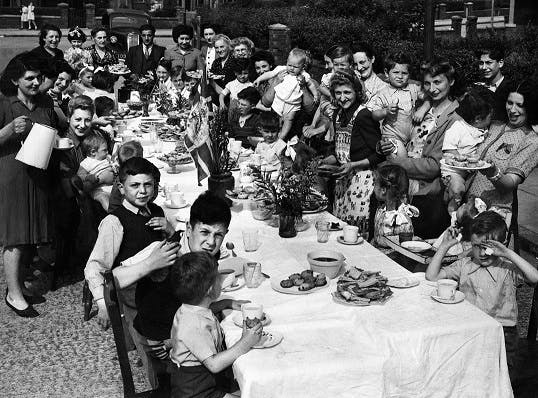 This shot from Heaton Park, Manchester, captures community spirit at its best. How amazing would it be if you spotted someone from your own family?
London was the centre of the formal ceremonies that marked the historic occasion. However, its streets were also thronged with well-wishers, Allied troops and jubilant locals. Here are some of the most iconic VE Day photos captured in the capital.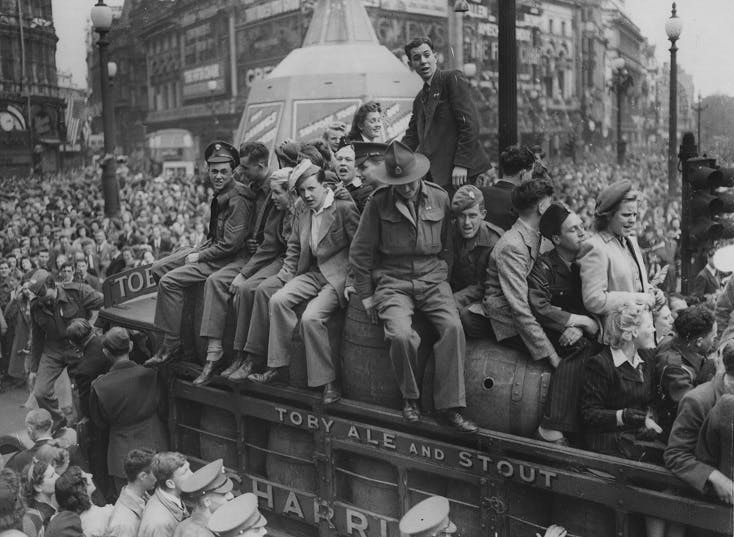 Crowds swarming over a lorry-load of beer passing through Piccadilly Circus exemplified the VE Day spirit rampant in London on 8 May 1945. Judging by the expressions on some of the faces travelling on top, a drop or two had already been consumed.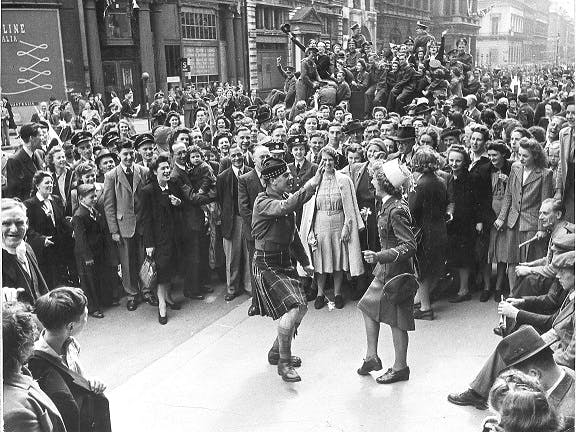 And where there's alcohol, inevitably, there's dancing. Here, crowds watch on gleefully as a Canadian Seaforth Highlander struts his stuff with a member of the Auxiliary Territorial Service.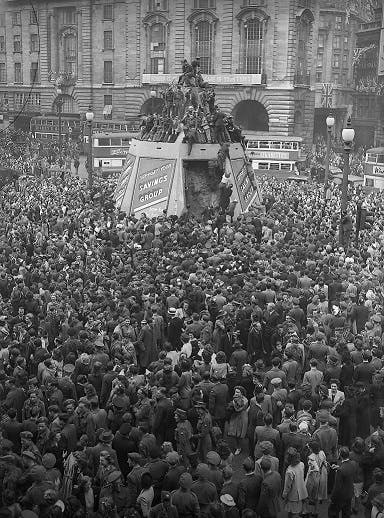 Piccadilly Circus was packed with party-goers.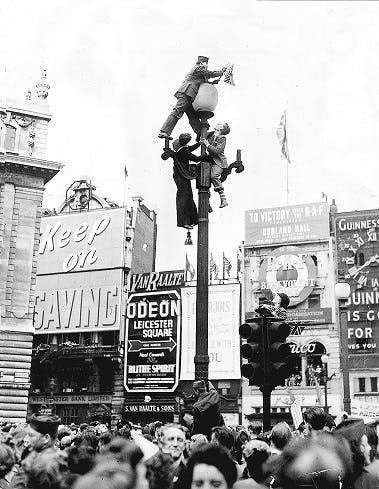 So much so, that some resorted to climbing lampposts to get a better view of the celebrations.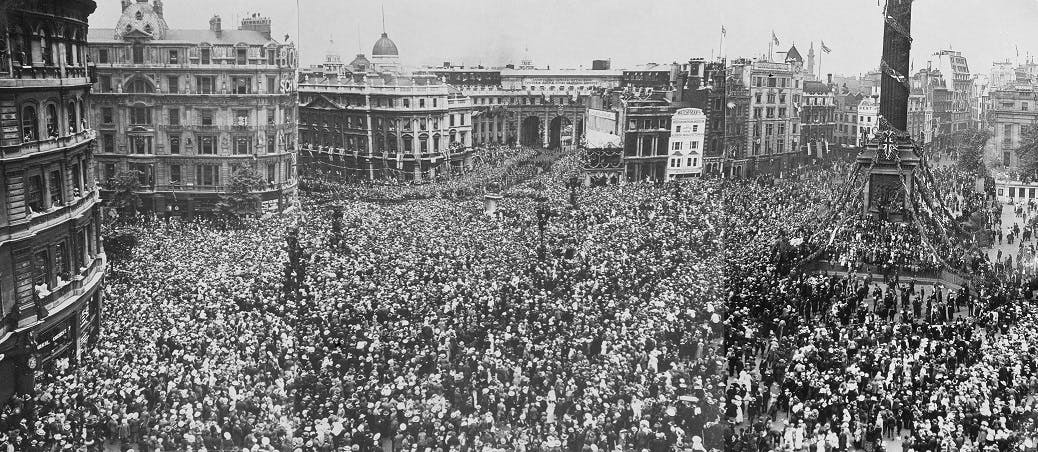 Nelson's Column was another London landmark where enormous crowds gathered.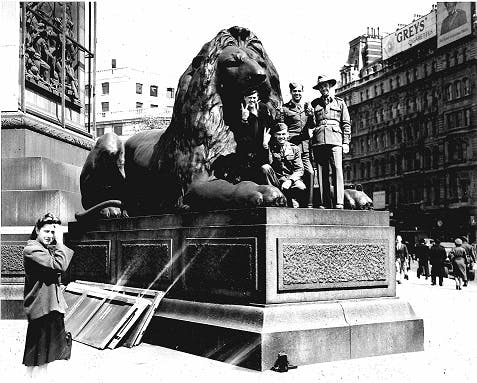 These Allied troops used the opportunity to pose on one of Landseer's Lion Statues in Trafalgar Square.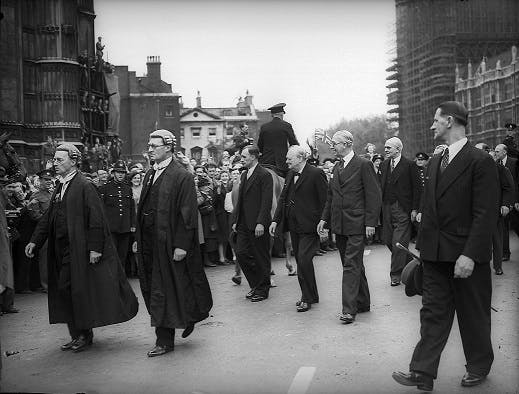 It wasn't all about parties, however. Prime Minister Winston Churchill, seen here on his way to the Houses of Parliament for victory service, had a busier day than most.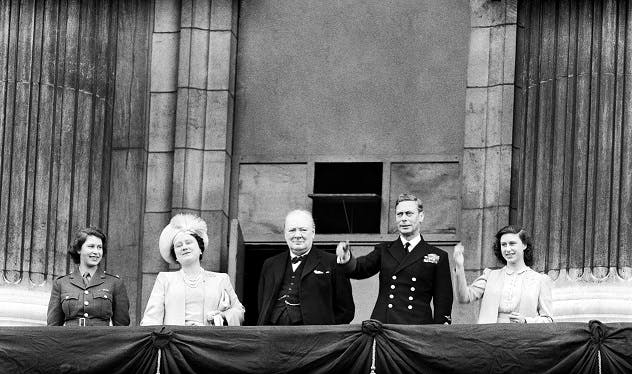 Churchill's agenda included joining members of the Royal Family on the balcony of Buckingham Palace during the celebrations in central London.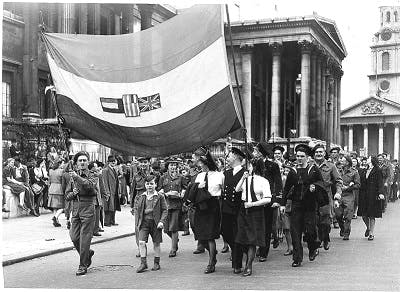 The Allied Forces joined together in victory parades throughout London. Here, Canadian, English, American and Norwegian troops march around Trafalgar Square.
A party in every corner of the nation
Celebrations stretched well beyond the capital city. Victory in Europe Day was marked and celebrated in every city, town and village in the UK.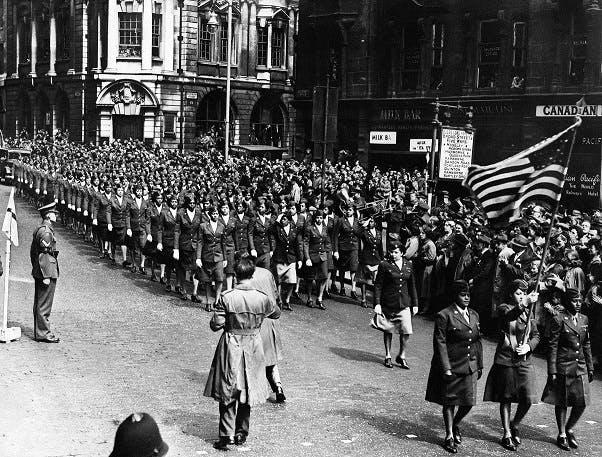 For organisers who couldn't arrange official festivities in time for VE Day, they stretched well into the month, like this victory parade in Birmingham on 15 May 1945...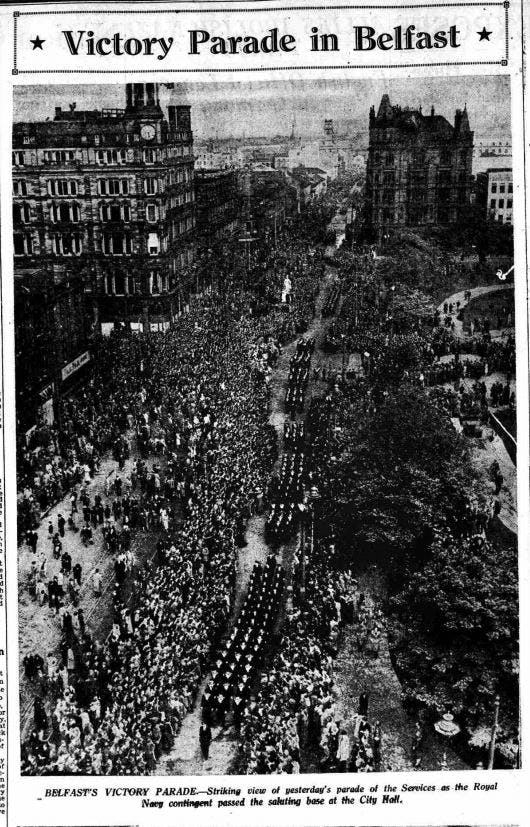 ...and this march past Belfast's City Hall on 13 May.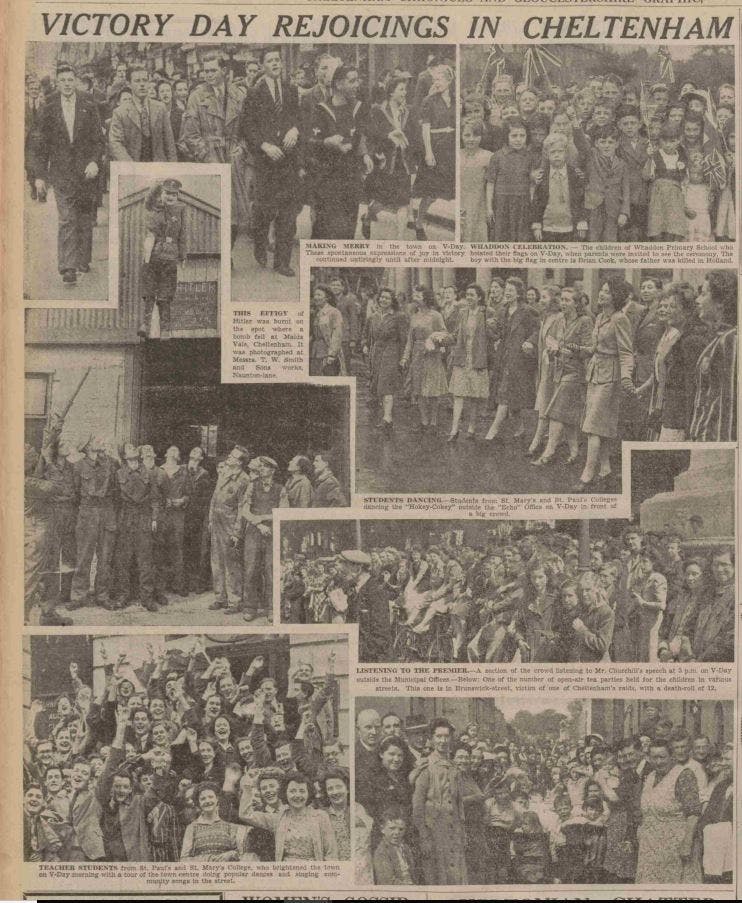 In Cheltenham, the smiles on the faces of the locals tells the story.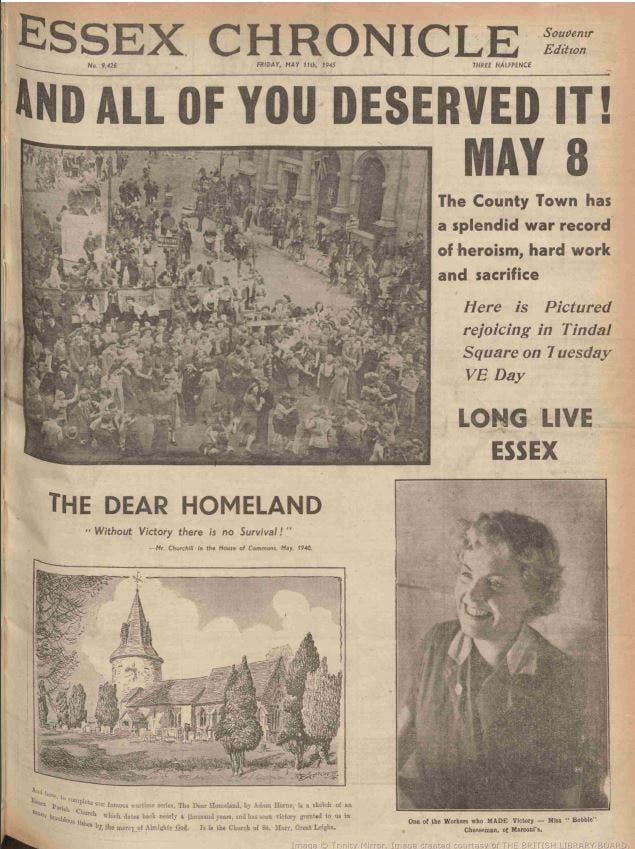 Chelmsford Chronicle printed a special souvenir edition, paying homage to all of its readers for a successful war effort.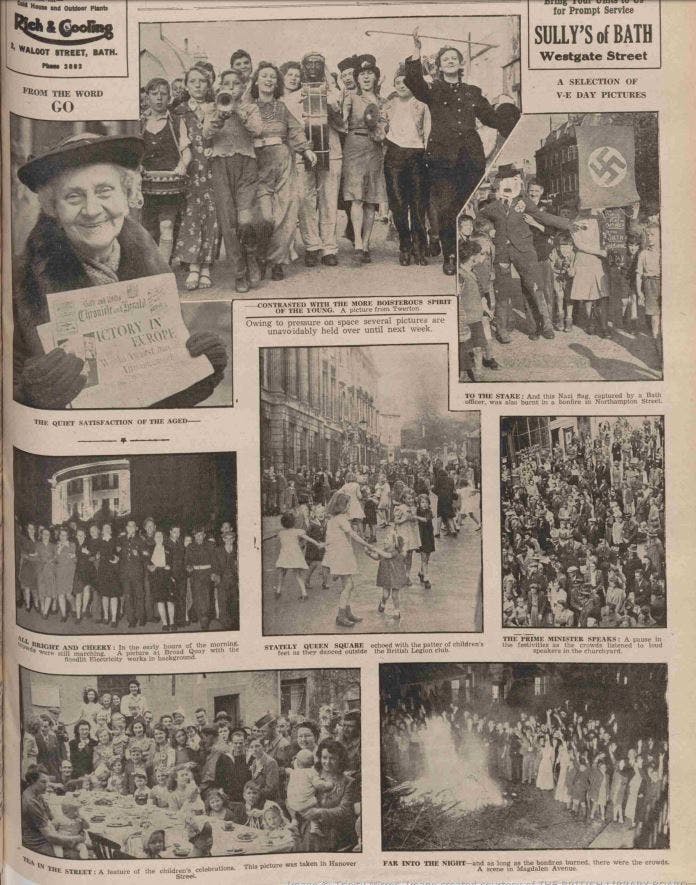 In Bath, festivities ranged from children's dances to marching bands.
Only the Prime Minister's speech could bring a halt to the party.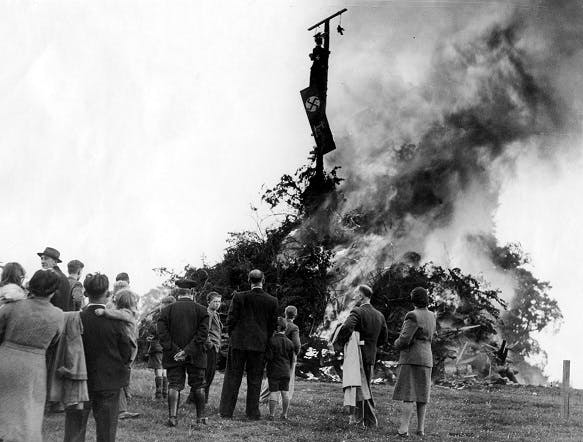 Along with parades and parties, bonfires and effigies of Hitler were also common. This 40-foot fire was lit in the village of Ashow, Warwickshire.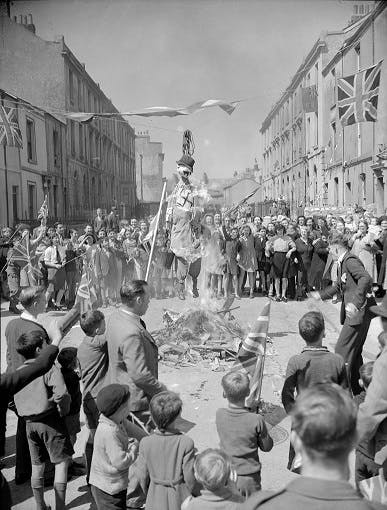 While in South London, this sculpture of the Nazi leader was hanged and burned to the delight of those watching on.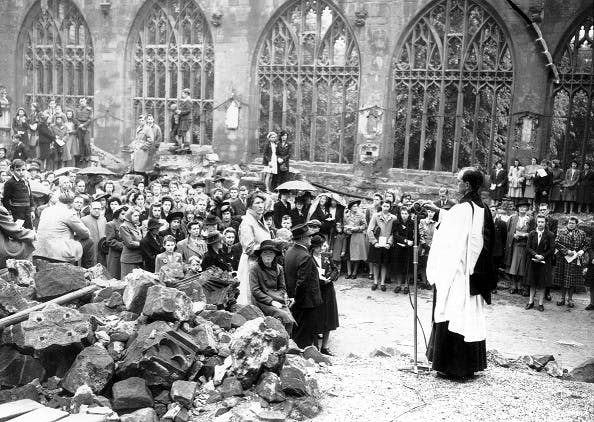 VE Day was also a solemn occasion for many, who remembered family and friends that paid the ultimate sacrifice. The bombed ruins of Coventry Cathedral, seen above, were visited by thousands of people, with services running until after midnight.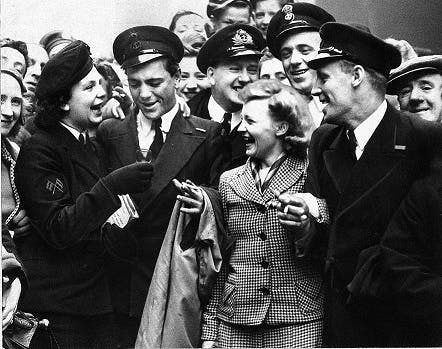 There were joyous sights on the streets of Glasgow as WRENS and sailors shared drinks and merriment back on dry ground.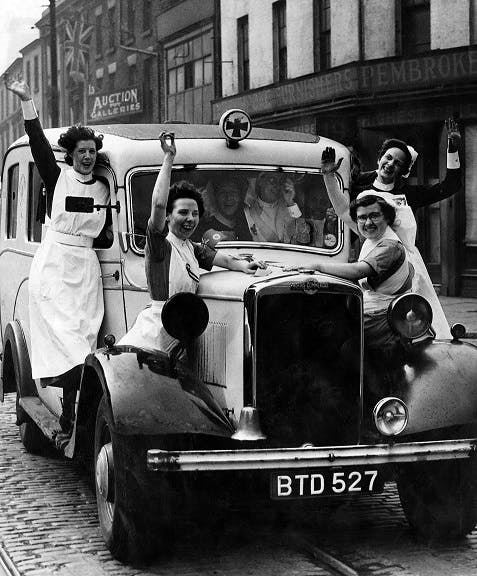 While in Liverpool, these jubilant nurses took their ambulance on the road to celebrate the end of a challenging time on the front line, at home and abroad, for healthcare workers.
Where was your family on VE Day?
See if you can spot any relatives in hundreds of VE Day snapshots or their local newspaper from the time. Then, tell us about your discoveries on Facebook, Instagram or Twitter using #WhereWillYourPastTakeYou?