The war heroes and well-to-dos in Benedict Cumberbatch's family tree
5-6 minute read
By Alex Cox
16 January 2020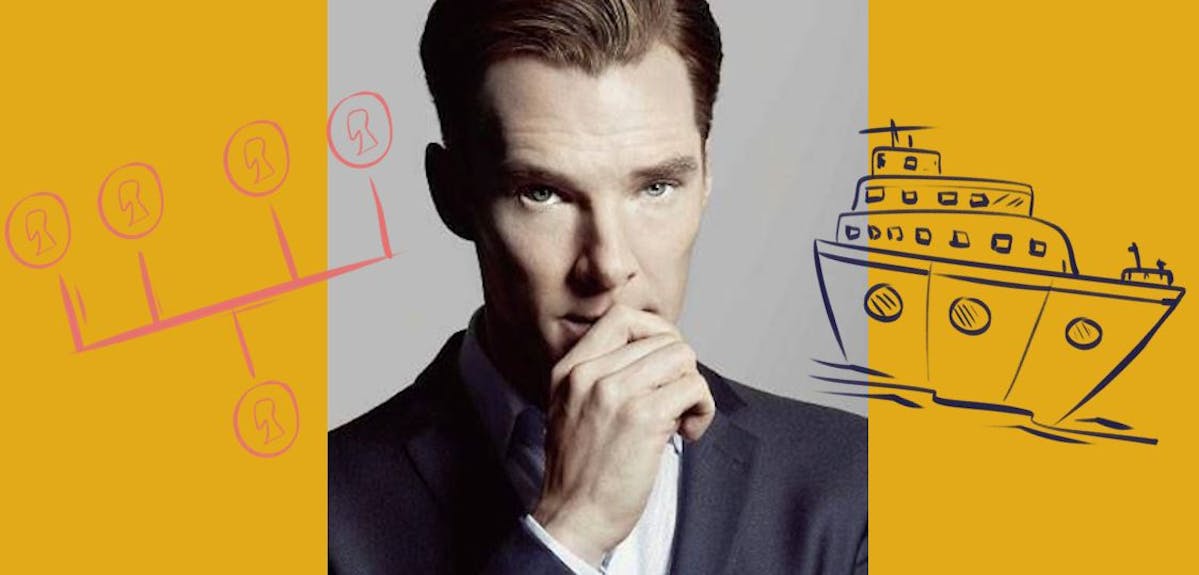 Actor Benedict Cumberbatch's family history reveals remarkable relatives on opposite ends of the social spectrum, both with connections to the First World War.
Benedict Cumberbatch has stated that he's fed up with people thinking he's posh and upper class simply because of his name, the roles he plays and the fact that he attended the famous Harrow School. He even once said that he had considered quitting Britain for good as America "is less obsessed with class".
Well, after delving into Benedict Cumberbatch's family history on both sides, we've discovered that while some of his paternal ancestors were certainly distinguished, his maternal side were humble farm labourers, servants and tradesmen.
Where did Benedict Cumberbatch grow up?
Benedict Timothy Carlton Cumberbatch was born on 19 July 1976 in London to Timothy Carlton (stage name) and Wanda Ventham, both well-known actors in their own right. He grew up in Kensington, West London. At the start of his acting career, Benedict used the stage name Ben Carlton but changed it to his real name on the advice of an agent who thought it would get him more attention from producers and directors.
Benedict Cumberbatch's family tree
The Cumberbatches were a prominent English family of merchants and adventurers in the 18th and 19th centuries. Benedict's fifth great-grandfather, Abraham Cumberbatch (1726-1785) was from Bristol and founded the family's fortunes on a sugar plantation in Barbados. The Cumberbatch family owned slaves – a fact which Benedict has spoken publicly about. He described his depiction of abolitionist Prime Minister William Pitt the Younger in the film Amazing Grace as a "sort of apology". There are many Cumberbatches living today who are descended from slaves who had kept the name of the family that once owned them.
Benedict Cumberbatch's grandfather, Lieutenant-Commander Henry Carlton Cumberbatch, was a distinguished naval officer. His marriage to Pauline Congdon in St Mary Abbot's, Kensington in 1934 was reported in The Times.
Henry Carlton Cumberbatch was born in Smynr (now Izmir), Turkey, in 1900, the son of Henry Arnold Cumberbatch CMG (1858-1918) who was the British Consul. Henry Arnold's father, Robert Cumberbatch, born in 1818 in Tunbridge Wells, Kent, was also a British Consul in Turkey.
Henry's highly detailed Royal Navy service record reveals that he was appointed as a midshipman on 15 August 1917, after finishing his education at the Royal Naval Colleges at Osborne and Dartmouth.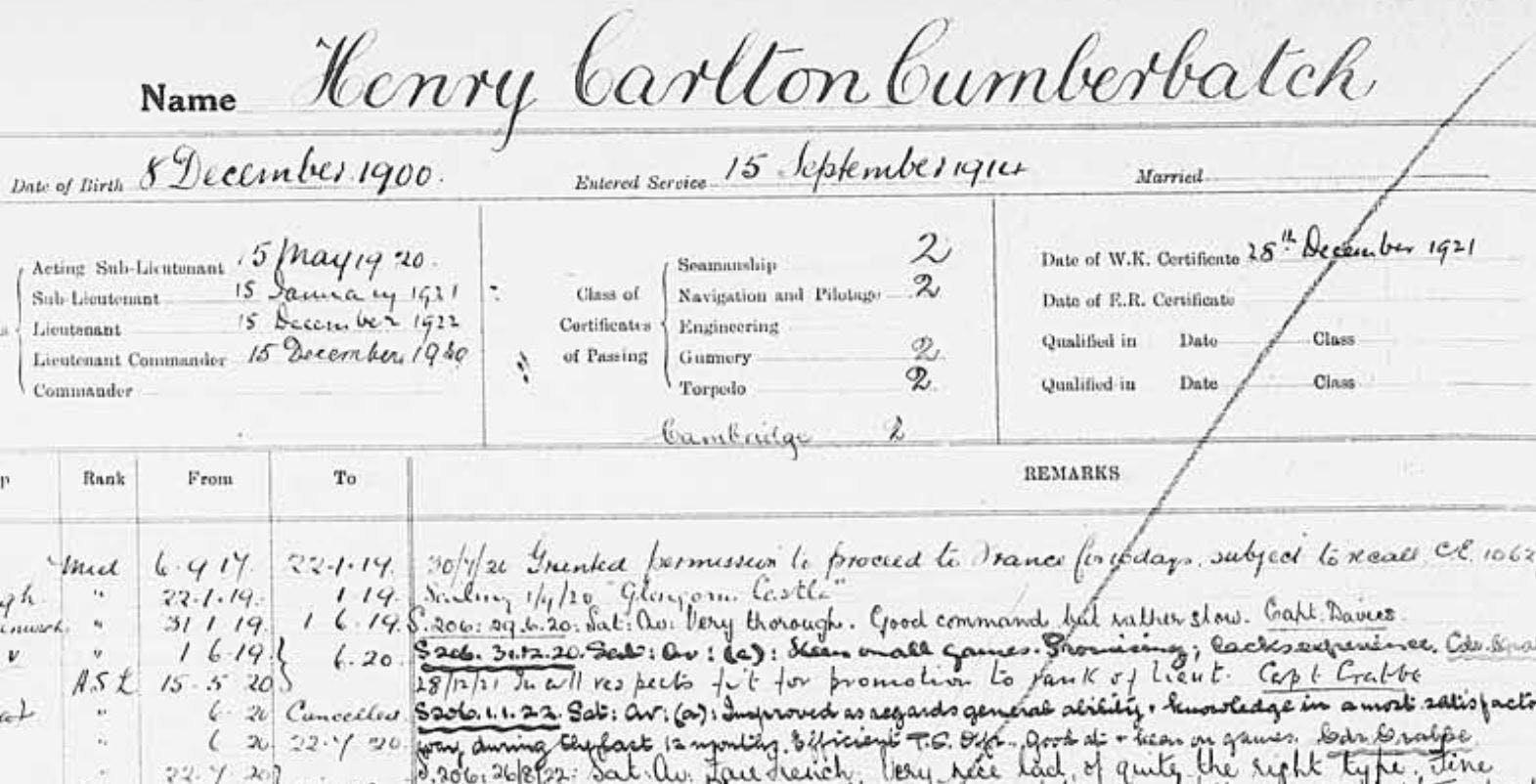 He then served on board the Renown-class battlecruiser Repulse until January 1919.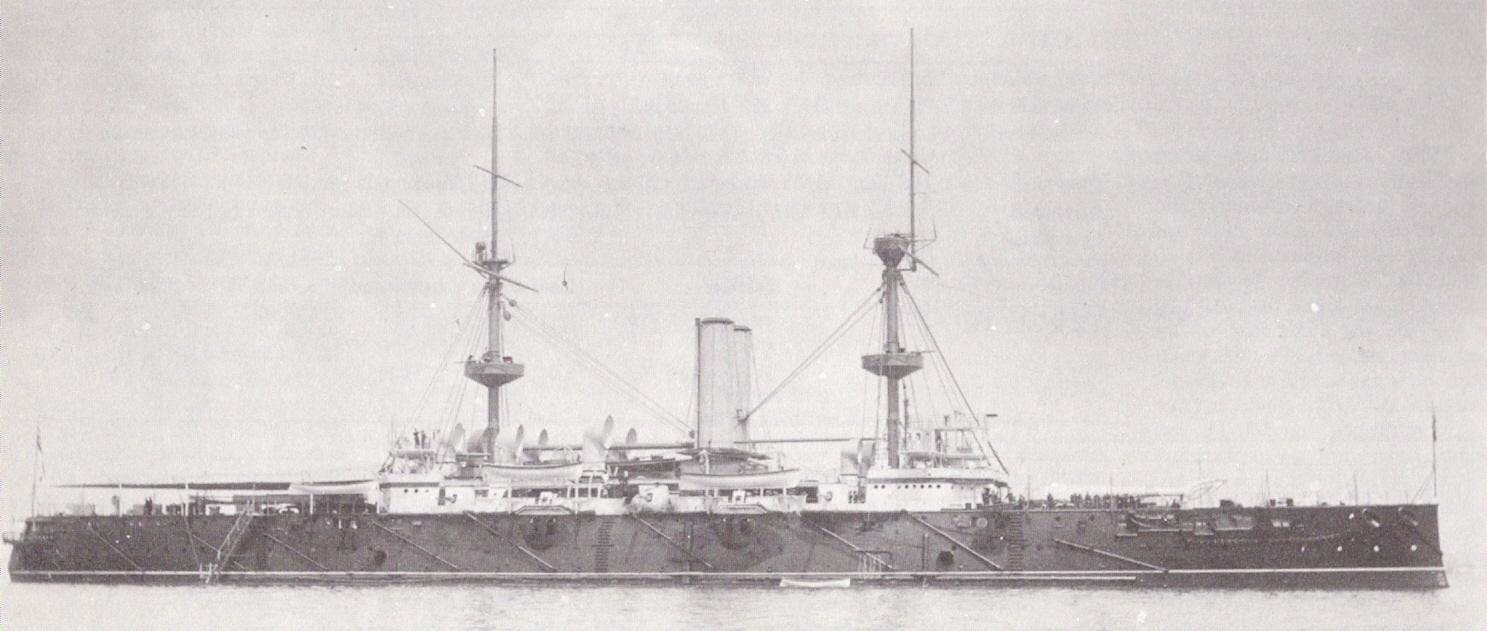 During that time he fought in the Second Battle of Heligoland Bight during the First World War.
Second Battle of Heligoland Bight
This indecisive engagement took place on 17 November 1917 when a strong force of British cruisers under Vice Admiral Trevylyan Napier were sent to ambush German minesweepers that were clearing a channel through British minefields in the Heligoland Bight. Henry Cumberbatch's ship, the Repulse was not part of the original battle formation but broke away from its own squadron at high speed to join the fight. Repulse scored a direct hit on the German light cruiser, SMS Konigsberg, igniting a major fire on board, and putting it out of action.
Benedict Cumberbatch's mother and her family
Benedict Cumberbatch's mother, the glamorous Wanda Ventham, starred in a major BBC series in the 1970s and played the mother of Rodney's wife, Cassandra, in the sitcom Only Fools And Horses. She was born on 5 August 1935 in Brighton, the daughter of Frederick Howard Ventham and Gladys Frances Holtham who were married on 29 October 1930 at Brighton Register Office.

Benedict's grandparents' marriage certificate showed that both were aged 20, Frederick being a wine merchant's clerk. His father (Benedict Cumberbatch's great-grandfather), Frederick William Ventham, was described as a motor car proprietor on the marriage record. While the bride's father, Francis Leonard Holtham, was a furniture decorator.
Benedict Cumberbatch's family heroes
Henry Carlton Cumberbatch is not Benedict's only connection to the Great War. As with many Brits, ancestors on both his mother's and father's side answered the call to fight for King and country.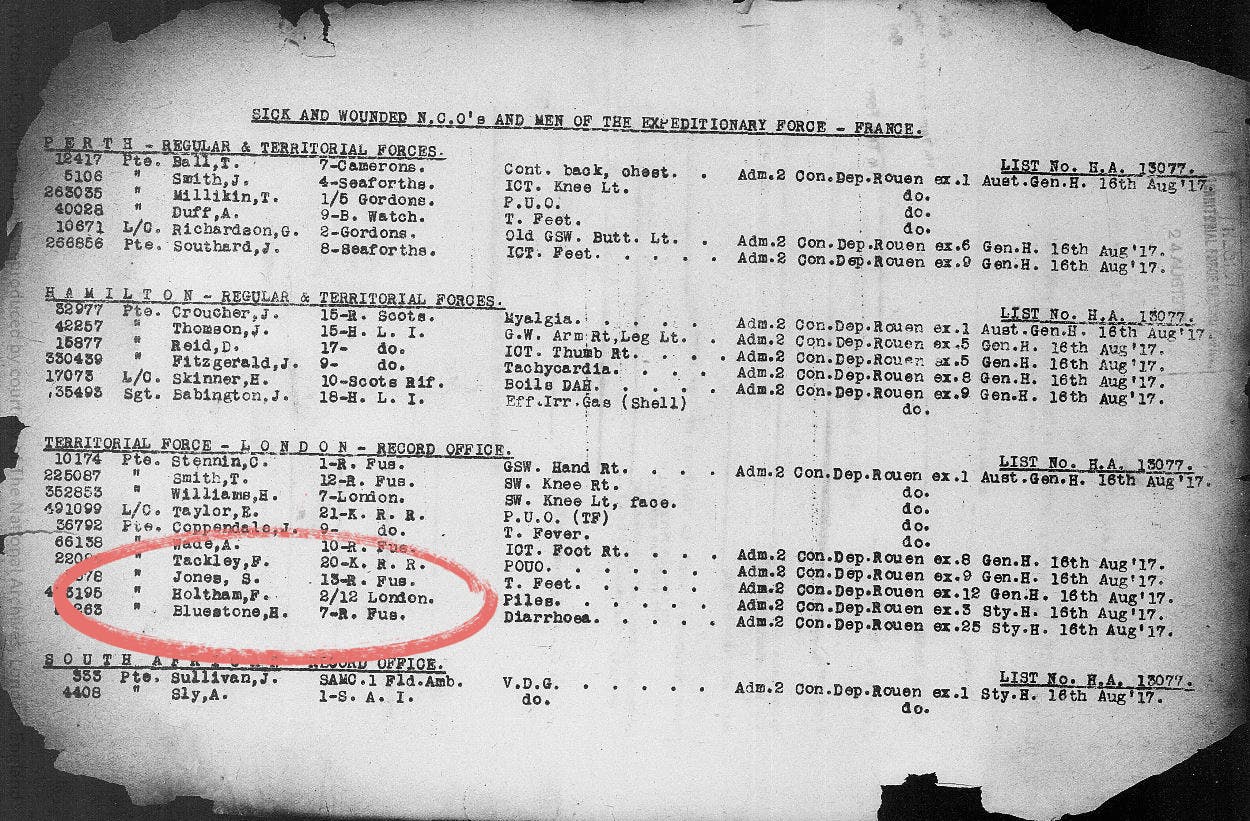 While only one charred page of his full service record has survived (the rest was destroyed by a fire in 1940 that destroyed 60% of all First World War service records), there is still enough information available to get a rough idea of Francis' war experiences.
Both records reveal that Francis served in the 2/12th Battalion of the London Regiment under the soldier number 473195. These are the only two records that match this name and number so it fair to assume that Francis remained with the regiment for the duration of his service.
His battalion, also known as "The Rangers", was a volunteer unit that was originally formed in 1860 and saw extensive action during the second Boer War. During the First World War, while other London Regiment battalions were sent to fight in Dardanelles, Salonika, Palestine and even Afghanistan, the Rangers had the misfortune of being sent to the Western Front in August 1914.
Francis is also found in Silver War Badge records which reveal he enlisted on the 11 December. Based on the sequencing of his service number, Francis most likely joined the battalion in November 1916 aged 31. Given his age, service number, and the date of his enlistment, we can be almost certain that he volunteered under the Derby Scheme, the recruitment drive that aimed to avoid the need for conscription by allowing men to voluntarily attest for service at a later date.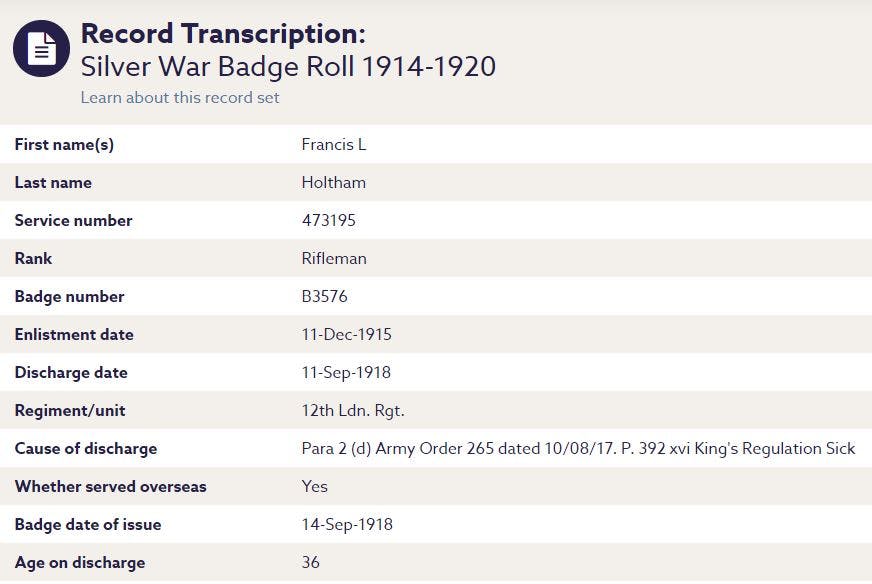 Between 1916 and November 1918, the Rangers saw intense combat in some of the worst engagements of the war in France. While we can't say for certain due to the lack of a surviving service history or soldier medical records, it looks like Francis was with the regiment during the infamous battle of Passchendaele during the summer and autumn of 1917, as well as the battles of Arras and Cambrai that same year.
The Battalion continued to experience heavy losses throughout the entire war and in 1918, the Rangers were also on the front lines of many famous engagements including the Second Battle of the Somme, Amiens, Bapaume and the battle of the Hindenburg line.
The only surviving page of Francis' service record does give us one interesting piece of information. It reveals that he was briefly treated at a Stationary Hospital in the ancient French city of Rouen. The nature of his "wound" suggests that although removed the from the lines, Francis would not have been out of action for long as he had not been shot, gassed or shelled. He had come down with a rather nasty case of haemorrhoids. They were a common ailment that became a part of trench life for many. The difficulties in maintaining hygiene as well as hours spent sitting on the cold, wet earth sees "piles" referenced frequently in First World War records.
Francis survived the war and was discharged on 11 September 1918 under Paragraph 2 (d) of Army Order 265 dated 10/08/17. (P. 392 xvi King's Regulation Sick). This means that he was one of;
"
"those who, having served as soldiers and, being now over military age, have been discharged other than for misconduct."
"
The 1939 Register reveals that he settled in Brighton after the war and returned to a career in furniture, working as a decorator. He spent the remainder of his life at 24 Wintonvale Greenways with his widowed mother Emily and wife Salina before passing away in 1955 aged 70.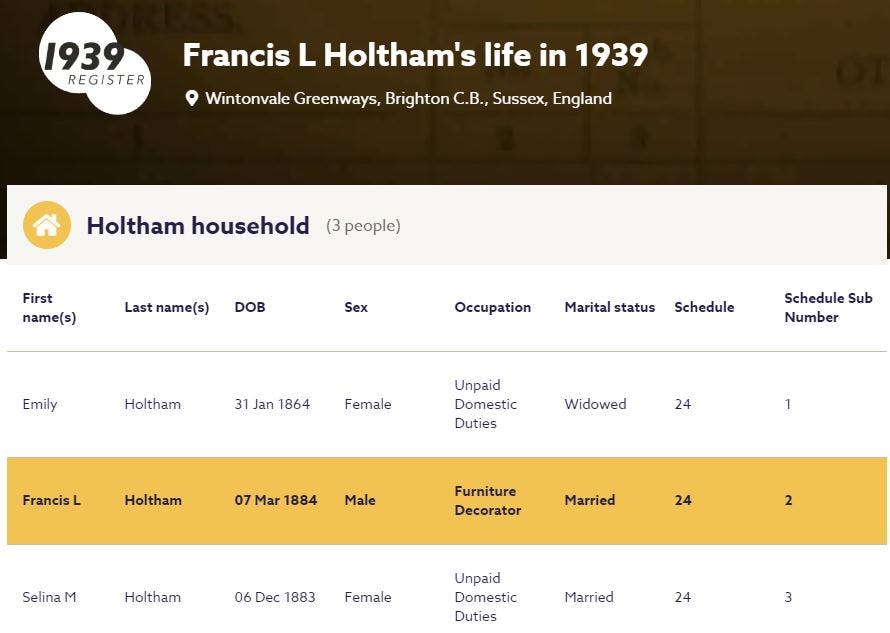 Is your family tree hiding wealthy aristocrats or brave war heroes like Benedict Cumberbatch's? Piece together the amazing story of your past online with Findmypast and find out.
More on this topic:
Share this article
About the author