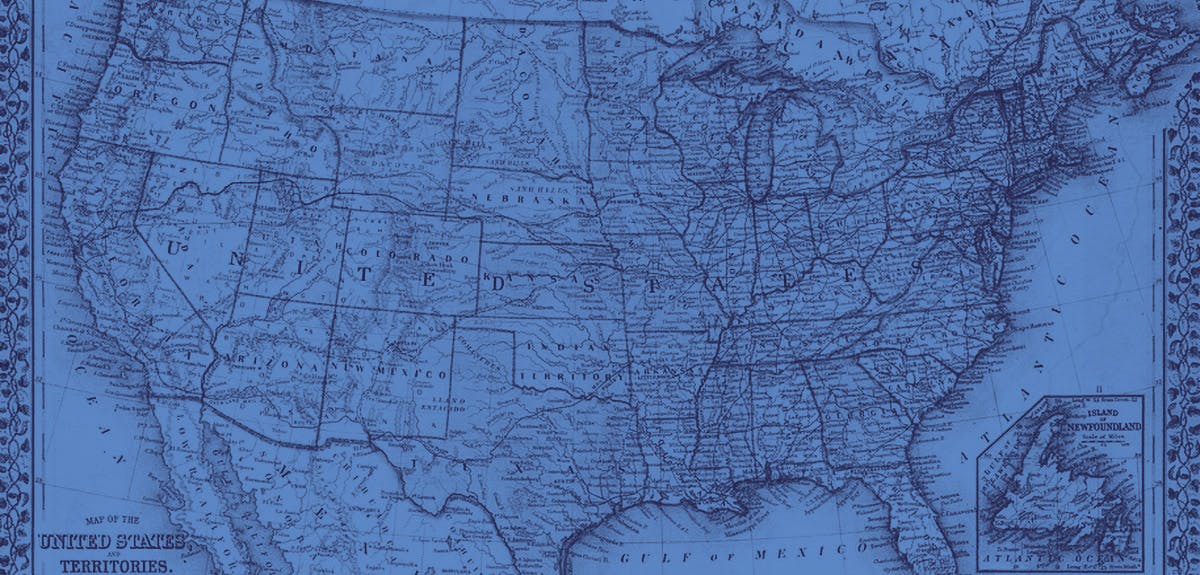 8 places you'll discover American ancestors (that you may have missed)
Do you want to trace family who settled in the United States? See if you can find them in these important American record collections.
We've put together some often overlooked highlights from our US record collection. These resources can help you uncover American family records you haven't seen before.
Whether you are just starting to examine the American branches of your family tree, or are a seasoned genealogist looking to build on what you already know, there may be something here for you.
Without doubt, one of the most important American record collections on Findmypast is our US marriages.
Spanning 350 years, the collection includes around 450 million names, many exclusive to Findmypast. When complete, it will be the largest record set of its kind online.
Our collection of United States Family Histories contains over 930,000 images taken from 3,926 family histories and genealogies from all 50 states as well as several locations overseas. These records can be searched by publication year, title, county, state, page number and additional keywords.
The publications included have a particular emphasis on tracing the descendants of the early, colonial immigrants to the United States. Among these histories, you can find the majority of the families that make up the First Families of Virginia. While the information contained in these records requires verification from original records, these books are substantial resources for genealogists.
Released in association with The National Archives, these records reveal details of pioneering early travellers who left Britain for Ireland, continental Europe, New England, Barbados, Bermuda and other overseas colonies at the dawn of the age of sail.

If you're researching your earliest American ancestors, this record set could prove invaluable. It includes lists of soldiers who signed a statutory oath of allegiance before serving in the "Low Countries" between 1613 and 1633, licences for individuals travelling to Europe between 1573 and 1677, and registers pertaining to individuals travelling to the Americas between 1634 and 1639.
The records showing passengers licensed to embark to the Americas are tremendously rare early survivals and record parties bound for colonies in Barbados, St Kitt's, New England, Maryland, Virginia and the Providence Island colony during the 1630s.
The collection currently covers four states: Connecticut, Massachusetts, New York, and Pennsylvania, and allows you to discover when and where your immigrant ancestor was born, how old they were when they first crossed the Atlantic and their port of entry. Images of the original documents may even include a photograph of your ancestor.
You will find individuals who were held as POWs during the American Revolution and the War of 1812 in the Prisoners of War collection. While you can also find individuals who were transported to the American colonies by the British prior to the separation of the two nations, or individuals tried in British courts who were born in the Americas in our rich crime records. Both of these vast resources, along with several other record sets from Great Britain, are worth exploring for your American ancestors.
Catholicism is the largest denomination across America. Only at Findmypast, you can explore the growing Catholic Heritage Archive, allowing you to trace your Catholic roots across the states and back to the British Isles.
The records we've published in partnership with the Historical Society of Pennsylvania cover a large area of America's eastern seaboard and extend from the Colonial era to the Second World War.

A great deal of American history can be discovered in this valuable collection. Resources include transcriptions and original documents of church records, cemetery indexes, baptism records, and much, much more.
Did your ancestors chase the American dream? We'd love to hear about your amazing family discoveries. If you have a story to share, drop us a line on discoveries@findmypast.com.