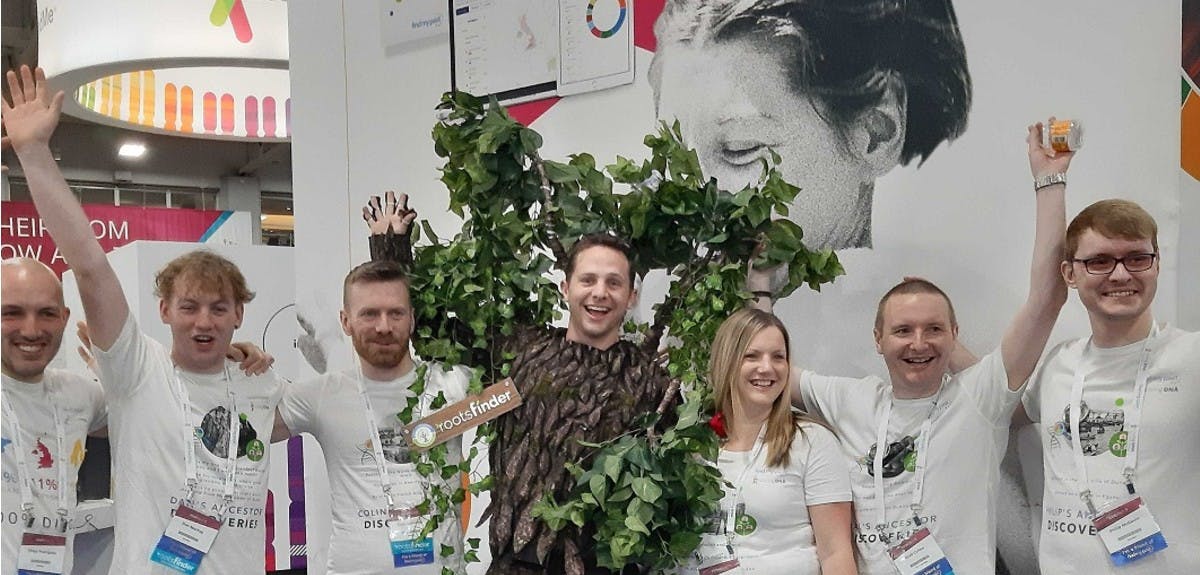 10 reasons you need to visit RootsTech London 2019
RootsTech London 2019 is the ultimate event for anyone interested in family history. Here's why.
For the first time ever, the world's biggest family history show, RootsTech, is coming to the UK. RootsTech London 2019 takes place this coming 24-26 October at ExCel in London.
This incredible gathering brings together thousands of experts and enthusiasts to share their passion for the past. It also offers a brand new opportunity for UK-based family historians to take part in this genealogy juggernaut.
There really is no-where in the world quite like RootsTech - join us in London 24th-27th October, with 30% off a 3-day pass! https://www.rootstech.org/london/why-attend-findmypast

Posted by Findmypast on Saturday, October 19, 2019
Whether you're curious about your ancestry and wondering where to start or have been growing your family tree for years, RootsTech London promises an experience like no other. Here are just some of the many reasons you should stop by.
1. Part of the show is completely free
Let's face it, not many London events of this scale are free. But at RootsTech, you can access the expo hall without spending a penny. This doesn't include any talks or special events, but if you're most interested in browsing the stands, picking up discounts and chatting with exhibitors, it's a free day out. Just remember, you will still need to register for a free pass.
2. You can bag unbeatable bargains
Expect extra special show-only discounts on all sorts of family history products and services. We have some of our lowest ever prices on Findmypast subscriptions and DNA kits ready to roll out. Check back here closer to the event for more details.
3. You'll come away with a wealth of knowledge
One of the biggest benefits of attending RootsTech London is the chance to learn first-hand from the very best brains in family history. There are over 150 classes included in your ticket price, covering everything from DNA to digitising photographs.
Findmypast's stellar schedule of classes is shaping up as follows:
Beyond the British Census with Myko Clelland
09:00, Room 12, Session number RT8236
Join Findmypast resident genealogist Myko Clelland as he explains how to go beyond core census records to move further back in time, or replace missing records to keep telling your family story.
To have and to hold: Understanding British marriage records with Myko Clelland
14:00, Auditorium, Session number RT8233
Myko is back to take you on a romantic carriage ride from the 1500s to the present day, equipping you with the skills you need to make the most of the documents created by your ancestors' 'big day'.
The digital revolution in Irish genealogy with Brian Donovan
15:30, Room 14, Session number RT3020
Irish records expert, Brian Donovan describes the vast resources now available online for Irish genealogy research and tells the behind-the-scenes story of how it happened.
Using newspapers to enrich your family story with Aoife O Connor
16:30, London Suite 2, Session number RT4687
Get to grips with historical newspapers as Aoife O Connor guides you through the more than 1,100 titles available online at Findmypast and the British Newspaper Archive, the sort of information they contain, and how you can use it in your family history sleuthing.
Top 5 tips for finding female ancestors with Mary McKee
09:00, London Suite 2, Session number RT1789
It often seems difficult to peer beyond names and dates to discover what experiences shaped the women in your family tree. But there is much that can be done to recover their stories and Mary McKee will show you how.
A sense of place: land records and maps with Myko Clelland
09:00, Room 12, Session number RT7083
More insight from Myko as he highlights the types of English land records that hold rich information for your family research. He'll also show you how simple map tools can track changes to places over time, helping you to add context to your discoveries.
Finding the poor and destitute Irish with Brian Donovan
16:30, Room 8, Session number RT3016
Given that the poor Irish were the most likely to migrate to Britain or America, their records are an essential resource for your research. So what records were created, what has survived, and are they available online or still held in an archive? Brian returns to explain all.
The British & Irish at home and abroad with Findmypast
14:00, Room 4, Session number RT6892
This power hour will provide you with a rapid deep dive into ways to achieve success in British and Irish family research, at home and abroad. Each presenter, all Findmypast experts, will tackle specific challenges in tracing British ancestors, Irish ancestors and family that emigrated.
Scottish genealogy: Beyond the basics with Myko Clelland
15:30, Room 15, Session number RT8232
Do you have tartan blood? This time, Myko Clelland walks you through the many records available for those with Scottish heritage and where to find them.
Unlocking Roman Catholic records – the Catholic Heritage Archive with Brian Donovan
15:30, Room 4, Session number RT3014
Brian gives an update on Findmypast's groundbreaking project to bring previously unseen Catholic records online. You'll hear about the types of records you can expect to uncover and why they are so useful for your family history.
You can view the full 3-day RootsTech London talk schedule here.
4. It's a chance to see some famous faces
The stars are set to come out and shine at RootsTech London. 
On Thursday, historian and TV personality, Dan Snow delivers the opening keynote speech. Friday will see Paralympic Gold Medalist, Kadeena Cox talk about her inspiring life story. Entertainer Donny Osmond will round off the event on Saturday with a chat and maybe a song or two.
Plus, on Friday evening, classical singers and former X Factor contestants, Tre Amici will put on a special performance titled "Connecting Through the Power of Song".
There's no guarantee you'll meet the celebrities but you should probably keep your phone's camera set to selfie-mode, just in case.
5. We've got the deal to get you there
RootsTech bargains aren't limited to when you're actually there. Our exclusive deal on tickets gives you 30% off a 3-day pass, so you'll be saving before you even set off. A standard 3-day pass costs £99. You can claim the Findmypast special for just £69.30.
6. There are endless opportunities to learn
As well as the sweeping schedule of lectures organised by RootsTech, the exhibition hall in the ExCel will be packed with organisations and societies who are there to help you get further with your family history. At stand 100, Findmypast's team of experts will be delivering a diverse programme of talks.
These talks are the perfect opportunity to learn more about Findmypast in a smaller, more personal setting than the large classes. Don't forget to add Findmypast's in-stand talks to your schedule on the RootsTech app.
7. You can get hold of records you won't get online
For the first time, and exclusively at RootsTech London, our friends at the Ministry of Defence are offering a 3-hour military record retrieval service. This helpful facility can give you access to your relative's post-1921 military service records, which are still held by the MoD due to privacy laws. You'll need to pay a fee and ensure you bring the right documents with you. Check the details here.
8. It's so simple to make the most of your visit
With such a range of classes, talks, events and activities available at RootsTech London, you should probably plan your visit in advance to make sure you're getting the best from your time there. Luckily, there's a handy RootsTech app where you can personalise your own schedule. Download it for free via the App Store or Google Play.
9. You can grab valuable face time with the pros
Without doubt, RootsTech London is the biggest single gathering of genealogy experts in the UK this year. With so many specialists under one roof, it's the perfect opportunity to get face-to-face advice. Professional genealogy consultations can cost hundreds of pounds, this is your chance to get one (or more) for free. We'd love to meet you at stand 100, where you can put those burning questions to the Findmypast team.
10. You can be there, even if you can't be there
The marvel of modern technology means you can enjoy much of RootsTech London online, wherever you are. A virtual pass costs £49 and gives you access to 20 recorded classes for 9 months. 
As well as the virtual pass option, RootsTech London will be livestreaming 3 events each day, including the keynote session. Even better, these will be completely free-to-view and available on-demand later. Take a look at the full livestream schedule.
If you're interested in your family's history, there really is nowhere else like RootsTech. We're so excited to see this spectacular event arrive on British shores and hope to see you there.