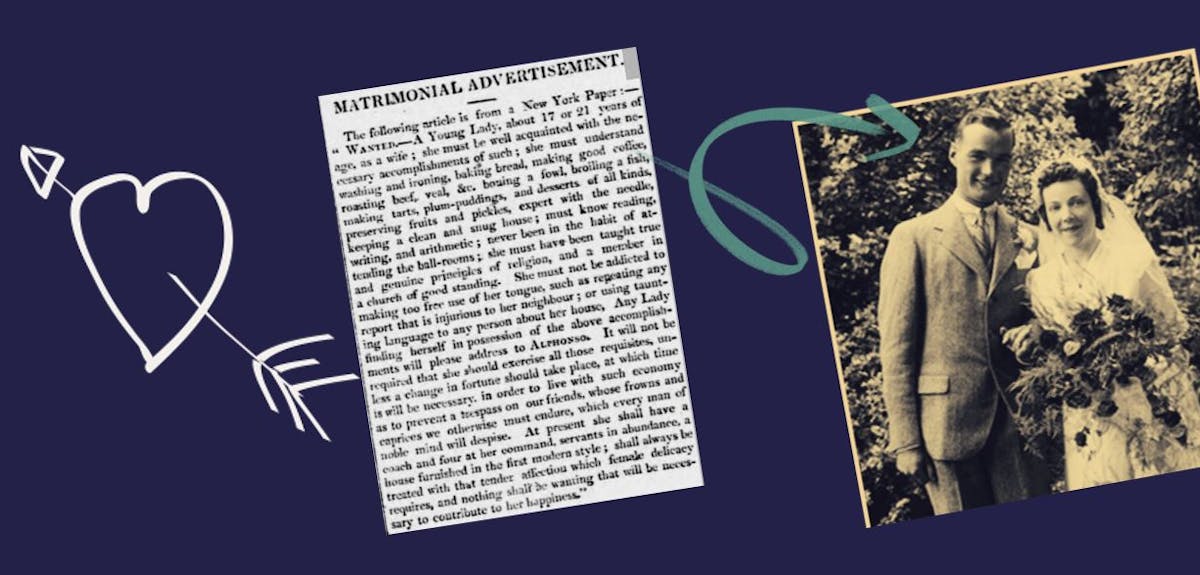 History's funniest lonely hearts ads reveal how our ancestors looked for love

A far cry from today's dating sites and apps, our ancestors took to their local newspaper in search of a soulmate. Here are some of the funniest personal dating ads that were published.
Lonely Hearts columns, or "Matrimonial Advertisements" as they were once known, have been a regular feature in British newspapers for over 300 years. As well as providing rare glimpses of what our ancestors actually thought and felt, they show how romantic expectations differed widely between the sexes and how they have changed over time.
Start a 14-day free trial
Following a huge spike in the popularity during the years of the First World War (with the introduction of "Lonely Soldier" columns), marriage ads remained in frequent use until the arrival of dating sites and apps. Here are some of the most unusual would-be love stories discovered in historical newspapers.
History's funniest dating ads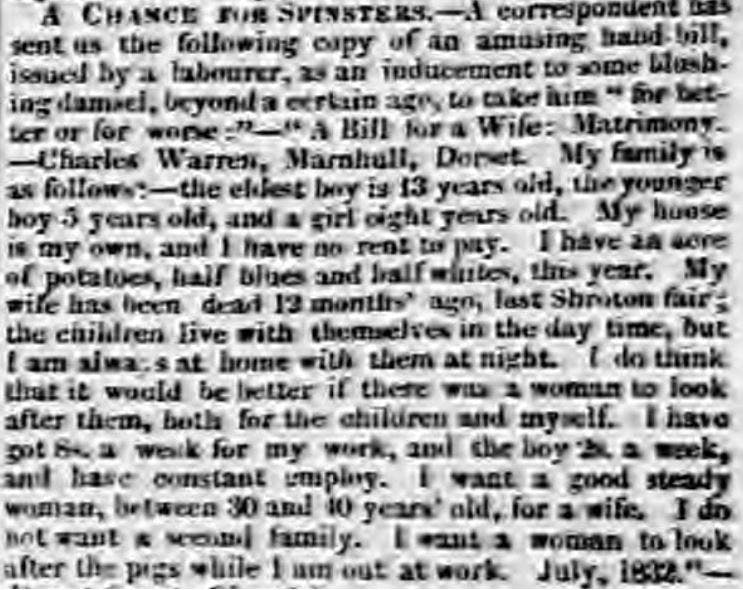 As the above extract from 1832 is quite blurry and difficult to decipher, here's a transcript of the ad:
"A Bill for a Wife – Charles Warren, Marnhall, Dorset. My family is as follows: the eldest boy is 13 years old – the younger is boy 5 years old – and a girl 8 years old. My house is my own, and I have no rent to pay. I have an acre of potatoes, half blues and half whites, this year. My wife has been dead 13 months' ago, last Shroton fair; the children live with themselves in the day time but I am always at home with them at night. I do think that it would be better if there was a woman to look after them, both for the children and myself. I have got 8 shillings a week for my work, and the boy 2 shillings a week, and have constant employ. I want a good and steady woman between 30 and 40 years old, for a wife. I do not want a second family. I want a woman to look after the pigs while I am out at work."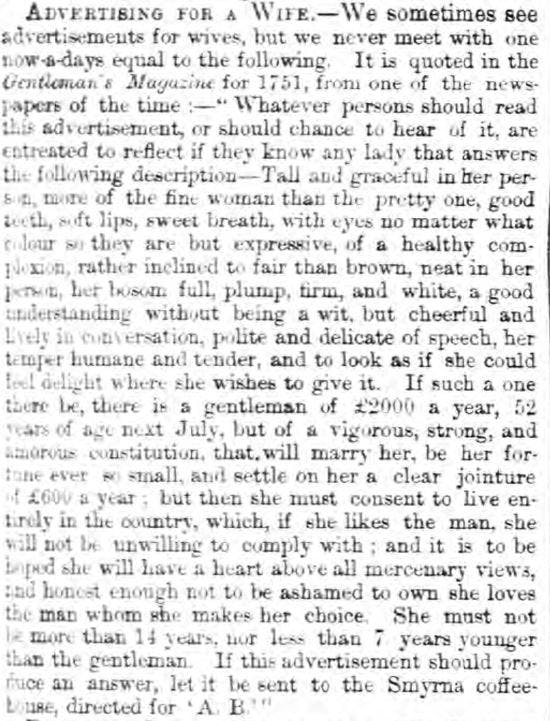 This snippet from 1866 is quite faded in the original paper, so here's what was said:
"Whatever person should read this advertisement, or should chance to hear of it, are entreated to reflect if they know any lady that answers the following description- Tall and graceful in her person, more of the fine woman than the pretty one, good teeth, soft lips, sweet breath, with eyes no matter what colour so they are but expressive, of a healthy complexion, rather inclined to fair than brown, neat in her person, her bosom full, plump, firm, and white, a good understanding without being a wit, but cheerful and lively in conversation, polite and delicate of speech, her temper humane and tender, and to look as if she could feel delight where she wishes to give it. If such a one there be, there is a gentleman of £2000 a year, 52 years of age next July, but of a vigorous, strong, and amorous constitution, that will marry her, be her fortune ever so small, and settle on her clear jointure of £600 a year, but she must consent to live entirely in the country, which, if she likes the man, she will not be unwilling to comply with: and it is to be hoped she will have a heart above all mercenary views, and honest enough not to be ashamed to own she loves the man whom she makes her choice. She must not be more than 14 years, nor less than 7 years younger than the gentleman. If this advertisement should procure and answer, lit it be sent to the Smyrna Coffee house, directed for A.B."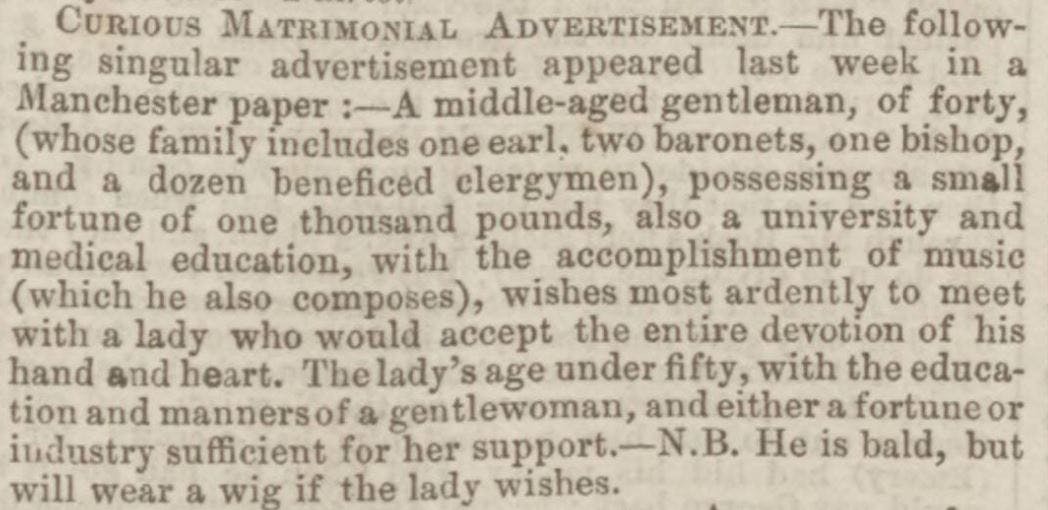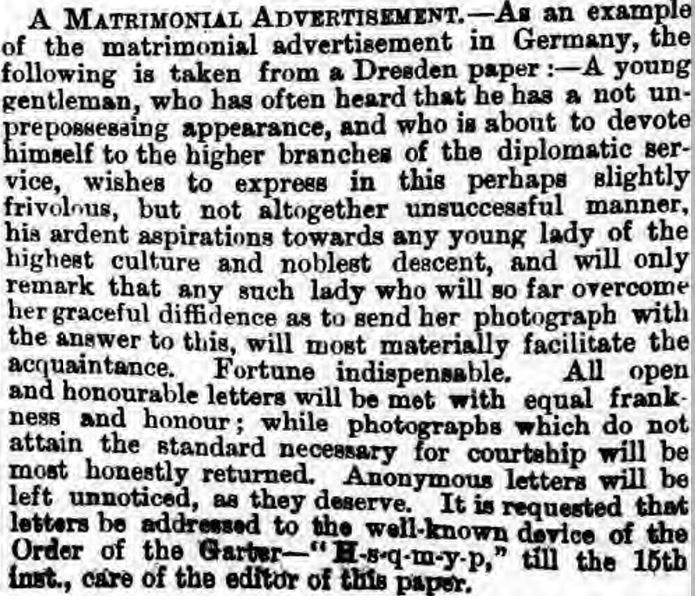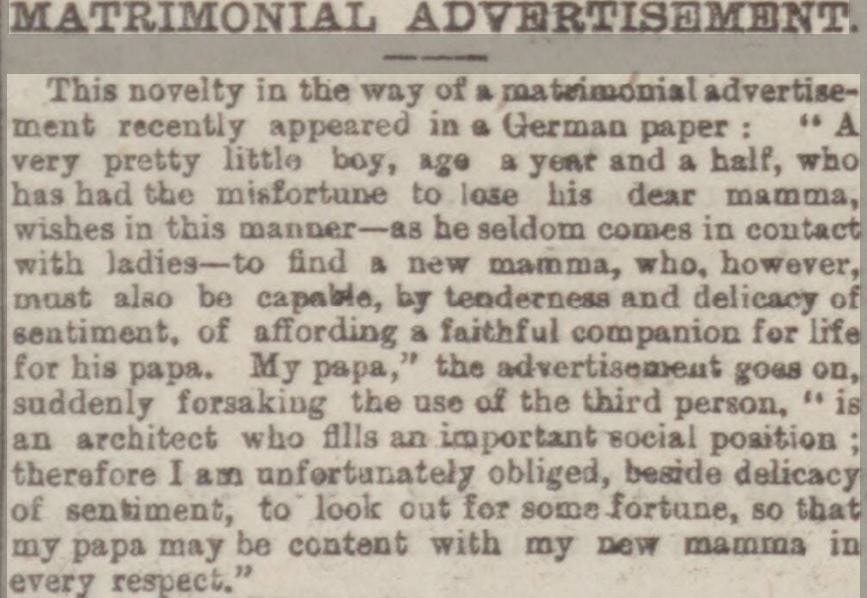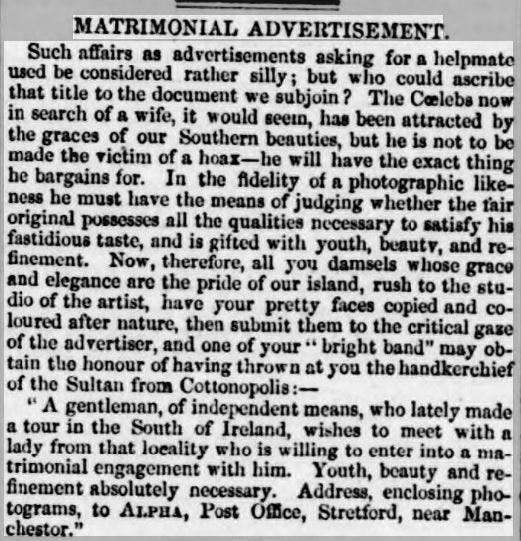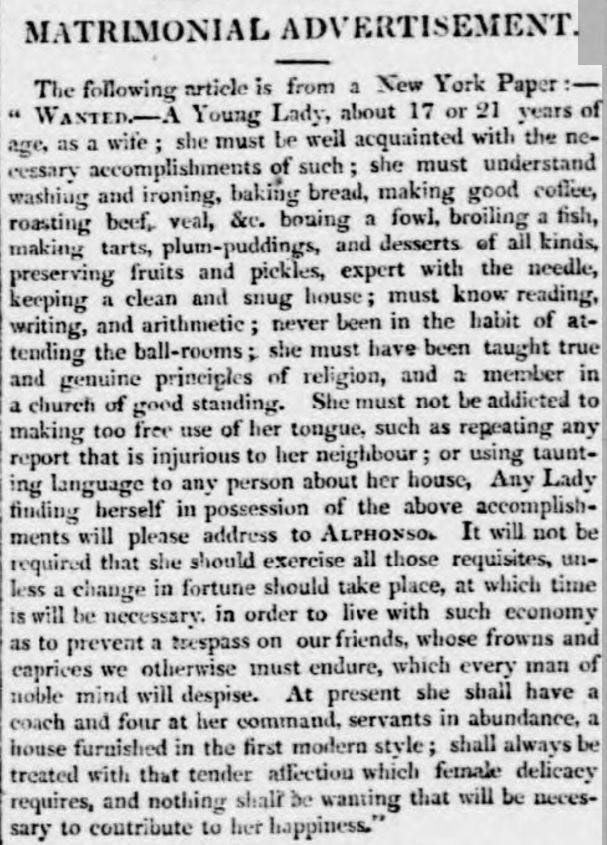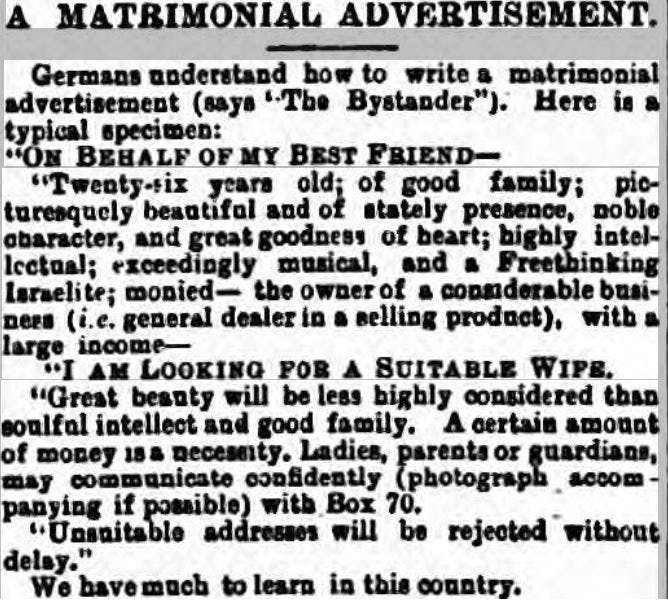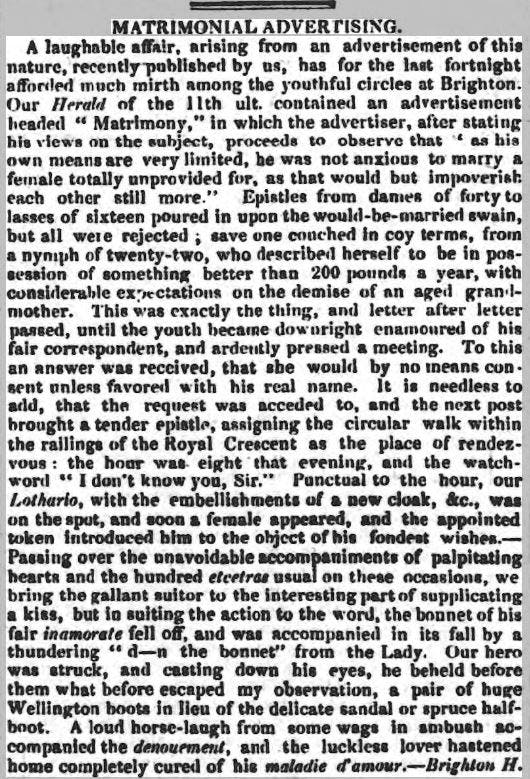 Find your family's love stories
Does your family have an unusual love story that started in the lonely hearts ads? Explore hundreds of years of history in our historical newspapers to find out. And if your ancestor met their match in the papers, you could discover them making it official in our detailed marriage records.