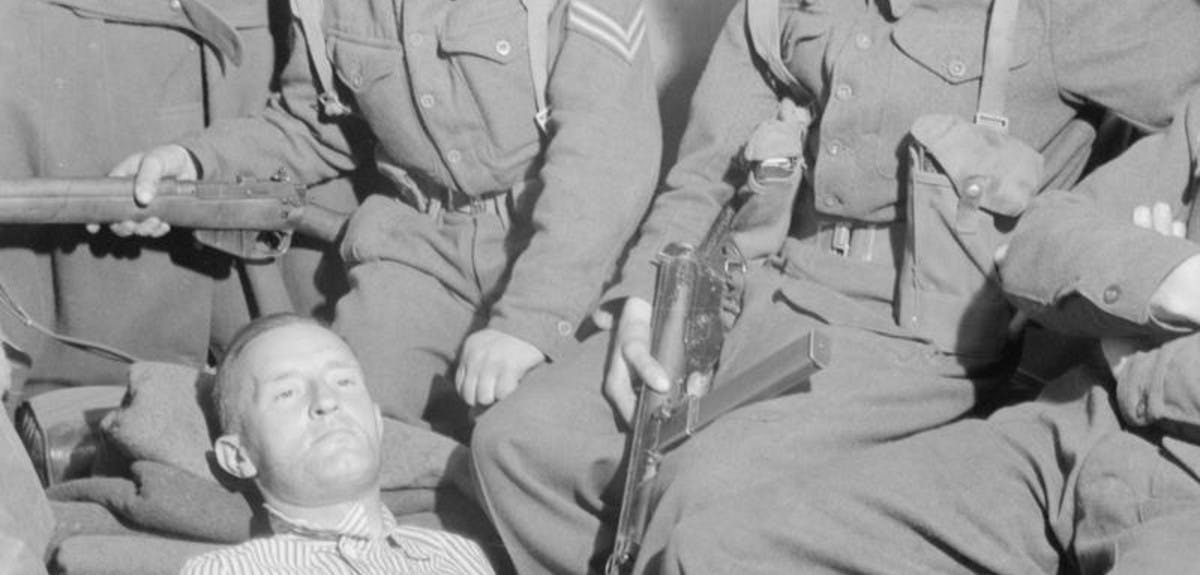 On This Day: The Capture Of Lord Haw Haw

70 years ago today, William Joyce, the infamous 'Lord Haw Haw', was captured by British Forces in Northern Germany.

William Joyce was Joseph Goebbels' number one propagandist to Britain during World War 2. His regular "Jairmany calling" radio broadcasts urged the British people to surrender and were well known for their jeering sarcasm and menacing tone.

Joyce was born in New York in 1906 to an Irish father and an English mother. A few years after his birth, the family returned to Galway where Joyce claimed to have worked with the Black and Tans during the Irish War of Independence. After a failed assassination attempt by the Irish Republican Army in 1921, Joyce moved to England and enlisted in the Worcestershire Regiment but was discharged once it was discovered that he had lied about his age.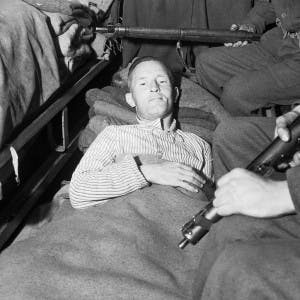 Joyce shortly after his capture

Joyce went on to study English at London University where he developed and interest in Fascism. He had a reputation as a vicious brawler and, while stewarding a Conservative Party meeting in 1924, was slashed across the face in a razor attack that left him scarred for life.

In 1932 Joyce joined the British Union of Fascists and became Oswald Mosley's director of propaganda. His powers of oratory were quickly recognized and he became a leading speaker and the Unions deputy leader. His quick temper and willingness to physically confront opponents led to him being arrested twice, once in 1934 and again in 1938, although he was never convicted. This behavior eventually forced Mosley to dismiss him from the Union. Joyce was enraged and went on to establish his own Fascist organisation called the "Nationalist Fascist League".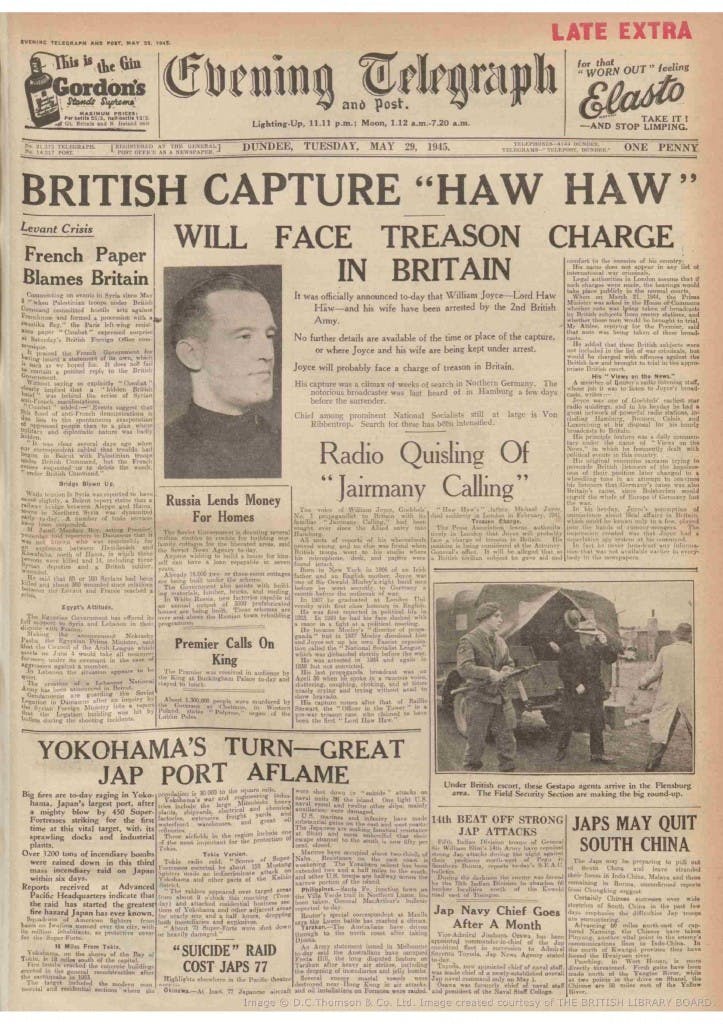 The league was disbanded shortly before the war. Joyce and his wife fled to Germany in August 1939 where  fellow Mosleyite and ex-wife of the BBC's chief engineer, Dorothy Eckersley, got him an audition for German Radio. He was immediately hired as the announcement reader for German Radio's English service.

After war was declared, Joyce became the English service's best known propagandist and was given the nickname of his predecessor, "Lord Haw-Haw of Zeesen". He wrote scripts and read for a number of black propaganda stations that pretended to broadcast illegally from within the British Isles and became one of Goebbels earliest star radio quislings.  In his hey-day had a great network of powerful stations in Hamburg, Bremen, Calais and Luxembourg at his disposal for hourly broadcasts to Britain and attracted an estimated six million regular and 18 million occasional listeners in the United Kingdom.

He was best known for his daily commentary under the name of "Views on the News" in which he made scathing comments on political events in Britain. Due to level of government censorship in official broadcasts, Joyce often appeared to remarkably well in formed to his British listeners. This, combined with his confidant and jeering tone, caused significant damage to the public's moral. They were so effective that Adolf Hitler awarded Joyce the War Merit Cross (First and Second Class) for his broadcasts, although the two never met. Urban legends regarding his apparent omniscience began to circulate and many Britons began to believe that he had an untouchable spy network at his command.

As the tide of the war turned in favour of the allies, the tone and nature of Joyce's broadcasts began to change. They were no longer filled with 'venomous sarcasm' and attempts to convince British listeners that their position was utterly hopeless. They began to take on a more persuasive tone and aimed to assure the public that Britain and Germany shared a common goal in the battle against Bolshevism and that a German defeat would be disastrous for Europe.

After his last broadcast on April 30th 1945, Joyce and his wife hastily fled to the small hamlet of Kuffermuille on the Danish border. On May 28th, British Forces entering the hamlet spotted a disheveled looking man cutting a birch tree in the garden of his cottage. Intelligence officers approached the man and spoke to him in French and English. After hunting Joyce for weeks, finding this strange British man living in a German village aroused their suspicions. When they confronted him about his real identity, Joyce reached for the fake passport in his trouser pocket and was shot through both buttocks. A search of his cottage revealed two letters relating to broadcasts and pages of manuscript in which he said he would be glad to be caught as the suspense was getting on his nerves and he truly loved England.

He was driven to a border post and handed over to military police. He was taken back to Britain and on 26 September 1945, was charged with treason from 3 September 1939 to 2 July 1940, the date his British passport ran out, and sentenced to death. He was confined to a death cell at Wandsworth Prison. He was executed on January 3rd 1946 making him the last person in British history to be executed for the crime of treason.

He remained sure of his conviction and defiant to the very end. He showed no emotion when confronted with scenes from concentration camps and blamed the deaths on starvation and disease caused by Allied bombing of communication lines and scratched a swastika on the wall of his cell whilst awaiting sentence. His last public message reported by the BBC was "In death as in life, I defy the Jews who caused this last war, and I defy the powers of darkness they represent." He was buried in an unmarked grave in the grounds of the prison.