Remember the lives of your ancestors with Norfolk memorials and so much more
4-5 minute read
By Liam Boyle
1 September 2023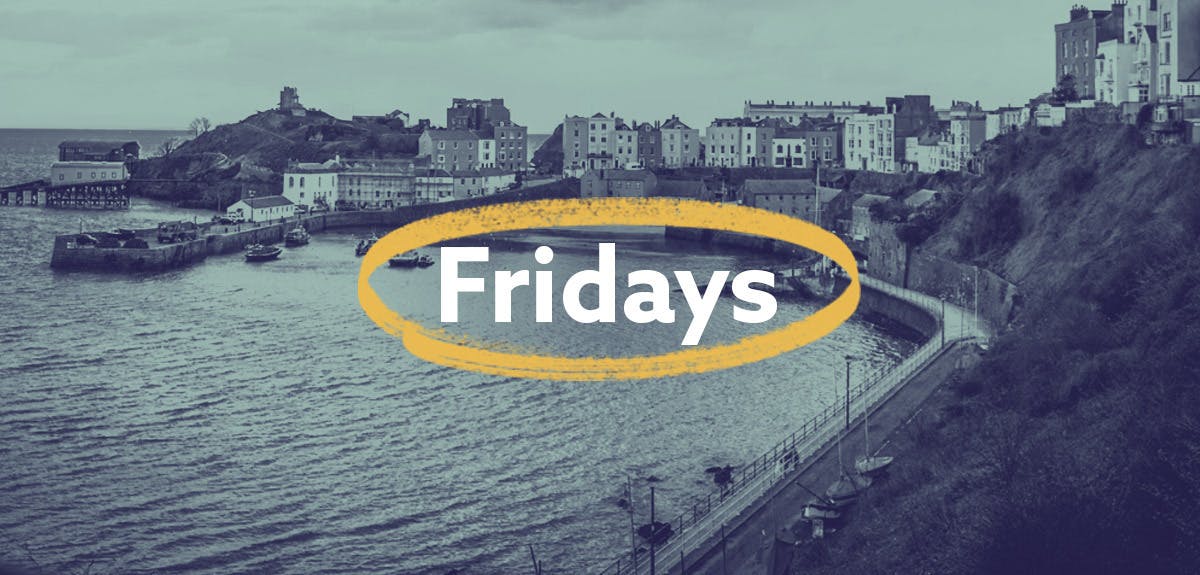 This Findmypast Friday, take the opportunity to remember the inspiring stories of your forebears - with our new release, it's easier than ever.
We've added to our collection of Norfolk graves and memorials this week, with four centuries of brand-new images and transcriptions available to explore. We have also reworked the 1922 Irish Army Census, expanding the collection so that you can now search with nine new fields. Read on for a full rundown of this week's new additions.
This week we have something a little bit different, with 30,149 new additions to our collection of Norfolk Memorials.
These records come from local resident Louise Cocker, who has made it her mission to record and photograph every headstone and memorial inscription in her home county of Norfolk. This has included trips to abandoned cemeteries, and even gaining access to sites that are usually off-limits to non-military personnel.
Louise's incredible work means that when completed, this could be the most comprehensive photographic record of gravestones and memorials in Norfolk - and possibly any county in England.
The information you'll find does understandably vary from headstone to headstone, but typically, you can expect to see a first name, last name, and year of death, alongside a confirmation of which cemetery the grave was found in.
However, you could be lucky enough to also find information such as a full date of birth or death, clues to the cause of death and also information about any relatives also buried here, as seen in the example below.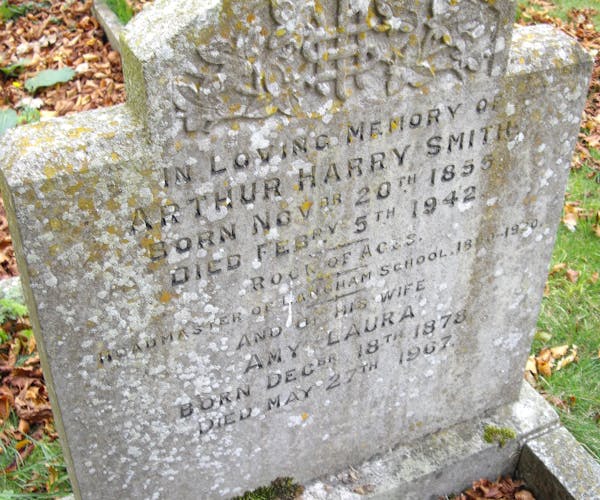 From the headstone of Arthur Harry Smith, we learn that he was born on 20 November 1855 and died on 5 February 1942. As well as these same details for his wife Amy Laura Smith, we also learn that Arthur was the headmaster of Langham School between 1890 and 1920.
Looking at the Smith family on the 1911 Census, we can see that both Arthur and Amy are listed as elementary school teachers, employed by Norfolk County Council. As Arthur's story indicates, these records can provide a brilliant starting point for delving into the lives of your ancestors, particularly if their memorial inscription contains some of those highly sought-after details.
This Findmypast Friday, we have also made improvements to the Irish Army Census of 1922, meaning that your Irish military ancestors are now even easier to find.
We all know Irish family history research can be tricky, especially with masses of records being destroyed in a fire at the Four Courts in 1922. With the Irish Census of 1926 not due for release until at least 2026, the Irish Army Census of 1922 has become an essential resource for anyone with roots in the Emerald Isle.
Following the end of the War of Independence and the signing of the Anglo-Irish Treaty in 1921, the National Army of Ireland was established in 1922. After extensive recruitment, it was not entirely clear to the Army Council just how many troops they had in their ranks, and this became an issue when it came to budgeting and planning.
It was therefore decided that a census would be taken, counting all troops around the country as they were at midnight on the 13 November 1922 and with the improvements we have made to these records, it is now easier than ever to find who you are looking for.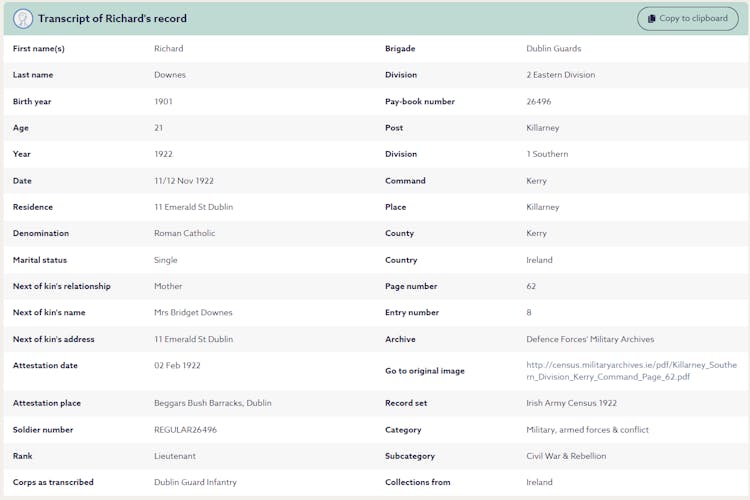 The transcriptions have been expanded to include information such as rank, address, attestation dates, marital status, next of kin and other extra details from the original records. What's more, you can now also search the collection using some of this information, allowing you to narrow your search even further.
Once you have found the record you are looking for, you will also be able to see the original image by following the link to the Irish Military Archives website from the transcription.
With three brand new newspapers and updates to 31 existing titles, we have pages from London, Belfast, Cornwall, Newcastle and more for your perusal this week.
One of the most intriguing updates this week sees new pages from the Sherborne Mercury dating all the way back to 1749, with a selection of other issues throughout the 18th century and the early 19th century also added.
The Sherborne Mercury was a weekly newspaper established in 1737 by printer William Bettison, whose widow Hannah then continued to run the newspaper following William's passing.
In 1749, bookseller Robert Goadby - known for publishing the Western Flying Post - came to an agreement with Hannah Bettison to amalgamate the Post and the Mercury. The combined paper was renamed the Western Flying Post, or Sherborne and Yeovil Mercury and General Advertiser.
We find all manner of significant and detail-rich stories within the pages of the Sherborne Mercury. For example, a 1760 issue of the paper contains first-hand accounts of the death of King George II and the coronation of his son George III, which you can explore for yourself below.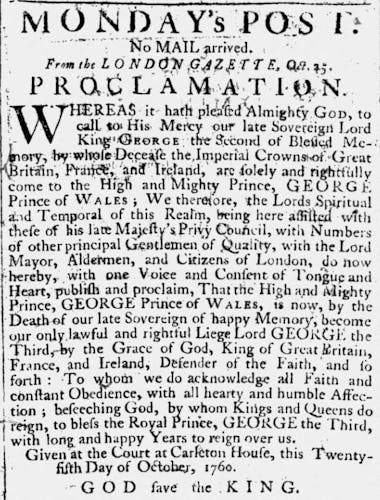 The Sherborne Mercury is not the only 18th-century newspaper that saw exciting updates this week. See a full list of everything we've added below.
Skelmersdale Reporter, 1963, 1965-1972, 1976-1978
Sutton & Epsom Advertiser, 1908-1914, 1916-1928
Western Echo, 1899-1903, 1906-1915
Atherstone News and Herald, 1887-1888
Bath Journal, 1772-1773, 1775-1776, 1779-1783, 1786-1789, 1791-1798, 1800-1809, 1813, 1815-1816, 1820-1821
Belfast News-Letter, 1957-1958
Cambridge Chronicle and Journal, 1770-1812
Cambridge Daily News, 1908
Cornishman, 1990-1991
Frome Journal, 1989
Gloucester Citizen, 1991, 1994, 1996-1998
Hinckley Echo, 1901-1902, 1904-1905, 1907-1908, 1913, 1916, 1918, 1942
Holyhead Mail and Anglesey Herald, 1921-1929, 1931-1950
Huddersfield and Holmfirth Examiner, 1864
Ilfracombe Chronicle, 1879
Leeds Evening Express, 1860-1861, 1865-1870
Macclesfield Times, 1933, 1943, 1952
Manchester Evening News, 1977-1979
Medway News, 1993
Paddington Mercury, 1995
Portsmouth Evening News, 1960-1961
Rochdale Observer, 1972, 1979, 1983, 1986, 1991
Royston and Buntingford Mercury, 1990
Runcorn Weekly News, 1979, 1983
Sherborne Mercury, 1749-1750, 1752-1758, 1760, 1763-1764, 1766, 1772-1777, 1798, 1814, 1819, 1821, 1826, 1828
St. Ives Weekly Summary, 1911
Stalybridge Reporter, 1914-1916
Streatham News, 1909-1916, 1931-1937
Sunday Sun (Newcastle), 1926
West Surrey Times, 1919
Westerham Herald, 1882
Widnes Weekly News and District Reporter, 1964-1971, 1973-1979
Wokingham Times, 1945
Have you made an interesting family history discovery? Whatever you've uncovered, we'd love to hear about it. You can now get in touch and tell us directly, using this handy form.
More on this topic:
Share this article
About the author