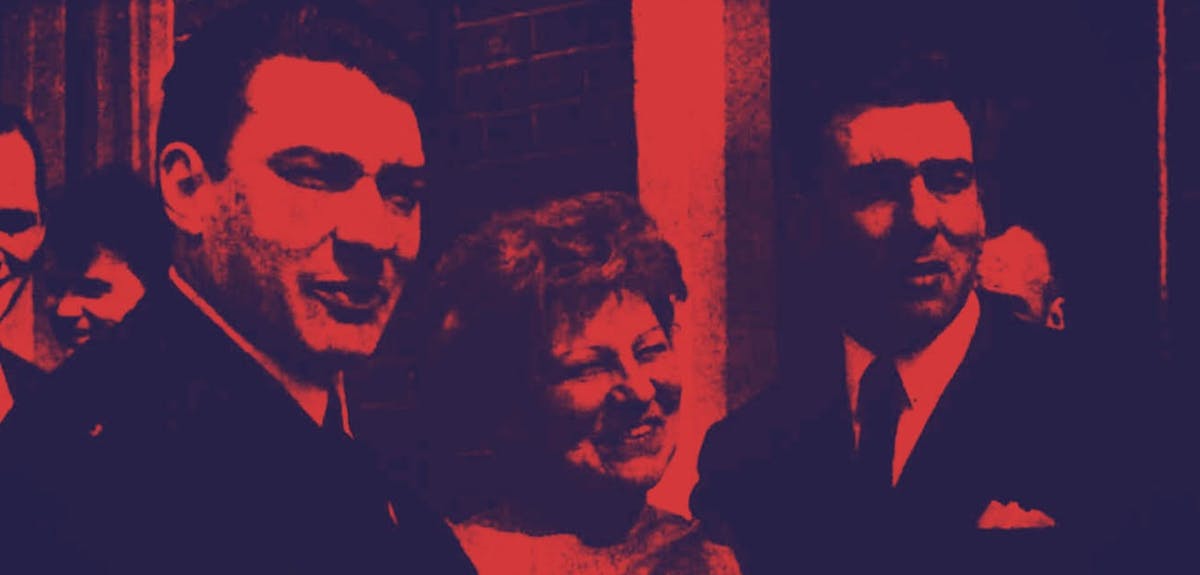 Discover the Kray twins' family tree, a powerful East End dynasty stretching back over a century
We've traced relatives of the Krays through our extensive family records.
Ronnie and Reggie Kray are two of the most infamous criminals in British history. And if ever there were proof to support the theory that habit and personality can be passed down genetically, the Krays were a near-perfect example.
The Kray family had moved to the East End of London from Tower Hill in the 1800s, and once settled, each generation tended to gain notoriety in its own right, fostering associations with disorder, organised crime, body-snatching, and murder.
"They were the best years of our lives. They called them the swinging Sixties. The Beatles and The Rolling Stones were the rulers of pop music, Carnaby Street ruled the fashion world...and me and my brother ruled London. We were f*****g untouchable..."
- Ronnie Kray
We've taken a look at the Kray family tree through our records and discovered a deliberate path across East London, that scarcely strays more than a stroll from the dynasty's beloved stomping grounds for over 100 years.
The Kray twins' family tree
First, we found the Kray twins, Ronald and Reginald in the 1939 Register. They were six-years-old living on Hackney Road in Bethnal Green: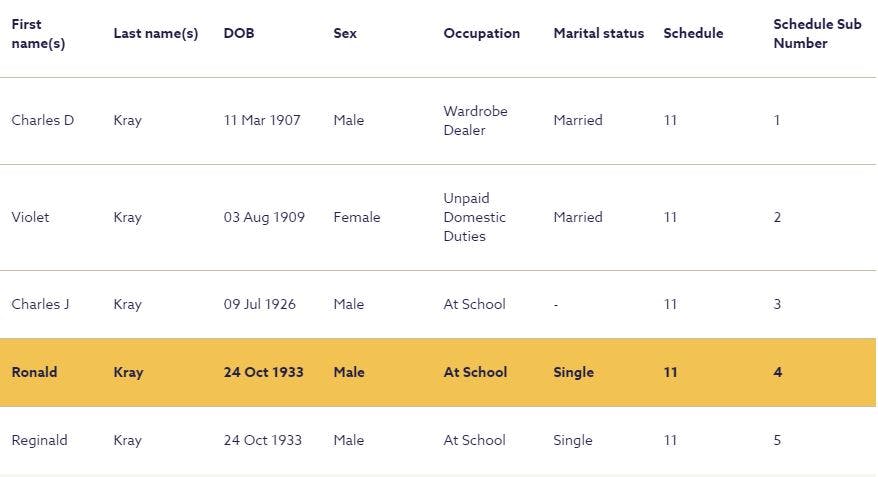 The Kray twins' grandfather, "Mad Jimmy" Kray had already set a solid precedent for ruling the East End through terror and intimidation. As a second-hand clothes seller, he strongarmed people in the Whitechapel and Bethnal Green areas into buying clothes from his shop, which he stocked by preying on families with recently deceased relatives. Desperate for money to cover funeral expenses, and bullied by Jimmy, the locals sold their dead relatives' goods to him at a knockdown price.
His entry in the 1939 Register looks rather innocuous, in light of these activities.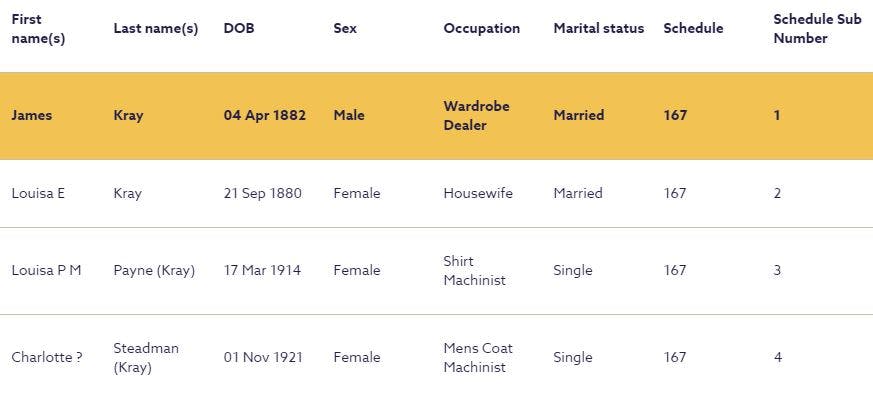 As this modern-day London map shows, Jimmy lived just north of Shoreditch, towards Dalston. Today, this area is highly sought-after, attracting wealthy city types looking for their first flat.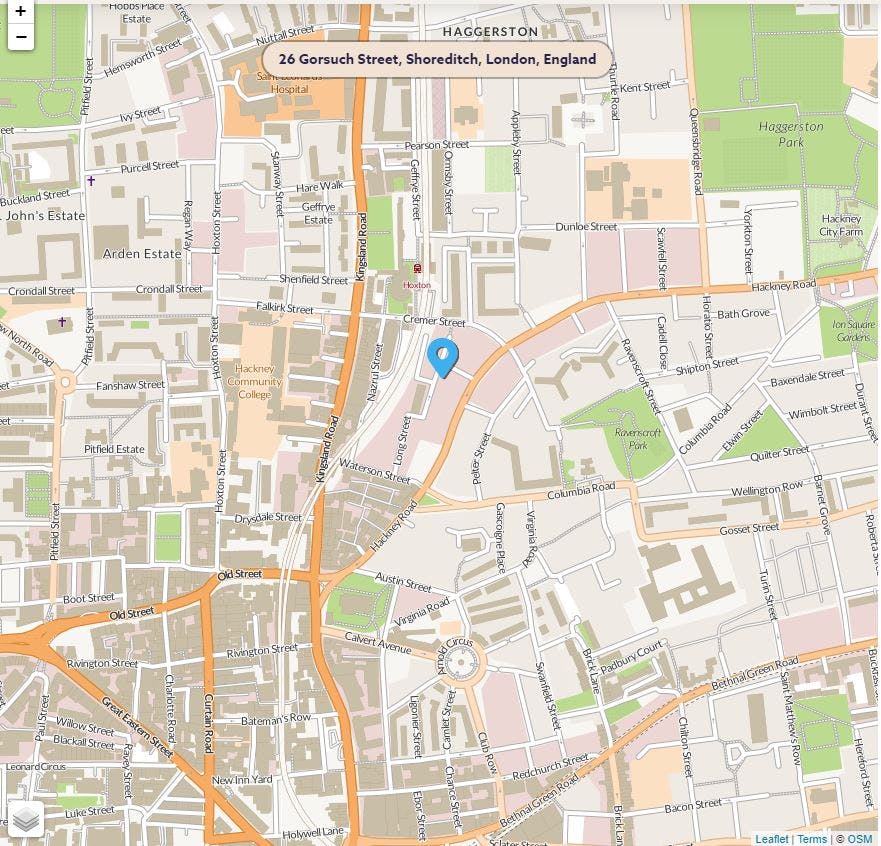 However, in Jimmy's time, it was rough and overcrowded. A 1930s survey of the area reported that over 10 per cent of people lived more than three to a room. In fact, the area was so run down that just a few decades previously, Charles Dickens often walked around Shoreditch searching for inspiration for his novels' impoverished stars. Oliver Twist and Mr Micawber both lived in Shoreditch.
Jimmy's own childhood had been short. He got married aged just 16, to an older woman - a docker's daughter - Louisa Eliza Turner, who was five years his senior. It became clear why just a year later, when their first son, James Frederick John Kray was born. James was Ronnie and Reggie Kray's uncle.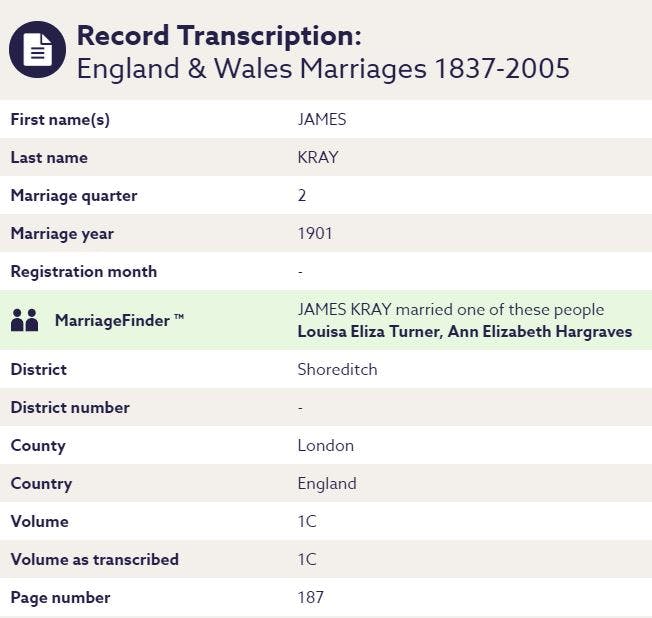 Jimmy didn't have much luck professionally however and he struggled for a couple of years, first losing his job at the Cable Makers, and then doing various forms of manual labour, before becoming a flower hawker.
As the First World War loomed, Jimmy, Louisa and their family of seven children (including the Kray twins' father Charles David) lived in a single room in London's East End. Under these harsh circumstances, perhaps it's little wonder that Jimmy was willing to put life and limb at risk to provide for his family. He joined the King's Royal Rifle Company on 14 September 1914.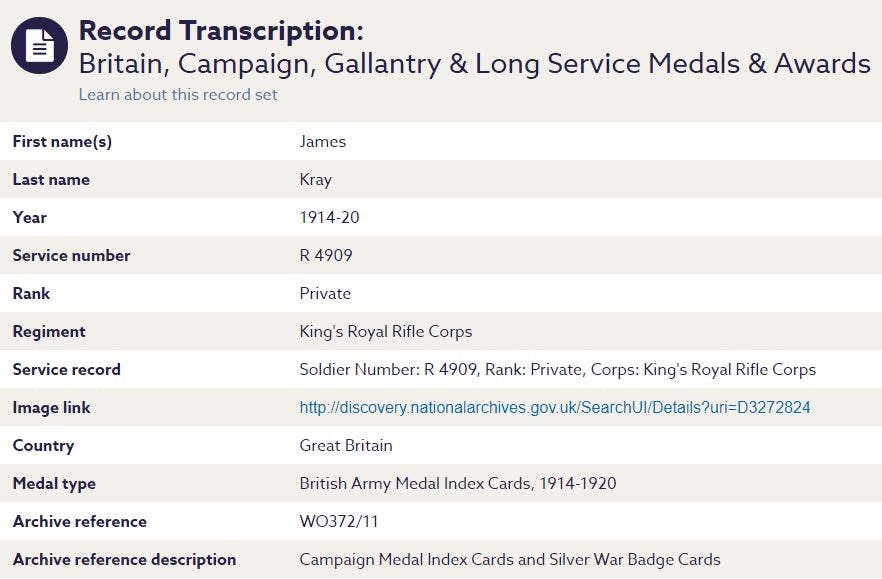 Jimmy received a Blighty wound in short order. He was issued an honourable discharge and shipped back home bearing a Silver War Badge to ensure that he didn't fall victim to beatings from East End men under the impression he was shirking his duty.
When the war ended, he started to go around the new housing estates springing up around the neighbourhood, swapping china sets for clothes in good condition. Thus, the business he ran for the rest of his life was born.
Besides his time in the army, Jimmy never strayed far from his roots. His birth record from 1884 shows he started life in Bethnal Green.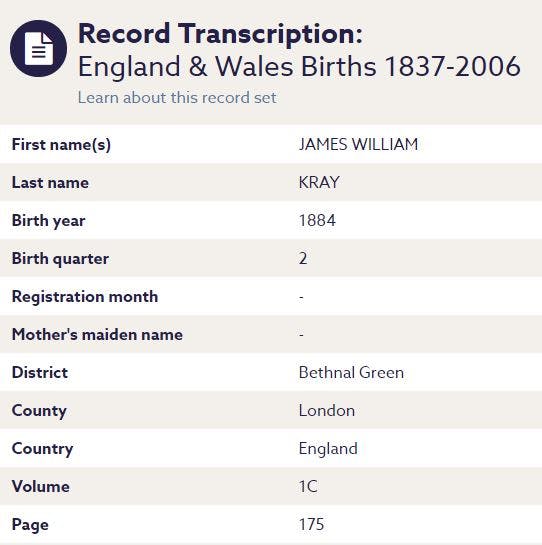 Jimmy's parents and the Kray twins' great-grandparents, James and Jane Sarah Wood, were married in Bethnal Green the same year Jimmy was born. It has been claimed anecdotally that this generation of the Kray family's territorial and aggressive attitude to outsiders amplified in the wake of the Jack the Ripper killings in 1888 but there's no substantiated proof of this.
The Kray family's shining light?
James senior's father, John, was the exception to the rule that the Kray family was full of criminals and rogues. In fact, as a lamplighter, John's work put him at the heart of the community as a force against crime and disorder. Well-lit streets were an antidote to the dealings which took place in the shadows, and though villainy was still rife, people felt a little safer when they didn't have to walk home in the dark.
John wasn't only a pillar of the community by profession, however. He was lauded by the Lord Mayor of London in 1860 for risking his life to save someone from a fourth-storey fire on Lime Street, no doubt aided by his ladder-climbing skills as a lighter.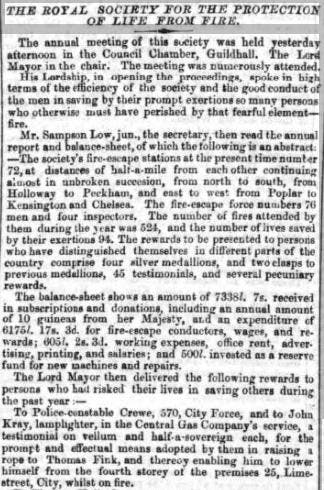 Perhaps John dodged the famous Kray family traits as he was raised by George and Caroline Golbourn at 25 Cole Harbour Street after his own father died early and his family unit collapsed. Here's the Golbourn family with their lodger in the 1851 census: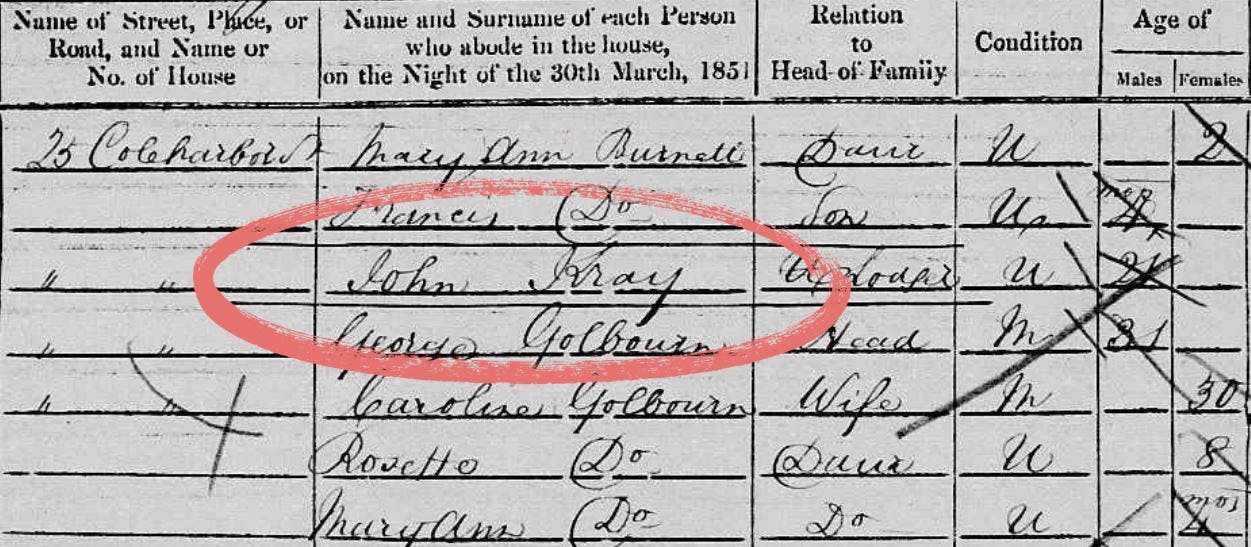 John Kray married Elizabeth Nurton that same year. They went on to have nine children, who must have been proud of their father's bravery.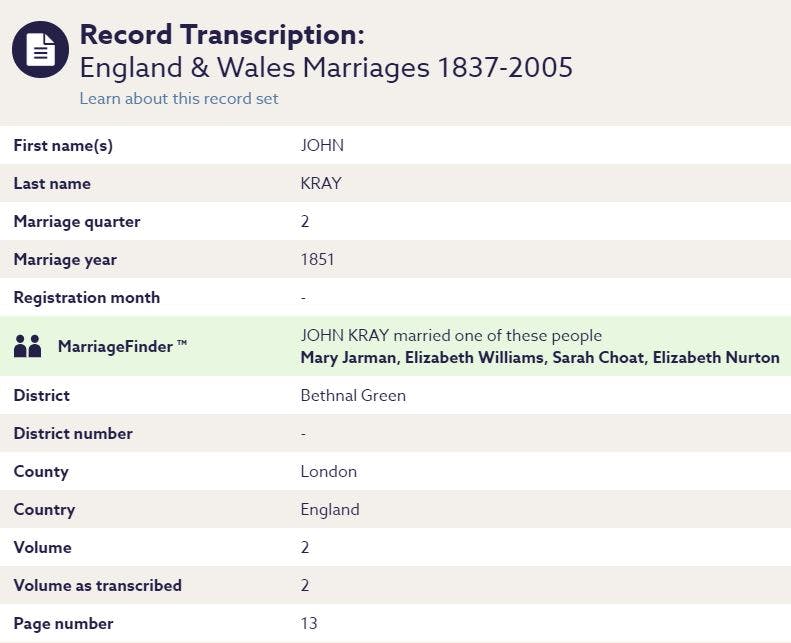 Are you curious to discover whether your past is made up of villains, or heroes, or both? It all starts with your family tree. You could soon be playing detective in your own family's story.
For more on the fascinating history of the Krays, head over to Time Detective, from which elements of this research were derived. And visit our sister site, the British Newspaper Archive to see how contemporary newspaper reports covered the Kray family.