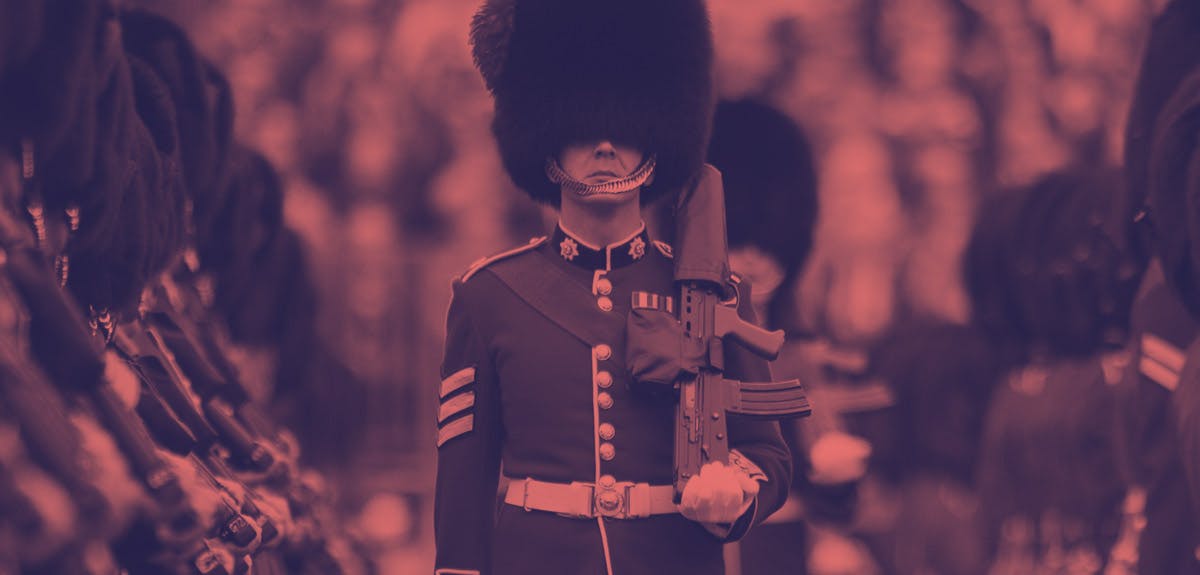 Get to know the Coldstream Guards
Military history expert, Paul Nixon explores the decorated history of the Coldstream Guards with records available on Findmypast.
With service dating back to 1650, the Coldstream Guards is the oldest continuously serving regiment in the British Army and can trace its history back to the English Civil War.
Explore military records online
Enter a few details to discover family heroes and their remarkable stories.
The regiment has earned 117 battle honours and reading through these is rather like looking at a who's who (or perhaps, "where's where") of British battles.
Coldstream Guards battle honours
The full list of Coldstream Guard Battle of Honours is as follows:
Tangier 1680
Namur 1695
Gibraltar 1704-1705
Oudenarde
Malplaquet
Dettingen
Lincelles, Egypt
Talavera, Barrosa
Fuentes d'Onor
Salamanca
Nive
Peninsula
Alma, Inkerman
Sevastopol
Tel-el-Kebir
Egypt 1882
Suakin 1885
Modder River
Five Coldstream Guard battalions feature on the Battle of Honours list during the First World War in following engagements:
Mons
Retreat from Mons
Marne 1914
Aisne 1914
Ypres 1914 '17, 
Langemarck 1914
Gheluvelt
Nonne Bosschen
Givenchy 1914,
Neuve Chapelle
Aubers, Festubert 1915
Loos
Mount Sorrel
Somme 1916 '18
Flers-Courcelette 
Morval
Pilckem
Menin Road
Poelcappelle
Passchendaele
Cambrai 1917'18
St. Quentin
Bapaume 1918
Arras 1918
Lys
Hazebrouck
Albert 1918
Scarpe 1918
Drocourt-Quéant
Hindenburg Line
Havrincourt
Canal du Nord
Selle
Sambre
France and Flanders 1914–1918
The Coldstream Guards played a prominent part in the Second World War too. Their Battle of Honours list from the conflict is as follows:
Dyle
Defence of Escaut
Cagny
Mont Pincon
Quarry Hill
Estry
Heppen
Nederrijn
Venraij
Meijel
Roer
Rhineland
Reichswald
Cleve
Goch
Moyland
Hochwald
Rhine
Lingen
Uelzen
North-West Europe 1940 '44–45
Egyptian Frontier 1940
Sidi Barrani
Halfaya 1941
Tobruk 1941-42
Msus
Knightsbridge
Defence of Alamein Line
Medenine
Mareth
Longstop Hill 1942
Sbiba
Steamroller Farm
Tunis
Hammam-Lif
North Africa 1940–1943
Salerno
Battipaglia
Capezzano
Volturno Crossing
Monte Camino
Calabritto
Garigliano Crossing
Monte Ornito
Monte Piccolo
Capture of Perugia
Arezzo
Advance to Florence
Monte Domini
Catarelto Ridge
Argenta Gap
Italy 1943–1945
The Coldstream Guards are also on the Battle of Honours list from the Gulf War in the 1990s.
Coldstream Guards records
In partnership with the Trustees of the Coldstream Guards Charitable Fund, Findmypast is home to over 89,000 Coldstream Guard military records covering the period 1800-1947.
The collection currently spans several different record series held by the Coldstream Guards. A full breakdown is given below. Many more records, including the majority of their First World War enlistments, will be added in time.
The details you can uncover in our Coldstream Guards records include:
Casualties 1939-1947
Courts Martials 1800-1815
Decorations and Rewards 1914-1918
Decorations and Rewards 1939-1948
Discharges 1884-1947
Enlistments 1884-1947
Missing in Action 1939-1945
Nominal Roll of 1st Battalion men serving in Sudan 1932-1933
Officers' Record of Services 1861-1915
Shanghai Defence Force 1927-1928
South African Campaign 1899-1902
Succession Book of 2nd Battalion officers 1797-1926
Succession Book of Officers 1826-1936
Record of Campaigns 1854 to 1895
Of these categories, enlistment register entries form the single largest collection with close to 40,000 entries, including those men who enlisted during the Second World War and in the years immediately before.
Findmypast members will be very familiar with British Army enlistment registers. We already publish thousands of records in identical books for the Scots Guards, Royal Artillery and Tank Corps, and they are extremely useful, essentially giving a summary of service.
With Findmypast, you can conduct a single search across all of these records in our British Army Service Records collection, which is where these Coldstream Guards records are also found.
What's in the Coldstream Guards records?
The Commonwealth War Graves Commission (CWGC) records that the Coldstream Guards lost 1,494 men during the Second World War. You will find the vast majority of these men in Findmypast's Coldstream Guards collection.
For example, 24-year-old Guardsman Ernest Albert McKone (Service number: 2661504) lost his life on 6 October 1944. You can find his details in three separate record series on Findmypast.

An enlistment register entry dated 24 May 1940 records that Ernest, a cabinet maker from St Pancras, London was born on 14 March 1920 and was thus 20 years old when he joined up. He was five feet, nine inches tall, weighed 113 pounds, and had a chest measurement of 35 and a quarter inches. He had a clear complexion, grey eyes, dark brown hair and no distinguishing features. His religion is recorded as Church of England. These are the kind of intricate details that bring your family tree to life.

Ernest's death date can also be found in a register that records;
"Transfers to other Corps or cause of becoming non-effective"
For men who lost their lives during the First and Second World War, it is always worth checking the Commonwealth War Graves Debt of Honour collection, as these records often provide further information. Finally, remember to check our extensive newspaper collection for mentions in your ancestor's local press and casualty roll listings.