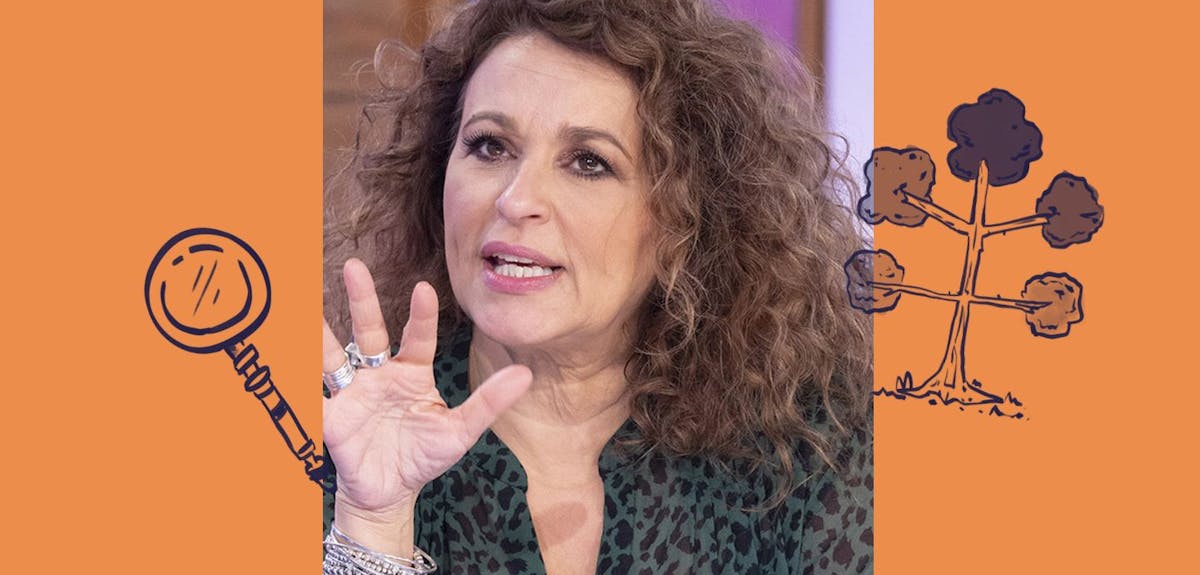 Nadia Sawalha's ancestry highlights family struggles with mental health
There's an ironic connection in Loose Women panelist and mental health activist Nadia Sawalha's family tree.
Multi-talented Nadia Sawalha is a TV presenter, including her role on Loose Women, actor, cook and a prevalent campaigner for mental health. In her family tree, we've discovered a Second World War reserve pilot and the intriguing case of an asylum patient. 
Start your free family tree
Nadia Sawalha was born in Wandsworth, London, in 1964, to parents Nadim Joakim Sawalha and Roberta Mary Lane. Roberta's father, Thomas Francis Lane, was born in 1911. He was recorded in the 1939 Register as working as a cinema projectionist, and would have showcased the biggest films of the time like The Wizard of Oz and The Adventures of Sherlock Holmes.
His 1939 Register entry also reveals that Thomas volunteered with the Civil Air Guard at Rehill, which was home to the RAF Volunteer Reserve training school.
Nadia Sawalha's family history takes a harrowing turn with her 5-times great-grandfather, Henry Taunton. Born in 1772, he was a butcher who married Ann Hubbard (born 1766) in Surrey, and they had three children: Thomas (born 1794, Nadia's 4-times great-grandfather), William (born 1798) and Caroline (born 1802).
Henry was indentured as an apprentice under master butcher John Allen in 1778, aged just 6. In 1793, Henry was assaulted by married couple Walker and Sarah Williams, who were charged with 'ill using him against the peace.' He gave evidence against them in court in the same year.
At this point, Henry had was admitted to the infamous Bethlem Mental Health Hospital. His wife Anne had died in 1822 and their children had reached adulthood.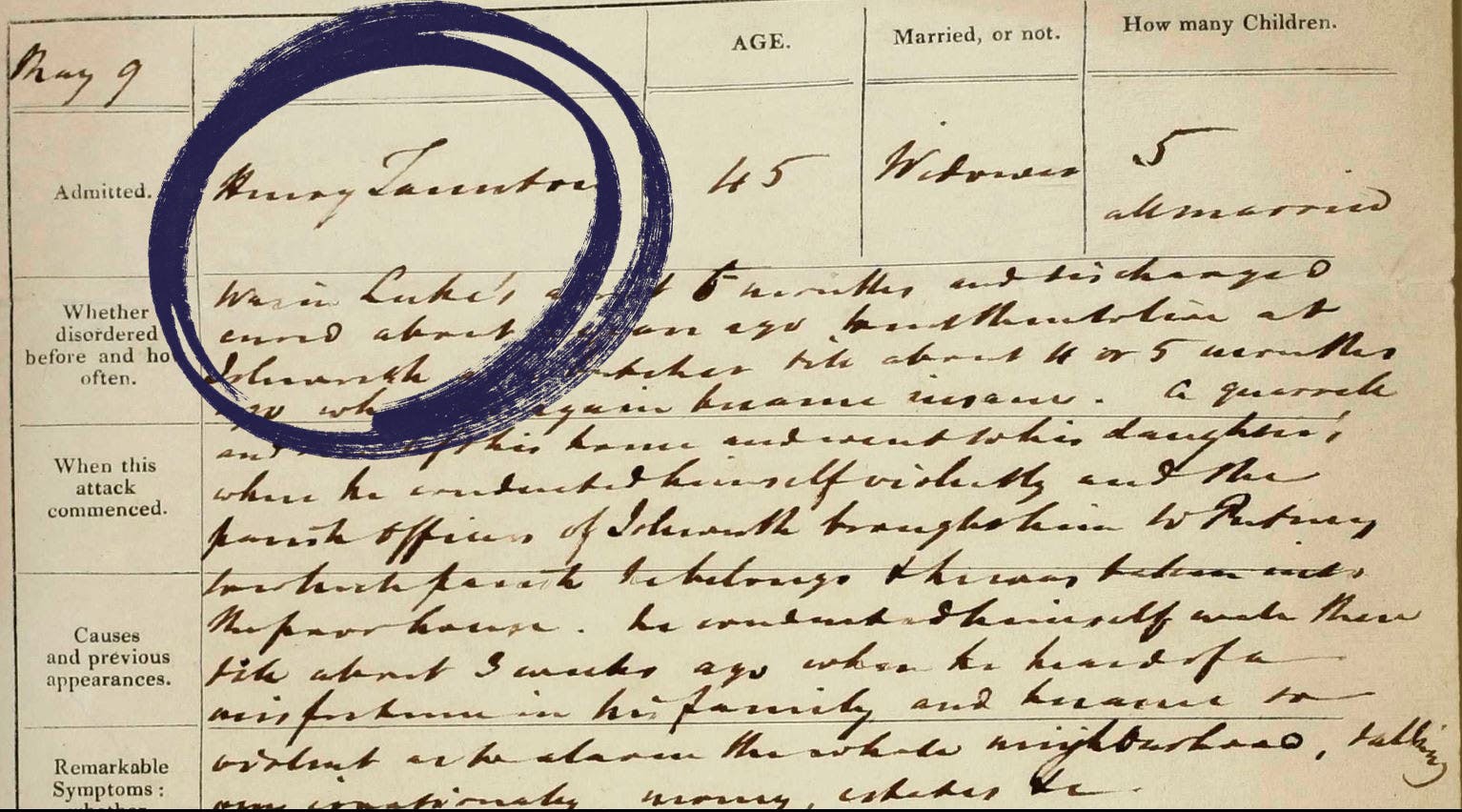 Henry Taunton's admission notes state:
"Was in St Luke's about 6 months and discharged about 2 years ago, and then lived in Isleworth as a butcher till about four or five months ago when he again became insane – a quarrel and then he left his home and went to his daughter's where he conducted himself violently and the parish officer of Isleworth brought him to Putney to which parish he belongs and he was taken into the poorhouse. He conducted himself well there till about three weeks ago when he heard of a misfortune in his family and became so as to alarm the whole neighbourhood."
Six years before Henry was admitted to Bethlem, the terrible conditions of the hospital had been the subject of a parliamentary inquiry, which found, amongst other things:
Patients in the galleries were not classified in any logical manner as both highly disturbed and quiescent patients were mixed together indiscriminately
Many patients were left chained and naked
Highlighted "bestial" treatment of inmates at the hands of thuggish asylum keepers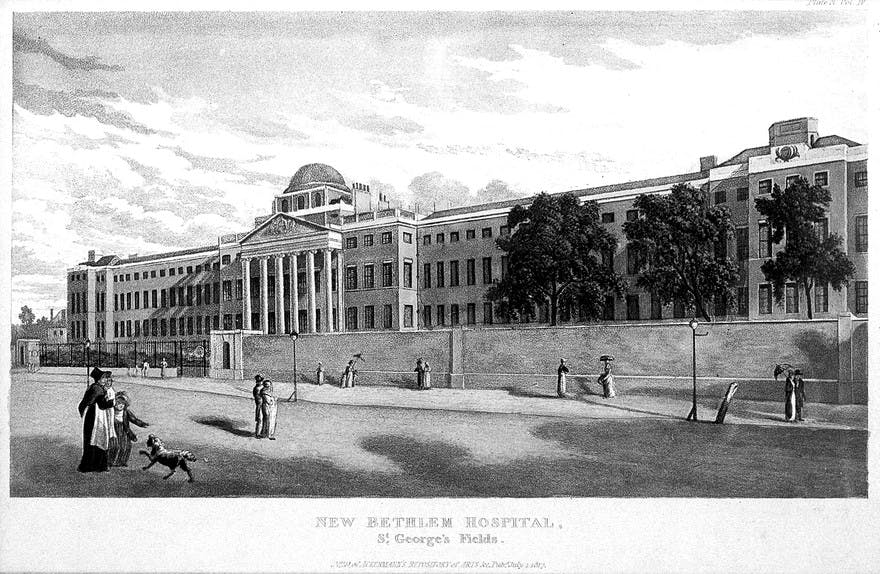 We're not sure what happened to Henry after being admitted in 1822, but it's possible he spent the rest of his life in Bethlem, perhaps dying there in 1831.