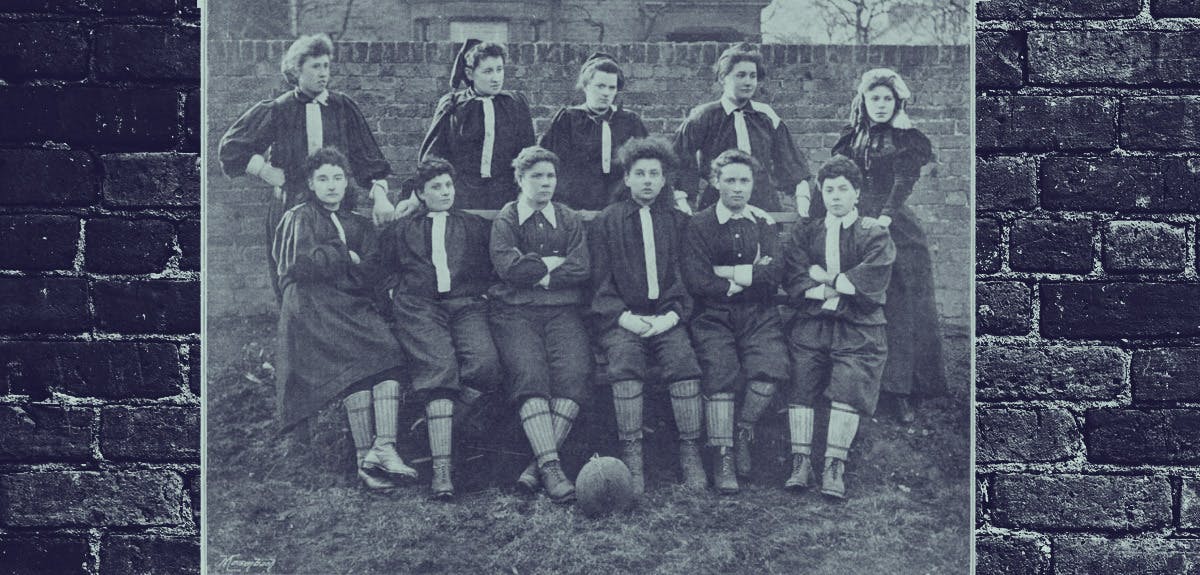 Who was the first woman to win Wimbledon? (and other firsts from women's sport history)

As there were so many men at the forefront of sports history, we wondered about the pioneering but often forgotten female sporting heroes who paved the way for more inclusive competition. Here are just a few of our favourites.
The Olympics, worldwide tennis tournaments and the Euros have inspired us to explore historical records for sporting female firsts. Have you heard of Nettie Honeyball or Dick, Kerr Ladies? Read on for the first women tennis champions, golf superstars and the female football trailblazers who came before Harry Kane and Gareth Bale.
Find sporting heroes in your family tree with a 14-day free trial
Who was the first female golfer?
While the first female golfer to win a championship was Margaret Scott, legend has it that Mary, Queen of Scots was the first recorded woman to play a round of golf.
Jumping ahead a few centuries, the first women's golf tournament was in 1811 at Musselburgh Golf Club in Scotland. And just a few decades later, the first ladies golf club was formed at the home of golf, St Andrews, also in Scotland.
The first champion in women's golf was likely Margaret Scott, who won her first tournament in 1893. She was the daughter of the Earl of Eldon.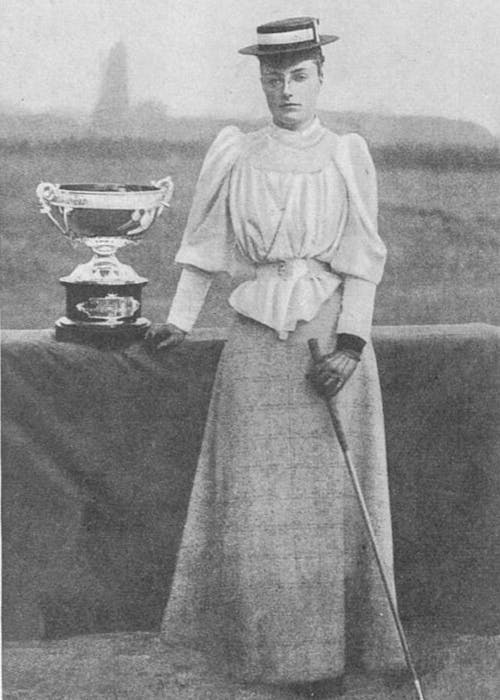 Scott was a trailblazer for early women's golf and went on to win the British Ladies Amateurs Championship in 1894 and 1895 too.
Ireland's most famous female golfer from history is probably May Hezlet. Born in Gibraltar, she won her first championship in 1899, and won another four tournaments before retiring.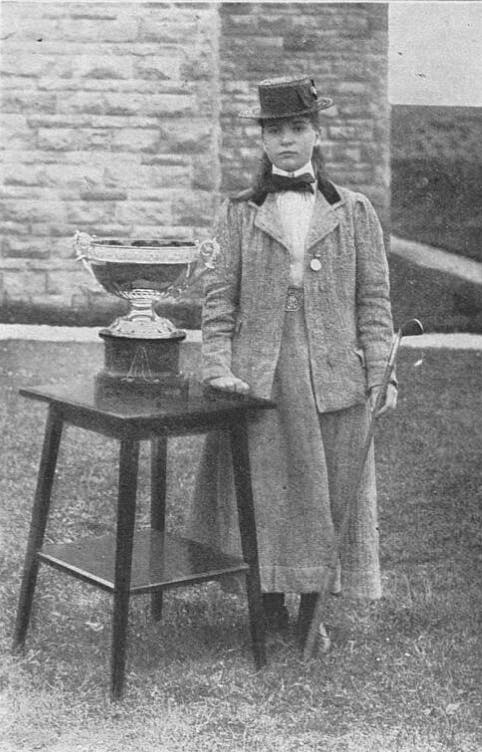 Hezlet won the match in 1899 just after her 17th birthday. She remains the youngest woman ever to win the British Ladies Amateur title.
After Hezlet came Patty Berg, Louise Suggs, and one of the most famous female golfers of all time, American Mildred 'Babe' Zaharias, who won 10 major LPGA championships during her career.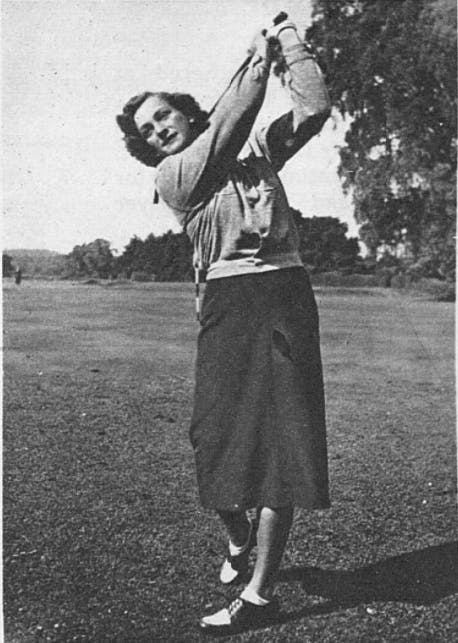 She was born Mildred Ella Didrikson in Texas, 1911, and was of Norwegian ancestry.
Who was the first woman to win Wimbledon?
As the oldest tennis tournament in the world, Wimbledon began delighting spectators in 1877. The Ladies' Singles competition was later added in 1884. The first woman to win Wimbledon was Maud Watson, who was born in London in 1864. In 1884, she competed in the Singles final against her sister Lilian, winning 6-8, 6-3, 6-3.

She paved the way for other tennis heroes, like Lottie Dod, who won Wimbledon five times, and is still the youngest woman ever to win; Billie Jean King, who won the 'Battle of the Sexes' against Bobby Riggs in 1973; and tennis superstars Serena Williams and Venus Williams.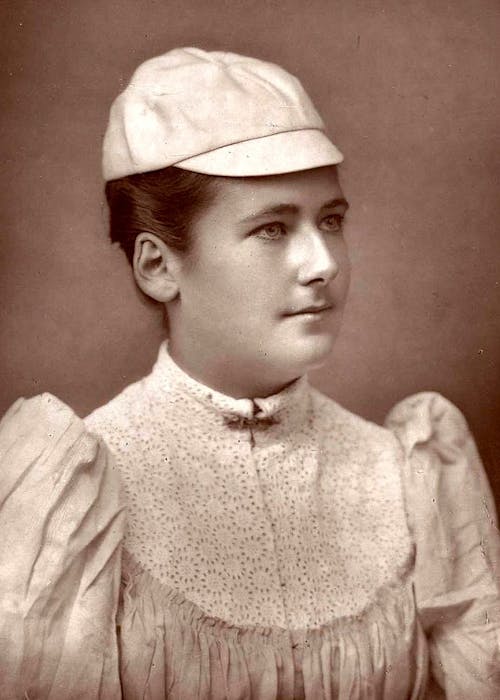 Who was the first female footballer? 
Before Meghan Rapinoe and Lucy Bronze came Nettie Honeyball. The first recorded football match for women was by the Scottish Football Association in Glasgow in 1892. Honeyball founded the British Ladies' Football Club two years later in 1894. This was the first known women's association football club.
Honeyball ran a successful PR campaign that saw over 12,000 attend the BLFC's first match in 1895. The club's president Lady Florence Dixie, a Scottish writer and feminist, wrote an essay about women in football the same year, and it was printed in several newspapers, including this from The Star, 12 February 1895:
"There is no reason why football should not be played by women, and played well too, provided they dress rationally and relegate to limbo the straight-jacket attire in which fashion delights to clothe them."
Following their first match, an incredible photograph of the team appeared in The Sketch.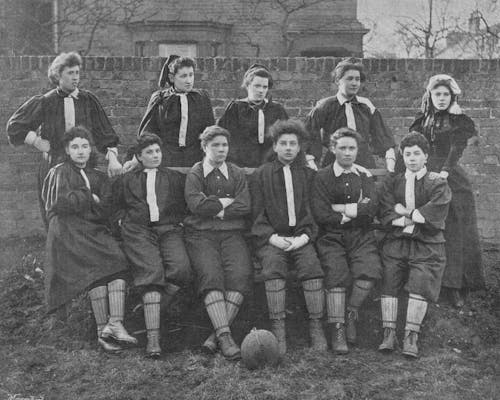 The accompanying article detailed the 'astonishing sight', going on to say that,  
"All through the afternoon train-loads of excited people journeyed over from all parts, and the respectable array of carriages, cabs and other vehicles marked a record in the history of Football. Yet all that this huge throng of ten thousand had gathered to see was the opening match of the British Ladies' Football Club."
During the First World War, it became a common sight to see women kicking a ball around during their breaks at work, especially those who had taken on traditionally male jobs. This saw the founding of the Munitionettes' Cup in 1917.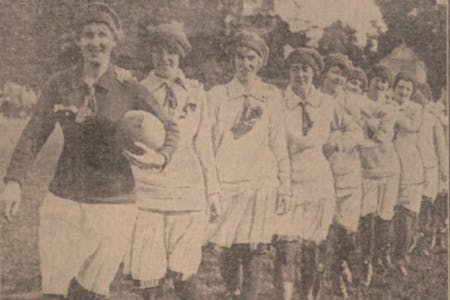 'Girl footballers take the field: At the Royal Flying Corps' sports, at Catford, the Royal Arsenal Munitionettes' football team was matched against a military team from a local hospital.' Daily Record, 14 August 1917.
An English team played an Irish team on Boxing Day in 1917 in front of 20,000 spectators.
After the war, many thought women should return to their traditional roles. This led to talk of closing football grounds for women's matches. From the London Daily News, 3 December 1921.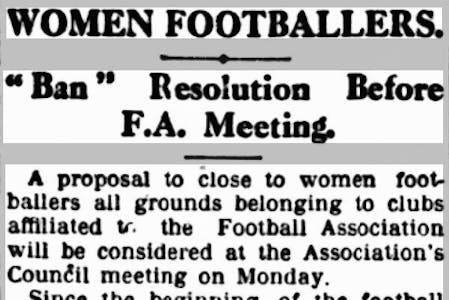 So, the English Ladies' Football Association was formed after the FA's ban on women's teams playing on their grounds came into effect. The ban wasn't ended until 1971.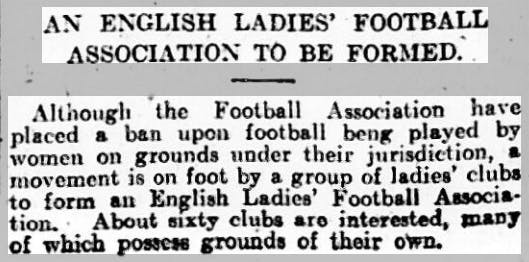 Perhaps the most successful team of this time was Dick, Kerr Ladies from Preston, founded during the war as a works team for the company Dick, Kerr & Co. It was one of the first known women's association football teams in England. Between 1917 and 1965, they played over 800 games.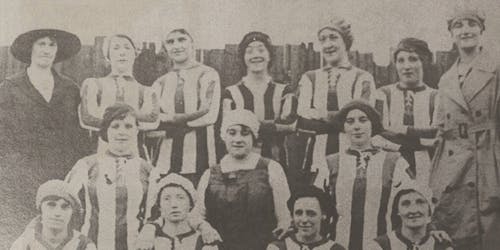 Their first match was on Christmas Day in 1917. Later in 1920, they played the first international women's football game, defeating a French side 2-0. Over 25,000 people watched their victory.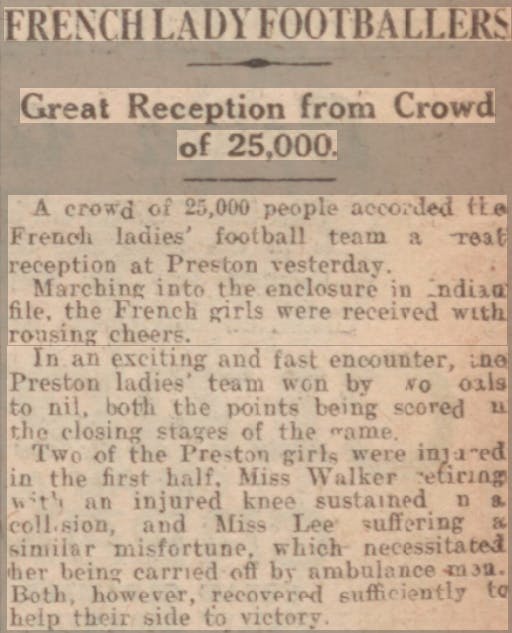 Their matches attracted crowds of between 5,000 and 50,000 people, with notable players including Florrie Redford, Alice Woods and Lily Parr.
 Who was the first woman to compete at the Olympics?
The first female Olympic champion was probably Hélène de Pourtalès. Thirty years after the first modern Olympics, she was a member of the winning sailing team at the 1900 Olympic Games in Paris, where 22 women competed overall.
Women were only permitted to compete in golf and tennis for individual sports. These early female Olympic champions included tennis player Charlotte Cooper of Great Britain and Margaret Abbott, who became the first American woman to win a gold medal.
Other famous female athletes from history 
Outside of football, golf and tennis, there were successes in other sports too. 
Alice Huyler Ramsey was the first woman to drive across the United States coast to coast in 1909, aged just 22. The journey was 3,800 miles and took her 59 days.  
Gertrude Ederle was the first woman to swim across the English Channel in 1926 aged 18 
1927 saw the first women's boat race between Oxford and Cambridge