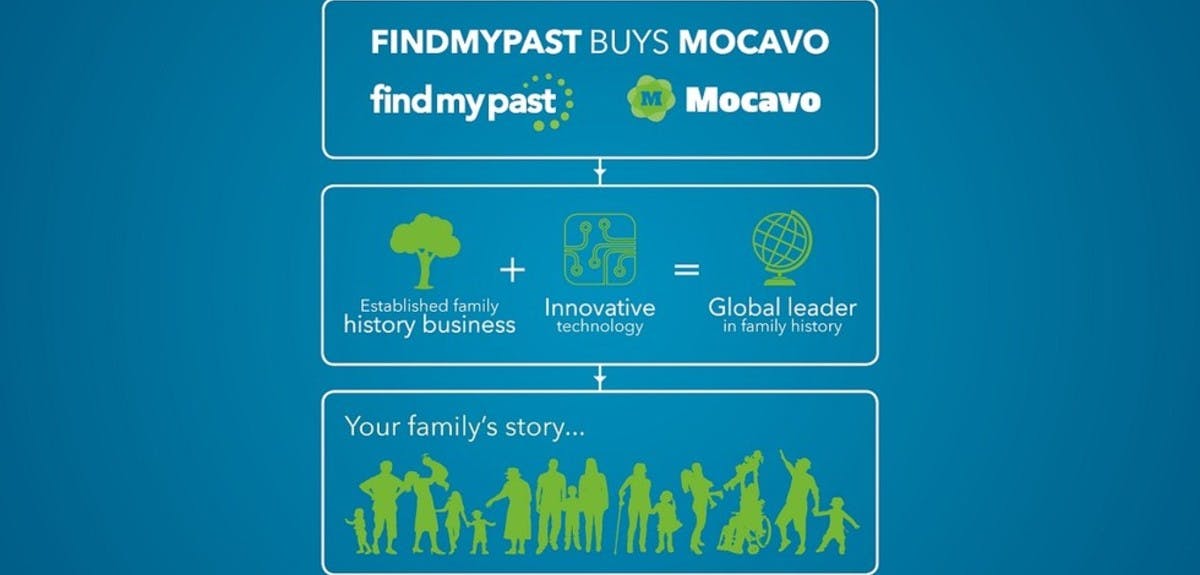 Family history is known for causing incredible outbursts of excitement. The yelp of success in the library when a long-standing mystery is solved, the utter shock at the discovery made in a newspaper article, or the squeal of delight when an e-mail hits your inbox notifying you of the latest record match from a previous search.

Today, the entire family history industry has a reason to shout from the rooftops – Findmypast and Mocavo have joined together to build the future of family history.

What does that mean for you? Everything…and so much more.

From the very beginning, Mocavo established itself as an absolute family history destination. From its innovative search technologies to providing good Karma to the community, Mocavo is a genealogist's best friend. Bloggers and users agreed – Dick Eastman, founder of the ever-popular Eastman's Online Genealogy Newsletter went on record, "my future genealogy searches will start on Mocavo.com."

Since that time, the Mocavo machine hasn't stopped and is now one of the industry's fastest growing genealogy services. Just imagine what you can uncover in Mocavo's more than 8 million yearbooks, 500 million military records, and a slew of other incredible resources.

And if that wasn't enough, Mocavo also offers a free scanning service to help you preserve your own family's records. But Mocavo hasn't stopped there, they continue to release 1,000 new datasets each day - that's nearly 30,000 datasets each month – and 365,000 datasets a year.

For more than 10 years, Findmypast has been carving out its own essential role as a leading family history website. Findmypast was the first company to place the entire index to births, marriages, and deaths from England & Wales online and recently were the first (and only company) to link actual images to the pages indexed in the essential PERiodcial Source Index.

Let's not forget Findmypast's award-winning UK census records and nearly 248 million searchable newspaper pages from across the globe. Findmypast continuously engages in incredible partnerships with leading archives and genealogical organizations, and plays a key roles in community events, such as the 1940 U.S. Census Consortium. From criminals to the family pets, Findmypast's rich collections give insight into our family trees unlike another source.

Together, Findmypast and Mocavo represent a passion for family history, a desire to innovate, and an incredible future for family history. Findmypast brings a rich pedigree to Mocavo's already bright family tree, with room for tremendous growth.  What should you do next? Continue unearthing your story at Findmypast and explore the fantastic resources at Mocavo. Stay tuned – the future of our past is here.