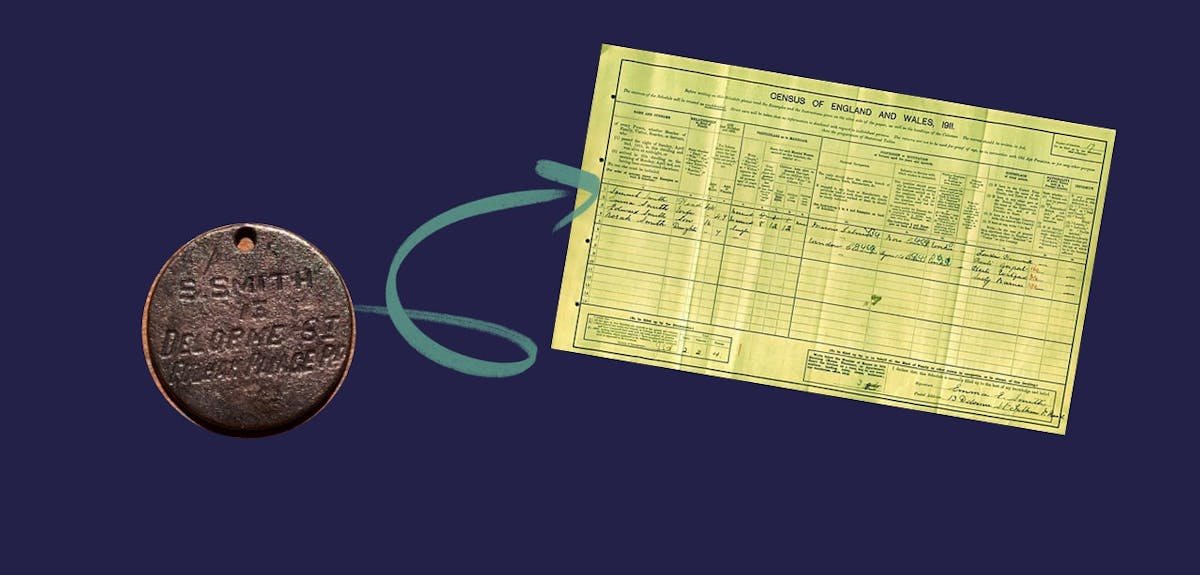 How a mysterious dog tag recovered from the River Thames was traced back to its original owner decades later
Jason Sandy is a keen mudlark and author. Here, he shares one of his favourite discoveries and how Findmypast helped to unlock the story behind it.
For over 200 years, mudlarks have searched the exposed riverbed of the River Thames in London at low tide, looking for lost objects. Considered to be the poorest members of society, Victorian mudlarks in the 19th century scavenged for anything they could find which they could sell for a few pence.
Discover your ancestors' stories
Enter a few details to see your relatives' records at your fingertips
Today, mudlarking has become a popular hobby among history enthusiasts in London.  Although I was born and raised in the United States, I moved to London in 2007 and became a British citizen several years later.  I now live near the River Thames in Chiswick.  I have always been interested in history, and I discovered mudlarking eight years ago after watching a TV show called Thames Treasure Hunters on the National Geographic Channel. 
Over the past eight years, I have found thousands of historical artefacts including prehistoric flint tools, Roman coins and decorative hairpins, medieval knight's armour, Tudor dress fasteners, a Georgian gold coin and Victorian jewellery.  But, my favourite finds are personal items which have a tangible connection to people who lived in London centuries ago.
On a warm, summer day in August 2020, I was mudlarking along the River Thames in Barnes.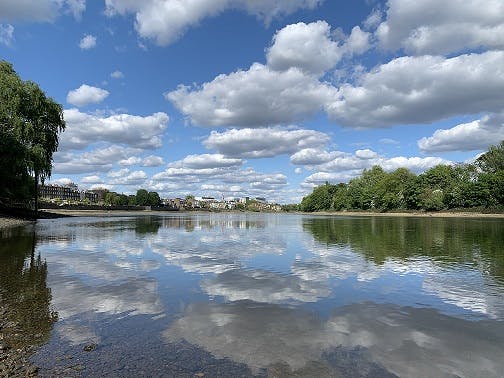 On the south side of the river is a towpath through a dense forest.  This beautiful, scenic trail along the river is a popular location for dog walking, jogging and cycling.  While metal detecting at low tide near the trail, I heard a sharp beep in my headphones.  As I removed the gravel with my trowel, I noticed a round shape emerge from the black mud below.  Initially, I thought it was just another Victorian coin which is a common find in this area.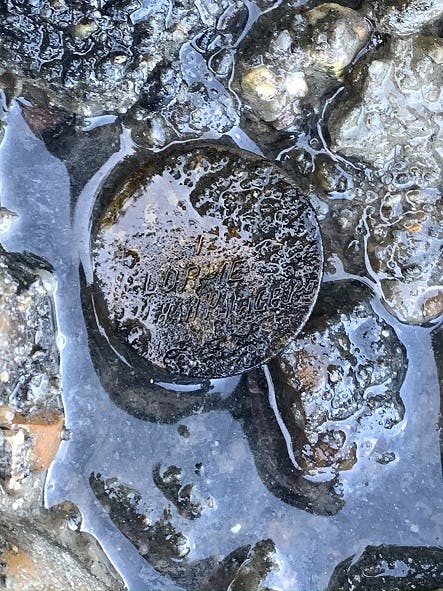 Upon closer examination, I discovered that the unusual 19th-century halfpenny was worn smooth and engraved by hand with some letters.  I couldn't quite read what it said because of the black encrustation on the coin.
When I returned home, I cleaned the coin using electrolysis which gently removed the encrustation from the surface.  Surprisingly, the coin was inscribed with a name and address:
"S. SMITH, 13 DELORME ST, FULHAM PALACE RD."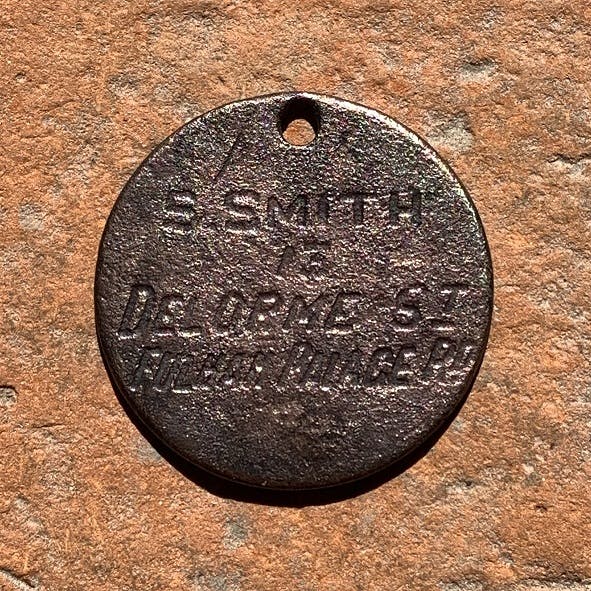 Excitedly, I posted the photos on a Facebook forum called The River Thames Mudlarking Finds.  One of the members of the group, Karis Lacy, kindly offered to dig a little deeper.  Karis found Samuel Smith listed at the address in the 1911 Census of England and Wales.  According to the census, Samuel was born in 'London Hammersmith', and his occupation was a 'Masons Labourer' for the 'Boro Council.'  His daughter was listed as Norah Smith born in 1903.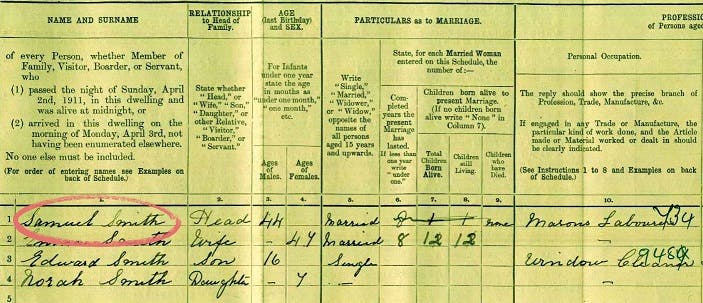 With Findmypast, Karis discovered that Norah had married Stanley Shayers in 1928, and they had a son named Peter Shayers.  Findmypast's electoral rolls listed Peter's postal address up to 2014. In September 2020, I wrote Peter a letter and offered to return the dog tag.  I wasn't sure if he still lived at this address, so I wasn't sure if I would ever get a response.  I anxiously waited for a reply, but I didn't receive anything for weeks.
A month later, a handwritten letter arrived in the mail. I had goosebumps and my hands were shaking with excitement as I carefully opened the letter.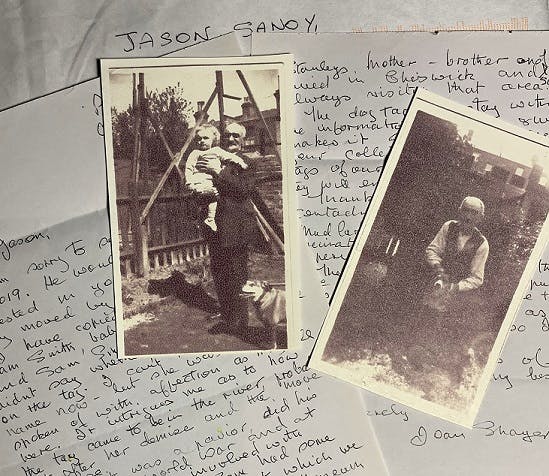 Unfortunately, Peter (aged 89) passed away in May 2019, but his widow (Joan Shayers) kindly responded to my letter.  She wrote that Peter;
"would have been so interested in your letter. I was very moved by it."
Although Samuel served in the military during the First World War, the pendant I found was not his service 'dog tag.' It is literally his dog's tag which his favourite dog had lost, possibly while on a walk along the riverside towpath in Barnes. Joan could not remember the dog's name, but she concluded her letter stating;
"thank you so much for contacting us.  I have watched the mudlarks on television documentaries – fascinating – never thought I would experience part of it."
Along with the letter, Joan included old photos of Samuel Smith who was born in 1867.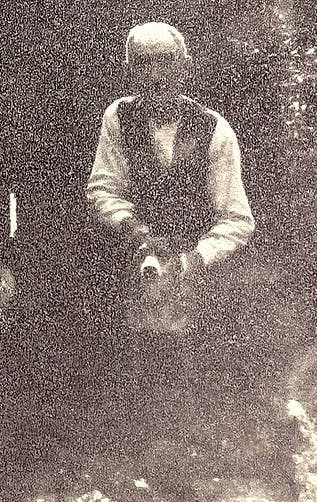 Unfortunately, Joan never met Samuel because he passed away before she started dating his son. The dog appears in a photo with Samuel and his grandson, Peter.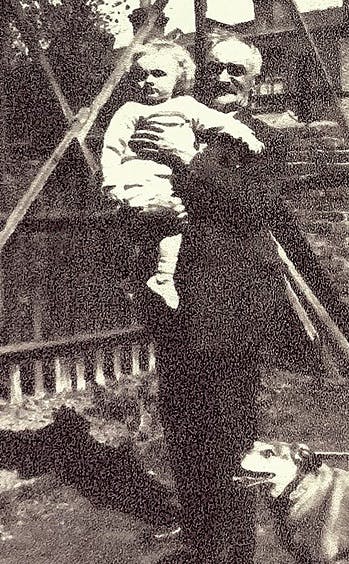 This is the absolute thrill of mudlarking: to find a personal item and discover the person (or in this case, the dog) who lost the object a long time ago. It is very rare to actually find a living descendant connected to a lost artefact. Although I offered to return the dog tag, Joan says that I can keep it.
If you are interested in hearing more stories about the incredible artefacts recovered from the River Thames from mudlarks, you can read my book called Thames Mudlarking: Searching for London's Lost Treasures.  It contains over 160 colour photographs and explanations of the most extraordinary treasures discovered and recovered from the Thames by more than 50 mudlarks over the past 200 years.  The book is available to on Amazon, Kobo, Waterstones and most online bookstores.