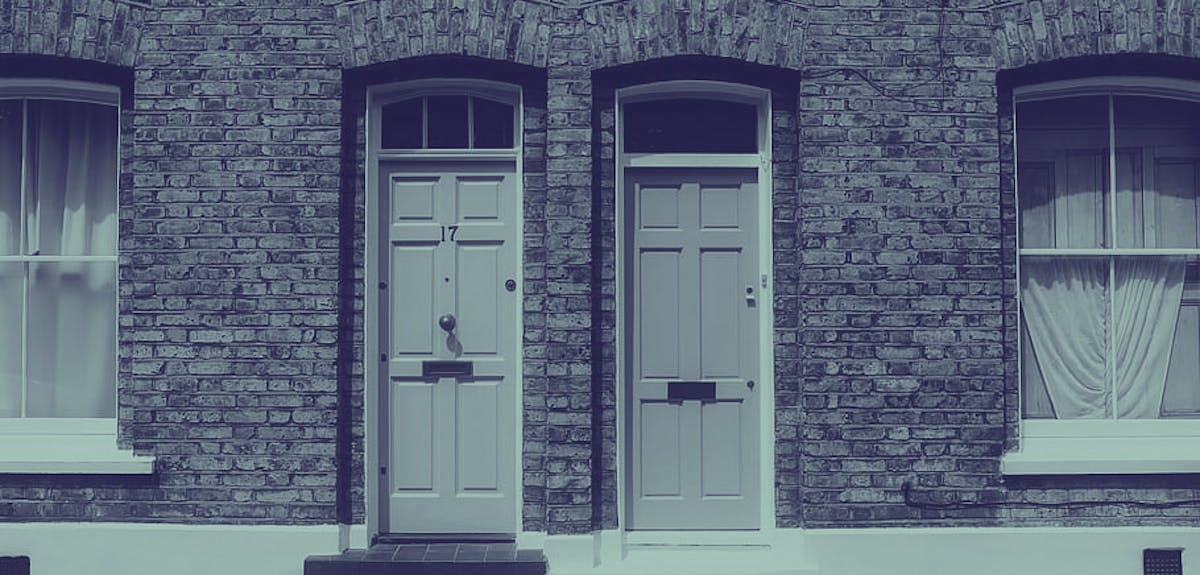 9 house history research challenges with tips on how to overcome them
What problems could you face when exploring the history of your house? House historian Melanie Backe-Hansen has the answers and the solutions.
Researching the history of a house can be an amazing adventure. Peeling back the layers of time to reveal the stories of former owners and occupants through each generation and answering the questions of 'Who lived in my house?' and 'What is the history of my house?'. It can also inspire a new appreciation of your home and your place in its history.
Start a 14-day free trial
But, what do you do if you hit a wall? Much like family history or any other historical research, you may come across gaps in surviving records or challenges in researching the different sources. But, these challenges can be overcome and I am here to help you through with some tips on how to hurdle the brick walls.
1. Changing names and numbers
Work backwards from confirmed details, such as the details of when you purchased the house or perhaps you have details of names of former owners in the Title Register from Land Registry. One of the key reasons for working backwards is that house names and numbers change (as do street names) and tracing the history backwards will help reveal when changes occurred.
In addition, some earlier records often don't record an address at all and the research will turn to tracing the names of owners and occupants.
It is also important to remember that until the 20th century most owners were not the same as the occupant and most people rented their homes. So, different records will reveal who was living in the house, while others will record who was the owner.
3. Not everything is online
In recent years, an increasing number of documents are being digitised and becoming available online, from maps, census returns, electoral registers, directories, and rate books, but there are still many records that need to be viewed in the archives. But don't worry, this may add an extra challenge, but you will find your way.
4. Location, location, location
One of the first things that will help guide your research and provide clues as to the history of your house is to look at the local history. There are several local histories online, including the Victoria County History, which will provide clues as to the development of your area. Perhaps the area grew around a local industry or after the introduction of the railways, or perhaps part of post-war development. It may also reveal details of a prominent local landowner or lord of the manor, which will reveal clues as to the former owner. Other local history sites can also provide clues as to the parish or district in which your house belonged (it might not be the same today) and details of sources available. It is also worth looking into local history societies and whether they have any specific resources and guides.
5. Electoral register issues
An address search may not be available, but the best way to find your way to your house is by searching by the area and location, while also discovering the ward where your house will be listed.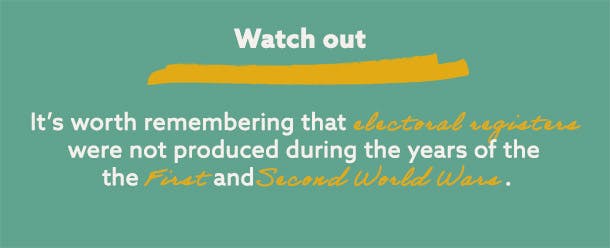 Also remembering that it has only been since 1928 that everyone over the age of 21 could vote (and then over 18 from 1969). Prior to this time, electoral registers were divided into sections based on the eligibility to vote (many provide an index at the beginning) but these can provide fantastic extra details, including the owners, who may have been living elsewhere, as well as details of lodgers (and how much rent they were paying).
6. Making sense of censuses
UK census records (1841-1911) are vital tools for revealing details of former residents, recording all the occupants of a house on census night every ten years. They not only provide the name of the head of the house, but everyone, including children, servants, and lodgers. However, searching by address can be tricky. This can often be due to the fact that when the enumerator filled in the census, they did not clearly record the address – in some cases, entire villages do not have any clear address recorded.
This is where a bit of detective work will be necessary. Firstly, confirming the right parish and district will direct you. Often the first page will have a description of the district and the streets that were covered, but if this is not included, you can look for familiar names you've gained by looking at other sources, such as directories, while also looking out for local landmarks that might be recorded, including the nearby pub, vicarage, or manor house.
As mentioned, several sources may not be available online or perhaps searching by address is a challenge, so an alternative to fill in gaps and piece together more of the puzzle is by searching by name. If you have found names of former residents and owners in the records, particularly electoral registers, directories, and census returns, you can start searching by personal names. This can guide you to other records, including rate books and wills, which can provide further clues. Also, try a range of other sources that list addresses, including passenger lists and newspapers. These will all provide further clues and guide your research further.
8. Can't find records? Try maps
Several maps can be viewed online, particularly the Ordnance Survey maps, which provide detailed maps from around the 1860s and 1870s and then periodically through to today. These can be a fantastic start if you have a Victorian or Edwardian or even inter-war home, but you're not sure when it was built. By looking at the different maps, you can narrow down the likely construction date based on when the house and street appear on the map. Other towns and cities will have other maps that go back earlier than the 1860s and these can be used if your house is older.
Many county record offices and archives are constantly improving their online catalogues, so although it may not be possible to visit or to view documents, you can discover details from the online catalogues to help guide your research. The National Archives Discovery search will also provide further details for some areas and they too may have relevant details for your house (some of which can be downloaded).
Researching the history of a house can be an adventure and, while it may require some detective work, the rewards outweigh the challenges, giving you answers to those burning questions of 'Who lived in my house?' and ultimately, 'What is the history of my house?'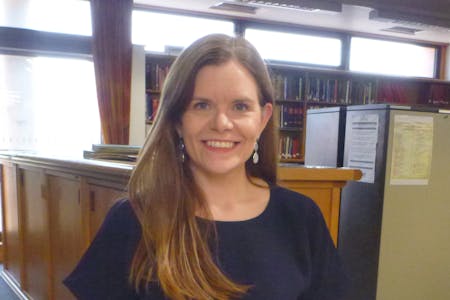 Melanie Backe-Hansen is an independent historian, writer, and speaker, who specialises in researching the social history of houses throughout the United Kingdom. Melanie is a research consultant for A House Through Time and to accompany the series, Melanie has co-written a new book,A House Through Time (Picador, 2020) with historian David Olusoga. She is also the author of House Histories: The Secrets Behind Your Front Door and Historic Streets and Squares: The Secrets on Your Doorstep.  She is a member of the Royal Historical Society and an honorary teaching fellow at the University of Dundee. www.house-historian.co.uk