Discover Dorset stories with this week's release
4-5 minute read
By Daisy Goddard
8 September 2023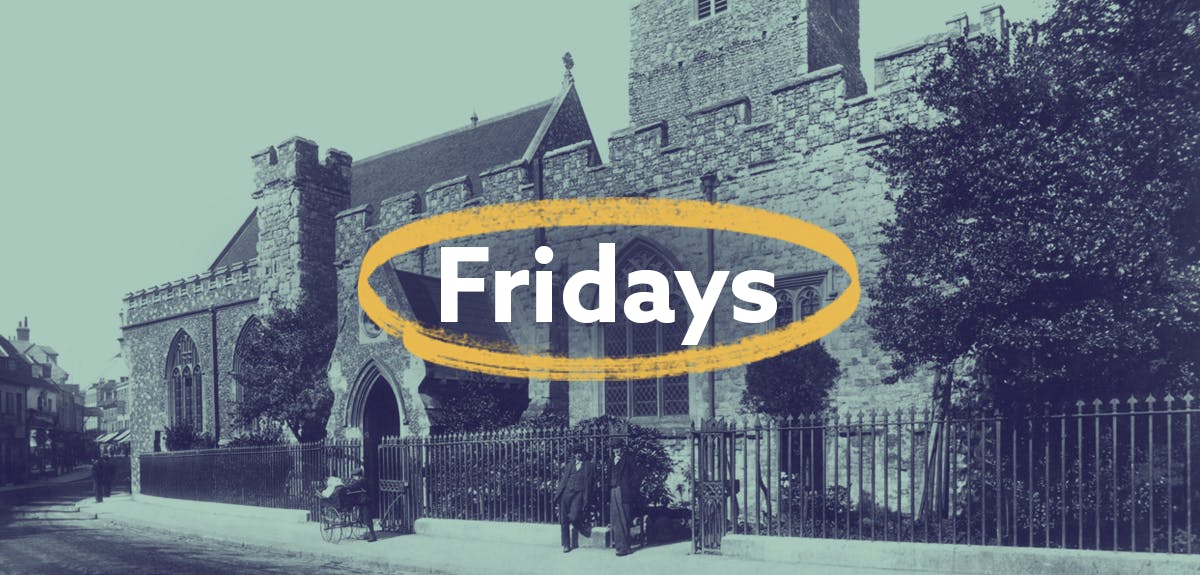 This Findmypast Friday, there are over 120,000 exciting new additions to explore from parishes across Dorset in the south of England.
If you've got roots in the South-West of England, this week's record release may just be able to fill in the blanks on your family tree. From baptisms to burials, read on for a full rundown of what's been added.
New Dorset parish records
This Findmypast Friday sees a triple whammy of Dorset records added to our parish collections. Across our baptism, marriage and burial sets, there are a total of 121,225 new additions for you to discover. We have baptism, marriage, and burial records from 342 parishes across the county of Dorset, covering over 450 years. Check out the full parish list for more information.
These records are the building blocks of your family tree. Whether you're tracing back a distant lineage or adding more details to family members you already know, these sets may prove key to your research.
First up this week is an update to our existing collection of Dorset Baptisms. We've added 38,873 new records from parishes across the county. These new additions span from 1568 to 1930.
The transcriptions in this set contain key information such as a name, birth date and place, baptism date and place, the church name, both parents' names, and the father's occupation. The information included varies slightly, especially when it comes to the very early 15th-century records.
You may also learn parents' addresses from records in this collection. If you're eager to build up a vivid picture of how and where your ancestors lived, this detail will be a huge help - who knows, perhaps the house your family lived in is still standing today.
With a little digging, we discovered the record of trade unionist George Loveless, who was baptised in Tolpuddle in 1797.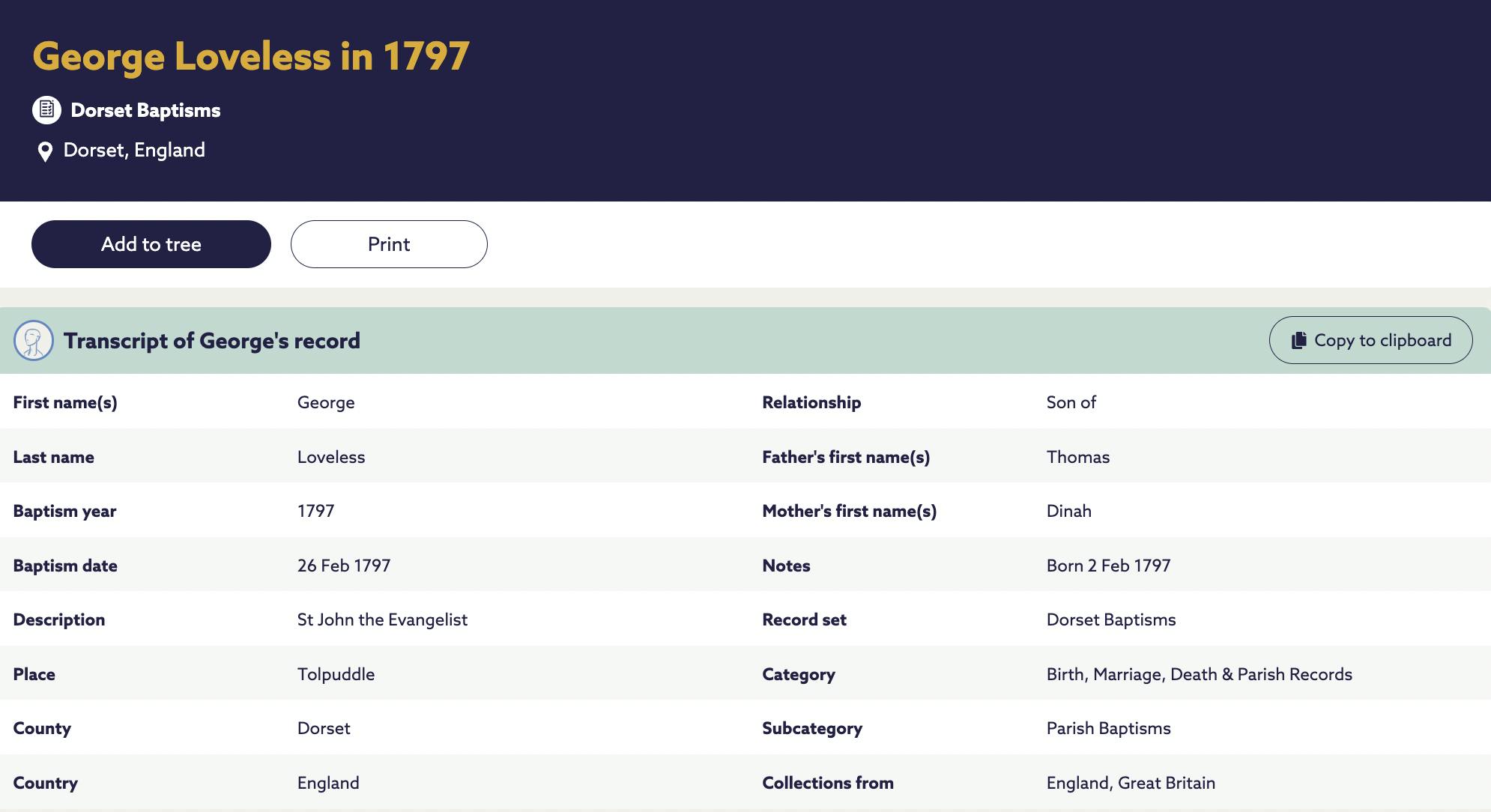 Along with his brother James, Loveless formed the Friendly Society of Agricultural Labourers to protest against low agricultural wages and harsh conditions in a rapidly industrialising England. The society's six members became heroes of the union movement, known as the Tolpuddle Martyrs, when the government cracked down harshly on their organisation in 1834.
Convicting them of bounding their members by 'unlawful oaths', the Dorchester Assizes banished the Tolpuddle Martyrs to Australia. This sparked wide protests in Dorset and beyond - their story is considered the beginnings of modern-day trade unionism. Today, their struggle is commemorated by an annual festival, which sees trade unions and political figures gather in the small village of Tolpuddle each summer.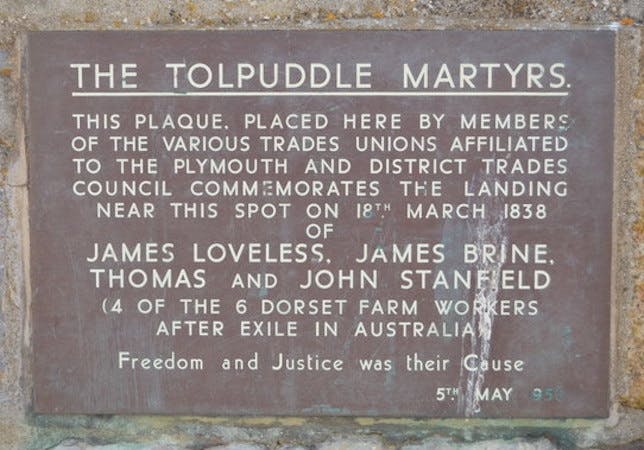 You'll find the names of all five other Tolpuddle Martyrs in our collection: James Loveless, James Brine, James Hammett, John Standfield, and Thomas Standfield. What can you discover about the early lives of these figures?
Next up, we've also updated our collection of Dorset Marriages, with 52,622 new records now available for you to explore.
Stretching as far back as 1470, these additions span over 500 years of Dorset's history. This means that if your ancestors were married in Dorset between 1470 and 1974, their names may just appear in this release.
The 675,000 records within this transcription-only set contain key details like a name, spouse's name, marriage date, parish, occupation and more. You'll likely be able to uncover whether someone was married by banns or by licence, and in some cases, the names of witnesses are also included.
Last but not least, we've also added 29,730 burial records from parishes across Dorset. These records span from 1559 to 1993.
If you're struggling to build your family tree back through the centuries, these additions may just provide some of the answers you need.
Like this week's other updated sets, these burials are transcription-only. Within each transcription, you'll find key details like a name, age, birth year, burial date, burial place, and county.
You'll find records from 342 parishes across Dorset within this collection as a whole. We recommend browsing our Dorset parish list for the full rundown of what's covered across the county.
Introducing our new podcast
We're delighted to announce that the first two episodes of our new podcast, Step into the Past, are available for you to listen to.
Take a stroll with Suzannah Lipscomb, as we weave together the past and the present in places that made history. With family history discoveries and so much more, this isn't one to be missed.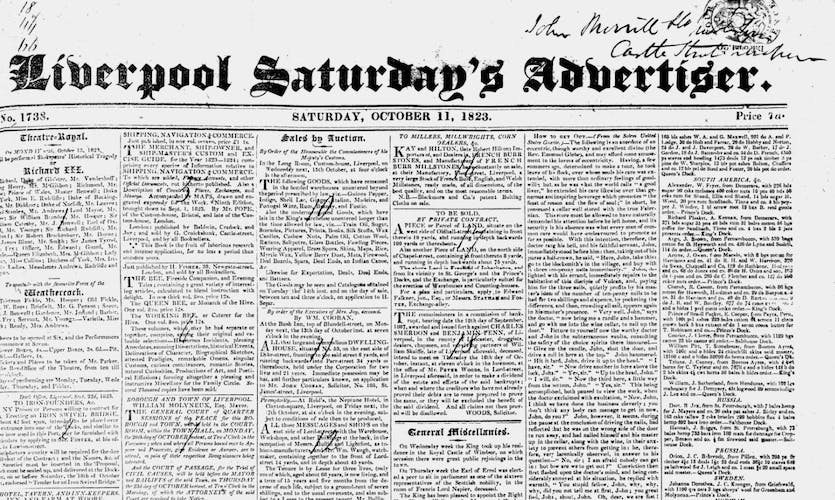 You'll find all kinds of news within its pages - from reports of Liverpool's commerce to articles on local community events like concerts and summer fairs, this title provides a rich insight into the goings-on of this northern city. With pages added from as early as 1832, it's now easier than ever to explore Liverpool's 19th-century history.
In addition to this week's two new titles, there are updates to many other newspapers within our collection, with brand new pages from Sherborne to Southwark. Here's a full rundown of all that's been added.
Bayswater Chronicle: 1892, 1894-1895, 1897, 1901-1908
Gloucester Citizen: 1992-1993
Liverpool Daily Post: 1921, 1927-1929
Liverpool Weekly Mercury: 1908, 1913
Middleton Guardian: 1995
Ormskirk Advertiser: 1858, 1861, 1892, 1895, 1909, 1924, 1935-1936
Rochdale Observer: 1897, 1902, 1920, 1932, 1951, 1961, 1966, 1985, 1988, 1996, 1998-1999
Sherborne Mercury: 1795
Southwark and Bermondsey Recorder: 1921-1933
Widnes Weekly News and District Reporter: 1878, 1883-1886, 1890-1891, 1893-1895, 1897-1900, 1902, 1982
Have you made an interesting family history discovery? Whatever you've uncovered, we'd love to hear about it. You can now get in touch and tell us directly, using this handy form.
More on this topic:
Share this article
About the author